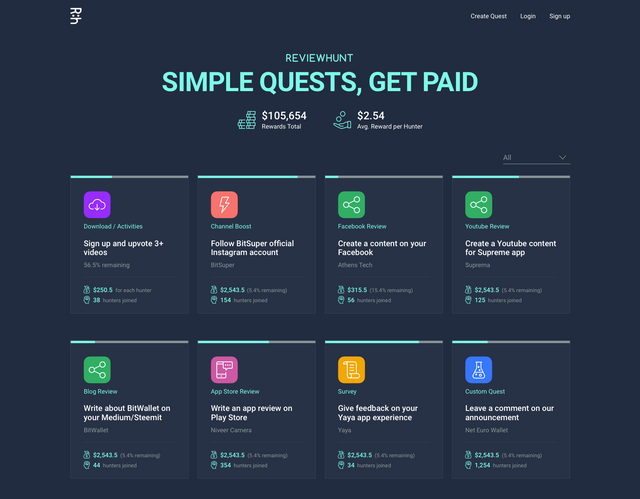 All New Reviewhunt set to Launch - Simpler but Greater!
We are going to introduce an all new Reviewhunt on January 29th, 2020 with a massive shakeup as below:
The separated sign-up system for Hunters and Makers will become one unified account.
You will create just a quest, not a full campaign.
We will apply a USD Point-based reward unit system so that the fiat-based reward value will be maintained.
More withdrawal options will arrive later on.
If you use HUNT token to payout to create a quest, you will have the 20% fee waived.
You will be paid 4 hours after your submission has been approved by the maker regardless of whether the whole quest has finished or not.
Please read this announcement for more details.
Weekly Sponsor Rewards
Here are the week's STEEM rewards and HUNT tokens reserved for sponsors (the STEEM rewards have already been sent to sponsors from @steemhunt.pay). Sponsors get 20% yearly INTEREST (mixed with STEEM/SBD plus HUNT tokens) to his/her delegation support.
(For more details of HUNT bounty program, please check https://steemit.com/steemhunt/@steemhunt/introducing-market-price-pegged-hunt-bounty-program)
SPONSOR REWARD DISTRIBUTION - WEEK 88
Total: 2,920,267,543.76 VESTS (1,486,087 SP) / 2,035,148,447.84 VESTS OPTED OUT
| User Name | Delegated | Proportion | STEEM / SBD Rewards | HUNT Tokens Reserved |
| --- | --- | --- | --- | --- |
| @misterdelegation | 2,033,154,493 VESTS (1,034,647 SP) | 0 | 0 STEEM + 0 SBD | 0 |
| @freedom | 300,000,000 VESTS (152,666 SP) | 33.89 | 65.243 STEEM + 0.001 SBD | 11,227.0 |
| @goodnewworld | 200,342,693 VESTS (101,952 SP) | 22.63 | 43.57 STEEM + 0.0 SBD | 7,498.0 |
| @tombstone | 50,855,446 VESTS (25,880 SP) | 5.75 | 11.06 STEEM + 0.0 SBD | 1,903.0 |
| @cool191 | 38,704,461 VESTS (19,696 SP) | 4.37 | 8.417 STEEM + 0.0 SBD | 1,448.0 |
| @i-d | 30,510,816 VESTS (15,527 SP) | 3.45 | 6.635 STEEM + 0.0 SBD | 1,142.0 |
| @bramd | 20,378,685 VESTS (10,370 SP) | 2.3 | 4.432 STEEM + 0.0 SBD | 763.0 |
| @thomasmore | 20,342,062 VESTS (10,352 SP) | 2.3 | 4.424 STEEM + 0.0 SBD | 761.0 |
| @nexgen | 19,769,564 VESTS (10,060 SP) | 2.23 | 4.299 STEEM + 0.0 SBD | 740.0 |
| @orientaledu | 12,181,834 VESTS (6,199 SP) | 1.38 | 2.649 STEEM + 0.0 SBD | 456.0 |
| @roelandp | 10,171,230 VESTS (5,176 SP) | 1.15 | 2.212 STEEM + 0.0 SBD | 381.0 |
| @heeyaa35 | 10,165,219 VESTS (5,173 SP) | 1.15 | 2.211 STEEM + 0.0 SBD | 380.0 |
| @themonetaryfew | 9,906,266 VESTS (5,041 SP) | 1.12 | 2.154 STEEM + 0.0 SBD | 371.0 |
| @heonbros | 9,874,516 VESTS (5,025 SP) | 1.12 | 2.147 STEEM + 0.0 SBD | 370.0 |
| @cyberblock | 9,670,318 VESTS (4,921 SP) | 1.09 | 2.103 STEEM + 0.0 SBD | 362.0 |
| @ys1302 | 9,425,111 VESTS (4,796 SP) | 1.06 | 2.05 STEEM + 0.0 SBD | 353.0 |
| @autorent | 6,233,375 VESTS (3,172 SP) | 0.7 | 1.356 STEEM + 0.0 SBD | 233.0 |
| @nateaguila | 6,047,115 VESTS (3,077 SP) | 0.68 | 1.315 STEEM + 0.0 SBD | 226.0 |
| @forykw | 5,935,133 VESTS (3,020 SP) | 0.67 | 1.291 STEEM + 0.0 SBD | 222.0 |
| @fruitdaddy | 4,497,322 VESTS (2,289 SP) | 0.51 | 0.978 STEEM + 0.0 SBD | 168.0 |
| @taskmaster4450 | 3,998,223 VESTS (2,035 SP) | 0.45 | 0.87 STEEM + 0.0 SBD | 150.0 |
| @stoodkev | 3,988,951 VESTS (2,030 SP) | 0.45 | 0.868 STEEM + 0.0 SBD | 149.0 |
| @sambillingham | 3,956,692 VESTS (2,014 SP) | 0.45 | 0.86 STEEM + 0.0 SBD | 148.0 |
| @netaterra | 2,998,427 VESTS (1,526 SP) | 0.34 | 0.652 STEEM + 0.0 SBD | 112.0 |
| @anayakhan | 2,949,654 VESTS (1,501 SP) | 0.33 | 0.641 STEEM + 0.0 SBD | 110.0 |
| @howtostartablog | 2,500,000 VESTS (1,272 SP) | 0.28 | 0.544 STEEM + 0.0 SBD | 94.0 |
| @bitrocker2020 | 2,373,748 VESTS (1,208 SP) | 0.27 | 0.516 STEEM + 0.0 SBD | 89.0 |
| @exyle.steemhunt | 2,034,258 VESTS (1,035 SP) | 0.23 | 0.442 STEEM + 0.0 SBD | 76.0 |
| @mastertri | 2,034,183 VESTS (1,035 SP) | 0.23 | 0.442 STEEM + 0.0 SBD | 76.0 |
| @zet | 2,033,378 VESTS (1,035 SP) | 0.23 | 0.442 STEEM + 0.0 SBD | 76.0 |
| @kview | 2,032,327 VESTS (1,034 SP) | 0.23 | 0.442 STEEM + 0.0 SBD | 76.0 |
| @thegreatgatsby | 2,031,709 VESTS (1,034 SP) | 0.23 | 0.442 STEEM + 0.0 SBD | 76.0 |
| @yangpankil27 | 2,018,715 VESTS (1,027 SP) | 0.23 | 0.439 STEEM + 0.0 SBD | 76.0 |
| @storysharing | 2,018,492 VESTS (1,027 SP) | 0.23 | 0.439 STEEM + 0.0 SBD | 76.0 |
| @vimva | 2,009,170 VESTS (1,022 SP) | 0.23 | 0.437 STEEM + 0.0 SBD | 75.0 |
| @zainenn | 1,998,792 VESTS (1,017 SP) | 0.23 | 0.435 STEEM + 0.0 SBD | 75.0 |
| @gungunkrishu | 1,997,785 VESTS (1,017 SP) | 0.23 | 0.434 STEEM + 0.0 SBD | 75.0 |
| @gentleshaid | 1,996,810 VESTS (1,016 SP) | 0.23 | 0.434 STEEM + 0.0 SBD | 75.0 |
| @cryptocurator | 1,996,606 VESTS (1,016 SP) | 0.23 | 0.434 STEEM + 0.0 SBD | 75.0 |
| @project7 | 1,993,955 VESTS (1,015 SP) | 0 | 0 STEEM + 0 SBD | 0 |
| @toocurious | 1,993,668 VESTS (1,015 SP) | 0.23 | 0.434 STEEM + 0.0 SBD | 75.0 |
| @waybeyondpadthai | 1,981,410 VESTS (1,008 SP) | 0.22 | 0.431 STEEM + 0.0 SBD | 74.0 |
| @mawahab | 1,975,762 VESTS (1,005 SP) | 0.22 | 0.43 STEEM + 0.0 SBD | 74.0 |
| @mcoinz79 | 1,966,075 VESTS (1,001 SP) | 0.22 | 0.428 STEEM + 0.0 SBD | 74.0 |
| @teoit | 1,854,074 VESTS (944 SP) | 0.21 | 0.403 STEEM + 0.0 SBD | 69.0 |
| @arvindkumar | 1,480,868 VESTS (754 SP) | 0.17 | 0.322 STEEM + 0.0 SBD | 55.0 |
| @michelios | 1,476,236 VESTS (751 SP) | 0.17 | 0.321 STEEM + 0.0 SBD | 55.0 |
| @khimgoh | 1,422,023 VESTS (724 SP) | 0.16 | 0.309 STEEM + 0.0 SBD | 53.0 |
| @felander | 1,197,650 VESTS (609 SP) | 0.14 | 0.26 STEEM + 0.0 SBD | 45.0 |
| @rangertx | 1,188,997 VESTS (605 SP) | 0.13 | 0.259 STEEM + 0.0 SBD | 44.0 |
| @pandafam | 1,016,436 VESTS (517 SP) | 0.11 | 0.221 STEEM + 0.0 SBD | 38.0 |
| @remnant39 | 1,016,375 VESTS (517 SP) | 0.11 | 0.221 STEEM + 0.0 SBD | 38.0 |
| @dragonticketer | 1,016,295 VESTS (517 SP) | 0.11 | 0.221 STEEM + 0.0 SBD | 38.0 |
| @kibumh | 1,016,269 VESTS (517 SP) | 0.11 | 0.221 STEEM + 0.0 SBD | 38.0 |
| @kgbinternational | 1,016,097 VESTS (517 SP) | 0.11 | 0.221 STEEM + 0.0 SBD | 38.0 |
| @freedomno1 | 1,011,668 VESTS (515 SP) | 0.11 | 0.22 STEEM + 0.0 SBD | 38.0 |
| @gwoo | 1,011,347 VESTS (515 SP) | 0.11 | 0.22 STEEM + 0.0 SBD | 38.0 |
| @jznsamuel | 1,007,001 VESTS (512 SP) | 0.11 | 0.219 STEEM + 0.0 SBD | 38.0 |
| @dmsqlc0303 | 1,001,732 VESTS (510 SP) | 0.11 | 0.218 STEEM + 0.0 SBD | 37.0 |
| @da-dawn | 1,000,911 VESTS (509 SP) | 0.11 | 0.218 STEEM + 0.0 SBD | 37.0 |
| @hope-on-fire | 1,000,911 VESTS (509 SP) | 0.11 | 0.218 STEEM + 0.0 SBD | 37.0 |
| @bryan-imhoff | 999,588 VESTS (509 SP) | 0.11 | 0.217 STEEM + 0.0 SBD | 37.0 |
| @steemprotect | 999,509 VESTS (509 SP) | 0.11 | 0.217 STEEM + 0.0 SBD | 37.0 |
| @abh12345 | 999,387 VESTS (509 SP) | 0.11 | 0.217 STEEM + 0.0 SBD | 37.0 |
| @jongolson | 998,245 VESTS (508 SP) | 0.11 | 0.217 STEEM + 0.0 SBD | 37.0 |
| @jahangirwifii | 992,812 VESTS (505 SP) | 0.11 | 0.216 STEEM + 0.0 SBD | 37.0 |
| @meher04 | 989,517 VESTS (504 SP) | 0.11 | 0.215 STEEM + 0.0 SBD | 37.0 |
| @farizal | 987,084 VESTS (502 SP) | 0.11 | 0.215 STEEM + 0.0 SBD | 37.0 |
| @armdown | 813,662 VESTS (414 SP) | 0.09 | 0.177 STEEM + 0.0 SBD | 30.0 |
| @superoo7 | 809,067 VESTS (412 SP) | 0.09 | 0.176 STEEM + 0.0 SBD | 30.0 |
| @krevasilis | 787,137 VESTS (401 SP) | 0.09 | 0.171 STEEM + 0.0 SBD | 29.0 |
| @yuriks2000 | 618,616 VESTS (315 SP) | 0.07 | 0.135 STEEM + 0.0 SBD | 23.0 |
| @yoon | 614,281 VESTS (313 SP) | 0.07 | 0.134 STEEM + 0.0 SBD | 23.0 |
| @dreamien | 610,234 VESTS (311 SP) | 0.07 | 0.133 STEEM + 0.0 SBD | 23.0 |
| @japanguide | 610,098 VESTS (310 SP) | 0.07 | 0.133 STEEM + 0.0 SBD | 23.0 |
| @zorba | 609,761 VESTS (310 SP) | 0.07 | 0.133 STEEM + 0.0 SBD | 23.0 |
| @hamismsf | 601,252 VESTS (306 SP) | 0.07 | 0.131 STEEM + 0.0 SBD | 23.0 |
| @samminator | 596,902 VESTS (304 SP) | 0.07 | 0.13 STEEM + 0.0 SBD | 22.0 |
| @mcfarhat | 508,534 VESTS (259 SP) | 0.06 | 0.111 STEEM + 0.0 SBD | 19.0 |
| @kevinli | 497,928 VESTS (253 SP) | 0.06 | 0.108 STEEM + 0.0 SBD | 19.0 |
| @joannewong | 494,518 VESTS (252 SP) | 0.06 | 0.108 STEEM + 0.0 SBD | 19.0 |
| @ziscad | 406,833 VESTS (207 SP) | 0.05 | 0.088 STEEM + 0.0 SBD | 15.0 |
| @romankibo | 406,823 VESTS (207 SP) | 0.05 | 0.088 STEEM + 0.0 SBD | 15.0 |
| @deuksoo84 | 406,815 VESTS (207 SP) | 0.05 | 0.088 STEEM + 0.0 SBD | 15.0 |
| @thomas-bm | 406,795 VESTS (207 SP) | 0.05 | 0.088 STEEM + 0.0 SBD | 15.0 |
| @revisesociology | 406,759 VESTS (207 SP) | 0.05 | 0.088 STEEM + 0.0 SBD | 15.0 |
| @rimowa | 406,382 VESTS (207 SP) | 0.05 | 0.088 STEEM + 0.0 SBD | 15.0 |
| @espoem | 404,937 VESTS (206 SP) | 0.05 | 0.088 STEEM + 0.0 SBD | 15.0 |
| @acdevan | 404,024 VESTS (206 SP) | 0.05 | 0.088 STEEM + 0.0 SBD | 15.0 |
| @lcc3108 | 403,583 VESTS (205 SP) | 0.05 | 0.088 STEEM + 0.0 SBD | 15.0 |
| @thethreehugs | 403,364 VESTS (205 SP) | 0.05 | 0.088 STEEM + 0.0 SBD | 15.0 |
| @pialejoana | 402,948 VESTS (205 SP) | 0.05 | 0.088 STEEM + 0.0 SBD | 15.0 |
| @preparedwombat | 401,534 VESTS (204 SP) | 0.05 | 0.087 STEEM + 0.0 SBD | 15.0 |
| @conradt | 399,961 VESTS (204 SP) | 0.05 | 0.087 STEEM + 0.0 SBD | 15.0 |
| @jeronimorubio | 399,843 VESTS (203 SP) | 0.05 | 0.087 STEEM + 0.0 SBD | 15.0 |
| @hctg85 | 399,591 VESTS (203 SP) | 0.05 | 0.087 STEEM + 0.0 SBD | 15.0 |
| @eastmael | 397,353 VESTS (202 SP) | 0.04 | 0.086 STEEM + 0.0 SBD | 15.0 |
| @elfman2018 | 349,843 VESTS (178 SP) | 0.04 | 0.076 STEEM + 0.0 SBD | 13.0 |
| @enolife | 321,432 VESTS (164 SP) | 0.04 | 0.07 STEEM + 0.0 SBD | 12.0 |
| @stans | 303,675 VESTS (155 SP) | 0.03 | 0.066 STEEM + 0.0 SBD | 11.0 |
| @gattino | 299,866 VESTS (153 SP) | 0.03 | 0.065 STEEM + 0.0 SBD | 11.0 |
| @flash07 | 297,057 VESTS (151 SP) | 0.03 | 0.065 STEEM + 0.0 SBD | 11.0 |
| @ted7 | 284,633 VESTS (145 SP) | 0.03 | 0.062 STEEM + 0.0 SBD | 11.0 |
| @celinavisaez | 237,903 VESTS (121 SP) | 0.03 | 0.052 STEEM + 0.0 SBD | 9.0 |
| @valth | 223,766 VESTS (114 SP) | 0.03 | 0.049 STEEM + 0.0 SBD | 8.0 |
| @monkeydoo | 213,477 VESTS (109 SP) | 0.02 | 0.046 STEEM + 0.0 SBD | 8.0 |
| @stokjockey | 213,128 VESTS (108 SP) | 0.02 | 0.046 STEEM + 0.0 SBD | 8.0 |
| @chungjh | 211,692 VESTS (108 SP) | 0.02 | 0.046 STEEM + 0.0 SBD | 8.0 |
| @leesongyi | 203,784 VESTS (104 SP) | 0.02 | 0.044 STEEM + 0.0 SBD | 8.0 |
| @smartbear | 203,426 VESTS (104 SP) | 0.02 | 0.044 STEEM + 0.0 SBD | 8.0 |
| @mellissaying | 203,423 VESTS (104 SP) | 0.02 | 0.044 STEEM + 0.0 SBD | 8.0 |
| @kr-ebook | 203,417 VESTS (104 SP) | 0.02 | 0.044 STEEM + 0.0 SBD | 8.0 |
| @wony | 203,416 VESTS (104 SP) | 0.02 | 0.044 STEEM + 0.0 SBD | 8.0 |
| @dakeshi | 203,416 VESTS (104 SP) | 0.02 | 0.044 STEEM + 0.0 SBD | 8.0 |
| @zaedol | 203,413 VESTS (104 SP) | 0.02 | 0.044 STEEM + 0.0 SBD | 8.0 |
| @gidung | 203,406 VESTS (104 SP) | 0.02 | 0.044 STEEM + 0.0 SBD | 8.0 |
| @room9 | 203,404 VESTS (104 SP) | 0.02 | 0.044 STEEM + 0.0 SBD | 8.0 |
| @matildah | 203,402 VESTS (104 SP) | 0.02 | 0.044 STEEM + 0.0 SBD | 8.0 |
| @hanen | 203,392 VESTS (104 SP) | 0.02 | 0.044 STEEM + 0.0 SBD | 8.0 |
| @yann03 | 203,319 VESTS (103 SP) | 0.02 | 0.044 STEEM + 0.0 SBD | 8.0 |
| @kuberaleez | 203,299 VESTS (103 SP) | 0.02 | 0.044 STEEM + 0.0 SBD | 8.0 |
| @ab7b13 | 203,287 VESTS (103 SP) | 0.02 | 0.044 STEEM + 0.0 SBD | 8.0 |
| @team101 | 203,228 VESTS (103 SP) | 0.02 | 0.044 STEEM + 0.0 SBD | 8.0 |
| @didic | 202,944 VESTS (103 SP) | 0.02 | 0.044 STEEM + 0.0 SBD | 8.0 |
| @zoltarian | 202,924 VESTS (103 SP) | 0.02 | 0.044 STEEM + 0.0 SBD | 8.0 |
| @sambasambo | 202,444 VESTS (103 SP) | 0.02 | 0.044 STEEM + 0.0 SBD | 8.0 |
| @humptydumpty1 | 202,388 VESTS (103 SP) | 0.02 | 0.044 STEEM + 0.0 SBD | 8.0 |
| @mermaidvampire | 202,387 VESTS (103 SP) | 0.02 | 0.044 STEEM + 0.0 SBD | 8.0 |
| @aurorax | 202,171 VESTS (103 SP) | 0.02 | 0.044 STEEM + 0.0 SBD | 8.0 |
| @jibupune | 202,151 VESTS (103 SP) | 0.02 | 0.044 STEEM + 0.0 SBD | 8.0 |
| @cryptouru | 202,150 VESTS (103 SP) | 0.02 | 0.044 STEEM + 0.0 SBD | 8.0 |
| @parisfoodhunter | 201,671 VESTS (103 SP) | 0.02 | 0.044 STEEM + 0.0 SBD | 8.0 |
| @normalbro | 201,494 VESTS (103 SP) | 0.02 | 0.044 STEEM + 0.0 SBD | 8.0 |
| @jccr | 201,479 VESTS (103 SP) | 0.02 | 0.044 STEEM + 0.0 SBD | 8.0 |
| @lobinia | 201,476 VESTS (103 SP) | 0.02 | 0.044 STEEM + 0.0 SBD | 8.0 |
| @dwiitavita | 201,472 VESTS (103 SP) | 0.02 | 0.044 STEEM + 0.0 SBD | 8.0 |
| @jpphotography | 200,866 VESTS (102 SP) | 0.02 | 0.044 STEEM + 0.0 SBD | 8.0 |
| @jeffjagoe | 200,848 VESTS (102 SP) | 0.02 | 0.044 STEEM + 0.0 SBD | 8.0 |
| @lucious | 200,727 VESTS (102 SP) | 0.02 | 0.044 STEEM + 0.0 SBD | 8.0 |
| @rainieraveradio | 200,727 VESTS (102 SP) | 0.02 | 0.044 STEEM + 0.0 SBD | 8.0 |
| @replayphoto | 200,133 VESTS (102 SP) | 0.02 | 0.044 STEEM + 0.0 SBD | 7.0 |
| @torrey.blog | 199,921 VESTS (102 SP) | 0.02 | 0.043 STEEM + 0.0 SBD | 7.0 |
| @nataboo | 199,910 VESTS (102 SP) | 0.02 | 0.043 STEEM + 0.0 SBD | 7.0 |
| @shellyduncan | 199,730 VESTS (102 SP) | 0.02 | 0.043 STEEM + 0.0 SBD | 7.0 |
| @d-zero | 199,675 VESTS (102 SP) | 0.02 | 0.043 STEEM + 0.0 SBD | 7.0 |
| @paradigmprospect | 199,649 VESTS (102 SP) | 0.02 | 0.043 STEEM + 0.0 SBD | 7.0 |
| @absolutefive | 199,271 VESTS (101 SP) | 0.02 | 0.043 STEEM + 0.0 SBD | 7.0 |
| @julietisrael | 199,061 VESTS (101 SP) | 0.02 | 0.043 STEEM + 0.0 SBD | 7.0 |
| @mehdicrypto | 198,773 VESTS (101 SP) | 0.02 | 0.043 STEEM + 0.0 SBD | 7.0 |
| @michealb | 197,970 VESTS (101 SP) | 0.02 | 0.043 STEEM + 0.0 SBD | 7.0 |
| @mobi72 | 171,233 VESTS (87 SP) | 0.02 | 0.037 STEEM + 0.0 SBD | 6.0 |
| @chrisli | 151,915 VESTS (77 SP) | 0.02 | 0.033 STEEM + 0.0 SBD | 6.0 |
| @wilhb81 | 132,034 VESTS (67 SP) | 0.01 | 0.029 STEEM + 0.0 SBD | 5.0 |
| @daan007 | 121,754 VESTS (62 SP) | 0.01 | 0.026 STEEM + 0.0 SBD | 5.0 |
| @team2dev | 101,541 VESTS (52 SP) | 0.01 | 0.022 STEEM + 0.0 SBD | 4.0 |
| @freyman | 101,305 VESTS (52 SP) | 0.01 | 0.022 STEEM + 0.0 SBD | 4.0 |
| @ericwilson | 101,195 VESTS (51 SP) | 0.01 | 0.022 STEEM + 0.0 SBD | 4.0 |
| @itsravi | 101,031 VESTS (51 SP) | 0.01 | 0.022 STEEM + 0.0 SBD | 4.0 |
| @moneyhacks | 100,870 VESTS (51 SP) | 0.01 | 0.022 STEEM + 0.0 SBD | 4.0 |
| @bjornb | 100,844 VESTS (51 SP) | 0.01 | 0.022 STEEM + 0.0 SBD | 4.0 |
| @okahjul | 100,031 VESTS (51 SP) | 0.01 | 0.022 STEEM + 0.0 SBD | 4.0 |
| @rehan12 | 99,718 VESTS (51 SP) | 0.01 | 0.022 STEEM + 0.0 SBD | 4.0 |
| @fillow | 99,698 VESTS (51 SP) | 0.01 | 0.022 STEEM + 0.0 SBD | 4.0 |
| @bozz | 98,942 VESTS (50 SP) | 0.01 | 0.022 STEEM + 0.0 SBD | 4.0 |
| @yanipetkov | 98,918 VESTS (50 SP) | 0.01 | 0.022 STEEM + 0.0 SBD | 4.0 |
| @empirebuilder | 98,564 VESTS (50 SP) | 0.01 | 0.021 STEEM + 0.0 SBD | 4.0 |
| @dumnebari | 80,655 VESTS (41 SP) | 0.01 | 0.018 STEEM + 0.0 SBD | 3.0 |
| @randomgoodstuff | 60,851 VESTS (31 SP) | 0.01 | 0.013 STEEM + 0.0 SBD | 2.0 |
| @shookriya | 60,474 VESTS (31 SP) | 0.01 | 0.013 STEEM + 0.0 SBD | 2.0 |
| @steeemlover | 60,370 VESTS (31 SP) | 0.01 | 0.013 STEEM + 0.0 SBD | 2.0 |
| @dray91eu | 59,795 VESTS (30 SP) | 0.01 | 0.013 STEEM + 0.0 SBD | 2.0 |
| @onlyforyou | 40,339 VESTS (21 SP) | 0.0 | 0.009 STEEM + 0.0 SBD | 2.0 |
| @xomegax | 40,244 VESTS (20 SP) | 0.0 | 0.009 STEEM + 0.0 SBD | 2.0 |
| @earlmonk | 39,941 VESTS (20 SP) | 0.0 | 0.009 STEEM + 0.0 SBD | 1.0 |
| @unicron | 39,727 VESTS (20 SP) | 0.0 | 0.009 STEEM + 0.0 SBD | 1.0 |
| @tim3w4rp | 30,512 VESTS (16 SP) | 0.0 | 0.007 STEEM + 0.0 SBD | 1.0 |
| @schroders | 30,512 VESTS (16 SP) | 0.0 | 0.007 STEEM + 0.0 SBD | 1.0 |
| @ederaleng | 22,144 VESTS (11 SP) | 0.0 | 0.005 STEEM + 0.0 SBD | 1.0 |
| @sal.tedder | 19,967 VESTS (10 SP) | 0.0 | 0.004 STEEM + 0.0 SBD | 1.0 |
| @anomalogy | 19,782 VESTS (10 SP) | 0.0 | 0.004 STEEM + 0.0 SBD | 1.0 |
| @okekemmichael | 10,169 VESTS (5 SP) | 0.0 | 0.002 STEEM + 0.0 SBD | 0.0 |
| @streetsmart | 10,164 VESTS (5 SP) | 0.0 | 0.002 STEEM + 0.0 SBD | 0.0 |
| @doodleman | 10,112 VESTS (5 SP) | 0.0 | 0.002 STEEM + 0.0 SBD | 0.0 |
| @coolguy222 | 10,002 VESTS (5 SP) | 0.0 | 0.002 STEEM + 0.0 SBD | 0.0 |
| @walterben | 9,964 VESTS (5 SP) | 0.0 | 0.002 STEEM + 0.0 SBD | 0.0 |
| @thewhiter4bbitt | 7,993 VESTS (4 SP) | 0.0 | 0.002 STEEM + 0.0 SBD | 0.0 |
| @anutta | 4,197 VESTS (2 SP) | 0.0 | 0.001 STEEM + 0.0 SBD | 0.0 |
| @hensey | 4,050 VESTS (2 SP) | 0.0 | 0.001 STEEM + 0.0 SBD | 0.0 |
| @fashionsteemit | 3,044 VESTS (2 SP) | 0.0 | 0.001 STEEM + 0.0 SBD | 0.0 |
| @ciontheemrald | 2,017 VESTS (1 SP) | 0.0 | 0.0 STEEM + 0.0 SBD | 0.0 |
| @aknirob | 2,002 VESTS (1 SP) | 0.0 | 0.0 STEEM + 0.0 SBD | 0.0 |
| @just2random | 1,993 VESTS (1 SP) | 0.0 | 0.0 STEEM + 0.0 SBD | 0.0 |
| Total | 2,920,267,543.76 VESTS (1,486,087 SP) | 100.0% | 192.494 STEEM + 0.002 SBD | 33,125.0 |
==========
SEND 192.494 STEEM and 0.002 SBD TO 184 SPONSORS (omitted less than 0.001)
==========
(If your name is not in this report, you may have been delegated SP after we sent STEEM rewards. In this case, your rewards will be calculated next week.)
---
Connect with Steemhunt:
Discord | Telegram | Twitter
Delegate Steem Power and Get HUNT Tokens:
1000 SP |5000 SP |10K SP |20K SP
Steemhunt as a witness - Vote Now
Join Reviewhunt Now - https://review.hunt.town