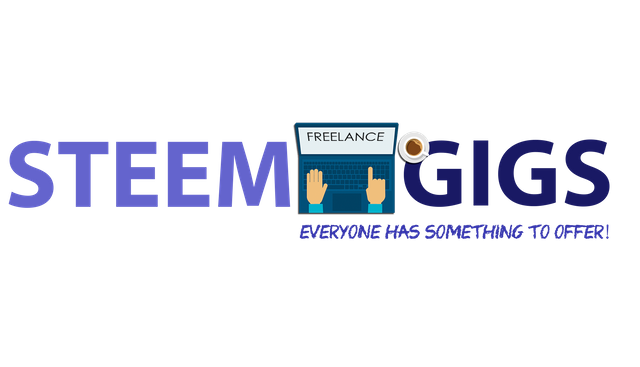 The new and current github code for @steemgigs is now the only existing code synced on utopian. 
I have pulled down the previous steemgigs code from github as there was no prevent it from appearing on @utopian-io and loving steemians have kept adding contributions to the old repository.
No worries now, if you want to contribute to SteemGigs on utopian, you will now only find this one:
SteemGigs Update
Like i said in the previous post, https://steemgigs.org UI is not all perfect. 
Over the course of the coming weeks, it will get better. We are using some of the feedback we already have from users of SteemGigs, to do quick improvements. 
Moreso, we will begin doing task requests for @steemgigs from utopian, so that we can work faster by means of your contributions. So be ready!
I will just do a one day recovery as i was crushed yesterday. 
My dad refused to come over and i tried all i could to convince him but he kept wanting to hear my mama's voice instead. He has a delicate state of health, so i couldn't re-bring "my mum's passing" up
It's serious now. I want #steemgigs to thrive. I want it to be loved. I want it to represent our story. 
Let's go!
In The Pipeline For The Coming Weeks!!!
Over the course of the coming weeks we will work on these things:
1. Improving our specialized editors
There are currently 4 editors on @steemgigs, each one for different purposes but these editors aren't all perfect yet, thus, we will work on making them more specialized and close to perfect. 
Currently, we have the following editors on SteemGigs:
I believe a lot of the challenges with content discovery and curation even on steemit, can be fixed by means of "the editors". 
A bit more specialization to the editors and 60/70% of these challenges will be fixed. 
Thus, we will specialize each of our editors to optimal levels and add more specialized editors if necessary. 
Note: A specialized editor is simply one that is structured to follow a flow. 
The specialization of the editors also enhance search & categorization! 
2. Moderation
Over the coming weeks, we will work on the interface that allows for a level of human moderation. When the moderation feature is implemented, we will be reviewing some posts before its published. We will not apply this to every post as we want "specialized editors" to cater to this, for the most part.
Moderation is not primary as we plan to work to attain the perfect specialized editors first. 
When it is eventually time to go, for moderation, we already have many moderators ready to go. We know the steemit community really well and one salient reason why #steemgigs stayed solely on steemit for the past 10 months is, "to get to know our community". 
We now know at least one reputable great mind in every niche, field or industry
3. Tutorials
We are looking to fill SteemGigs with as many tutorials as possible. 
We want the "voice of steemians", filling https://steemgigs.org. We want to promote you ever-incessantly as part of @steemgigs.
Thus, over the course of the coming weeks, we will be doing task requests from utopian, to accept tutorials for each segment of @steemgigs and there are so many segments. 
We would like as many steemian personalities to appear on SteemGigs. Altogether, we promote each human as "celebrity" and promote the steem blockchain as well, thus, we would like to link many portions of SteemGigs to https://steemit.com, @busy.org, @dlive @dtube etc
4. Support
We will also work on this in the coming weeks. 
After doing series of posts to educate steemians on the entire vision and span of @steemgigs, we will look to revamp all channels of support. 
For now, we will maintain the SteemGigs community discord server as "main support", so that as many hands can lovingly get involved. It has more than 3,500 steemians on it. Thus, we will be revamping it, adding roles etc and niche channels, so that support can be ever present.
Too, more tutorials will help drastically.
We will also work on improving the state of the Facebook and Twitter pages for SteemGigs to provide more channels of support
5. Custom SteemGig Profile Edits
The feature exists already but there is a bug that prevents edits from getting saved internally on our website, thus, we will work to fix that in a few days.
6. Help Page
The current "help" tab on SteemGigs links to our discord server
By means of tutorial resources & tutorials that we receive via utopian contributions, we will be able to build a "help" page, that answers every FAQ and links to steemit posts or dtube videos etc
I Am Grateful
I am grateful to every steemians and "the many steemians" who have started loving promoting @steemgigs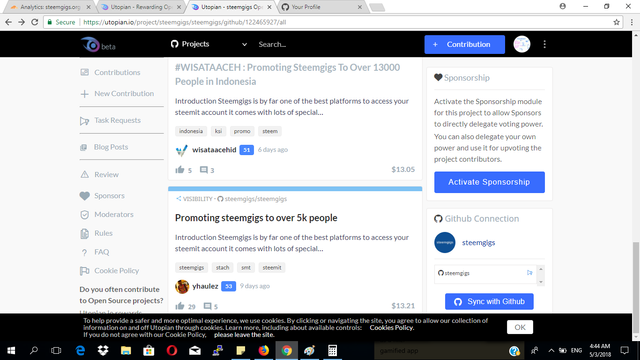 How Can You Help?
1. Post a SteemGig
This very easy! @ankarlie wrote a good tutorial here. 
Note that with #steemgigs "everyone has something to offer". What does this mean?
Well, you may feel you are not geek enough or that you are not talented enough to offer a service and you may feel SteemGigs is not for you but did you know that on steemit alone, if you look closely, there are tons of needs and many that you handle? 
Yes, you simply need to attempt out-of-the-boxness and you will see that you can.
In the past, right here on steemit, did you know that a steemit library was built courtesy of a custom request? 
The custom request was done by @drpuffnstuff and was something like this:
I will pay a steemian 70 SP to build a small steemit-endorsed wooden library containing random books and place it in a public school in his community.
               @valued-customer completed the above
Did also know that @inkphinit did a SteemGigs custom request some 9 months ago, where he implored steemians to do different types of donations to their community?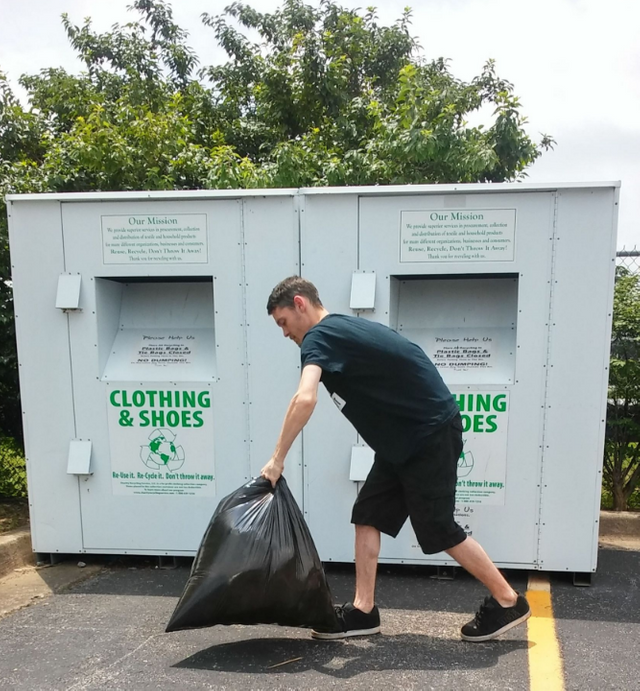 @thatsweeneyguy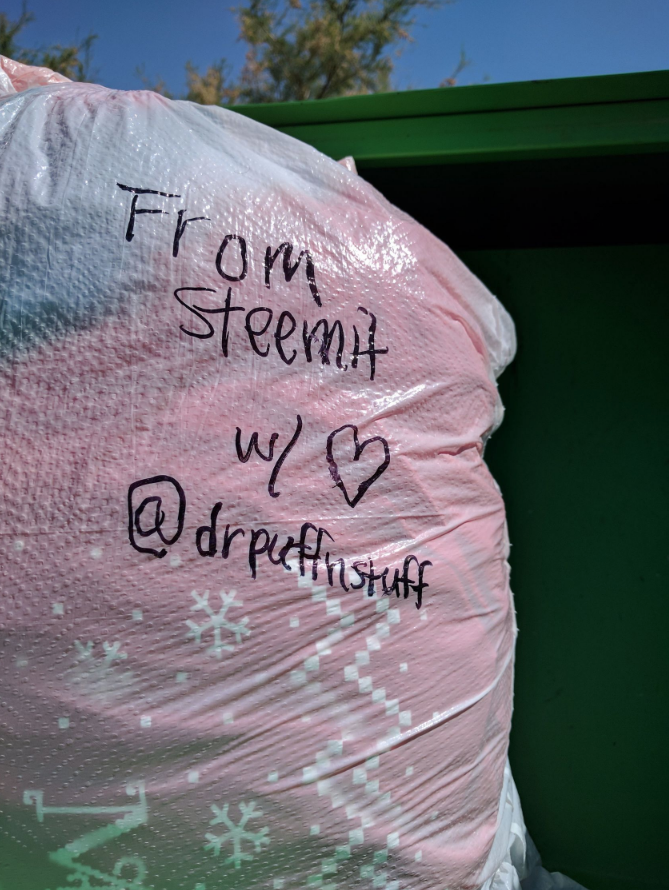 Notice i remembered all the names above. This is because, if you are helpful towards another person, they will remember your name.
So here: We added Steem & Steemit as a main category on SteemGigs and the is also the "fun & lifestyle" main category etc.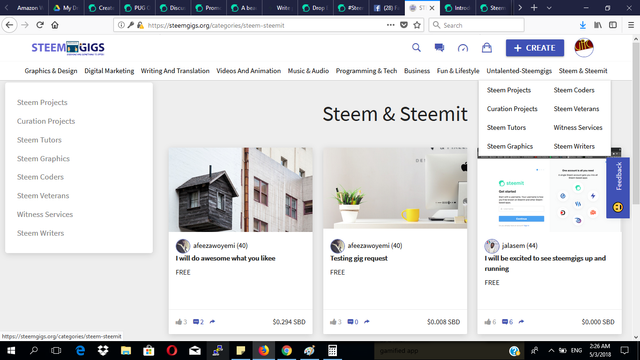 Yes, there are many ways to be innovative as SteemGiggers, even if you don't have an expertise just yet.
Look at some fun examples that i created: 
Look at more  #steemgigs samples that created, to incite your creativity:
Fun & Random
I will make a video each day, for 3 days, breaking 1 stick of cigarette in half, to remind to stop smoking, for 5SBD.
I will write "will you marry me" and the name of your fiance on the sands of a Jamaican beach, for 6SBD.
I will have kids write your brand name all over their classroom board for 2SBD.
I will act and say anything you want as a Pirate, for 0.5SP 
Relationships
I will pretend to be your girl friend for a day, for 5 steem. 
I will tell you what he or she is thinking about You, for 0.32SBD.
I will chat with you for 7 days and make each day fun-filled for you, for 5SP.
I will give you a PDF collection of 3,000,000 unique dating messages, for 3.000000 SBD.  
I will make your crush go CRAZY about you, for 3SBD.
I will re-write your online dating profile, for 6 steem.
Marketing & Promotion
I will pop a balloon with your message written on it, for 2 steem.
I will paint your message e.g "steemit.com" on my body and dance in the jungle for 8SBD.
I will sing you a Steemit Milestone Song in a Thong as a Typical British Man for 3.4SBD.
I will speed color your logo for 9.5steem.
I will create a custom promotional animated video with voice over, for 5.5SBD.
I will act and say anything you want as a Pirate, for free. 
HowTo & Tutorials
I will give you a 30 min TED-like coaching, on how to make a career out of podcasts, for 30steem. 
@son-of-satire can very easily say; i will create magical GIFs for the footer of your steemit posts, for 5SBD. 
@kevinwong can go: i will write you 5 killer posts on any popular niche, for 16 SBD. 
@kingscrown: i will give you 5 proven crypto-investment tips, for 5 SBD.
 
Advertisements
@sirlunchthehost can say: i will keep your post or project displayed at the footer of my regularly-trending steemit posts for an entire day, for 25 SBD. 
I will delegate you 50k steem power for 3 days, for 30 steem as long as you don't downvote. 
I will share any steemit url of your choice to my 50k social media followers, for 6 SBD. 
TRUMP
I will a 2-minute video of Trump saying whatever you want, for 6.7 SBD. 
I will record your voicemail or any audio as Donald Trump, for 7 and a half SP.   
Business
I will teach you how to trade steem on the steemit internal market, for 5S BD. 
I will get Ned Scott to hold a poster of your steemit username or brand name for, 16.2 SBD 
I will give you targeted leads to golfers, for 2.3SBD. 
Graphics
@mynameisbrian can easily say; I will make a comic of you making a comic, for 3.82 SBD 
I will make whiteboard explainer videos from any of your steemit posts, for 0.05 SBD 
I will do SEO for your wordpress and put your blog on the first page of google, for 18 SBD 
Travels
@heiditravels can easily say: I will write a travel guide or article for your travel destination, for 5SBD. 
@sweetsssj can easily say: i will teach you how to access steemit, if you stopped-over in Dubai, where many websites are blocked, for 1.78SBD 
Basically, you can create an entirely new/unheardof/weird/random service, for steem, SP or SBD. (Everyone has something to offer, so flex your creative muscles!) 
Note that it is essential for you to be able to render any service you claim that you can offer as there is "reputation" involved. 
It will not be nice if there is steemgigs testimonial that dents you reputation
So if you say, "i will write your brand name on my bare belly and walk around with it" for 5 SBD and a steemian avails of your service, be ready to do it.
If you say, "i will give out 5 old educational books to kids in my community for 5 SBD" and i avail of your service, be ready to do it.
If you say, "i will sing a cover of any artist of your choosing for 5 Steem Power", be ready to do so!
For every SteemGig you offer, it is nice to add a portfolio of your past work. It also helps your reputation, if you a video of yourself telling steemians what you offer and why they should avail of your Gig
2. Curate 
Yes, even right now, you can help us with your normal steemit curation activities. Wherever you spot "any level of talent", "potential talent" or perhaps, "steemians who aren't confident about their talent" etc; leave a directional comment, leading them to try out SteemGigs
There are even cases where you are not fully able to read a post but you are able to spot some art or graphics etc, you can also leave a quick comment. Make sure it is a heartfelt comment.
3. Encourage
If you find a great or not-so-great #steemgigs post; give encouragement.
4. Educate
If you see someone posting #steemgigs from steemit; tell them that steemgigs.org is a steem-based website specialized for GIGs & Services
Your Boy Terry
Please read this as well 
Please like @teardrops on Facebook and Twitter:
I do need strength
Dedicating My Entire Steem/Steemit Journey To My Mum
If you want to support an extra witness and you support mine "steemgigs", it will be really helpful. I run a full public RPC 256 GB node as well to balance the steem ecosystem on "wss://steemd.steemgigs.org" 
To vote my witness, simply visit https://steemit.com/~witnesses and type in "steemgigs" into the first search box for witnesses or simply click Here to do it on one click! 
If you want me to make witness voting decisions on your behalf, simply visit https://steemit.com/~witnesses and type in "surpassinggoogle" in the second box for proxy.      
Let's Go!!!
Offer a service under hashtag "steemgigs". Attempt out-of-the-boxness on hashtag (untalented). 
Join the Steemgigs Community on discord: https://discord.gg/CGuPyyT  
"Everyone has something to offer!" Why not?