Join Us On The SteemGigs Talk Show On Discord (Friday 20th, April 2018), For Steemit Growth Talks. We Are More Than 4000 Steemians On The Server.
I am waking up!
I have had plans many times, of revamping the SteemGigs discord server for so long now but it has been very hard to. The server grew and it currently has more than 4000 steemians. This is a huge number. 
Lately, i have been needing way more help and turning to steemians to get some. Alot has happened in my life and it has been very tough but on our behalf, i will keep on strong and we will forge ahead, however slow. 
I added more funds to the pool for SteemGigs development. We want to hasten the completion of https://steemgigs.org within the coming weeks and i am using this time in between, to wake a bit more, post more and give of myself to many more people. 
So this Friday, we will start the first talk show on the SteemGigs discord server. There is no set format for the show yet, thus, we will like you to attend and let's have a small disorganized party and go back home refreshed and organized; "successful".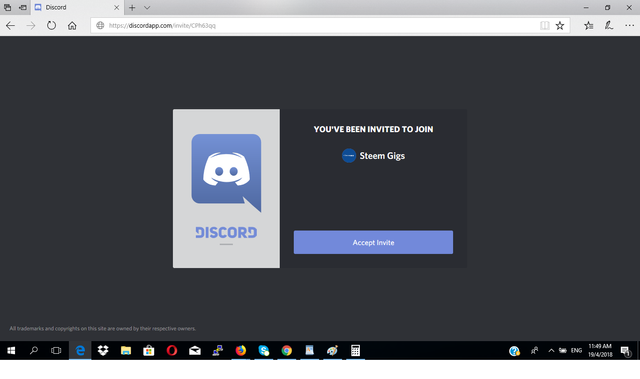 I remember when i was new on steemit; there were very few communities or discord servers. I had a server among the few servers that existed then. 
The few existing discord voice channels sped me up drastically. On there, i could pose my questions better and forge better relationships. I wasn't always frequent in those voice channels but my few times there, sped me up drastically. 
I have tried so many ways to be more effective in reaching out to as many people as possible. I do want to tend to everyone really but the issue is, i am very intense in my caring about others, that each chat/DM that ensues, end up lasting for hours. 
I don't have a phone currently, but even when i had a phone, whenever i was to do a call session that was promised at 15 mins, it will end up "3 hours". 
I care. I care alot. I have kept caring.
Today, i kept thinking of how to reach more people faster; of how we can get to celebrate more people in a shorter space of time. Then i thought of the SteemGigs discord server and took a peak at it again and the growing numbers and the disarray in the chat rooms and ofcourse the lack of activity and the "too many posts URLS everywhere" and the "too many chats with banjo". Then, i took a scroll at all my own unanswered and buried DMs and i was thinking of how to solve these things.
Earlier in the days, when i was new on steemit there weren't many communities. Before discord, most of the few community chats where on steemit.chat and some where very tight with rules, to where erring on these chats could even get you flags on steemit. Yes, at the time flags were rampant, thus, slight errors in those chat-rooms and you could end up getting banned from the channels and flagged on steemit itself and at the time, auto-flags could follow you for long periods. 
Then i started to turn to voice chat-rooms instead, as i found had some on discord and gosh, that was where i got my most speed-up. 
There was one called steemspeak by @fyrstikken that was 24/7 and then there was @steemittalk by @sykochica and answers to questions in these voice chat-rooms, where much quicker to attain as you could pose and repose questions and hear input from several parties. 
Some of the voice chats gave you "exposure" too. In the voice-rooms, it is easier to connect with people. It is quite easier to resound your "conviction" and substance because when people aren't certain/clear about your mission, vision, conviction or identity, they had the opportunity of asking you more questions, till the sound of your conviction satisfies then, then suddenly, you will starting noticing their support on your steemit posts. 
Then there was the beyondbitcoin and whaletank voice shows by @officialfuzzy, that gathers potential backers and project owners to weekly discussion, bringing to life several projects. Then there was @votu by @beanz as well. Well, i am referring mostly to the older or more veteran discord voice chat-rooms and how much value they brought about, at the time when steemit was still building up and was harder to thrive on.
Hahaha there was also SteemGigs. It had the numbers but activity in the text chat-rooms was off-n-on. The numbers didn't stop organically growing though and that is such as blessing considering that, it hasn't had concrete activity.
I am thinking we can startup an active voice channel on SteemGigs. 
SteemGigs is about dream-building. A SteemGigger is a dream-builder and eventually "everyone" will become a SteemGigger. 
Now when we say "everyone", that is one of the biggest niche in the world. 
No, more prolonged thinking. We will start it tomorrow, Friday; a voice show that will live on.
I am gathering groups of people that will run the voice show, whether i am there present or not. Over the course of time, i have gathered knowledge of many steemians who have relished my approach to life and have adopted a measure of my general behavior and they are willing to help with moderating these talk shows and ofcourse this role is open to everyone willing to help because, i so so so need help.
I will be there on the voice show tomorrow. I have to ready a device to use. I have an old IPAD, that i haven't had energy to even pick up for months. I will look for it and charge it and hope it will work and be set. Well, it will.
I would love as many attendees as possible, so please get your devices and internet ready to be on the discord tomorrow. The first edition may be a bit disorganized but don't worry, it will shape itself up. We will stick to time but not very firmly, for the first voice show. 
It will be 1 hour and a half long and there can be 30 mins after party.
The overall theme will be Dream-Building, so anything involving YOU and Surpassing Google with Steemit, will be worth of discussion. There will also be a curation segment. In these segment, we will discuss your posts and ways to enhance your methods and we will curate valuable content. 
I will answer questions too. My answers to your questions will be very rare and different, so it is valuable to attend this show. My answers even in relation to steem-related questions, stem from rare places and you will find this out if you attend. 
You can also ask non-steemit-related question e.g questions relating to life, decision-making or solving real-world challenges that are causing you discomfort. 
There is going to be room for love all the way. You can love me like crazy and assuredly, i will love you back. I would like to touch you till you confidently bring your non-steemian friends and acquaintances to the show and we will talk to them with love and help them open their steemit accounts when we are ready.
We hope that by means of this regular talk show (play zone) everyone learns, especially knowledge from the school of life and be made ready for life and any social interface, steemit, school, even the jungle. 
We want you to begin to see the light in the tunnel, not at the end of it. 
We already have some volunteers that will help host and moderate these talk shows but we will get more on the go. If you have a means to record the shows and want to do so, it is allowed. 
Show Details
The first edition will be Friday 20TH, 2018
Note: For the first edition, we don't know yet how the turn up will be like, so we want to let it flow as it comes. We will simply have some moderators on the day. Then based on how many steemians turn up, we will try to give as many people time-slots to speak and present themselves. We will also try to curate as many posts as possible depending on the turn out as well. 
The first edition, will mostly have room for question and answers. We can all agree on who answers a question during the discussion and i can make some addition where needed. Questions can also be directed towards me. 
Based on the first edition, we will be able to arrange a more concrete format for subsequent shows. It is likely, that we will have a post before each upcoming talk show, that allows people reserve their seats using a pitch within the comment section or we may have moderators decide deserving people. In general, we will up-build, discuss posts, methods, establish connections, bring about exposure etc and we will have an agenda each show to bring in non-steemians friends on the discord to have them open their steemit accounts, after we have come to know them through voice. 
When https://steemgigs.org is ready, we will discuss its use fully and all dimensions of it, its roadmap and future. We will also delegate roles etc
You can be assured that any knowledge you get from SteemGigs will be a standout. I, for one, am not a good speaker but when i love you, rare words will pop out. Really dug words. You can be sure. There will be "no books" involved in my case, so you can be sure that you will not find my words anywhere. It will be fresh.
So please join in!
Make sure to come around and invite as many as you want in as well.
Time: 11 pm Manila Time/3pm (GMT)
Who Can Attend? "Everyone" (Please make sure of the time)
Your Boy Terry
I am still looking to gather 200 steemians videos
If you want to join in with a video, kindly read this post but also read this post:  
Note: The next edition of "5 SteemHumans; 5 Questions; 10 Pieces of Advice" will resume again really soon. If you missed the first one, this is it:   
We are seeking coders/developers to help, by means  of utopian or direct contributions. I would like to invite all     coders/developers,  to show up on our SteemGigs development channel. 
Kindly visit and use our steem-based website today
https://steemgigs.org
Note that on SteemGigs, "everyone has something to offer". At the very least, you can update your profile on our website to open yourself up to more potential possibilities and improve your  general reputation even within the steemit community.  
To create awesome steemit posts, try our "un(dis)talented editor". 
Read our detailed FAQ & Answers  
I do need strength
Dedicating My Entire Steem/Steemit Journey To My Mum
If you want to support an extra witness and you support mine "steemgigs", it will be really helpful. 
To vote my witness, simply visit https://steemit.com/~witnesses and type in "steemgigs" into the first search box for witnesses or simply click Here to do it on one click! 
If you want me to make witness voting decisions on your behalf, simply visit https://steemit.com/~witnesses and type in "surpassinggoogle" in the second box for proxy.            
Let's Go!!!
Offer a service under hashtag "steemgigs". Attempt out-of-the-boxness on hashtag (untalented). 
Join the Steemgigs Community on discord: https://discord.gg/CGuPyyT  
"Everyone has something to offer!" Why not?