Nothing has changed but everything is different.
Now.
After Steemfest.
Because now I know you. I've met you in real life. I connected with you. I listened to fractals of your life stories.
And in visiting all your profiles I'm finding out even more about you. And I wish we would have had more time to talk, so I could put more fractals together and see how much more we have in common and how we are all connected - not just through the blockchain, but it more ways than we can imagine.
When you know who the people behind the posts are, images form in your mind when you see their posts, and they create whole new stories.
When @dayleeo and @teamhumble's posts appear right above each other in my feed, I imagine them having just had a coffee together in some café-with-wifi, typing away on Steemit, until one of them closes their laptop and yells, "First!"
Here is what I know about you now
I know that unfiltered big-hearted connectordistrupter @teamhumble is full of genuine real-life stories and that his life force is his daughter.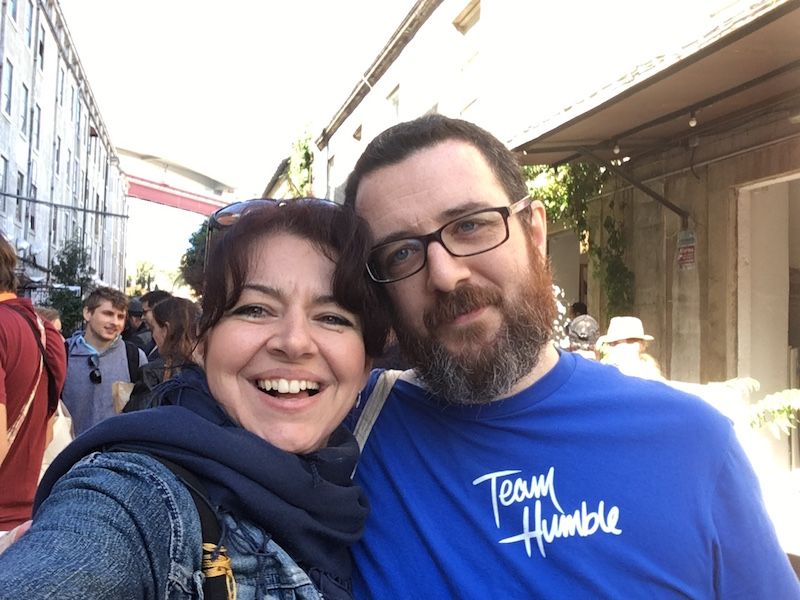 I know that @dayleeo is a super creative woman, and while I first only sensed that and judged that by her unique hair color and the fact that she (also) customized her new Steemit T-Shirt immediately to make it a little more Dayle - I now know that, after seeing her photography art in my feed.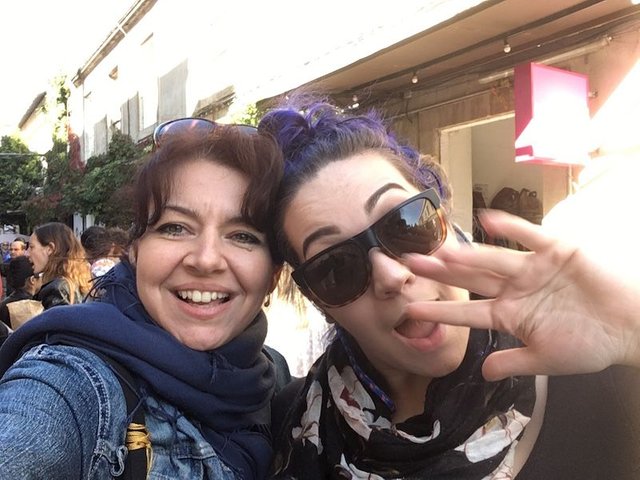 ---
I know that @anahilarski's baby son just got his first Steem silver coin from @virtualgrowth and he's not even born yet.
For some strange reason I don't have a selfie with Anabell, but this is what the coins look like ;)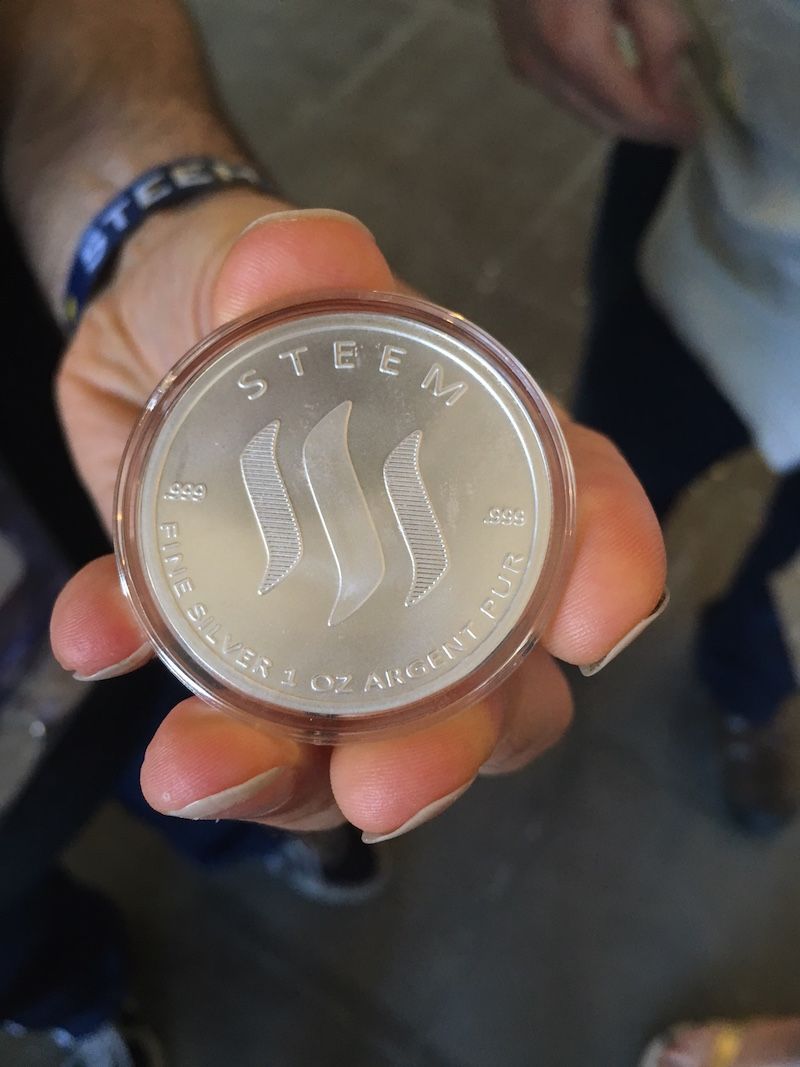 ---
I know that @virtualgrowth likes the number 108 (me, too) and pretty much any other number that exists in the universe. And he likes to fill his notebook with them. But he likes people just as much as numbers and seems to be a genuine, kind human being.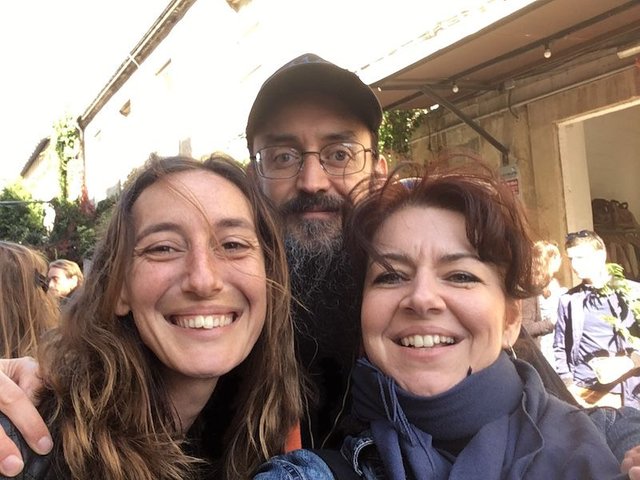 @lifemovedbysteem
@virtualgrowth
@connecteconomy
---
I know that @lifemovedbysteem loves and keeps ducks. And she's married to @happymoneyman. That's what I learned when I met her at Steemfest.
What I didn't know, was that she and her husband produced a video series together about her travels and Steemfest, while being on two different continents! Check out both of their blogs to follow them.
And you know what? When I read her comments or replies here now, I read and hear them in her actual voice!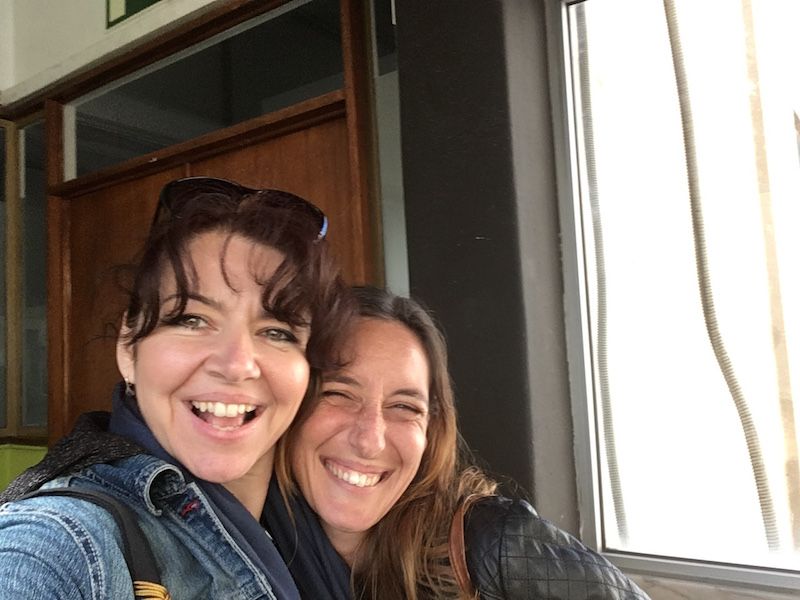 ---
I know that @noboxes is @gringalicious' dad, who brought five of his seven kids onto Steemit (if I remember the numbers correctly). And of course he's working on the remaining two...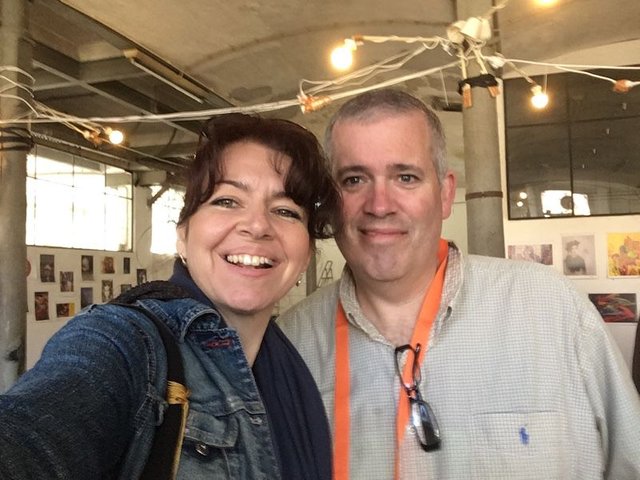 @noboxes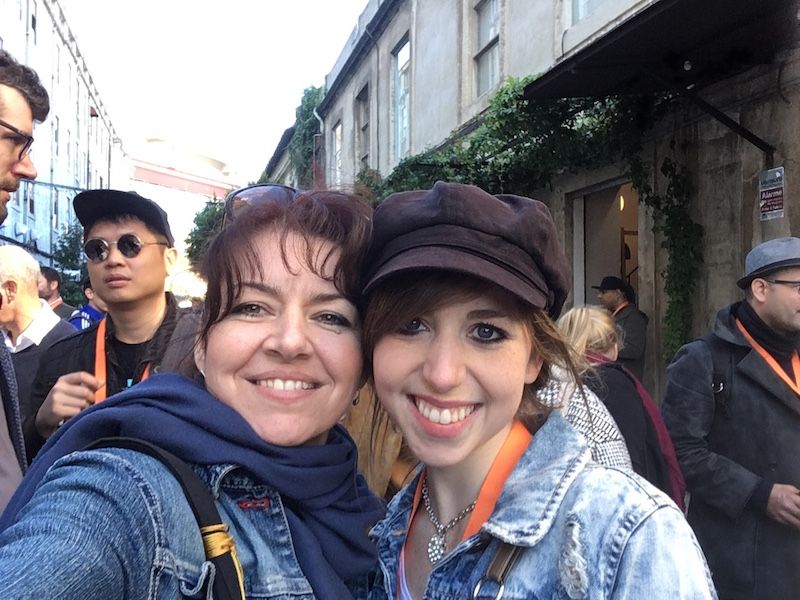 @gringalicious
---
I know that all @markwhittam wants is freedom for his family - freedom of choice to homeschool his kids, for example. Sadly that is a crime in many European countries, so he's currently traveling through Europe with his family in a truck. But when life gives you lemons...
Mark made lemonade by inventing the Steemit roadshow (mostly analogue with laminated A4 screenshots of Steemit and with free beer to tempt passers-by - epic!) and he's currently on a mission to get a whole Spanish village named Orgiva onto Steemit. Let's follow and support him!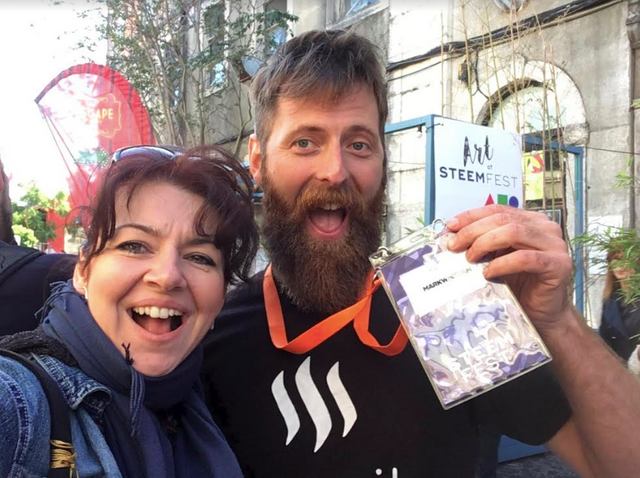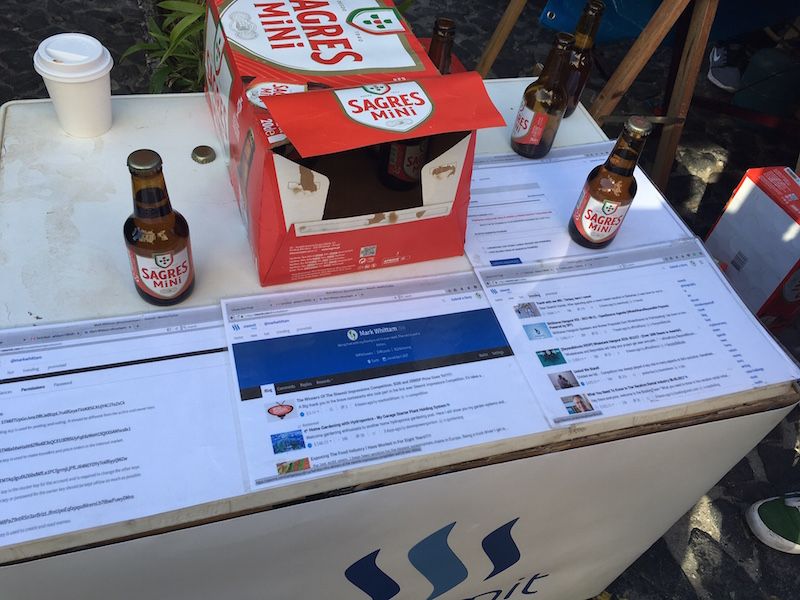 ---
Alcohol seems to be working well in the crypto world in general.
I learned that Proof-of-Drunk Dash-For-Drinks inventor @jza is not just my Dash colleague from Cancun, but he's built a whole global Dash operation that reaches as far as Korea! Whoa! Impressed.
Amongst many other things, he organises meet-ups where everyone gets their drinks bill reimbursed in Dash at the end of the evening. This way they have to learn how to install a wallet, how to secure their private keys, what Dash actually is, etc. Creative!
And this big Mexican guy is moving to a tiny Dutch village now. I'm curious to hear what stories he will tell!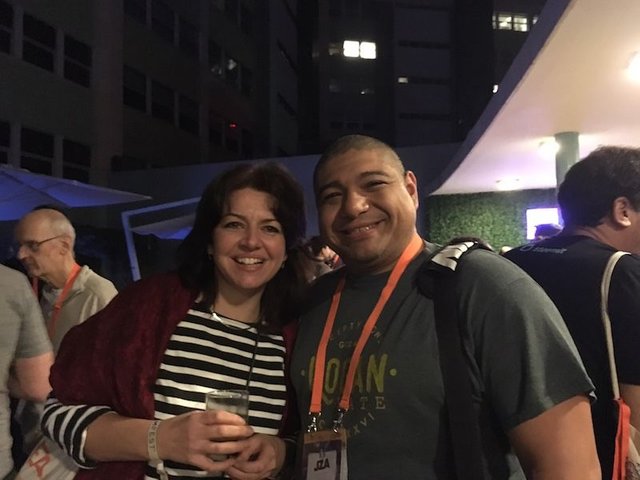 ---
I know that @martibis and @oroger only met just before Steemfest, when @martibis and @anomadsoul staid at @oroger and @roxane's house. And a few days later they won the hackathon together - how amazing is that?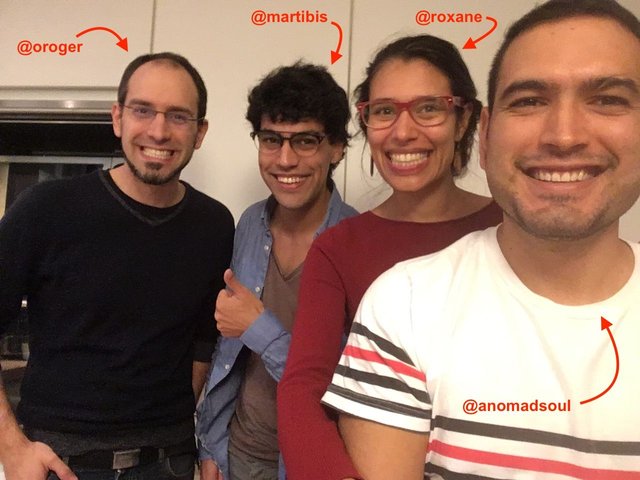 Photo stolen from @Roxane's blog since I neither have one with @martibis nor @anomadsoul
---
And speaking of amazing - that hitchhiking trip of @anomadsoul and @martibis? I had no idea! Check out their blogs and read up on their journey and how it came about. It's inspiring!
I also know that @roxane is an amazing lady who's determined to bring more French speakers to Steemit. Check out her Youtube channel if you understand French, where she teaches about money.
---
After meeting @surfermarly in person, I can now finally remember which island she lives on (Lanzarote) and while I thought she just packed her bags and moved there from Germany one day, after leaving the rat race world, I now know that she's actually been living there (with breaks) with her whole family since she was 16 or so. It's her real home! Not just a time-out.
I also learned we have even more in common than I thought: playing pool and poker! Is that a German thing?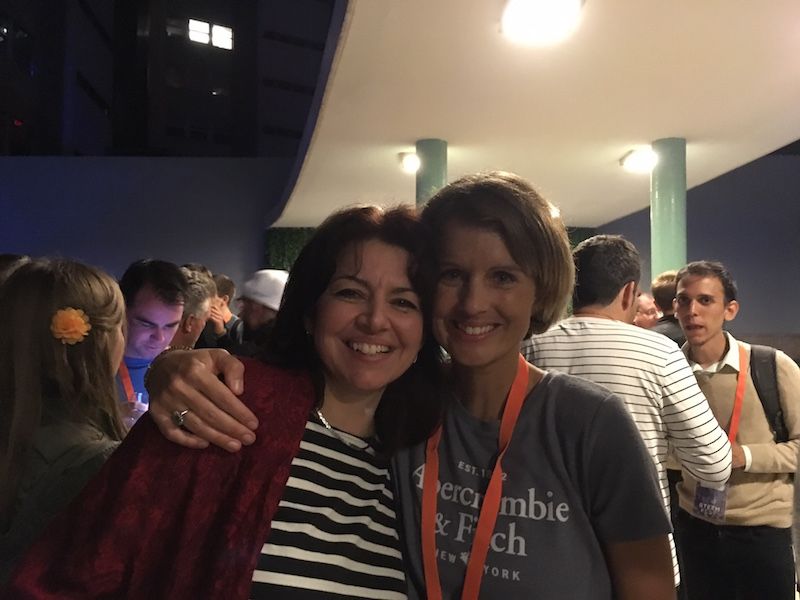 ---
I know that @wolfcat is a positive joyful spirit and I learned that @lovejoy's real name is Lovejoy!! How about that?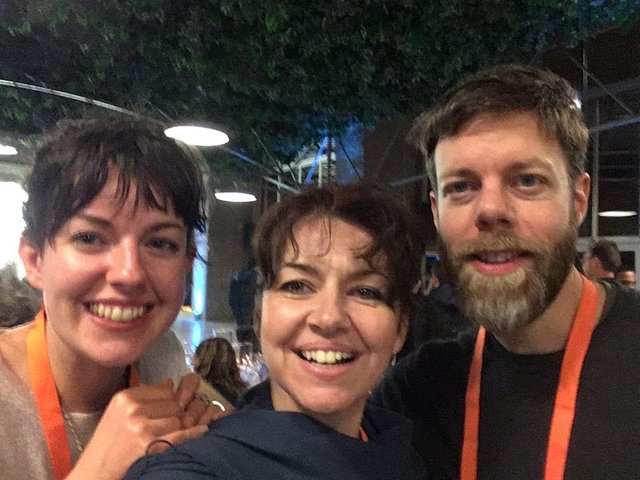 ---
I learned that there's a difference between @pnc and @prc - the first one is a great dancer and pool player and crypto expert, and featured in the image below. The second one is the smart guy who created DSound, and who I also briefly met at dinner on the last evening.
---
I know that @cybercodetwins lost touch with her driver in Sintra, which made him walk through the crowds, yelling, "Where is America???" (...Which happens to be her name.)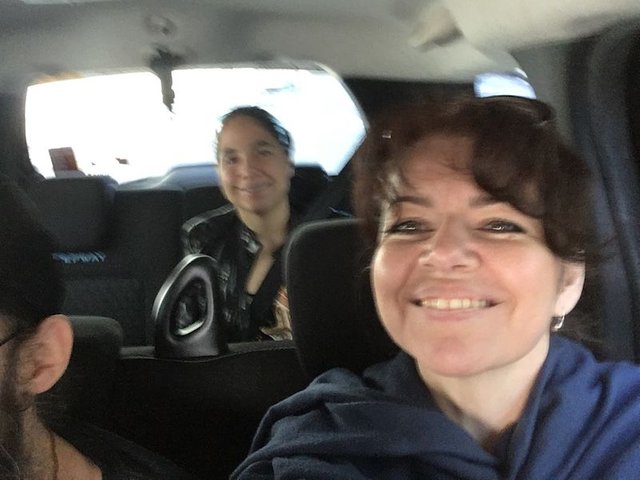 ---
I know @teodora is fun to hang out with in the ladies bathroom! Also, she can read Portuguese, so she was able to confirm to me that I had translated that sign on the bathroom wall correctly.
If you don't know what I'm talking about you need to watch the epic service-to-humanity-ladies-bathroom-documentary here.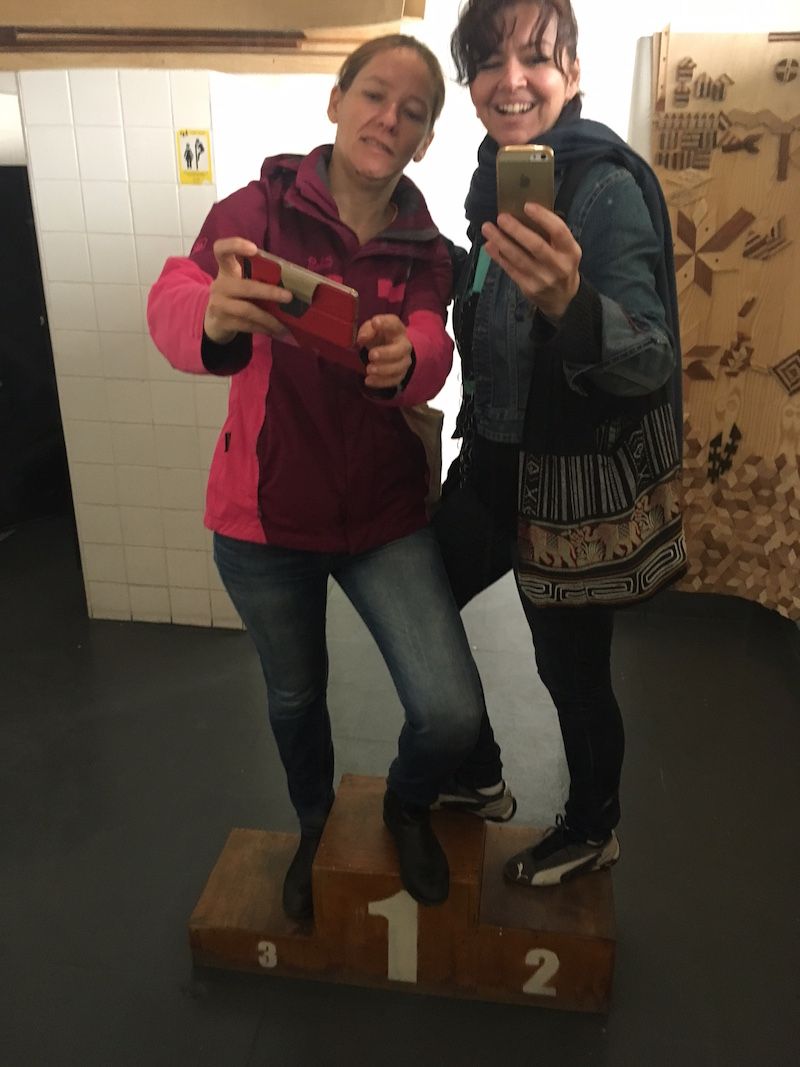 ---
I know that @sineadoconnor is on Steemit now, because I met her in person.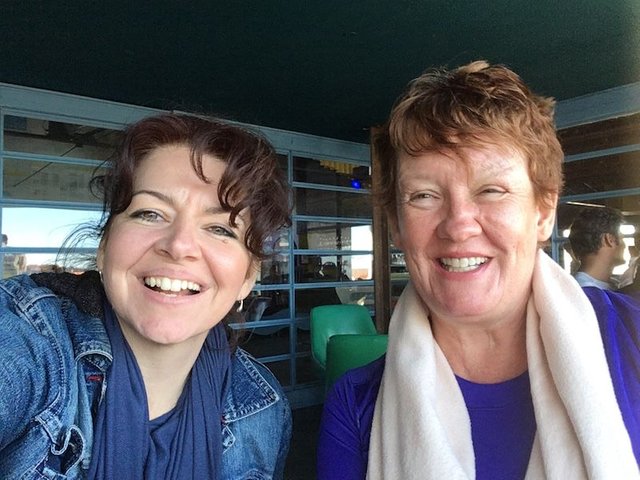 Also, she promised.

---
I got to know @mammasitta as a nurturer of relationships who likes to take care of her tribe and create win-wins for everyone. I'm getting a sense that she can manifest anything she wants in life.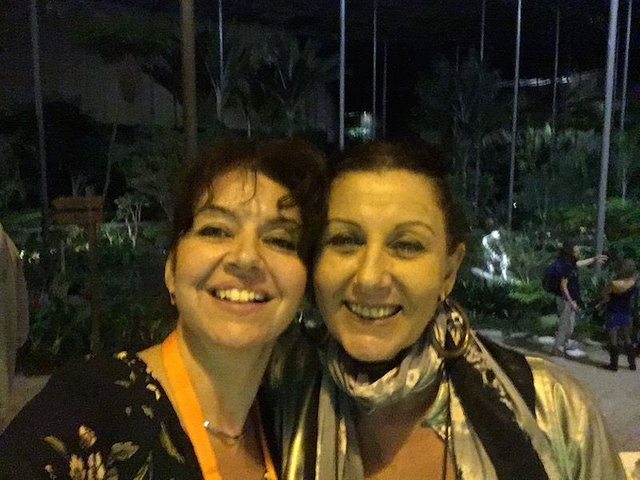 She says of herself that she's "a backstage person" but right after she said that, she literally ended up on stage, distributing her Austrian chocolates.
The chocolates were gone within in minutes (in my tummy...) but of course the little (smart) attachment is still there, in which she promoted her fellow Austrian bloggers: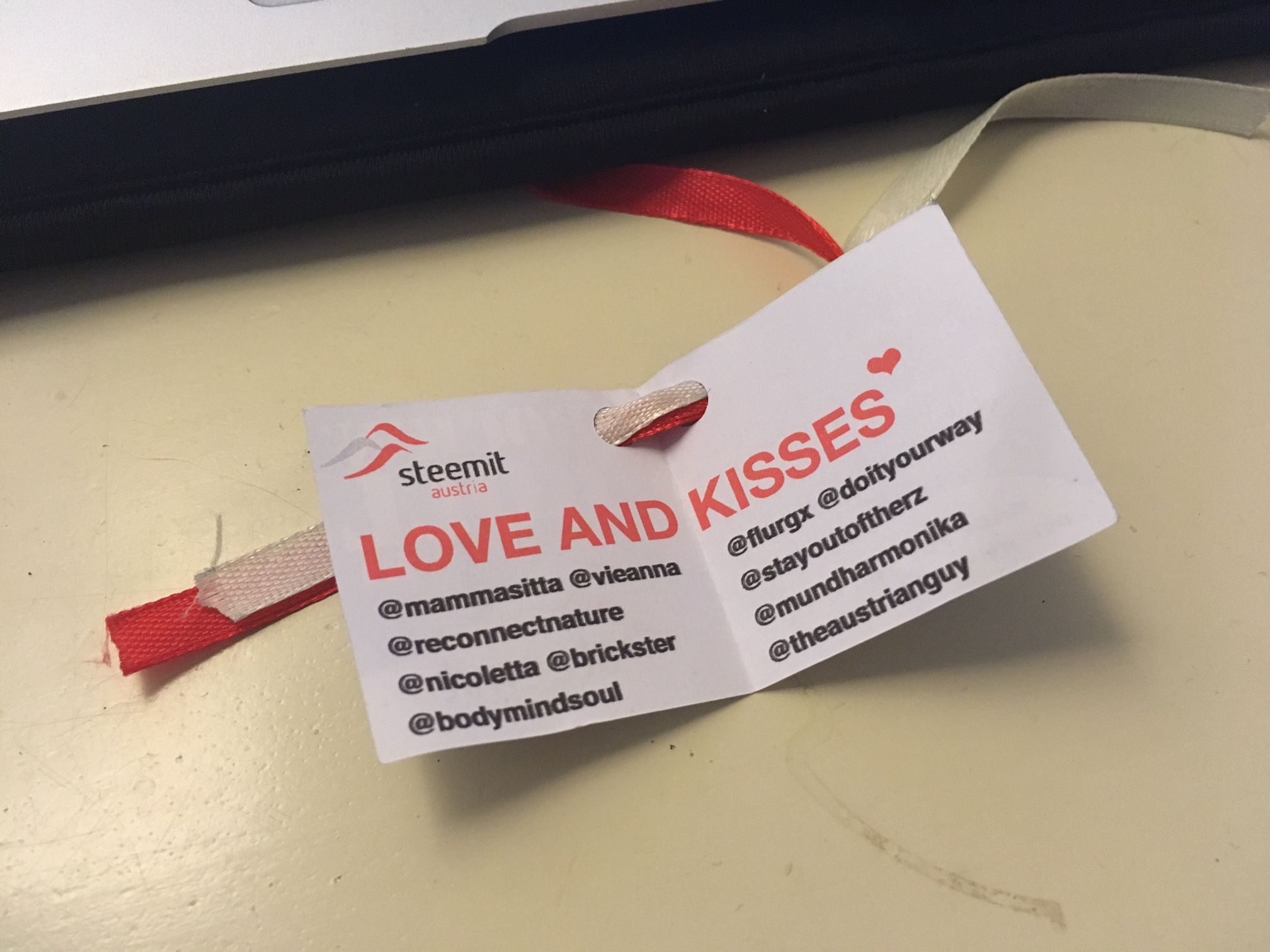 Let's check them all out, shall we? What a sweet idea!
---
I saw that @basil.marples is a super entertaining and funny guy. But I know that there's much more to him and I sense he has a super big heart.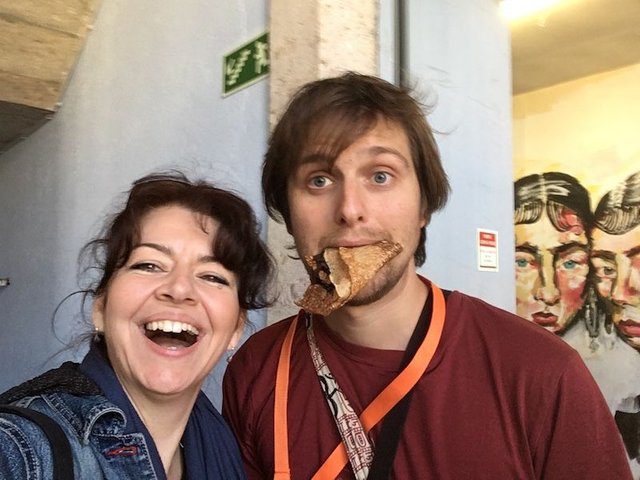 We were both spooked how this painting in the back managed to photobomb us...
---
I know that @everlove is an actual angel. We only spoke like two words, but sometimes you just know.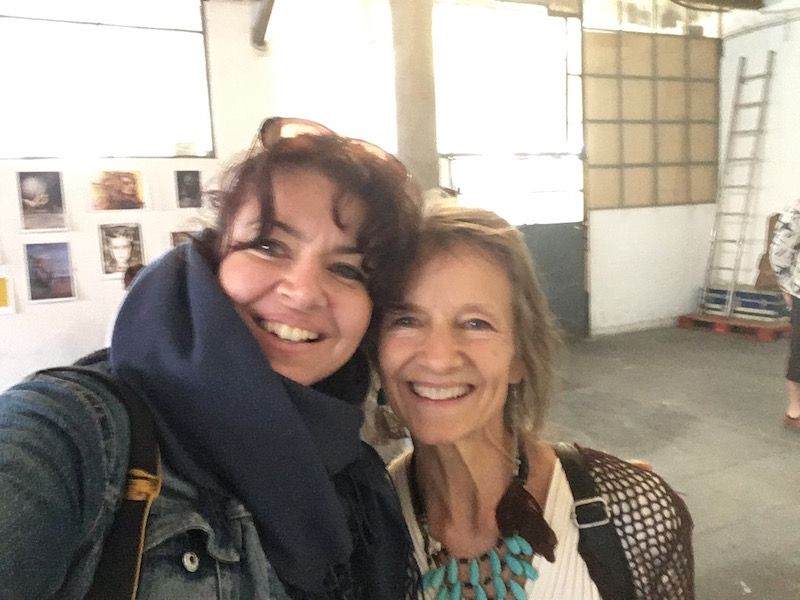 ---
I know that @juanmiguelsalas took so much footage that he will get to enjoy Steemfest over and over again while editing the films and doing what he loves!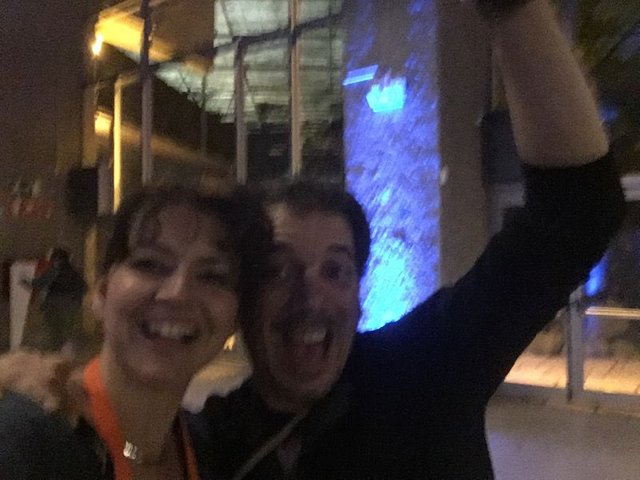 ---
I know that @andrewmcmillen is a gentleman, because when I sat next to him at dinner and said, "You sound British" he answered, "Close. I'm Australian." [searches for face palm smiley]
And when I then said, "Oh, I thought there was only one Australian here. The guy who interviewed Ned this afternoon." He answered, "That's me." [searches for two face palm smileys...]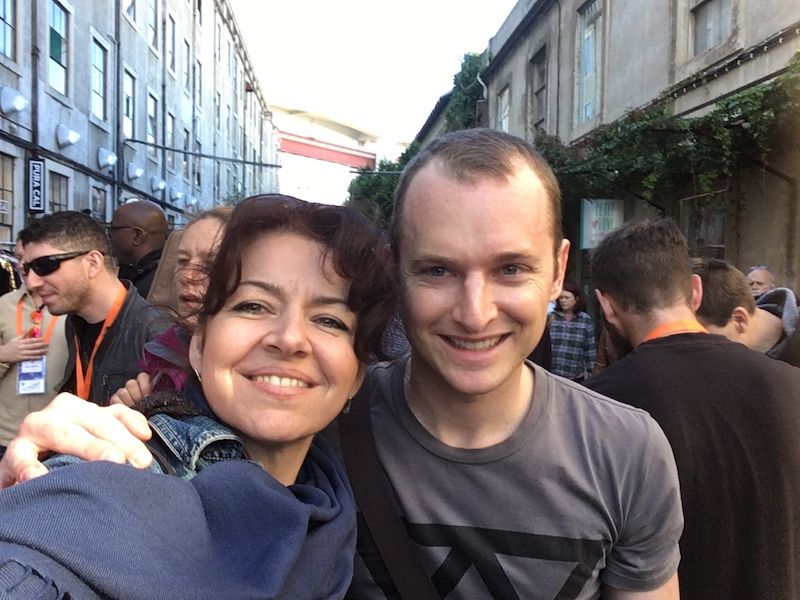 ---
I know that @daniel.errey is celebrating his second anniversary with his girlfriend and I hope he found something nice for her on the Lisbon markets.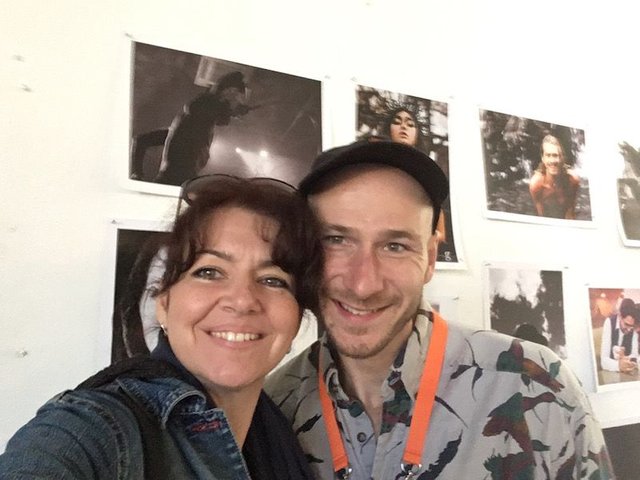 ---
I know that @roelandp paid his brother 5 Bitcoin to come to Lisbon to make pancakes for us. (At least that's what your brother told me, Roeland... 😆 )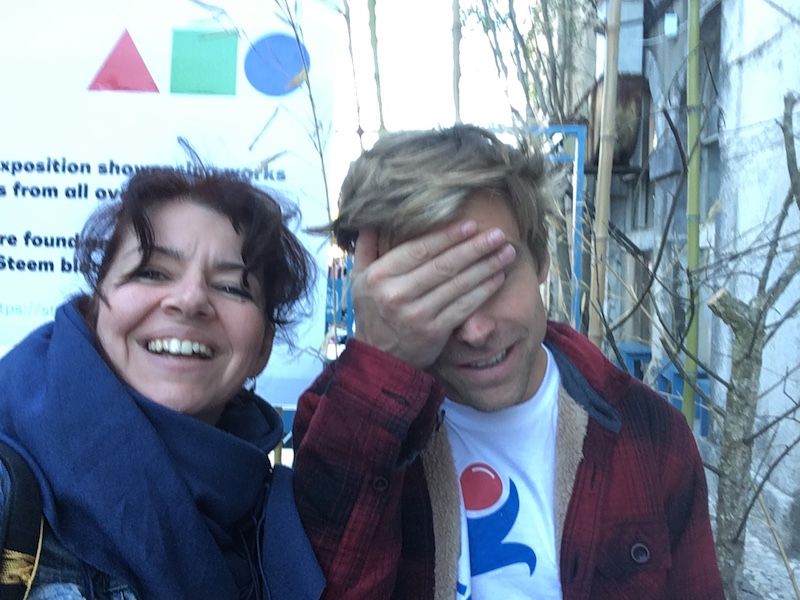 ---
I know that this gentleman looks good in a skirt and that he prefers not to be tagged. So I will respect that.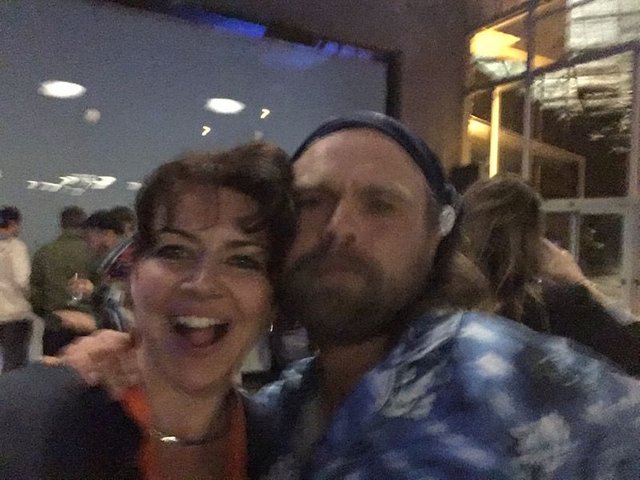 ---
I do NOT know how many cool wigs @lenadr owns, but I do know that she looks good in all of them. And without them.
I was also surprised to see that my otherwise photo-shy friend loves to photobomb. I think she would prefer not to be tagged, though.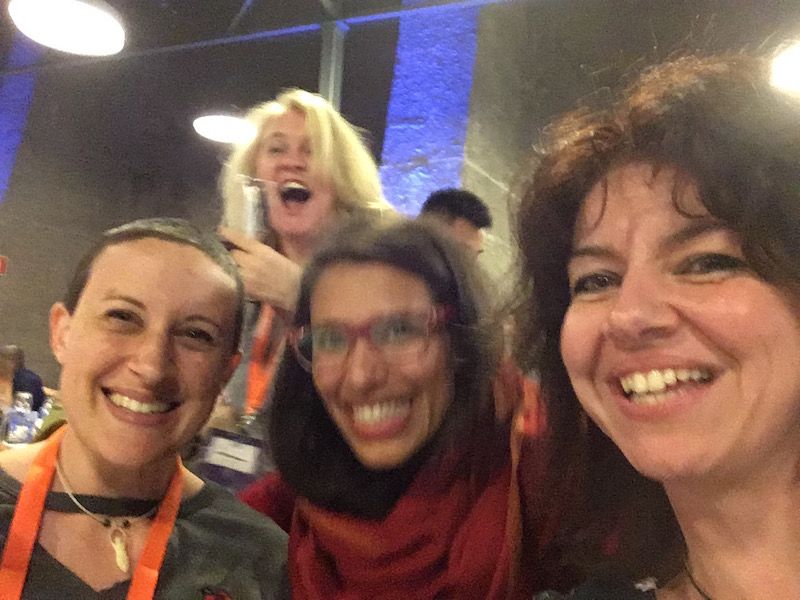 @lenadr photobomber @roxane @connecteconomy with Lisbon-wind hair...
---
[ imagine selfie with @firepower here ]
@firepower is a very special human being. He's not your typical biker dude (whatever that is) and earlier this year he was in a pretty bad car crash that knocked him out for a few weeks. But that wouldn't stop him. In fact, if I had to describe @firepower in one word it would be unshakeable. Imagine someone full of determination and purpose, while being totally grounded and kind. That's him.
When I met him, I just opened my arms and he walked right into a hug. He didn't even know who I was yet. I held up my badge after the hug. I honestly feel like @firepower and me go waaaay back. We don't. But for some reason he gives you that feeling. I'm sure, when you meet him, the same will happen to you!
---
I now know who Ned is
I mean, of course I've known for a while, but for some reason he was not on my radar when I wrote that comment that @surfermarly cited in her talk, in which I thanked @dan for Steemit and (indirectly) Satoshi Nakamoto and even the Big Bang (!!) and all that, but I didn't mention Ned!
I was very aware of that when I re-read that comment projected on the wall, now, months later, and felt a bit bad. But I did get to give Ned a hug on the dance floor at one of the parties and thanked him in person for Steemit, so I now I feel better :)
***
Soulchain
So now, when I look at Steemit, it looks completely fresh to me. And that's not because of the new minty color.
It suddenly has a soul. And many personalities. It's kind of like the universe when you think of it ;)
We were connected through the blockchain before.
But now we're connected through stories.
And we're looking at each other trough the eyes of empathy and connection.
It's a whole second layer to the blockchain if you ask me...
It's the actual important layer that the real blockchain is only there to facilitate.
This is the kind of connected economy I want to be part of.
Let's spill it over into the real world!