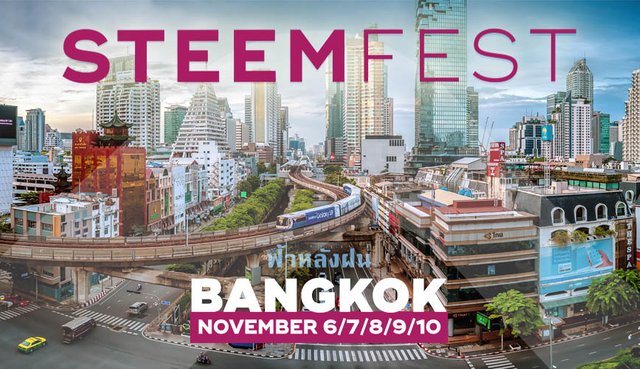 If you have no idea what Steem Fest is about, you can read about the date, location and some other details in @roelandp's annoucement post here!
We are only three months away from the biggest Steem event of the year and there's already a lot of people joining the
#roadtosteemfest
tag writing about the weekly topic!!
Last year, I came up with an idea so some of the attendees would write about their #roadtosteemfest to break the ice - it's only normal if hundreds of strangers are meeting for the first time - and to get to know each other before meeting in Krakow, Poland for Steem Fest 3.
Now, for this upcoming event in Thailand, those who have Steem Fest on their minds began writing about it, so if you want to get to know them better so when the time of meeting in person comes you are not completely strangers, then this post is for you!
Now, for those interested in reading first hand about the budget other Steemians are considering for the upcoming Steem Fest in Thailand, here are some of the posts they wrote about it. Don't forget to follow them and perhaps comment on their posts! Who knows, perhaps you'll end up meeting them in Bangkok this year :)
| Steemian | Picture | Budget |
| --- | --- | --- |
| @bugavi | | So, let's calculate #Budgeting: I will try to calculate at the minimum and choose the lowest prices. |
| @world-travel-pro | | This will allow me to hold onto my steem, bitcoin, and other investments longer in anticipation that they will go up |
| @ace108 | | I cannot leave the lady at home. So, I have to budget for 2 to go although she won't be joining in much of the #steemfest activity |
| @rmach | | I'll probably go and I'll probably pay for everything using fiat I saved (not all but partially) because I knew SF4 was going to happen somehow, somewhere |
| @kaerpediem | | Since SF3, @khimgoh and I made a pact to go to SF4. And with it being in Bangkok, it would be ridiculous not to go as it is only 2 hours away by flight |
| @liliana.duarte | | I'm not considering food expenses as everyone keeps saying it's cheap in Thailand...so I'll consider those expenses are covered by my grocery and restaurants monthly budget |
| @osavi | | I could say an accurate price because we bought everything that we need for SteemFest4, even I paid for a passport |
| @misslasvegas | | It is not every day, week or even month or year, we get to go to a tropical paradise for the best event of the year |
Thank you everyone who made a post about this. Any vote or resteem is appreciated, since all the liquid rewards from this post will go to fund one lucky Steemian's Steem Fest 4 entry ticket.
There is already one contest to win a Steem Fest ticket and it's sponsored by Blocktrades and Actifit, you can check it out here!!
This post was made through EsteemApp, one of my favorrite blogging Apps on the Steem Blockchain