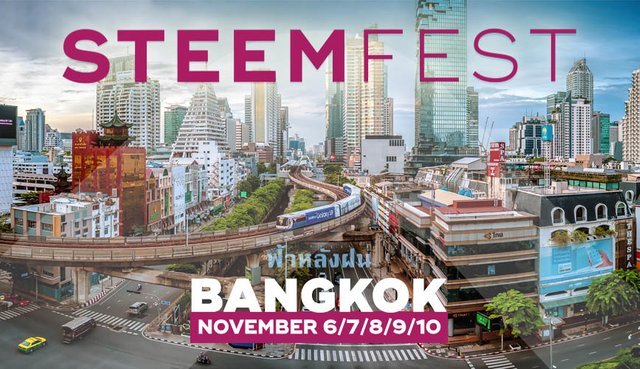 It's Sunday night, the day before the deadline of Monday August 12th to get this post out, and yes that has something to do with my budget and me getting there, as I still rely on my steemit up-vote income to help with my monthly expenses. I live a unique life of traveling and living internationally on a monthly budget of about 1,000 dollars a month including plane tickets and more. I've been living on this budget for over a decade now. So this month of November I'm going to probably go over my budget by a little bit but it will be worth it to go to my favorite event of the year.
Fortunately Steemfest is going to be in Bangkok. If it was going to be in and expensive country like Australia for example, I simply would not be able to go. So since it's in Bangkok this works out perfectly for me. I planned on spending another winter in South East Asia, November is basically the beginning of the winter and Bangkok is the gateway to South East Asia. So I basically already budgeted in tickets to get me there.
I recently decided to change my plans, as I was going to travel all over South America, then pop out of Buenos Aires and cross over to Bangkok from there. But I recalculated the expense of doing so, and I recalculated how I would best enjoy the next couple months before steemfest, and I decided that I'll just go to Peru from here in Ecuador where I am now. I'll hop a cheap flight from Lima to Cancun, then take a bus an hour south to Playa Del Carmen.
I found a sweet studio apartment on aribnb just blocks from the beach and was able to negotiate the price for 350 dollars a month all included. So I'm just going to chill there, slow my travel roll, and enjoy this awesome Mexican beach town for the next two months.
I then found great tickets up to Tampa Florida for $125 from Cancun, where I'll visit family for a week. Then from Tampa to Los Angeles Airport for just $60 dollars on Spirit air. I'll sleep in the airport for one night and early the next morning of November 3rd I found tickets to Bangkok via Hong Kong Air for $288.
Since my rent for all of September and October will just be $700 and with tickets getting me from Mexico to Bangkok for a total of about $470, and having plans to stay out there for probably a good five months. I'm doing just fine. But I still have to come up with the money.
My steemit income will help even though it's a fraction of what it used to be at these low prices. A year ago I was able to live off my steemit income entirely no problem, but since the price has dropped I've had to pick up another English student and have been teaching a little more from my computer.
Fortunately I have some investments that have been doing well so I'll be good to go. I have not bought my tickets yet, as I'm waiting until the end of August before the price rises. This will allow me to hold onto my steem, bitcoin, and other investments longer in anticipation that they will go up, technically lowering the price of my ticket even more, if I were to choose to sell and use this money form my tickets.
Finally I'll probably end up paying in Fiat anyway and hold producing investments even longer. I have considered paying in Steem, as the value of that is sadly being eroded away faster than anything I own. When will it stop, and go up?....will is stop and go up? I'm betting yes otherwise I would be powering down and paying with steem. Bitcoin seems to be back in a clear up trend so I'll be holding that too for now. So paying in US dollars makes the most sense right now and I've already liquidated some investments recently that are now just sitting in exactly that, fiat.
I don't have a real job and I've gotten very good at making ends meet by keeping expenses down, managing my finances responsibly, and finding good deals for daily expenses. What I've laid out here in this post is just a little insight into how I budget not only my way to steemfest but my life in general.
If you made it the end of this post and found it interesting, thank you so much! See you at the party in Bangkok! -Dan "World Travel Pro"