SALVATION TO MAN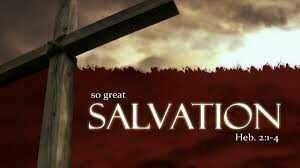 Salvation is the state of being save from evil or rot to come. God have severally warns man of the calamity that will befall man in time to come although it looks like a joke  before man but one thing is sure, God cannot lie. He is the creator of the universe and everything in it including man and all his access. Since the  creation of man in the garden of Eden , man have been surrounded with a  lot of problem ranging from what to eat, sickness, marital problem and desire to live comfortably just like God but is never possible.The worst of it is enternal damnation in hell where all those who refuse to acknowledge God and obey his commands will find themselves after their death here on earth. 
      God have foreseen all this and decide to device a means to save man from this. He have look at the problem of man and set out rules by which man must follow to become save. God loves man right from creation and he still like man even now. He want to have fellowship with man continually but the problem between God and man is sin. S. I. N ( simple instruction neglected) is the partition between us and God. God is too holy to accommodate sin, he is pure and righteous. In the book of John 3:16,the bible said For God so love the world that he gave his only begotten son that anyone who believe in him shall not perish but have  everlasting life. So God sent his son Jesus Christ to save man from sin. His purpose is to make man closer to God by washing away man's  sin. The Bible quotes that if any man be in Christ, he is a new creature, old things have gone away behold all  things have become new. So Christ purify, cleanse and  forgive your sin. He make you new and pure before God. 
    Salvation means a state of been saved from sin.the bible said the soul that sin it shall die. Until you  are saved from sin you are not yet save from hell. This is why Jesus Christ came that if anybody will believe in his heart and confess with his mouth that he came to world, suffer, die for our sins and resurrect on the third day, he or she is saved. The key of heaven and earth been is given to him and whosoever shall call on his name shall be save. He is the way,  the truth and the life no one go to  the father except through him. 

For you to have salvation come to Jesus, he can save you and give you passport to heaven freely. Jesus our savior, our sanctified and our healer.