Anatomy of a pleasant and desirable Steem.center wiki page plus a new received donation from @scooter77
Intro | Rules | Steem.center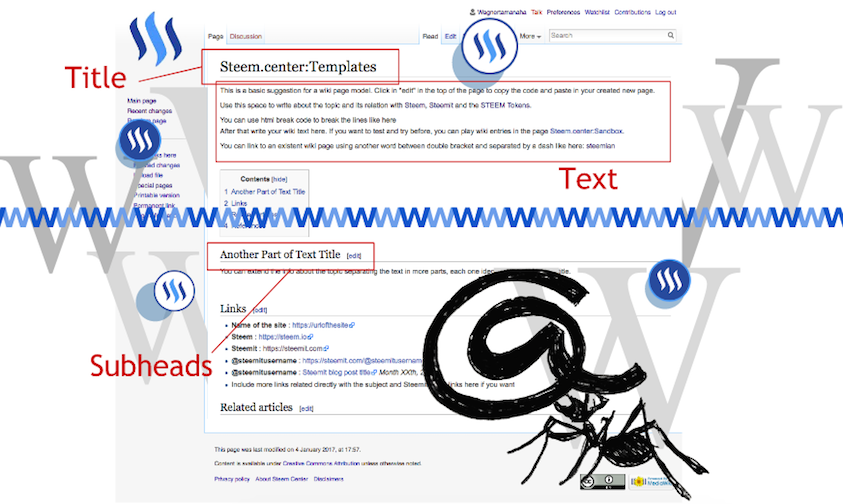 Hi steemians! Following a suggestion from one of our active participants @vitkolesnik, today we will try to talk a little more about wiki editing and good points in the organization of information inside a wiki page so shining that visitors could call it neat.
First of all, the wiki in its way is another revolutionary open and descentralized tool, we must remember that everyone can create and edit any pages they want. So, the following suggestions aren't stricted rules, they were made to inspire the collaborators or even provoke discussions about the different ways we could create and update the Steem.center wiki content.
We still believe that a wiki is a platform where chaos can generate some patterns and maybe order, you can consider the following sugestions as losely guidelines.
To make it easier to add new pages with these format sugestions, we prepared a Template Page that you can click in edit, copy the code and paste in the new page you want create. Bellow more details from what this template informal directions suggests.
Title
It's very important to identify the subject of the page. We think it's better being more encyclopedic and fact oriented and less opinionated or subjective. A good starting point is picking words and definitions as is written in Steemit FAQ, interface, menus and Steem site and White Paper. If there are diferences between how the words are used in the steemians community we can adopt the same one that was chosen by Steem and Steemit official channels.
Article Text
Again, like the title, it's better being more encyclopedic and fact oriented, completing with dates, locations and source links. Any opinions or personal analisys could be added, preferably as quotations with source and its links. If the article answers the questions what, when and where the reader could be satisfied, but celebrate if it also aswers the questions who, why and how much.
As Steem.center wants to be the center of all Steem related things, it's important to explain the relation between the article's subject with Steem, Steemit and/or STEEM Tokens.
Article Subheads
If the suject deserves a long text, you can divide the wiki article in chapters and even in more depth separated wiki pages.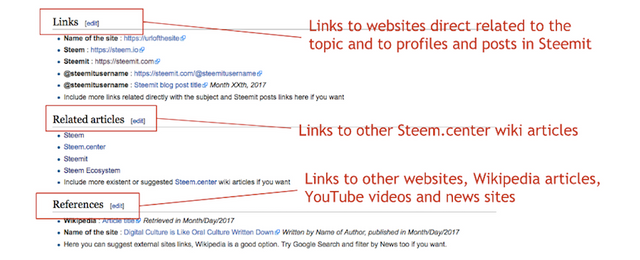 Links
Here you can add links direct related with the subject, like any official website, social media channels (Facebook Fanpage, YouTube, Twitter, Instagram, etc). Thus links to Steemit posts and related user accounts. You can search eventual Steemit posts using Steemit search, Google search or AskSteem.
Related Articles
Links to other Steem.center wiki pages. You can find them using the wiki search, check the All Pages or browse the existing Categories. You can also suggest new wiki articles to be created in the future, just write the proposed new page title between double brackets.
References
Links to external websites, blogs, foruns, etc. It could be interesting to add Wikipedia Articles related to the subject, video tutorials in YouTube Channels, articles in news and academic sites, etc. You can search eventual existent content using Google News Search and YouTube search, you can use Steem or Steemit keywords together with words defining the wiki page subject you're creating to check previous mentions elsewhere.

@steemcenterwiki Footer
It would be kind to include this banner with links to @steemcenter and invites to new collaborators that would be rewarded with STEEM too. When copy-pasting from the Template, pay atention to the "edit" link that should be changed to the correct wiki page.
Categories
At last you can choose one or more categories that the wiki article fits better. You can check the existent Categories or suggest a new one (be careful doing this, the category should gather the content, not divvy).
We hope all this suggestions could help and inspire the current and new Steem.center wiki collaborators. You can use the Template Page, opening it in a new tab, whenever you need to create a wiki article or update and increase an existent one. As we told before, the wiki is a place we can have different approaches working togheter, with all the contributions, big or small, blending and materializing in a form of collective intelligence, with space to individual initiatives and proposals. You can edit and create new pages, following or not the format proposed here. But we believe these recommendations could enrich the articles and estimulate the reader to go deeper in the blockchain and Steem philosophy and ecosystem.
Finally, all this talk motivated you to start collaborate? If you liked the idea and want to create an useful collective knowlege space to new and current steemians and transform Steem.center in the wiki of all things Steem related, we invite you to join the project. See the rules to know the proposal of rewarding the project's participant monthly. If you want to be in the next distribution list to earn a share of the STEEM collected here this month, please follow us @steemcenterwiki, register in Steem.center with your Steemit username. Then start collaborating!
You can find suggestions to start new pages in Articles for Creation or choose one existent wiki page to update in the List of All Pages. You can use the sandbox page if you want to test and play wiki editions before. If need help you use the MediaWiki tutorial as a guide to create and edit pages in Steem.center wiki, wich works with MediaWiki, the same code of Wikipedia or ask for a personal response in Steemit.chat #wiki channel.
You can also support the project with donations, just transfer any STEEM value to @steemcenterwiki. Or follow us, upvote, reply or resteem this post.
A new received donation!

Thanks a lot to @scooter77, who made a donation to increase the Julys reward pool. The participant shared the liquid payout from his post promoting our project: Steem.Center Wiki - Rewarding Contributors with STEEM (All SBD will be donated to #steemcenterwiki project)
We think it was an excellent idea, using the Steem.center wiki content and proposal to feed individual posts, increase more payouts opportunities and after that, share the rewards with the project. Congratulations and thank you very much again!
Project's Balance

After the donation now we have 55.205 STEEM in our wallet. The idea is share all the July's sum the same way we already did for June, May, April, March, February and January. Following our rules, all STEEM collected in July would be shared among this month's participants. If you're interested, check our project's introduction and rules proposed and join us if you like. Or just upvote and resteem this post to increase the collected amount as an incentive to new participants.
Thanks and good luck for us all again!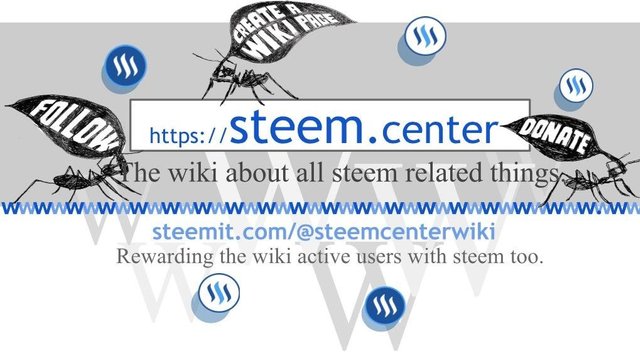 Intro | Rules | Steem.center