Intro | Rules | Steem.center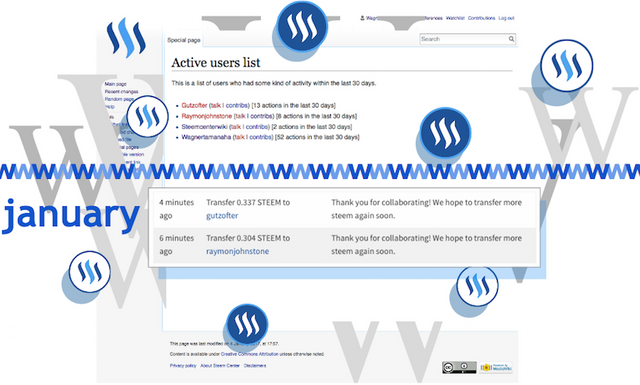 Hi steemians! Last week we announced the First month's steem reward tranfers wiki collaborators list and as proposed in the project's Rules now we just made the steem transfers to the participants @raymonjohnstone (0.304) and @gutzofter (0.337). The other entitled participant @wagnertamanaha prefered to donate his amount of 0.603 steem to be shared again this month.
Thanks again to all january's participants, followers and suporters, we invite you to continue collaborating and transform Steem.center in the wiki about all steem related things!
Project's Balance
Right now, after the distribution, we have 0.631 steem in our wallet. As we did today, all steem collected in february will be shared with this months participant's. If you're interested, take a look in our project's introduction and rules proposed and join us if you like. Or just upvote and resteem this post to increase the collected amount as an incentive to new participants.
Thanks and good luck for us all again!
Join the project!
If you liked the project and want to collaborate in the wiki and earn part of the steems collected here, please follow us @steemcenterwiki, register in Steem.center and show your Steemit username in you profile page. Then start collaborating, if you want, you can use the MediaWiki tutorial as reference to create and edit pages in Steem.center wiki, wich runs in MediaWiki, the same engine of Wikipedia.
If you want to see more wiki pages created or just support the project, please make a donation tranfering steem to @steemcenterwiki.
To support the project please follow us, upvote, reply or resteem.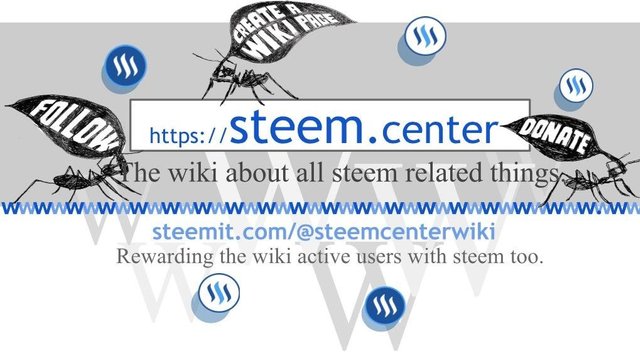 Intro | Rules | Steem.center
Images (top, bottom) hosted at Supload.com, earn bitcoin to use internet.