Steem Basic Income
Steem Basic Income is a social experiment to bring a basic income to as many Steemians as possible. Members join by sponsoring others into the program. Steem Basic Income is delivered through providing regular upvotes to member content.
Welcome to @steembasicincome's third member interview!



To provide more interaction within Steem Basic Income (SBI), we are continuing our interviews with prominent members of SBI!
We hope to bring a greater sense of community, get to know our members, and gain a better understanding of why Steemians are choosing to be a part of SBI.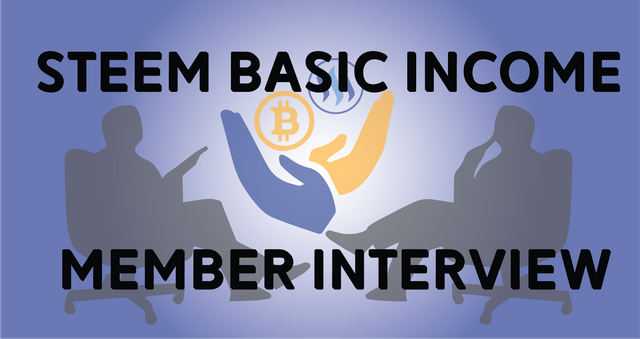 ---
On Steemit, you'll find people from all over the world and from all walks of life. For this @Steembasicincome interview, we'll travel to meet @andrewharland. He's an electrician who runs his own business in the UK. If you look at his blog, you'll find an eclectic mix of posts. They include pictures and updates on his jobs, his adorable kids and their adventures, as well as fitness and cryptocurrency. He has visions of a better future where crypto miners help further science, and projects like Steemit become the social media platforms we all want and need.
The interview is conducted by @ntowl. She is a freelance copywriter with fiction and non-fiction books in the works. Her writing is already all over the web, but most of it belongs to other people who paid her to write it. She came to Steemit to put the focus back on her own writing, and maybe make a few pennies while refining her craft. She enjoys sharing what she knows with others during her live writing classes on Discord and her blog. In real life, she's a homeschooling mom that teaches physics at an alternative education non-profit.

---
Q: What brought you to Steemit?
A: I started investing in the cryptocurrency market in September of last year. My first investment was in Bytecoins. This was when I started to look into all the different uses for the blockchain.
I came across Steem via a video posted by 'Altcoin buzz.' After some research, I decided to set up an account and invest some money in the platform.
Q: What about the Steem platform made you decide it was worth your time and money?
A: I was a user of Facebook, and I started a Twitter account to keep up to date with cryptocurrency news. The problem with these platforms is they pull in so much advertisement revenue and don't care about those trying to make a living.
Now I have seen what social media can do for a business in a positive way. My local butchers were on the verge of closing down, so they created their Facebook page. This small change has turned their business around. They put on weekly specials that sell out in no time. They have hundreds of followers that use Facebook to place their orders.
Now Facebook gets all of the advertising revenue from their page. How can that be fair? Yes, they get to put up weekly specials, but all the ads that their followers see go right in the pocket of Facebook.
With Steem you know that if your material is a success then you and your followers get rewarded. I hope that Steem will become a larger platform so similar projects can happen at a local level.
Q: What do you think about the concept of Universal Basic Income?
A: Universal basic income will become almost a necessity in the future. I believe that it is a great idea to give every person enough money to live. The only downfall is if you give everyone money then what is stopping hyperinflation.
Q: How did you learn about and join Steem Basic Income?
A: I was on Steemit looking through various posts about how to invest your Steem and SBD when I came across a post by @steembasicincome. From reading that first post, I invested 25 Steem, and I am now in 4 pools.
Q: Can you give an estimate of the average vote value of your SBI investments?
A: This is hard to do, due to the current low price of Steem. However, I would say I get around $2.15 SBD per daily post on 307 shares with 100%bonus. This doesn't sound like a lot, but it's for life, plus the way I see it if Steem 10x's in the next year I will be getting $21.50 SBD. That becomes a very attractive second income 7 days a week.
Q: Are you on the management team? What's your role?
A: I'm not on the management team, but I do answer any questions that I feel I can. Most of these are from new people just starting to invest in @Steembasicincome
Q: What are your thoughts on Steem Basic Income now that you've been a member for some time?
A: I believe it is a great project. It's a large undertaking by @josephsavage and I think as time goes on he will find it even more challenging.
The biggest problem I see in the future for SBI is when the price of Steem goes up. This is great news for those who have invested already, however, newcomers may be put off spending 1 Steem on a share if the price of that share is $25+.
Q: Do you use SBI to support your other activity on Steemit, and if yes, how do you do that?
A: Currently I have invested in SBI for the future. It does help that my post see a good upvote and this gives me better coverage. However, I mainly use this income for purchasing more shares to compound my current investment.
Q: Are you saying you reinvest all your Steemit earnings into SBI or all your SBI earnings back into SBI?
A: I currently take 1 Steem a day from my posts income and buy a share. Then I use the rest to boost my posts using @minnowbooster, @sneaky-ninja, and @booster. At the weekends I tend to get a larger payout so I increase the shares I buy around that time. Lately, I have wanted to use these extra shares to help others out in the community.
I set my aunt @rogz06 up with an account. She works for me now as she had a very bad time with her ex-employer. So we work together to build shares but anything over 7 shares a week I want to give away my nomination to a worthy competition.
Q: Do you participate in or organize SBI contests?
A: I don't participate in contests. This is mainly due to the fact that so many people are trying to get shares as they don't have any other way to invest. With over 300 shares already I would only be taking money out of someone else's pocket. I have just pledged 4 shares to @thedarkhorse to support his project, and I intend on doing more in the future. I recently asked the management of SBI about trying to help others get more shares using some of my sponsors, and they put me in touch with @thedarkhorse. So if anyone else needs a couple of extra sponsors for their contest, then I will certainly take a look.
Q: How can someone contact you about sponsoring their contest?
A: Well, @thedarkhorse contacted me on the @steembasicincome comments, and then we started chatting on discord. I am busy most days, but I am able to get onto the platform a few times a day and will be happy to answer questions, etc. Plus I'm not saying there is an infinite pool of SBI sponsorship available, but if I can, I will help.
Q: What ideas do you have for SBI as it continues to grow and evolve?
A: It currently has a great community, and it is only getting bigger and better as time goes on. As before the biggest issue is when Steem gets too expensive to buy new shares. I have suggested that in the future a 'lower level pool could be created' this would allow people to subscribe to it for a fraction of the price letting them build their investment to the larger pools. Also, I believe the delegation is not as competitive as some of the other services on Steem.
Q: Do you have any recommendations on how they can improve their delegation ROI?
A: The issue here is that the two projects are very different. SBI gives a weekly upvote worth around $0.02 per share. This is spread over all posts. So if I delegate 20sp, I will get 0.02 plus a 100% bonus because I upvote all SBI posts. So 20sp=$0.04 a week.
@silvergoldbotty, if I delegate 25sp, I get an upvote on a 22hr timer (effectively once a day) of $0.14. Over seven days that a weekly upvote of $0.98.
Without offering a lot more shares for the delegation, I'm not sure SBI can compete. The only way would be 5sp per share. Then its a more profitable delegation.
On the other side of this, I believe over the long term SBI is the best ROI for 1 Steem.
Q: What other Steem programs are you involved in?
A: I currently delegate to @silvergoldbotty. They provide a set upvote once every 22hrs. The current ROI is 0.14 upvote per 50sp delegated. This has come down due to the current price of Steem, but it will go back up again. This is the reason I said that the delegation for SBI isn't as competitive.
Q: What would you say to someone who's just learning about SBI?
A: SBI is a great investment for the future. It will not make you rich overnight but it may provide a great second income within the next couple of years. Build your shares and reinvest the money you earn from it. The team behind this are great, and they will answer any questions you have so don't worry if you feel like its a 'noob' question; just go ahead and ask.
Q: Can you tell me a little about your interest in cryptocurrency? Is it part of a long-term investment plan, short-term or do you invest because of a more philosophical reasoning? I know some see it as a true equalizer for the world economy, for example.
A: Well, I believe that cryptocurrency has a very large role to play in the future. For me, I live in a country with a relatively stable currency (even with Brexit). So cryptocurrency won't have a massive effect on the every day. It will just be another way to move money around and pay for things. Also, it will be a way to invest in projects. I have done this with @lucyd.
I do believe that cryptocurrency will have the biggest effect on nations that don't have a stable economy. To wake up and see that your money is worth the same or even more than it was before you went to bed is just a dream to some.
So those countries will see the biggest boost. For the rest of the world, it's like investing in the very first stocks. It is a risk, but if you invested in Google when it was first launched you would be very happy now.
I also like Richard Hart's idea of selling the computing power of the miners to run calculations for science and technology. Rather than waste this power on generation just new coins, let's use it to further science and generate new coins.
Q: Would you ever consider using Steemit as a platform for promoting your business? For example to expand your blog or to share your knowledge and get more traffic from Steemit to your website while earning some SBD?
A: It would be great to put up an advert on Steem, and everyone in the local area could see it and vote. This would bring in more business. Plus I would be happy to accept Steem as payment via this platform. The issue I have is my work is limited geographically. I can't wire someone's house anywhere but the UK and until next year Europe. So if you could target your local area on the platform, then it would help businesses like mine.
---
I enjoyed hearing @andrewharland's visions for Steem and cryptocurrency as well as getting to know him just a little bit. You can see from his answers that he is committed to SBI for life and has high hopes it will someday offer a nice side income. What also impressed me is his willingness to help the community. In addition to sponsoring contests, you'll find he is often answering questions about SBI in comments. So when he says don't be afraid to ask questions, he means it.
---
---
Enrollment
If you want to get involved in Steem Basic Income, or to increase the share of basic income that you receive, enrollment is pretty straightforward:
Just send 1 STEEM to @steembasicincome. Include the name of a Steemian to sponsor in the transaction memo (preceded by @). You and the person you sponsor will each receive 1 share in the program. You can sponsor any active Steemian, it does not have to be a current member.
If you're unclear, please check out our full transaction memo guidelines and then let us know if you have any questions.
https://steemit.com/basicincome/@steembasicincome/steem-basic-income-new-transaction-memo-guidelines
The official currency for enrollment is STEEM. We are not accepting SBD for enrollments. The current delay on enrollment processing is 6-7 days.
Questions?
Please read our recently published FAQ. Most questions are addressed in our FAQ or in the additional resources that it suggests. If you still have questions, ask in the comments section or join us in our discord channel. To review your share counts, we explain our tracking sheet here.