Steem Basic Income - Enhanced Votes Graphs
Steem Basic Income
Steem Basic Income is a social experiment to bring a basic income to as many Steemians as possible. Members join by sponsoring others into the program. Steem Basic Income is delivered through providing regular upvotes to member content.
Enhanced Support Graph
We first published this graph that 'maps' the interrelationships in our member pool a couple of months ago. Here is our graph and analysis from last time we published it:
https://steemit.com/steembasicincome/@steembasicincome/pewgf-steem-basic-income-enhanced-votes-graph
And here is the graph from this week: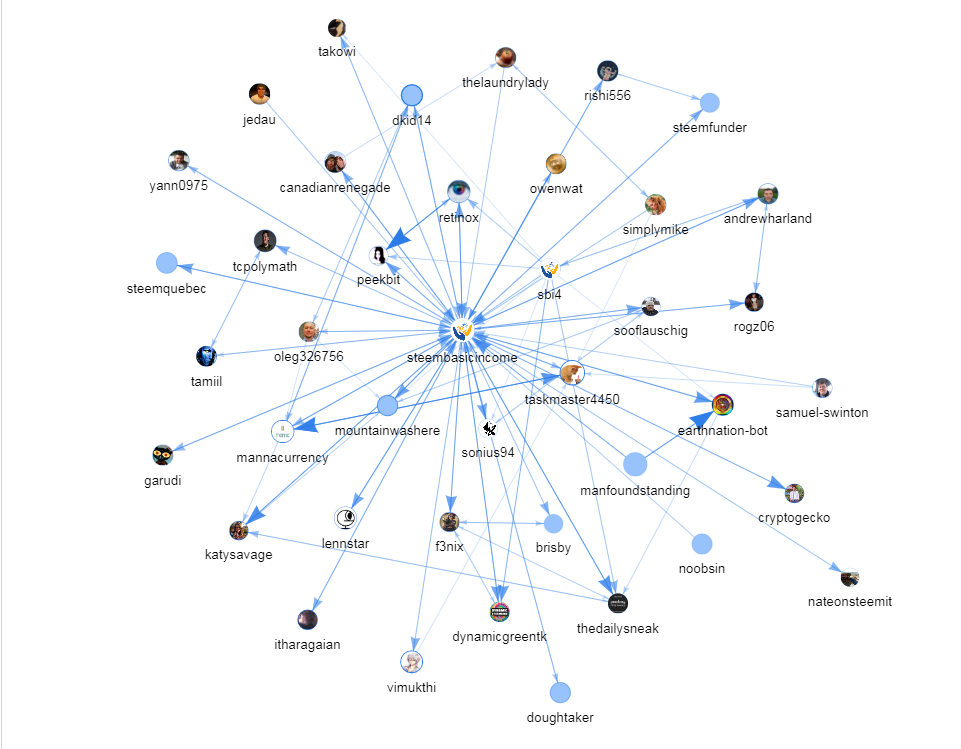 (img source http://www.steemreports.com/votes-graph-enhanced/?accounts=steembasicincome)
It only shows people that regularly upvote each other or @steembasicincome, that have multiple shares for bigger upvotes. That makes sense, because we have 2300 active members across seven pools. All of those interrelationships would be too much for this chart.
We've been actively rebalancing across pools this month, moving inactives down and promoting up members with more shares to facilitate better voting power management across pools. That creates an interesting hub and spoke impact in our chart, with quite a few cross links but not many as impactful as the voting relationships between these members and @steembasicincome.
It's very hard to see active clusters of members within this grouping. It's much more interesting to look at the enhanced graphs of more typical members. For example, @taskmaster4450 is a thought leader on Steem that writes a lot about Basic Income and the potential of Steem for social impact. Here's what the chart for a successful thought leader looks like.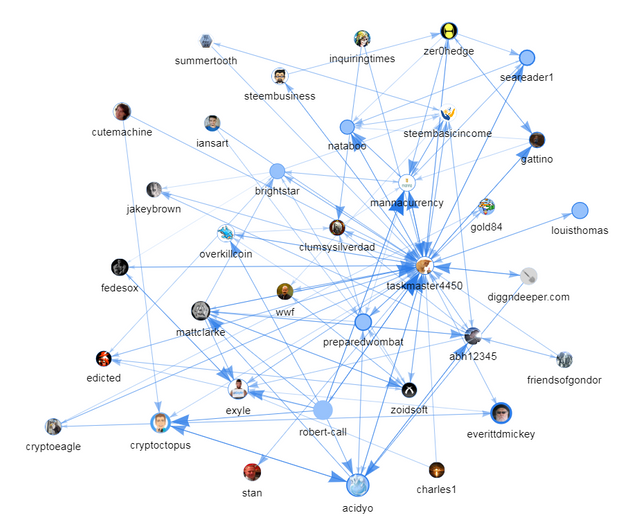 There is solid support from his user base, and a handful of other accounts that I recognize as other thoughtful writers on Steemit, along with some philosophy and information sources like @wwf and @zer0hedge. If you want to be as smart as @taskmaster4450 about all things Steem, follow the accounts he has the biggest arrows going out from!
Change the account name in the Steem Reports link to any account you want to look at:
http://www.steemreports.com/votes-graph-enhanced/?accounts=taskmaster4450
Delegation Bonus Shares
Existing members can receive bonus shares by delegation. For every 20 SP delegated to @steembasicincome, members will receive 1 bonus share. Any Steemian that is enrolled in @steembasicincome can delegate as much as they would like, to receive bonus shares. We will publish our delegation sources update again this week, so if you want your support showcased, now is your chance!
Here are some Handy Delegation links:
Enrollment
If you want to get involved, or to increase the share of basic income that you receive, enrollment is pretty straightforward:
Just send 1 STEEM to @steembasicincome. Include the name of a Steemian to sponsor in the transaction memo (preceded by @). You and the person you sponsor will each receive 1 share in the program. You can sponsor any active Steemian, it does not have to be a current member.
If you're unclear, please check out our full transaction memo guidelines and then let us know if you have any questions.
https://steemit.com/basicincome/@steembasicincome/steem-basic-income-new-transaction-memo-guidelines
The official currency for enrollment is STEEM. We are not currently accepting SBD for enrollments.
EarthNation
Steem Basic Income is designed by @josephsavage, and developed in collaboration with @earthnation. We are grateful for their early support, both in brainstorming ideas for improvement and in providing funding for our massively complex automation requirements. Learn more about Earth Nation on their web page at https://earthnation.world/


Questions?
Please read our recently published FAQ. Most questions are addressed in our FAQ or in the additional resources that it suggests. To review your share counts, we explain our tracking sheet here. If you still have questions, ask in the comments section or join us in our discord channel.