Steem Basic Income - Profitable?
Recently, I gave away two memberships to @steembasicincome as a part of #newbieresteemday to help support newer members to Steemit. It's a program that I heard about shortly after starting and I used some of my first rewards to get a membership.
For those of you who don't know, @steembasicincome is a group that gives you a small upvote on all of your posts (1 per day, I think) in exchange for a membership fee that helps grow the SP of the account. It's not a "get rich quick" scheme, but it can be beneficial in the medium-term to long-term. How long? Let's find out!
Enrollment

There's no way to actually buy a membership for yourself. You purchase one for someone else and you're given a share in addition. So you pick a friend or a newbie (or a newbie who's a friend) and send 1 Steem to @steembasicincome with their name in the subject line. For this example I'll pick on @beeyou who was one of our winners from the contest.

Sometimes it can take a few days, but a short time later the person you nominated gets a confirmation in their wallet. As the sender, you do NOT get a confirmation. You'll have to check their account.

Factors to Consider
The math included is approximate as the value of each share is slightly different for everyone since there are other factors that can influence how much of a vote you get. For instance, if you upvote @steembasicincome posts, you get bonus points for supporting the group. So although I can't get a pinpoint number for you, we can get close.
As mentioned above the cost is 1 Steem. The price of Steem at the time I write this is $4.44. Your cost is $4.44. Pretty straightforward.
You can get more than one vote per day if you post more than one article per day, but the amount per vote is throttled down to compensate. Therefore, we'll just use one post per day for illustration porpoises.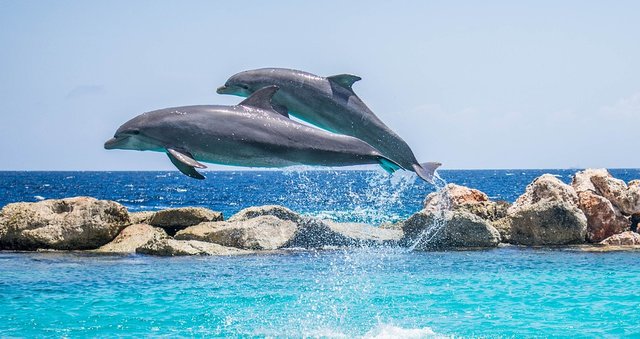 The Financials
When I first started with the program, I was getting votes of approximately $0.01 per post, so I used that number for the calculations as I wasn't upvoting @steembasicincome at the time. Therefore, that should be a fairly close approximation of the least amount you should receive.
If you post once per day, you get a monthly income of $0.68 after you subtract the amount given to curators and you multiply by the price of SBD. Divide the $4.44 by $0.68 and you get 6.53 months to make your money back.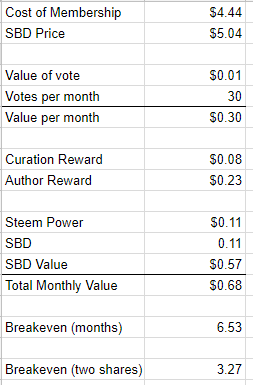 But, wait, there's MORE!
Look at the bottom line: Breakeven (two shares). It says 3.27 months! That's because your money is also helping a friend. So although you might not be getting all of that money, someone else is benefiting too. You're building community! If you want to build community even more you could even work out a deal where you and your friend sponsor each other, so you each get two shares. Then your personal break even would be 3.27 months.
Checking my Math
Have you ever started to write an article and found out part way through that you were a little off?
I talked with the good folks over at @steembasicincome and my math isn't too far off for the educated approximations. They said they "target an effective SP per share that would recuperate the cost of each enrollment within 180 days." So it's even faster than I projected. And would put the recuperation time at 3 months if you and a friend enroll each other.
Conclusion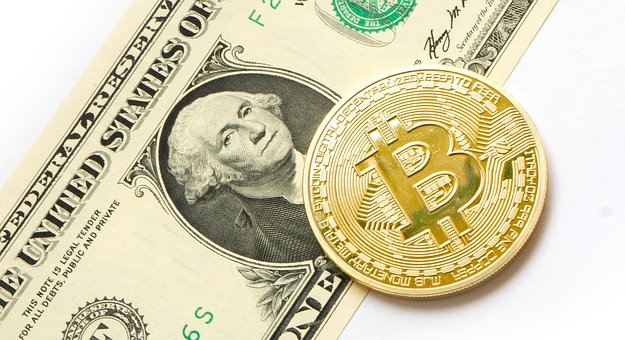 source
Anyone who is planning on making a substantial impact on Steemit will need much longer than 3 months to accomplish it. If you're planning on getting ahead, even if it's just in small ways, then plan long-term.
Find a friend. Get a membership. Reap rewards for years to come.

EDIT: @steembasicincome was kind enough to give us a little more exact info. Please see the following.


---
What are your current strategies for increasing post rewards?

Are there any topics/math you would like me to review?
---
Thanks for reading. If you found value in this post, please consider upvoting and/or resteeming.
Leave me your thoughts in the comments below!
---
These are just my opinions. Use at your own risk. Do your own research.