Steem Basic Income - Enhanced Votes Graph
Steem Basic Income
Steem Basic Income is a social experiment to bring a basic income to as many Steemians as possible. Members join by sponsoring others into the program. Steem Basic Income is delivered through providing regular upvotes to member content.
Enhanced Support Graph
We first published this graph that 'maps' the interrelationships in our member pool a couple of months ago. When we reviewed it last week, there were some interesting improvements, as shown in this post:
https://steemit.com/basicincome/@steembasicincome/7qayey-steem-basic-income-enhanced-votes-graph
And here is the graph from this month: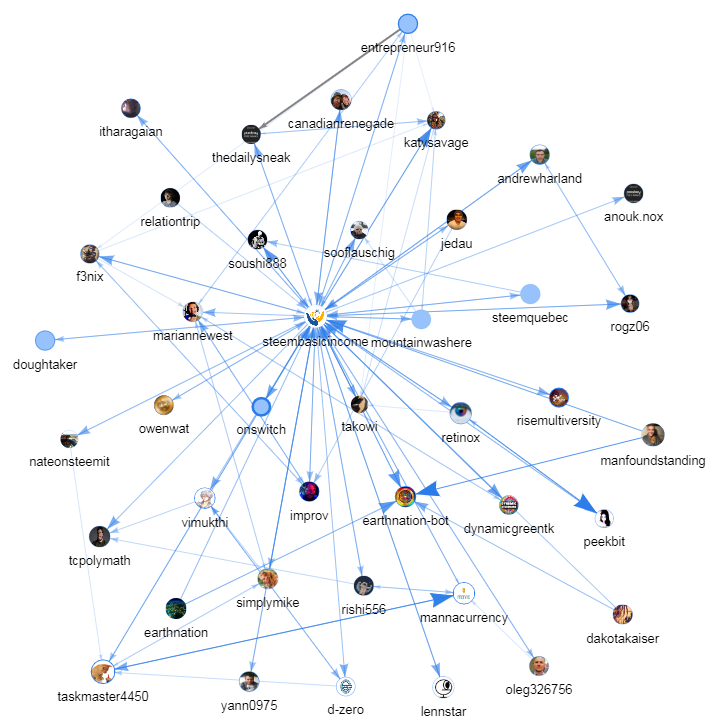 (img source http://www.steemreports.com/votes-graph-enhanced/?accounts=steembasicincome)
It only shows the biggest hitters: people that regularly upvote each other or @steembasicincome, with multiple shares for bigger upvotes. That makes sense, because we have 1800 active members across six pools. All of those interrelationships would be too much for this chart.
This month I found it interesting that the cluster relationships in the leader accounts are starting to tighten up again. I attribute this largely to contests. As members enter each other's contests, it builds relationships that would otherwise have been very weak or non-existent. In effect, we are starting to build our own community between SBI members, as more people recognize the vision and start using it to build each other up. This makes me very optimistic about what will happen when we release SBI 2.0 and start rewarding community engagement. With community engagement happening even without extra incentives in place, imagine what can happen with!
If you think you're in a cluster, it could be more interesting to look for the enhanced graph of an account in your cluster that has a lot of shares. For example, I can approximate the Dynamic Steemians community by looking at the enhanced vote graph for @dynamicgreentk as the 'leader' account that showed in our own graph.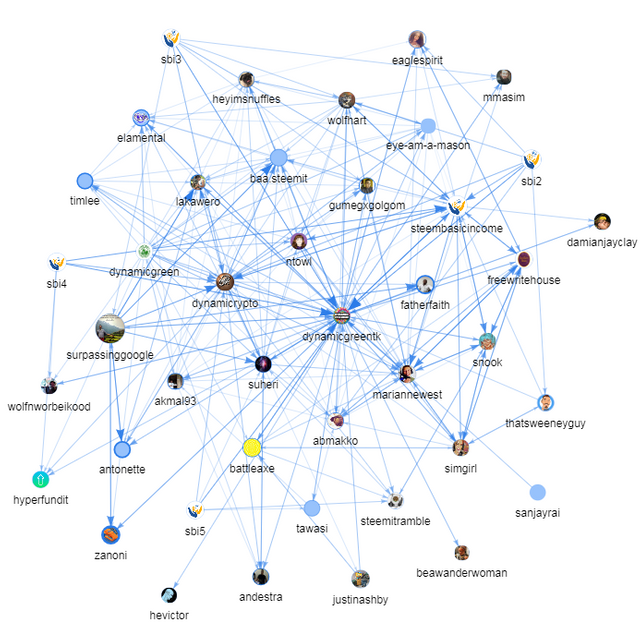 You can see that this is a very tightly woven community, with many members in the SBI community. The top 5 pool accounts are all shown here! Check out their discord to see what they're doing to create such a tightly knit community.

https://discord.gg/2MeFvaD
Just change the account name in the Steem Reports link to any account you want to look at, or load one account and then there is a box in the page to enter different accounts.
http://www.steemreports.com/votes-graph-enhanced/?accounts=dynamicgreentk
Delegation Bonus Shares
Existing members can receive bonus shares by delegation. For every 20 SP delegated to @steembasicincome, members will receive 1 bonus share. Any Steemian that is already enrolled in @steembasicincome can delegate as much as they would like, to receive bonus shares. We will publish our delegation sources update again this week, so if you want your support showcased, now is your chance!
Here are some Handy Delegation links:
Enrollment
If you want to get involved, or to increase the share of basic income that you receive, enrollment is pretty straightforward:
Just send 1 STEEM to @steembasicincome. Include the name of a Steemian to sponsor in the transaction memo (preceded by @). You and the person you sponsor will each receive 1 share in the program. You can sponsor any active Steemian, it does not have to be a current member.
If you're unclear, please check out our full transaction memo guidelines and then let us know if you have any questions.
https://steemit.com/basicincome/@steembasicincome/steem-basic-income-new-transaction-memo-guidelines
The official currency for enrollment is STEEM. We are not currently accepting SBD.
Steem Creators Conference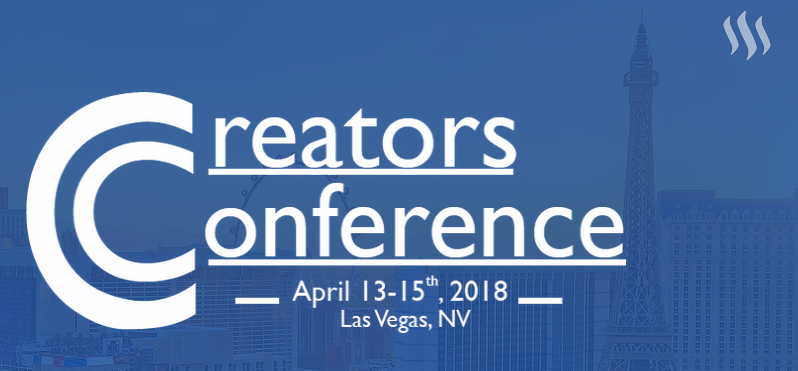 We had a great experience in April at the
#steemcreators
conference! Here is
@josephsavage
's presentation on Steem Basic Income, which we published at the end of April.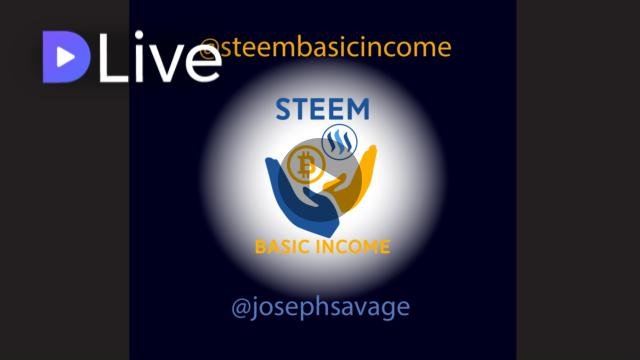 EarthNation
Steem Basic Income is designed by @josephsavage, and developed in collaboration with @earthnation. We are grateful for their early support, both in brainstorming ideas for improvement and in providing funding for our massively complex automation requirements. Learn more about Earth Nation on their web page at https://earthnation.world/


Questions?
Please read our recently published FAQ. Most questions are addressed in our FAQ or in the additional resources that it suggests. If you still have questions, ask in the comments section or join us in our discord channel.