SBI Upvotes Report
Steem Basic Income
Steem Basic Income is a social experiment to bring a voluntary crowd-funded basic income to as many Steemians as possible. Members join by sponsoring others into the program. Steem Basic Income is delivered through providing regular upvotes to member content.
Member Responsibility
It is the responsibility of every Steemian to ensure that tags used are appropriate to their content. If you use SCOT tags and they are not relevant to your content, it may sometimes result in upvote removal, if requested by the leaders of the SCOT community you elected to tag. You will not receive restitution for these removed votes.
As each upvote is delivered by our automated system, it selects the highest VP account that can deliver the full scheduled upvote value. This visual represents the upvotes that were delivered by
@steembasicincome
over the last
twelve
days, and the table shows the actual % weight of each upvote.
In cases where 33% of pending vote balance is greater than the 100% maximum deliverable upvote from all ten voting accounts, the unvoted amount remains in pending upvote balance until eventual upvote delivery.
STU shown are estimated, and may be different than actual STU at post payout. The 100% upvotes are delivered alongside additional upvotes from our other voting accounts.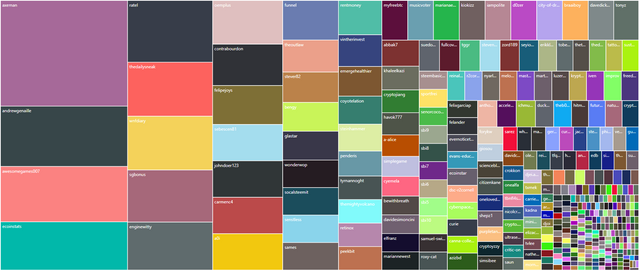 (@steemsql data visualized in Power BI by @josephsavage)
| author | vote_weight | STU_estimate | permlink |
| --- | --- | --- | --- |
| @axeman | 8979 | 0.447 | under-the-moons |
| @axeman | 8660 | 0.431 | the-curves-of-beauty |
| @axeman | 8654 | 0.431 | baltic-pyramid |
| @axeman | 8363 | 0.416 | the-snow-tower |
| @axeman | 8206 | 0.408 | baltic-creatures |
| @axeman | 7532 | 0.375 | share-your-battle-weekly-challenge-sneak |
| @axeman | 7230 | 0.36 | the-conflict |
| @axeman | 7082 | 0.352 | you-can-t-run-from-the-shadow-but-you-can-invite-her-to-dance |
| @axeman | 7067 | 0.352 | bunker-story |
| @axeman | 6975 | 0.347 | black-and-white-photography-and-art-contest-week-018-6-steem-prize-pool-submission-post |
| @axeman | 6780 | 0.337 | flowing-blues |
| @axeman | 6716 | 0.334 | 4rmrzv-the-kingdom-of-splinterlands-weekly-update |
| @axeman | 6523 | 0.325 | paradise-island |
| @axeman | 6383 | 0.318 | escape |
| @axeman | 6323 | 0.315 | we-all-wear-masks |
| @axeman | 6320 | 0.314 | sand-snake |
| @axeman | 6264 | 0.312 | redhead-and-the-sea |
| @axeman | 6149 | 0.306 | nylyd-curonian-mirages |
| @axeman | 6075 | 0.302 | hungry-for-colors |
| @axeman | 6032 | 0.3 | century-silver-coin-of-china-1850-1949-72-coins-set-replicas-coin-54 |
| @axeman | 6027 | 0.3 | apeironas-apeiron-theatrical-performance-nekroze-necrosis-v2-part-6-a-visual-story-15-photos |
| @axeman | 5983 | 0.298 | qurator-s-photo-friday-129-dream-as-if-you-ll-live-forever-live-as-if-you-ll-die-today |
| @axeman | 5934 | 0.295 | redhead-mood |
| @axeman | 5878 | 0.292 | geisha |
| @axeman | 5845 | 0.291 | 3esp1y-endangered-species |
| @axeman | 5819 | 0.29 | apeironas-apeiron-theatrical-performance-nekroz-necrosis-v2-part-5-a-visual-story-15-photos |
| @axeman | 5801 | 0.289 | 50-shadows-of-body |
| @axeman | 5749 | 0.286 | vamp-dances |
| @axeman | 5560 | 0.277 | malta-postcard |
| @axeman | 5528 | 0.275 | splinterlands-art-contest-week-86-double-strike-beauty |
| @axeman | 5484 | 0.273 | in-a-soft-mood |
| @axeman | 5380 | 0.268 | we-all-have-demons |
| @axeman | 5275 | 0.262 | the-alien |
| @axeman | 5244 | 0.261 | pattaya-sunrise |
| @axeman | 5204 | 0.259 | aosoth |
| @axeman | 4945 | 0.246 | 7q9fep-london-calling |
| @axeman | 4929 | 0.245 | in-the-whirlpool-of-blooming-part-3-a-visual-story-10-photos |
| @axeman | 4831 | 0.24 | my-territory |
| @axeman | 4719 | 0.235 | electric-night |
| @axeman | 4680 | 0.233 | nastya |
| @axeman | 4564 | 0.227 | share-your-battle-weekly-challenge-opportunity |
| @axeman | 4331 | 0.215 | 42ng9d-the-freedom |
| @axeman | 2907 | 0.145 | 77hqrm-viktorija |
| @andrewgenaille | 10000 | 0.498 | 6t3j2w-motion-capture-suit |
| @andrewgenaille | 10000 | 0.498 | actifit-andrewgenaille-20200521t050455283z |
| @andrewgenaille | 10000 | 0.498 | actifit-andrewgenaille-20200523t053159921z |
| @andrewgenaille | 10000 | 0.498 | awkward-silence |
| @andrewgenaille | 10000 | 0.498 | catch-me |
| @andrewgenaille | 10000 | 0.498 | cgi-work |
| @andrewgenaille | 10000 | 0.498 | empty-beach |
| @andrewgenaille | 10000 | 0.498 | happy-place |
| @andrewgenaille | 10000 | 0.498 | iray |
| @andrewgenaille | 10000 | 0.498 | needle |
| @andrewgenaille | 10000 | 0.498 | potatoes |
| @andrewgenaille | 10000 | 0.498 | rendering-scene |
| @andrewgenaille | 10000 | 0.498 | scripts-search |
| @andrewgenaille | 10000 | 0.498 | toronto |
| @andrewgenaille | 10000 | 0.498 | white-rock |
| @awesomegames007 | 9782 | 0.487 | i-love-bug-fables-switch-version-pt-1 |
| @awesomegames007 | 9025 | 0.449 | gtav-let-s-go-raise-hell-with-trevor |
| @awesomegames007 | 7841 | 0.39 | actifit-awesomegames007-20200530t034059528z |
| @awesomegames007 | 7228 | 0.36 | i-love-bug-fables-switch-version-gotta-kill-that-spider-ahole |
| @awesomegames007 | 7044 | 0.35 | gtav-everyone-is-finally-together-again |
| @awesomegames007 | 6730 | 0.335 | gtav-my-family-abandoned-me |
| @awesomegames007 | 6588 | 0.328 | book-of-mario-mario-looks-like-coins-now |
| @awesomegames007 | 6413 | 0.319 | gtav-gonna-commit-crimes-with-my-crew |
| @awesomegames007 | 5783 | 0.288 | gtav-i-am-going-to-have-some-more-fun |
| @awesomegames007 | 5761 | 0.287 | actifit-awesomegames007-20200525t032957106z |
| @awesomegames007 | 5705 | 0.284 | actifit-awesomegames007-20200531t035827070z |
| @awesomegames007 | 5673 | 0.282 | book-of-mario-why-are-we-here-just-to-suffer |
| @awesomegames007 | 5587 | 0.278 | the-ultimate-doom-let-s-rip-and-tear-until-it-s-done-is-there-a-twist |
| @awesomegames007 | 5515 | 0.274 | actifit-awesomegames007-20200528t011743780z |
| @awesomegames007 | 5512 | 0.274 | actifit-awesomegames007-20200601t032357844z |
| @awesomegames007 | 5485 | 0.273 | paper-mario-mq-jr-getting-destroyed-by-the-master |
| @awesomegames007 | 5074 | 0.252 | 2kq8jm-book-of-mario-seeing-merlin-and-browser-touched-the-nudity |
| @awesomegames007 | 5003 | 0.249 | actifit-awesomegames007-20200527t012150084z |
| @awesomegames007 | 4821 | 0.24 | actifit-awesomegames007-20200526t025840110z |
| @awesomegames007 | 4765 | 0.237 | actifit-awesomegames007-20200524t030925117z |
| @awesomegames007 | 4669 | 0.232 | mario-party--the-party-that-hurts--antdude |
| @awesomegames007 | 4550 | 0.226 | gtav-truck-duplicating-and-flying-into-the-air |
| @awesomegames007 | 3192 | 0.159 | gtav-let-s-do-a-heist-stream |
| @ecoinstats | 10000 | 0.498 | 1322046330 |
| @ecoinstats | 10000 | 0.498 | 2568862529 |
| @ecoinstats | 10000 | 0.498 | 3491533838 |
| @ecoinstats | 10000 | 0.498 | 4054856607 |
| @ecoinstats | 10000 | 0.498 | 4133872516 |
| @ecoinstats | 10000 | 0.498 | 4386547466 |
| @ecoinstats | 10000 | 0.498 | 5179838726 |
| @ecoinstats | 10000 | 0.498 | 7496411459 |
| @ecoinstats | 10000 | 0.498 | 7570562289 |
| @ecoinstats | 10000 | 0.498 | 9602700605 |
| @ecoinstats | 10000 | 0.498 | 9794240606 |
| @ecoinstats | 10000 | 0.498 | fund-voting-report-continued-consolidation |
| @ratel | 10000 | 0.498 | wildlife-squirrel-6 |
| @ratel | 9373 | 0.466 | wildlife-birdwatching-722 |
| @ratel | 9145 | 0.455 | wildlife-birdwatching-723 |
| @ratel | 8913 | 0.443 | wildlife-birdwatching-718 |
| @ratel | 8789 | 0.437 | wildlife-birdwatching-724 |
| @ratel | 8727 | 0.434 | wildlife-birdwatching-721 |
| @ratel | 8647 | 0.43 | wildlife-birdwatching-720 |
| @ratel | 8542 | 0.425 | wildlife-birdwatching-725 |
| @ratel | 8147 | 0.405 | wildlife-birdwatching-719 |
| @ratel | 7685 | 0.382 | wildlife-chipmunk-9 |
| @ratel | 7671 | 0.382 | wildlife-birdwatching-726 |
| @ratel | 7168 | 0.357 | wildlife-birdwatching-717 |
| @thedailysneak | 10000 | 0.498 | the-daily-sneak-11-december-2017-hive-122136 |
| @thedailysneak | 10000 | 0.498 | the-daily-sneak-12-december-2017-with-guest-curator-ecoinstant-hive-122136 |
| @thedailysneak | 10000 | 0.498 | the-daily-sneak-13-december-2017-hive-122136 |
| @thedailysneak | 10000 | 0.498 | the-daily-sneak-14-december-2017-with-guest-curator-simgirl-hive-189312 |
| @thedailysneak | 10000 | 0.498 | the-daily-sneak-15-december-2017-hive-189312 |
| @thedailysneak | 10000 | 0.498 | the-daily-sneak-16-december-2017-hive-189312 |
| @thedailysneak | 10000 | 0.498 | the-daily-sneak-17-december-2017-featuring-guest-curator-firedream-hive-189312 |
| @thedailysneak | 10000 | 0.498 | the-daily-sneak-28-may-2020 |
| @thedailysneak | 10000 | 0.498 | the-daily-sneak-9-december-2017-hive-122136 |
| @wnfdiary | 10000 | 0.498 | chocolab-bangkok-review-chocolate-heaven |
| @wnfdiary | 10000 | 0.498 | food-or-politics |
| @wnfdiary | 10000 | 0.498 | japanese-dessert |
| @wnfdiary | 10000 | 0.498 | japanese-style-chicken-skewers |
| @wnfdiary | 10000 | 0.498 | tasty-and-beautiful |
| @wnfdiary | 10000 | 0.498 | the-best-high-tea-in-kuala-lumpur |
| @wnfdiary | 10000 | 0.498 | ultimate-pleaser |
| @wnfdiary | 10000 | 0.498 | watermelon-salad |
| @wnfdiary | 9569 | 0.476 | different-iron-curtain |
| @sgbonus | 10000 | 0.498 | ulog-334-food-adventure-in-baguio-city |
| @sgbonus | 9844 | 0.49 | ulog-339-the-beauty-of-trees |
| @sgbonus | 8731 | 0.434 | ulog-340-life-will-go-on |
| @sgbonus | 7913 | 0.394 | ulog-338-life-and-flowers |
| @sgbonus | 7802 | 0.388 | ulog-341-quote-by-niccolo-machiavelli |
| @sgbonus | 7649 | 0.381 | ulog-342-a-flower |
| @sgbonus | 7455 | 0.371 | ulog-343-chicken |
| @sgbonus | 7126 | 0.355 | ulog-337-life-will-get-better |
| @sgbonus | 6879 | 0.342 | ulog-335-droplet-of-life |
| @sgbonus | 6651 | 0.331 | ulog-343-being-positive-despite-everything |
| @sgbonus | 6585 | 0.328 | ulog-336-life-with-trees |
| @enginewitty | 10000 | 0.498 | 8cwt2-so-there |
| @enginewitty | 10000 | 0.498 | appics-v1-appics-im-194509 |
| @enginewitty | 10000 | 0.498 | appics-v1-appics-im-195979 |
| @enginewitty | 10000 | 0.498 | appics-v1-appics-im-196656 |
| @enginewitty | 10000 | 0.498 | poot |
| @enginewitty | 10000 | 0.498 | see-if-this-works |
| @enginewitty | 10000 | 0.498 | test-2 |
| @enginewitty | 10000 | 0.498 | testing |
| @oemplus | 10000 | 0.498 | appics-v1-appics-im-192686 |
| @oemplus | 10000 | 0.498 | appics-v1-appics-im-193212 |
| @oemplus | 10000 | 0.498 | appics-v1-appics-im-193541 |
| @oemplus | 10000 | 0.498 | appics-v1-appics-im-193827 |
| @oemplus | 10000 | 0.498 | oem-porsche-911 |
| @oemplus | 10000 | 0.498 | oem-rs4 |
| @contrabourdon | 10000 | 0.498 | 2nd-half-organ-recital-or-31st-may-2020-or-james-flores |
| @contrabourdon | 10000 | 0.498 | postlude-pour-l-office-de-complies-ja-29-jehan-alain |
| @contrabourdon | 10000 | 0.498 | retrospective-organ-recital-30-january-2018 |
| @contrabourdon | 10000 | 0.498 | wagga-wagga-organ-recital-31-may-2018-or-james-flores |
| @contrabourdon | 8801 | 0.438 | tunes-on-tuesday-22-january-2019-or-uploading-past-recitals |
| @contrabourdon | 7964 | 0.396 | leck-mich-im-arsch-mozart-literally-lick-me-in-the-arse |
| @felipejoys | 9564 | 0.476 | what-you-should-never-consider-when-buying-a-new-pc-game |
| @felipejoys | 7845 | 0.39 | deceit-a-pvp-multiplayer-survival-horror-game-of-deception |
| @felipejoys | 7821 | 0.389 | i-subscribed-to-curiositystream-com-here-s-my-review |
| @felipejoys | 7761 | 0.386 | steam-s-spring-cleaning-shows-valve-seemingly-gave-up-on-event-rewards |
| @felipejoys | 6943 | 0.345 | ducati-will-cheaply-satisfy-your-gaming-need-for-speed |
| @felipejoys | 6872 | 0.342 | steemit-account-possibly-exitscamming |
| @felipejoys | 6559 | 0.326 | finding-people-with-similar-taste-in-games-is-hard-how-to-deal-with-it |
| @a0i | 10000 | 0.498 | 5nhyhu-dandelion-macro-photos |
| @a0i | 10000 | 0.498 | blooming-lilac-tree |
| @a0i | 10000 | 0.498 | riverside-and-ducks |
| @a0i | 10000 | 0.498 | sparrow-singing-on-a-stump |
| @a0i | 10000 | 0.498 | the-birth-of-spruce-needles |
| @carmenc4 | 10000 | 0.498 | mis-letras-se-escapan-entre-mis-dedos |
| @carmenc4 | 10000 | 0.498 | mis-pensamientos |
| @carmenc4 | 10000 | 0.498 | sin-sentido-ni-rumbo-fijo |
| @carmenc4 | 10000 | 0.498 | sonando-en-el-tejado |
| @carmenc4 | 10000 | 0.498 | tus-palabras |
| @johndoer123 | 10000 | 0.498 | a-massive-work-day-at-the-homestead |
| @johndoer123 | 10000 | 0.498 | looking-for-a-way-to-cross-post-between-hive-and-steem |
| @johndoer123 | 10000 | 0.498 | trying-to-learn-the-new-nuances-of-our-chains-after-the-split |
| @johndoer123 | 10000 | 0.498 | trying-to-learn-the-new-nuances-of-our-chains-after-the-split-hive-110490 |
| @johndoer123 | 10000 | 0.498 | what-it-takes-for-me-to-mix-concrete-at-the-homestead |
| @sebescen81 | 10000 | 0.498 | bitwala-erfahrung-2020 |
| @sebescen81 | 10000 | 0.498 | brave-browser-news-mai-2020-video-together-and-weiterhin-steigende-nutzerzahlen |
| @sebescen81 | 10000 | 0.498 | coinbase-pro-gebuehren-spartrick-bis-80-ersparnis |
| @sebescen81 | 10000 | 0.498 | poolnode-masternode-pool-to-go |
| @sebescen81 | 10000 | 0.498 | splinterlands-vorstellung-top-blockchain-game-1 |
| @funnel | 10000 | 0.498 | paparino-lottery-draw-week-61-guaranteed-prize-pool-33-322-steem--15-441-sbd--2-00-hbd-no-upvote-no-resteem-no-follow-required |
| @funnel | 10000 | 0.498 | speaking-of-coins |
| @funnel | 10000 | 0.498 | speaking-of-coins-2 |
| @funnel | 8155 | 0.406 | speaking-of-coins-3 |
| @funnel | 4961 | 0.247 | make-some-cryptos-while-playing |
| @theoutlaw | 10000 | 0.498 | beschlagnahmte-steem-von-einem-unbekanntem-gerettet |
| @theoutlaw | 10000 | 0.498 | coinbase-pro-gebuehren-spartrick |
| @theoutlaw | 8478 | 0.422 | poolnode-masternode-to-go |
| @theoutlaw | 6428 | 0.32 | splinterlands-vorstellung-top-blockchain-game-1 |
| @stever82 | 7589 | 0.378 | splinterlands-share-your-battle-featuring-opportunity |
| @stever82 | 7079 | 0.352 | talking-about-splinterlands-anytime-tournaments-and-peakmonsters |
| @stever82 | 6357 | 0.316 | actifit-stever82-20200524t045134290z |
| @stever82 | 6152 | 0.306 | actifit-stever82-20200522t060646519z |
| @stever82 | 5924 | 0.295 | showing-you-and-empty-california |
| @bengy | 4851 | 0.241 | violin-maintenance-repairs-complete |
| @bengy | 4795 | 0.239 | songs-from-aida-elton-john-and-tim-rice |
| @bengy | 4670 | 0.232 | 1st-movement-of-hoffmeister-viola-concerto |
| @bengy | 4610 | 0.229 | a-joke-well-a-funny-anecdote-monday-missions-entry |
| @bengy | 4488 | 0.223 | making-gingerbread-on-bitcoin-pizza-day |
| @bengy | 4088 | 0.203 | splinterlands-sneak |
| @bengy | 4037 | 0.201 | sint-jansbasiliek-laren-netherlands |
| @glastar | 6153 | 0.306 | zoom-part4 |
| @glastar | 5318 | 0.265 | njgz7 |
| @glastar | 5185 | 0.258 | 7tz4pm |
| @glastar | 5151 | 0.256 | 2eezcd |
| @glastar | 4953 | 0.246 | 4ppi7y |
| @glastar | 4651 | 0.231 | 6a6nsm |
| @sames | 10000 | 0.498 | defi-companies-working-together |
| @sames | 10000 | 0.498 | how-ya-ll-doing |
| @sames | 10000 | 0.498 | polkadot-is-coming-soon |
| @senstless | 10000 | 0.498 | actifit-senstless-20200522t034227760z |
| @senstless | 10000 | 0.498 | actifit-senstless-20200524t004803980z |
| @senstless | 10000 | 0.498 | actifit-senstless-20200525t015506276z |
| @socalsteemit | 10000 | 0.498 | exzrm-show-us-your-california-contest-winners |
| @socalsteemit | 10000 | 0.498 | show-us-your-california-contest-week-76 |
| @socalsteemit | 10000 | 0.498 | show-us-your-california-contest-week-77 |
| @wonderwop | 10000 | 0.498 | day-946-freewrite-sunday-prompt-gout |
| @wonderwop | 10000 | 0.498 | weekend-freewrite-05-23-2020-single-prompt-option |
| @wonderwop | 10000 | 0.498 | weekend-freewrite-05-29-2020-single-prompt-option-vegetables |
| @rentmoney | 10000 | 0.498 | opportunity-share-your-battle-contest |
| @rentmoney | 8523 | 0.424 | splinterlands-rewind-splinterlands-opensea-auction |
| @rentmoney | 6383 | 0.318 | free-steem-related-prizes-round-24-free-dec |
| @rentmoney | 4262 | 0.212 | all-the-liquid-steem-this-post-earns-is-yours-week-eight |
| @vintherinvest | 10000 | 0.498 | how-s-your-mining |
| @vintherinvest | 9413 | 0.468 | mining-update-dualmine |
| @vintherinvest | 7531 | 0.375 | mining-update-may-26-dualminer |
| @emergehealthier | 5712 | 0.284 | actifit-emergehealthier-20200530t083013638z |
| @emergehealthier | 5624 | 0.28 | actifit-emergehealthier-20200528t040649833z |
| @emergehealthier | 4740 | 0.236 | actifit-emergehealthier-20200525t022616546z |
| @emergehealthier | 4638 | 0.231 | actifit-emergehealthier-20200531t140012167z |
| @emergehealthier | 4593 | 0.229 | actifit-emergehealthier-20200522t073326272z |
| @coyotelation | 10000 | 0.498 | earn-12-by-staking-usdusdt-on-tidex-exchange-or-announces-tidex-on-twitter |
| @coyotelation | 8033 | 0.4 | league-of-movies-second-edition-or-week-03-we-were-soldiers |
| @coyotelation | 5828 | 0.29 | geek-pride-day-or-what-is-it-to-be-a-nerd |
| @steinhammer | 10000 | 0.498 | turkey-adventures-izmir-sigacik |
| @steinhammer | 7826 | 0.389 | standart |
| @steinhammer | 4953 | 0.246 | van-la-sohbetler-conversations-with-vincent |
| @penderis | 9204 | 0.458 | dear-you |
| @penderis | 6696 | 0.333 | i-woke-up-and-found-the-day-like |
| @penderis | 5396 | 0.268 | considering-religion |
| @braaiboy | 10000 | 0.498 | plans-after-lockdown-playdice-next-steps-and-shoutout-to-minimining |
| @braaiboy | 10000 | 0.498 | plans-after-lockdown-playdice-next-steps-and-shoutout-to-minimining-hive-112126 |
| @city-of-dresden | 10000 | 0.498 | der-evangelist-markus-an-der-hofkirche-the-evangelist-mark |
| @city-of-dresden | 10000 | 0.498 | dinglingerbrunnen-am-gewandthaus |
| @d0zer | 10000 | 0.498 | my-blog-just-got-deleted |
| @d0zer | 10000 | 0.498 | when-you-look-on-the-trending-page |
| @iampolite | 10000 | 0.498 | dcity-giveaway-get-a-chance-to-win-factory-and-basic-home |
| @iampolite | 10000 | 0.498 | dcity-giveaways-let-s-make-it-more-interesting |
| @kiokizz | 10000 | 0.498 | daisies |
| @kiokizz | 10000 | 0.498 | vibrant |
| @marianaemilia | 10000 | 0.498 | the-splinterlands-history-a-creative-community |
| @marianaemilia | 10000 | 0.498 | the-splinterlands-history-introduction |
| @musicvoter | 10000 | 0.498 | 24rwga-atom-collector-records-thursday-selection |
| @musicvoter | 10000 | 0.498 | atom-is-now-on-hive-what-to-do-if-you-hold-atom-on-steem-engine |
| @myfreebtc | 10000 | 0.498 | actifit-myfreebtc-20200526t214745762z |
| @myfreebtc | 10000 | 0.498 | actifit-myfreebtc-20200528t200926003z |
| @peekbit | 10000 | 0.498 | co2-sucker-post-no-10-do-good-and-earn-coco-for-a-resteem |
| @peekbit | 10000 | 0.498 | co2-sucker-post-no-9 |
| @retinox | 10000 | 0.498 | upvote-game-102-1-sbi-5-sbi-jackpot-win-your-lifetime-upvotes-by-sbi-reglas-tambien-en |
| @retinox | 10000 | 0.498 | upvote-game-103-1-sbi-6-sbi-jackpot-win-your-lifetime-upvotes-by-sbi-reglas-tambien-en |
| @themightyvolcano | 10000 | 0.498 | steemonsters-tournaments-are-now-better-than-ever |
| @themightyvolcano | 10000 | 0.498 | to-steem-or-not-to-steem |
| @tyrnannoght | 10000 | 0.498 | tyrnannoghtsnapsmedia20200531-202005310758471600 |
| @tyrnannoght | 10000 | 0.498 | tyrnannoghtupdates20200524-202005241545329266 |
| @davedickeyyall | 5030 | 0.25 | actifit-davedickeyyall-20200527t020848807z |
| @davedickeyyall | 4331 | 0.215 | actifit-davedickeyyall-20200522t012139835z |
| @davedickeyyall | 3502 | 0.174 | actifit-davedickeyyall-20200524t010905633z |
| @davedickeyyall | 3480 | 0.173 | actifit-davedickeyyall-20200601t004936448z |
| @davedickeyyall | 3421 | 0.17 | 726hqj-the-daily-highlight-reel |
| @tonyz | 10000 | 0.498 | 6xbj3m-at-the-boat-wharf |
| @tonyz | 9376 | 0.466 | canal-wall-amsterdam |
| @abbak7 | 5140 | 0.256 | actifit-abbak7-20200527t090005436z |
| @abbak7 | 4919 | 0.245 | actifit-abbak7-20200522t070559810z |
| @abbak7 | 4655 | 0.232 | actifit-abbak7-20200528t052939909z |
| @abbak7 | 4375 | 0.218 | actifit-abbak7-20200525t061910406z |
| @khaleelkazi | 7784 | 0.387 | leodex-interface-trade-and-manage-hive-based-tokens |
| @khaleelkazi | 5423 | 0.27 | tech-talk-1-with-taskmaster4450-how-tech-adoption-is-accelerating-in-real-estate-education-and-medicine |
| @khaleelkazi | 4011 | 0.2 | bitcoin-to-288k-by-2024-or-stock-to-flow-model-explained-in-layman-s-terms |
| @cryptojiang | 10000 | 0.498 | grayscale-director-smart-money-is-flooding-into-crypto-at-remarkable-rate |
| @cryptojiang | 6661 | 0.331 | wealth-manager-advises-against-investing-in-bitcoin-billionaires-beg-to-differ |
| @havok777 | 6701 | 0.333 | went-on-a-hazelnut-forest-walk |
| @havok777 | 4966 | 0.247 | just-put-out-new-experimental-electro-on-bandcamp-mixed-mysteria-messages-by-synthesis-underground |
| @havok777 | 4542 | 0.226 | a-couple-video-clip-montages-of-unrest-events-from-tiktok |
| @a-alice | 8479 | 0.422 | asian-style-pizza-cooking-with-alice |
| @a-alice | 7197 | 0.358 | mixed-salad-chicken-by-alice |
| @simplegame | 9450 | 0.47 | i-have-acquired-holybread-game-is-not-dead |
| @simplegame | 5193 | 0.258 | holybread-breadcrumb-buybakc |
| @cyemela | 7633 | 0.38 | steemit-blog-part-03-rained-this-weekend |
| @cyemela | 6655 | 0.331 | steemit-blog-part-03-the-cia |
| @bewithbreath | 7770 | 0.387 | are-you-writing-about-meditation-mindfulness |
| @bewithbreath | 5940 | 0.296 | three-basic-teaching-of-the-buddha |
| @davidesimoncini | 8330 | 0.414 | actifit-davidesimoncini-20200529t133052982z |
| @davidesimoncini | 5349 | 0.266 | actifit-davidesimoncini-20200530t105517793z |
| @elfranz | 7956 | 0.396 | fast-curious-facts-24-or-you-cannot-learn-a-thing-you-think-you-know |
| @elfranz | 5355 | 0.266 | fast-curios-facts-24-or-you-cannot-learn-a-thing-you-think-you-know |
| @mariannewest | 4701 | 0.234 | day-949-5-minute-freewrite-wednesday-prompt-beeper |
| @mariannewest | 4533 | 0.226 | day-950-5-minute-freewrite-thursday-prompt-night-gown |
| @mariannewest | 4076 | 0.203 | the-3-prompt-weekend-freewrite-5-30-2020 |
| @suedoenym | 6968 | 0.347 | perceptions-matter-but-so-does-leadership |
| @suedoenym | 5438 | 0.271 | when-the-looting-starts-the-shooting-starts |
| @fullcoverbetting | 6648 | 0.331 | my-top-5-tron-gambling-dapps |
| @fullcoverbetting | 5671 | 0.282 | crypcade-a-new-trx-casino-mining-is-cheap-there-at-the-moment |
| @tggr | 7557 | 0.376 | appics-v1-appics-im-195579 |
| @tggr | 4729 | 0.235 | appics-v1-appics-im-196808 |
| @stevenwood | 7389 | 0.368 | what-if-your-success-was-locked-in-at-the-moment-of-decision-what-would-you-do-who-would-you-be |
| @stevenwood | 4875 | 0.243 | well-well-well-engagement-is-far-from-dead-if-you-look-in-the-right-places-who-knew-huh-a-project-with-much-hope |
| @zord189 | 6425 | 0.32 | selamat-hari-raya-aidilfitri-to-my-muslim-friends |
| @zord189 | 5290 | 0.263 | animation-or-5-signs-you-re-an-animator-born |
| @seyiodus | 7108 | 0.354 | clear-conscience |
| @seyiodus | 4513 | 0.225 | insight-to-the-word-minister-before-the-lord |
| @erikklok | 5734 | 0.285 | actifit-erikklok-20200527t195516849z |
| @erikklok | 5334 | 0.265 | actifit-erikklok-20200531t201806472z |
| @accelerator | 10000 | 0.498 | map-rewarder-mapr-payouts-to-delegators-and-price-increase-for-token-holders-for-25-may-2020-17-2-apr-18-5-apy |
| @anthonyadavisii | 10000 | 0.498 | 0ksrn5atzcq |
| @azizbd | 10000 | 0.498 | need-transfer-help-to-send-some-donation-to-cuba |
| @canna-collective | 10000 | 0.498 | important-announcement-canna-token-project-has-been-closed |
| @curie | 10000 | 0.498 | may-update-and-call-for-support |
| @cyberspacegod | 10000 | 0.498 | civil-disobedience-2020-by-dr-john-bergman |
| @dsc-r2cornell | 10000 | 0.498 | curation-report-steemit-34-for-r2cornell-s-discord-community |
| @ecoinstar | 10000 | 0.498 | nice-knockout-battle-on-splinterlands |
| @evans-education | 10000 | 0.498 | homeschool-week-26-day-2 |
| @evernoticethat | 10000 | 0.498 | actifit-evernoticethat-20200528t004745811z |
| @felander | 10000 | 0.498 | pallet-lounge |
| @felixgarciap | 10000 | 0.498 | first-hearchurch-contest-receiving-the-power-of-the-word |
| @freedomshift | 10000 | 0.498 | weekly-contest-what-does-today-mean-to-you-win-steem-basic-income-sbi-or-incinboost-shares-and-more-ccc-2-51 |
| @improv | 10000 | 0.498 | noticeable-porcupines |
| @iven | 10000 | 0.498 | frage-uebertragung-von-sbi-shares |
| @kryptodenno | 10000 | 0.498 | 378-die-deutschsprachigen-steem-and-kryptoartikel-des-heutigen-tages-freitag-22-05-2020-mit-gewinnspiel-sektion |
| @luzeroc4 | 10000 | 0.498 | the-good-doctor-el-buen-doctor-serie |
| @martusamak | 10000 | 0.498 | returning-to-steem-errrr-hive |
| @mastergerund | 10000 | 0.498 | 4p9cso-daily-quest-reward-silver-ii |
| @melooo182 | 10000 | 0.498 | lili-from-half-and-sweet-six-fan-arts-challenge |
| @nyarlathotep | 10000 | 0.498 | arabesque |
| @r2cornell | 10000 | 0.498 | a-rose-to-calm-me-after-dealing-with-scammers-spammers-and-cheats-una-rosa-para-calmarme-despues-de-lidiar-con-estafadores |
| @reinaldoverdu | 10000 | 0.498 | my-pick-of-the-top-3-post-on-project-hope-27-05-2020 |
| @roxy-cat | 10000 | 0.498 | life-and-challenges |
| @samuel-swinton | 10000 | 0.498 | free-javascript-books-and-courses |
| @sbi10 | 10000 | 0.498 | 56fw2i-sbi-upvotes-report |
| @sbi5 | 10000 | 0.498 | xbite-sbi-upvotes-report |
| @sbi6 | 10000 | 0.498 | 22otyr-sbi-upvotes-report |
| @sbi7 | 10000 | 0.498 | 7rtcgu-sbi-upvotes-report |
| @sbi8 | 10000 | 0.498 | 35b2q4-sbi-upvotes-report |
| @sbi9 | 10000 | 0.498 | 4wqebm-sbi-upvotes-report |
| @senorcoconut | 10000 | 0.498 | i-am-hooked-on-fermented-foods-it-s-that-deliciously-addictive-taste |
| @sportfrei | 10000 | 0.498 | 1st-bundesliga-week-28-tuesday-matches |
| @steembasicincome | 10000 | 0.498 | 5xaln8-outgoing-votes-report |
| @sustainablelivin | 10000 | 0.498 | finally-a-new-episode |
| @tattoodjay | 10000 | 0.498 | abstract-ish |
| @thedarkhorse | 10000 | 0.498 | get-to-reopen-tomorrow-after-nearly-10-weeks |
| @theturtleproject | 10000 | 0.498 | blank-page-by-the-turtle-project |
| @tobetada | 10000 | 0.498 | steem-has-run-out-of-steam |
| @ichmusslaufen | 5128 | 0.255 | actifit-ichmusslaufen-20200521t160922895z |
| @ichmusslaufen | 4773 | 0.237 | actifit-ichmusslaufen-20200525t202434640z |
| @duckmast3r | 9384 | 0.467 | bitcoin-price-at-usd9-506-right-now |
| @theb0red1 | 9241 | 0.46 | actifit-theb0red1-20200521t064627909z |
| @hitmeasap | 4561 | 0.227 | plz-wipe-my-acc |
| @hitmeasap | 4165 | 0.207 | idiocracy |
| @futuremind | 5072 | 0.252 | hypnotic-illusion-poetry |
| @futuremind | 3648 | 0.181 | playing-guitar |
| @naturalmedicine | 8612 | 0.428 | we-now-have-a-spanish-curation-on-hive |
| @cryptoandcoffee | 4706 | 0.234 | losing-a-real-driving-seat-over-an-online-game |
| @cryptoandcoffee | 3889 | 0.193 | who-are-they-kidding |
| @forykw | 8514 | 0.424 | appics-v1-appics-im-192051 |
| @giosou | 8483 | 0.422 | east-samos-beach |
| @scienceblocks | 8422 | 0.419 | actifit-scienceblocks-20200521t050604666z |
| @citizenkane | 8412 | 0.419 | be-quick-and-get-borderlands-the-handsome-collection-for-free |
| @onelovedtube | 7972 | 0.397 | sron09qxlgt-hive-134220 |
| @shepz1 | 7969 | 0.396 | not-worth-being-on-here-is-it-folks |
| @purpletanzanite | 4815 | 0.24 | fk9jzbgd6 |
| @purpletanzanite | 2491 | 0.124 | pketl8hdr |
| @cryptoyzzy | 3917 | 0.195 | couple-de-chevaux |
| @cryptoyzzy | 3277 | 0.163 | c-est-le-bouquet |
| @simsibee | 7042 | 0.35 | spruch-des-tages |
| @sarez | 6704 | 0.334 | surprise-steem-no-longer-on-blocktrades |
| @whatsthatcryptom | 6640 | 0.33 | thinking-about-being-the-first-person-who-is-buying-a-car-with-steem |
| @madstacks | 6620 | 0.329 | my-weight-loss-blog-36-year-old-man-300-lbs-100-lbs-to-lose-pt-10-weigh-in |
| @germansailor | 6608 | 0.329 | appics-v1-appics-im-194814 |
| @curatorcat | 6514 | 0.324 | curatorcat-ponders-what-sort-of-future-will-we-all-have |
| @jackmiller | 6262 | 0.312 | claim-for-damages |
| @steemknightsstat | 3328 | 0.166 | steemknightsstat-2020-05-25 |
| @steemknightsstat | 2875 | 0.143 | steemknightsstat-2020-05-30 |
| @phillarecette | 3330 | 0.166 | endives-au-bleu |
| @phillarecette | 2816 | 0.14 | framboisier-amandine |
| @vegeta | 6037 | 0.3 | test |
| @guchtere | 5995 | 0.298 | photography-kinderdijk |
| @davidchen | 5975 | 0.297 | test-trail-vote |
| @crokkon | 5920 | 0.295 | steem-witness-ranks-excluding-dev365 |
| @onealfa | 5375 | 0.267 | actifit-onealfa-20200526t201340324z |
| @tbnfl4sun | 5236 | 0.26 | actifit-tbnfl4sun-20200526t235029425z |
| @nicolcron | 5202 | 0.259 | 5c0hlaf63b9 |
| @crypto.piotr | 5108 | 0.254 | my-own-2-cents-about-hard-fork-hf23-and-public-witness-voting |
| @ultraseven | 5080 | 0.253 | actifit-ultraseven-20200522t093119650z |
| @critic-on | 5029 | 0.25 | volvi-para-quedarme |
| @saun | 5025 | 0.25 | good-news-pinak-is-out-on-wave-exchange-oneotter-crypto-is-under-construction |
| @oleg326756 | 4964 | 0.247 | appics-v1-appics-im-192090 |
| @reiseamateur | 4914 | 0.244 | appics-v1-appics-im-190940 |
| @tfq86 | 4857 | 0.242 | sunset-today |
| @hmayak | 4800 | 0.239 | wherein-1590540531582 |
| @angelica7 | 4749 | 0.236 | appics-v1-appics-im-196785 |
| @edb | 4681 | 0.233 | actifit-edb-20200526t215436897z |
| @simonjay | 2531 | 0.126 | daily-steem-price-update-21-5-2020 |
| @simonjay | 2126 | 0.106 | steem-diary-entry-5-30-5-2020 |
| @theguruasia | 4607 | 0.229 | it-s-time-tga-announcement |
| @sunravelme | 4533 | 0.226 | 3yesrt-working-title-msp-creative-writing-curation |
| @djei.art22 | 4507 | 0.224 | short-animation-fear-time-and-loneliness-creation-process-brush-texture |
| @txmek | 4034 | 0.201 | teamfight-tactics-ep-2-mech-infiltrators-eng |
| @carrieallen | 3952 | 0.197 | hobye-topics-and-tunes-today-on-mspwaves-12pm-pst-3pm-est-7pm-utc |
| @kadna | 3926 | 0.195 | mq-sammlung-vatertag-vom-vatertag-zum-familientag-oder-etwa-ein-gehirnamputiertentag |
| @minimining | 2567 | 0.128 | meme-for-swedish-corona |
| @minimining | 1274 | 0.063 | paypal-to-btc |
| @elizacheng | 2027 | 0.101 | wherein-1590503130273 |
| @elizacheng | 1789 | 0.089 | wherein-1590751415745 |
| @tvlee | 3747 | 0.186 | wandering-and-turning-point |
| @nathen007 | 3620 | 0.18 | appics-v1-appics-im-191892 |
| @morningshine | 3508 | 0.175 | 5czu7 |
| @thespacebetween | 3486 | 0.173 | gone-so-long |
| @jensvoigt | 3307 | 0.165 | nix-passiert-aber-sieht-schoen-aus |
| @crypto-econom1st | 2910 | 0.145 | actifit-crypto-econom1st-20200523t204156220z |
| @puncakbukit | 1571 | 0.078 | kenapa-bisa-begini |
| @puncakbukit | 1336 | 0.066 | steem-quran-ver-1-0-cari-al-quran-di-steem |
| @veronicalee | 2783 | 0.138 | 4b4ccb |
| @davenavarro | 2716 | 0.135 | peaceful-tranquility-feat-juxta-the-garden-remix |
| @meins0815 | 1436 | 0.071 | rotwein-pizza-ferien-nordsee-zug-der-dienstags5er-11 |
| @meins0815 | 1268 | 0.063 | news-vom-zwilling |
| @alkasai | 2556 | 0.127 | winners-announcement-2020-05-25-23-58-15 |
| @lightcaptured | 2549 | 0.127 | moments-to-enjoy-from-our-italian-trip |
| @pompe72 | 1267 | 0.063 | actifit-pompe72-20200526t190154641z |
| @pompe72 | 1052 | 0.052 | actifit-pompe72-20200523t211534228z |
| @mcoinz79 | 920 | 0.046 | appics-v1-appics-im-190122 |
| @mcoinz79 | 689 | 0.034 | appics-v1-appics-im-192354 |
| @mcoinz79 | 567 | 0.028 | actifit-mcoinz79-20200526t020942319z |
| @gertu | 1978 | 0.098 | corte-de-cabello |
| @arunava | 1095 | 0.054 | 41zwnd-post-promotion-thread |
| @arunava | 851 | 0.042 | actifit-arunava-20200528t105224678z |
| @maracuja | 1894 | 0.094 | morning-sourdough-pancakes |
| @djoi | 1868 | 0.093 | the-dark-side-of-the-moon |
| @erixink | 1849 | 0.092 | fireants-or-community-and-erc20-token |
| @bigtakosensei | 1819 | 0.09 | xorn0kreqd3 |
| @michelangelo3 | 1787 | 0.089 | steem-hive-und-die-welt |
| @cryptofiloz | 632 | 0.031 | splinterlands-quest-giveaway-win-free-card-round-442 |
| @cryptofiloz | 510 | 0.025 | splinterlands-quest-giveaway-win-free-card-round-444 |
| @cryptofiloz | 473 | 0.024 | splinterlands-quest-giveaway-win-free-card-round-445 |
| @qurator | 606 | 0.03 | the-daily-qurator-968 |
| @qurator | 511 | 0.025 | the-daily-qurator-970 |
| @qurator | 465 | 0.023 | the-daily-qurator-971 |
| @theabsolute | 917 | 0.046 | bad-hair-day |
| @theabsolute | 612 | 0.03 | meanwhile-on-steem |
| @wakeupkitty.pal | 556 | 0.028 | johma |
| @wakeupkitty.pal | 490 | 0.024 | a-good-foundation |
| @wakeupkitty.pal | 479 | 0.024 | healthy-food-vitamins |
| @shortsegments | 586 | 0.029 | appics-v1-appics-im-189495 |
| @shortsegments | 477 | 0.024 | special-effects-for-special-yellow-orchid |
| @shortsegments | 433 | 0.022 | the-worlds-tallest-mountain |
| @cherryzz | 827 | 0.041 | 65q4qm |
| @cherryzz | 663 | 0.033 | 4an8hg |
| @engrsayful | 739 | 0.037 | actifit-engrsayful-20200526t015059129z |
| @engrsayful | 592 | 0.029 | actifit-engrsayful-20200521t030632810z |
| @ronaldoavelino | 1280 | 0.064 | 724-modernos-dolares-comemorativos-americanos-parte-14 |
| @cmp2020 | 705 | 0.035 | building-the-german-village-of-beilstein-build-the-earth-germany |
| @cmp2020 | 461 | 0.023 | 5-23-2020-entry-to-the-steemit-diary-game-working |
| @matheusggr | 627 | 0.031 | appics-v1-appics-im-190060 |
| @matheusggr | 524 | 0.026 | mdica-desiste-de-trabalhar-no-hospital-de-campanha-do-maracan-aps-um-planto-aquilo--um-cti-de-fachada--rio-de-janeiro--g1 |
| @isnochys | 638 | 0.032 | isnochys-plays-paradox-games996682 |
| @isnochys | 504 | 0.025 | isnochys-plays-paradox-games397379 |
| @qwerrie | 1138 | 0.057 | newborn-lizzard |
| @bradleyarrow | 638 | 0.032 | actifit-bradleyarrow-20200521t110113039z |
| @bradleyarrow | 465 | 0.023 | actifit-bradleyarrow-20200524t115315213z |
| @oivas | 601 | 0.03 | weights-21st-may-2020-a-did-you-know-question |
| @oivas | 483 | 0.024 | maynia-day-14-the-galactic-interceptors |
| @craigcryptoking | 576 | 0.029 | 5uv9j4-a-sneaky-bee-bath |
| @craigcryptoking | 498 | 0.025 | 6cpsdf-daily-winter-nectar-flow-an-incredible-natural-phenomenon |
| @costanza | 573 | 0.029 | learning-technical-analysis-6-or-volume-indicator |
| @costanza | 498 | 0.025 | splinterlands-or-general-strategy-guide |
| @summertooth | 580 | 0.029 | time-to-reflect |
| @summertooth | 490 | 0.024 | what-a-time |
| @forecasteem | 569 | 0.028 | 2020-05-20-updown-upbit-result |
| @forecasteem | 477 | 0.024 | 2020-05-25-updown-upbit-report |
| @mariluna | 559 | 0.028 | butterflies-can-teach-us-that-all-change-is-for-growth |
| @mariluna | 486 | 0.024 | rastafarian |
| @indicator | 1041 | 0.052 | 2020-05-24-updown-upbit-midreport |
| @kingscrown | 540 | 0.027 | steem-pump |
| @kingscrown | 498 | 0.025 | btc-bch-and-zec-are-on-ethereum-now |
| @mango-juice | 1031 | 0.051 | playing-with-earth-summoner-in-depth-gameplay-review-alpha-animated-corpse-giveaway |
| @afrinsultana | 1014 | 0.05 | qhtj00ras9s |
| @nathyortiz | 1000 | 0.05 | chocolate-cake-recipe |
| @bluengel | 996 | 0.05 | zzan-imax-1917 |
| @practicaleric | 512 | 0.025 | actifit-practicaleric-20200523t205908334z |
| @practicaleric | 468 | 0.023 | actifit-practicaleric-20200525t204238473z |
| @wakeupnd | 971 | 0.048 | aftermath-of-peaceful-protest-organized-by-blm-in-fargo-north-dakota |
| @chesatochi | 495 | 0.025 | z9b5el7tixj |
| @chesatochi | 468 | 0.023 | c-and-c56-discover-3-crypto-robots-investments-websites |
| @fucho80 | 958 | 0.048 | great-ideas-for-the-new-normal |
| @kgakakillerg | 489 | 0.024 | 2jwcbu-my-view-panorama |
| @kgakakillerg | 465 | 0.023 | my-view-today-beautiful-and-cloudy |
| @curly-xu | 938 | 0.047 | my-little-experiment-love-tarot-card |
| @bitandi | 480 | 0.024 | brauche-hilfe-fuer-keychain |
| @bitandi | 440 | 0.022 | die-chamtrails-im-saarland-machen-donuts |
| @guruvaj | 904 | 0.045 | appics-v1-appics-im-193198 |
| @fredkese | 478 | 0.024 | black-and-white-photography-day-200 |
| @fredkese | 422 | 0.021 | black-and-white-photography-206 |
| @kingsmind | 888 | 0.044 | ewqu7gs0qv4 |
| @dreimaldad | 454 | 0.023 | actifit-dreimaldad-20200523t205431068z |
| @dreimaldad | 433 | 0.022 | actifit-dreimaldad-20200528t213311892z |
| @pet.society | 469 | 0.023 | 721y6i |
| @pet.society | 405 | 0.02 | nt2ru |
| @ericet | 844 | 0.042 | 4gjrj1 |
| @silvertop | 837 | 0.042 | actifit-silvertop-20200528t052307572z |
| @justinparke | 792 | 0.039 | appics-v1-appics-im-196609 |
| @pinggangbukit | 736 | 0.037 | agregat-steem-hari-ke-hari-kamis-21-may-2020 |
| @priyanarc | 733 | 0.036 | i-represented-my-life-journey-through-an-art |
| @sketch.and.jam | 725 | 0.036 | wq3bshwc34a |
| @steemcleaners | 720 | 0.036 | report-for-15-may |
| @jayna | 719 | 0.036 | actifit-jayna-20200524t044924305z |
| @yanes94 | 708 | 0.035 | digital-art-or-or-creation-of-characters-or-or-dark-enchantress |
| @acesontop | 698 | 0.035 | when-the-blue-skies-fade-away |
| @dollarvigilante | 697 | 0.035 | appics-v1-appics-im-190207 |
| @tussar11 | 686 | 0.034 | photos-showing-the-beauty-of-nature |
| @claudio83 | 685 | 0.034 | the-gate-of-time-il-cancello-del-tempo |
| @ferjart | 679 | 0.034 | the-arrival-new-illustration |
| @udabeu | 663 | 0.033 | vater-mutter |
| @julian2013 | 661 | 0.033 | wherein-1590071983669 |
| @amethystmidnight | 659 | 0.033 | cosmic-hand |
| @aotearoa | 659 | 0.033 | btc-ta-for-05-22-2020 |
| @alucian | 658 | 0.033 | de-100-hive-geschenkt-an-drei-glueckliche-kommentatoren-eng-100-hive-giveaway-for-three-happy-commenters-just-hive-comments-pay |
| @anneke | 656 | 0.033 | animals-are-useful-worksheet-for-kids |
| @rynow | 652 | 0.032 | birth-of-a-stout-during-lock-down |
| @tatdt | 651 | 0.032 | gas-masks-and-kerogases |
| @skyleap | 645 | 0.032 | the-new-chair-is-comfortable |
| @gomdory | 644 | 0.032 | gomdory-2020-05-21 |
| @darthnava | 643 | 0.032 | a-friend-s-travel-pics-of-batanes |
| @palnetvoter | 643 | 0.032 | daily-votes-from-palnetvoter-21-5-2020 |
| @silversaver888 | 643 | 0.032 | bees-and-flowers-on-a-wednesday-walk-in-mycalifornia |
| @angel35mm | 642 | 0.032 | vigilant |
| @stevenmosoes | 641 | 0.032 | happy-wedding-aniversary-to-us |
| @myach | 640 | 0.032 | myach-top-picks-post-summary-317 |
| @artgirl | 639 | 0.032 | the-messy-steemit-history-and-complicated-use-of-steemit-hive-as-a-social-network-earning-site |
| @coruscate | 639 | 0.032 | gabjrx9lftc |
| @dwarrilow2002 | 638 | 0.032 | has-anyone-else-lost-track-of-time |
| @ecotrain | 635 | 0.032 | what-s-up-from-the-ecotrain-community |
| @henryglowz | 635 | 0.032 | appics-v1-appics-im-194854 |
| @mrosenquist | 631 | 0.031 | vshield-2020-cybersecurity-conference |
| @maneco64 | 629 | 0.031 | is-gold-confiscation-a-possibility-in-the-21st-century |
| @wendyth16 | 628 | 0.031 | making-carrot-cookies-step-by-step |
| @arseniclullaby | 627 | 0.031 | great-eras-of-comic-books-titles-marvel-super-vilian-team-up |
| @bambuka | 627 | 0.031 | we-continue-to-walk-around-st-petersburg |
| @kadishakho | 626 | 0.031 | wherein-1590070398229 |
| @fun2learn | 624 | 0.031 | teaching-from-home |
| @ldsklee | 624 | 0.031 | 3jejab |
| @cornavirus | 623 | 0.031 | how-to-guide-for-splinterlands-using-the-exchange-engines |
| @maxwellmarcusart | 623 | 0.031 | drawing-a-chimpanzee-animal-series-091 |
| @roinv | 623 | 0.031 | valentia-y-actitud-mas-del-proyecto-vence-tus-limites-courage-and-attitude-more-of-the-project-vence-tus-limites |
| @don-t | 620 | 0.031 | picturesfromthemalageneancost30 |
| @epicdave | 620 | 0.031 | actifit-epicdave-20200520t225724656z |
| @radiosteemit | 619 | 0.031 | 7qyyna-participa-en-nuestra-comunidad |
| @jorgebgt | 618 | 0.031 | the-bolivarian-breeze-reaches-the-usa-la-brisa-bolivariana-llega-a-usa |
| @samprock | 618 | 0.031 | sam-prock-time-speck-feat-han-beukema |
| @seo-boss | 618 | 0.031 | the-church-of-steem |
| @scalextrix | 617 | 0.031 | actifit-scalextrix-20200520t202151422z |
| @lichtblick | 612 | 0.03 | appics-v1-appics-im-189688 |
| @yanipetkov | 611 | 0.03 | actifit-yanipetkov-20200520t231205270z |
| @lorennys | 610 | 0.03 | family-picnic-in-a-german-forest-in-venezuela |
| @stehaller | 610 | 0.03 | joe-rogan-100-millionen-dollar-wert |
| @nelkeljdm | 609 | 0.03 | installed-an-oil-catch-can-on-my-rb26dett |
| @leoneil | 607 | 0.03 | astronomers-get-earliest-ever-glimpse-of-ancient-giant-galaxy--scientific-american |
| @huitemae | 606 | 0.03 | failing-parent |
| @intrepidphotos | 605 | 0.03 | hart-ranges |
| @banjjakism | 604 | 0.03 | actifit-banjjakism-20200521t141843827z |
| @byebyehamburgers | 604 | 0.03 | day-758-or-trading-crypto |
| @steemmillionaire | 604 | 0.03 | actifit-steemmillionaire-20200523t190918338z |
| @barbarabezina | 603 | 0.03 | moon-night-dream |
| @fycee | 603 | 0.03 | appics-v1-appics-im-189664 |
| @splinterlands-ru | 601 | 0.03 | konkurs-splinterlands-share-your-battle-weekly-challenge-win-upvotes-podelis-svoim-poedinkom-tema-skrytnost-sneak |
| @jacuzzi | 600 | 0.03 | danang-at-night-photos-taken-while-out-exploring |
| @zpzn | 598 | 0.03 | beautiful-small-pink-flowers |
| @stanestyle | 591 | 0.029 | a-poetic-story-about-growing-up-and-believing |
| @thranax | 591 | 0.029 | my-friends-call-me-murphy-you-call-me-robocop |
| @dexpartacus | 590 | 0.029 | 2mypm96cn0m |
| @kibumh | 590 | 0.029 | 60 |
| @bji1203 | 589 | 0.029 | spt-earth-orb |
| @darlenys01 | 588 | 0.029 | meeting-with-jesus |
| @herstory | 588 | 0.029 | lol |
| @ironshield | 585 | 0.029 | in-lansing-operation-haircut |
| @abdex9 | 584 | 0.029 | ink-drawing-of-a-german-rabbit |
| @prechyrukky | 584 | 0.029 | a-reason-to-live-birthday-post |
| @victoriaxl | 583 | 0.029 | heartchurch-creates-its-official-page-on-the-web-https-www-heart-church-org |
| @alexkopareiko | 581 | 0.029 | k9aqle3l3ek |
| @laputis | 581 | 0.029 | sonata-no-1-in-c-major-for-4-hands-franz-seydelmann |
| @steemnova | 579 | 0.029 | steemnova---2020-05-20-daily-alliance-shares-and-player-rewards-20200520t200013z |
| @nextgen622 | 578 | 0.029 | pjjfj |
| @elenasteem | 577 | 0.029 | i-gave-the-stickers-to-the-good-girl-katerina |
| @yousafharoonkhan | 576 | 0.029 | mint-s-miracles-or-or-gastrointestinal-diseases-health-is-wealth |
| @vieira | 575 | 0.029 | the-reason-why-suffering-exists |
| @noisysky | 573 | 0.029 | tasteem-058649 |
| @cocukgelisimi | 570 | 0.028 | actifit-cocukgelisimi-20200521t132333099z |
| @digi-me | 570 | 0.028 | article-on-working-in-working-life-the-importance-of-freedom-for-understanding-and-development |
| @pacolimited | 570 | 0.028 | appics-v1-appics-im-189529 |
| @shemzee | 569 | 0.028 | the-gift-ft-igor-pose |
| @eii | 568 | 0.028 | mydailycolor-21-05-2020 |
| @mm7 | 567 | 0.028 | ror-game-ksaenyapila |
| @tillysfamilyfarm | 567 | 0.028 | actifit-tillysfamilyfarm-20200521t044247617z |
| @ash | 566 | 0.028 | gnome-has-won-against-patent-troll-rothschild-patent-imaging-llc |
| @marcoteixeira | 566 | 0.028 | 29pemv-photography |
| @robibasa | 565 | 0.028 | il-professionista |
| @holovision | 561 | 0.028 | actifit-holovision-20200521t023604884z |
| @mafalda2018 | 560 | 0.028 | 100-dias-de-steem-dia-48-desafio-del-miercoles-mi-programa-de-tv-favorito-el-zorro |
| @stupid | 560 | 0.028 | actifit-stupid-20200521t050023097z |
| @victoriabsb | 560 | 0.028 | 3cxzbw-rose |
| @samirich | 559 | 0.028 | appics-v1-appics-im-189629 |
| @slwzl | 559 | 0.028 | todo-lo-que-hay-mas-alla |
| @tezmel | 559 | 0.028 | seeking-financial-stability |
| @josediccus | 558 | 0.028 | sxt4wpl1glj |
| @sonki999 | 555 | 0.028 | 2zuvh9 |
| @halzart | 554 | 0.028 | pencil-drawing-sitting-woman |
| @adammillwardart | 547 | 0.027 | working-on-another-big-canvas |
| @yiobri | 545 | 0.027 | reinitas-de-guayaba |
| @tailcock | 544 | 0.027 | aaa-spt |
| @alibaba987 | 542 | 0.027 | actifit-alibaba987-20200520t212245874z |
| @m18207319997 | 540 | 0.027 | steemengine20200521 |
| @leandro85 | 537 | 0.027 | actifit-leandro85-20200520t212843171z |
| @sesil | 537 | 0.027 | 4z3hyh |
| @mima2606 | 534 | 0.027 | appics-v1-appics-im-189517 |
| @kkarenmp | 533 | 0.027 | 9enj1gcz4dj |
| @caaio | 528 | 0.026 | recanto-tropical-tropical-nook |
| @mgaft1 | 525 | 0.026 | beware-of-vamps-an-original-short-story-part-5-of-5 |
| @pixelfan | 525 | 0.026 | the-acrobat |
| @uadigger | 525 | 0.026 | trees |
| @boddhisattva | 523 | 0.026 | 5ydkcm-monomad-photographic-challenge-city-sunset |
| @botefarm | 517 | 0.026 | actifit-botefarm-20200523t211243755z |
| @drutter | 517 | 0.026 | day-69-medicine-patch-update |
| @jeffjagoe | 516 | 0.026 | kdujxv7e7vj |
| @abduhawab | 515 | 0.026 | macro-shots-black-jumping-spider |
| @bdcommunity | 514 | 0.026 | 69qaar-bdcommunity-highlights-of-the-last-week |
| @gems.and.cookies | 510 | 0.025 | top-covid19-photo-of-the-week |
| @threejay | 509 | 0.025 | splinterlands-300-dec-daily-giveaway-308-no-up-vote-re-steem-or-follow-required |
| @ahmadmanga | 508 | 0.025 | screenshot-saturday-my-gaming-updates-may-23 |
| @hiddenblade | 506 | 0.025 | butterfly-pea-plant |
| @schamangerbert | 506 | 0.025 | open-steem-hive-blitz-arena-chess-tournament-saturday-23-may-19-gmt-21-uhr-deutsche-zeit-5-2-time-control |
| @bring | 502 | 0.025 | wherein-1590296190402 |
| @drax | 502 | 0.025 | retro-film-review-the-glimmer-man-1996 |
| @shaungerow | 502 | 0.025 | actifit-shaungerow-20200524t055752481z |
| @fredrikaa | 501 | 0.025 | appics-v1-appics-im-191698 |
| @palikari123 | 501 | 0.025 | re-post-or-themes-and-memes-robot-future-or-part-2 |
| @ryanhkr | 501 | 0.025 | 4ccuol |
| @self-track | 501 | 0.025 | actifit-self-track-20200523t222723541z |
| @andrewmarkmusic | 500 | 0.025 | miles-mathis |
| @travelwithus | 500 | 0.025 | the-day-i-found-a-wild-snake-der-tag-an-dem-ich-eine-wilde-schlange-fand |
| @emiliomorles | 497 | 0.025 | u666348uiwk |
| @lotto-de | 497 | 0.025 | unser-steem-lotto-tipp-post-fuer-den-mi-27-05-20 |
| @lenonmc21 | 493 | 0.025 | the-pandemic-will-accelerate-the-adoption-of-crypto-currencies-and-blockchains-worldwide |
| @shawmeow | 493 | 0.025 | football-premier-league-clubs-to-resume-training-in-small-groups---abscbn-news |
| @justyy | 491 | 0.024 | another-tiny-tool-steem-account-keys-and-password-generator |
| @binkyprod | 490 | 0.024 | voidstar-pvp-for-kotfe-imperial-agent-star-wars-the-old-republic-gameplay |
| @cinelonga | 489 | 0.024 | cinelonga-grapevine-mix |
| @yasu | 489 | 0.024 | steeit |
| @xpilar | 488 | 0.024 | as-you-know-we-ve-been-launching-the-talk-channel-in-the-world-of-xpilar-community |
| @leomolina | 487 | 0.024 | chau-no-te-va-gustar-cover-by-leomolina |
| @ultratrain | 486 | 0.024 | appics-v1-appics-im-192905 |
| @knowhow92 | 485 | 0.024 | yk8tx4ba0si |
| @dirkhooper | 484 | 0.024 | n1zk3o08a74 |
| @minimalpris | 482 | 0.024 | 20200523t181156131z-post |
| @rem-steem | 482 | 0.024 | cheesy-stuffed-eggplant-10-photos-or-or-my-kitchen-story |
| @tormus1958 | 482 | 0.024 | appics-v1-appics-im-191763 |
| @drazeus | 481 | 0.024 | 6xjwky-quest-loot-chest-recap |
| @marpa | 479 | 0.024 | sdwee-creacion-de-personaje |
| @transcript-junky | 479 | 0.024 | splinterlands-drug-wars-power-strategy-tips-49 |
| @bntcamelo | 477 | 0.024 | tyranny-preparing-for-another-fraud-la-tirania-se-preparandose-para-otro-fraude |
| @sughey | 476 | 0.024 | 100-dias-de-steem-dia-46-desafio-del-lunes-el-lugar-al-que-mas-tengo-ganas-de-ir |
| @d-zero | 475 | 0.024 | deep-grammar-grammar-checker-based-on-deep-learning-ai |
| @epic-fail | 474 | 0.024 | actifit-epic-fail-20200523t201807419z |
| @desyfit | 472 | 0.023 | sunday-smoothie-and-steemitri-s-girlfriend |
| @joythewanderer | 472 | 0.023 | le-fantome |
| @curationhelper | 471 | 0.023 | curationhelper-daily-update-24-05-2020 |
| @lordcarlo297 | 471 | 0.023 | appics-v1-appics-im-193575 |
| @anarchy999 | 470 | 0.023 | appics-v1-appics-im-191499 |
| @bobokyaw | 470 | 0.023 | enyaathsmwasipyayawa |
| @jacinta.sevilla | 470 | 0.023 | garden-snaps |
| @yuriks2000 | 470 | 0.023 | appics-v1-appics-im-191889 |
| @htliao | 468 | 0.023 | 4mujbs |
| @veterinarian | 467 | 0.023 | hey-guys |
| @vimm | 467 | 0.023 | daily-vimm-2020-05-26 |
| @aniestudio | 464 | 0.023 | appics-v1-appics-im-191606 |
| @funtraveller | 463 | 0.023 | building-blocks |
| @mvd | 463 | 0.023 | tuz2exre |
| @silverd510 | 461 | 0.023 | drawing-for-two-silver-prizes |
| @welshstacker | 461 | 0.023 | these-2p-coins-are-worth-gbp400-each-you-may-be-sitting-on-one |
| @mraggaj | 460 | 0.023 | two-male-northern-lights-plants-discovered-update-on-the-grow-day-53 |
| @vcdragon | 460 | 0.023 | exode-syndicate-sponsorship-drop |
| @clareartista | 457 | 0.023 | 20200523t161216779z-podcast-on-thenewnormal |
| @mad-runner | 452 | 0.022 | appics-v1-appics-im-191579 |
| @fullnodeupdate | 439 | 0.022 | full-api-node-update---3152020-20200531t203020z |
| @rokhani | 423 | 0.021 | the-importance-of-collective-awareness-and-cooperation-in-understanding-new-normal |
| @jlordc | 418 | 0.021 | binged-watched-plunderer-today |
| @clixmoney | 402 | 0.02 | the-review-about-the-banker-2020 |
Questions?
Please read our
FAQ
, which has a wealth of quality information. Learn about our sister program on
Hive
, including options to convert your SBI into Hive SBI. If you still have questions, ask in the comments section or join us in our
discord channel
.

---
---
(Sponsored Content)