My version of Steem is NOT content based, It is Contribution based.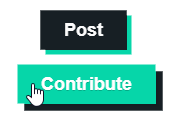 Providing content to Steem that attracts viewership and new users to sign-up does count as contributions but it is definitely not the only type and might not be the one Steem needs the most of right now.
When you get rewarded by the Steem blockchain for your contribution the amount earned should not be in any ways related to the intrinsic value of the content produced but on the added benefit to Steem itself as judged by every Steem-Power holders.
If for example Steem needs about 100 good post every day to keep the current viewership and attract more users, the 10 000 other posts of lesser value are not needed and should earn almost nothing.
With SBD now at about 10$, I believe too much of the inflation is being wasted on undeserving "content producers" to keep the illusion of fairness and that the platform is all about content - it's not!
Utopian.io is a good application of that contribution based model. The content itself isn't what's being rewarded, the content submitted by Utopians onto Steem blockchain is merely a proof-of-contribution, in this case Open-source contribution.
If you're a posting content to Steem, take some time once in a while to reflect and show us how your contribution is helping Steem grow.
How many people have read your content?
How many were new users visiting from outside of Steemit?
What efforts have you done to promote your content outside of Steemit?
How many people have created accounts to engage in the comment section?
What kind of contribution the people you've on-boarded likely to make?
How effective is your content at helping people understand how Steem work?
How many investors did it convince to invest in Steem?
What problem does your contribution solve?
How would producing such content not be possible without the reward earned?
How does your content benefit from being on a censorship resistant immutable blockchain?
... other suggestion ? (Please comments below)
What do you think Steem needs the most of apart from "Quality content" ?