Our Plan for Onboarding the Masses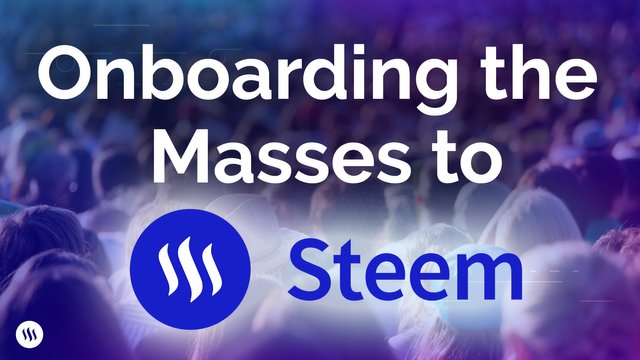 In today's post we will explore our plan to onboard the masses, how it informs the product decisions we have made in the past, and the decisions we continue to make. As many have observed, the Steem user base is not growing as fast as it used to grow, and traffic to steemit.com has been decreasing in lock-step. If our goal is to onboard the masses, that's not a good sign.
The Root Problems
We want to solve this problem and, as the team that released the base protocol and maintains the most used Steem-powered interface, we have the most to gain by doing so. When looking at these problems it can be tempting to look at the problems that appear on the surface. But we are always trying to look deeper. Steem and steemit.com grew rapidly because we offered people an experience that they couldn't get anywhere else. Is there more we can do to make the process of getting an account and understanding the platform easier? Absolutely.
But the people who joined steemit.com early on were doing so in spite of the difficulty because we were giving them the opportunity to take ownership over their content. The real question is; what else can we offer users that will encourage them to take that leap once again and join an experimental platform?
Communities
The beta release of steemit.com proved that the proposition of leveraging blockchain technology to guarantee ownership over your content was extremely compelling. The question we asked ourselves was how we could take that value proposition to the next level. "Communities" are our answer to that question.
Communities will leverage Steem to deliver, for the first time in history, the ability for Community leaders to own the communities that they build.
If we want to onboard "the masses" we first have to appreciate that they are not a single, monolithic abstraction and instead acknowledge "the masses" as being made up of individual people with diverse interests, personalities, and group identities. Once we do that, it becomes obvious that if we want to onboard these diverse people onto Steem, then they need to be able to leverage this blockchain to discover information, and people, that match their interests.
As always, we want to do this in a decentralized way, by releasing open source software that expands people's ability to own and control their online activities. When we talk about "Communities" what we really mean is "the software that solves those problems." The development of this software, while progressing rapidly is still ongoing and we'd love your input or suggestions.
To learn more about Communities check out our recent post in which we announced our high-level design document. We'd love to hear your feedback.
Smart Media Tokens
While Communities will make history when they launch by giving people total ownership over the online communities that they build, we still believe that there is more we can do to set up Community leaders for success.
Thanks to our experience with STEEM, we can also give community leaders (whether they are app developers, businesses, or non-technical users) the financial tools they need to ensure that they, their community managers, and their community members are all incentivized to grow a community and build its value. That's why we are working on Smart Media Tokens (a/k/a Steem Meta Tokens) in parallel with Communities. These two pieces of software are our top priorities, which is why they are being developed in parallel by separate teams, one led by @roadscape (Communities/Hivemind) and the other by @vandeberg (along with @gerbino).
We believe that these improvements will usher in an entirely new era of growth by transitioning Steem from onboarding individuals one at a time, to onboarding entire communities. This will lead to another explosion in growth, at which point we plan to shift focus to the sign up bottleneck. Though that will be a decision made at the time based on all relevant factors.
Light Accounts
While we are thinking a lot about how we can dramatically improve the sign up process, 3rd party Steem developers have informed us of one feature that they believe could dramatically improve their ability to onboard new users to Steem, while dramatically decreasing the cost of doing so. That solution is "light accounts" and it is our hope that the community, and the Witnesses they elect, will consider this feature for inclusion in the SMT hardfork.
Light accounts would essentially be the types of accounts that are typically created on blockchains. These accounts would be simple wallet addresses (not usernames) that would not have any of the valuable rights that the current Steem accounts have and which contribute so much to their cost. Light accounts could enable developers to onboard their users to Steem for free, give them access to their Steem app, unify their backend databases, and then selectively "upgrade" the users who add the most value to their app to full Steem accounts. This would effectively transform the Steem accounts we all now have to "premium" accounts.
Feedback
But what do you think? Do you think this is the right approach? We realize that a lot of people have lost faith in our ability to ship code, but the reality is that we have never stopped shipping code. The "crypto winter" has certainly forced us to shift focus at times, but even the software that was shipped in response to our financial circumstances were critical to ensuring that the impact of Communities and SMTs is maximized.
Hivemind & MIRA
Our first major cost-cutting measure was Hivemind which not only dramatically reduced the cost of running Steem nodes, but is also the very software that will be powering Communities! Our next major cost-cutting measure was MIRA which moved the blockchain from RAM to commodity hardware thereby dramatically improving the scalability and sustainability of the Steem blockchain. In addition, when developing these solutions, our estimated ship dates were largely on target.
We know that a lot of people have been waiting patiently for Communities and SMTs. We agree with those people that these are the most important pieces of the puzzle and we wish they were already out. That being said, we are still confident that we are far ahead of our competitors. We are already making a lot of progress on these projects and are now confident that we will deliver them.
We will be delivering Communities features gradually over time, so you should start seeing improvements to Steem front ends before the release of SMTs which will require a hardfork. If you want to help influence the direction that these projects take, please leave your feedback in the comment section below.
Steem on!
The Steemit Team