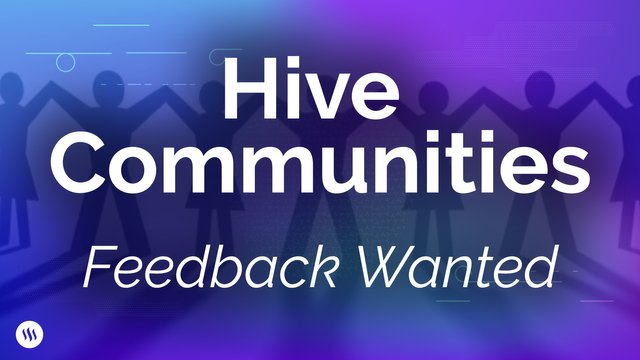 At Steemit, we believe that one of the ways in which the Steem blockchain really distinguishes itself from other protocols is its ability to nurture authentic online communities. Steem has many state-of-the-art technical capabilities, but features are only as valuable as the behaviors and experiences they support. Ultimately, features don't create value, it's the people who use those features to cooperate and collaborate with one another to build amazing things, who create value.
That's why we're excited to announce that we have released our new Communities design recommendation. This is a high level document intended to communicate our current thinking about what should be included in the finalized protocol. It is our hope that 3rd party developers, like those behind Steempeak, Busy, TokenBB, and others, will use this design document to provide feedback and become more involved with helping us implement an open communities standard.
Feedback Wanted
Those 3rd party developers who are interested in collaborating on the Communities standard, please leave your feedback in the comments to this post including links to any articles where you explore features you would like to see, and e-mail us at [email protected] to explore more direct involvement. Bear in mind that we want to make sure that the design for Communities is lightweight and that a Minimum Viable Product gets shipped as soon as possible. We know that a lot of community members and developers have been waiting a long time for Communities on Steem, and we don't want to make them wait any longer than is absolutely necessary.

Why Communities?
From Steemit team member
@roadscape
:
My goal with Hivemind (or "Hive") was to create the infrastructure which would empower everyone to contribute more effectively to Steem. Steem accomplished a great deal with very primitive tools, but it needed a major upgrade which it got with the release of Hivemind. Hive core gives developers a flexible layer which allows them to create more powerful tools and interfaces, only one of which will be Communities.
Hive Communities will give everyone the ability to ORGANIZE around a set of values, and the power to do so effectively. It will introduce a new dynamic of influence which does not have anything to do with Steem Power. Minnows will be able to mute whales and, unlike other platforms, the moderation log will be fully transparent.
Such a system will be far more effective than anything that exists today for connecting creators and curators. Curators will be attracted to communities which are well-organized: focused, high-quality, low-noise. That will make it easier for curators to find and upvote good content, which will in turn mean more rewards for those curators who are especially adept at evaluating subjective quality. While curators have always influenced the flow of rewards, their tools were crude. Hive Communities will put more power back into their hands.
Hivemind
Hivemind enables us to offer decentralized software solutions that provide developers with the trustlessness and unity of a shared blockchain database, without requiring costly and difficult upgrades ("hardforks") to the base layer. By creating Communities using Hivemind we can guarantee that no matter what Steem-powered application you're using, the Communities you find, and the members of those communities, will be constant.
Communities on Steemit
As the most used Steem interface, we believe it is important that Communities come to steemit.com as soon as possible, but it is equally as important that they be rock-solid. 3rd party developers can begin experimenting with user interfaces that delight their users in new and exciting ways as soon as the Hivemind APIs are ready. We believe that Steemit, Inc. should take a more deliberate and methodical approach. We should develop as fast as we can, while being careful not to disrupt the user experience on steemit.com too much or too rapidly. With a standardized Hivemind implementation, there may well be applications with Communities integrated into their user interfaces before steemit.com. We think that's great.
One of the many great things about Hivemind is that none of this is written in stone. We can continue to improve and expand the Communities protocol with ease. So please check out the design document, and provide feedback in the comments section below!
The Steemit Team