I wish more people would vote for some of the proposals on the [Steem Proposal System].(https://steemproposals.com/proposals)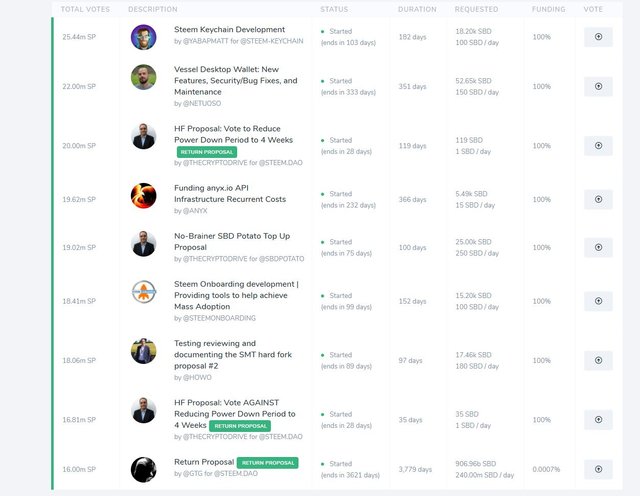 In case you don't know what the SPS it roughly works like this: 10% of the total Steem Reward pool goes towards the SPS. Developers and Entrepreneurs can propose projects for funding from that 10% of the rewards pool.
Steem Users can then vote on what projects they want funded, much like they vote for witnesses, with voting being stake weighted – the more Steem Power a user has, the more their vote is worth.
Any proposal receiving sufficient voting power to lift it above the 'return proposal' gets funded until it falls back below the return proposal, which currently has 16 Million SP worth of votes, so in order to gain funding, any proposal needs more than 16M SP worth of votes.
I guess the idea behind the return proposal is that it prevents the 10% of the rewards pool being watered down so that it can't fund any significant development projects.
ATW there's a fair bit of money available in the SPS system – around a total of 250K SBD, roughly $200K, or just under 2500 SBD or $2000 dollars a day available in funding .
FIVE Projects currently receiving SPS funding
There's presently eight (or really five/ six*) projects which are currently getting funded through the Steem Proposal System (SPS)
*I say 'really six' because one of them is @thecryptodrive's no brainer SBD conversion proposal which simply returns money back to the SPS, and two of the proposals are either for or against switching to a 4 week Power Down period, neither of which yet has funding, and if any will be needed, and it can only be one or t'other!
As far as I see it, the five 'real projects' currently receiving funding are all 'no brainer's for the forward development of Steem. You can check out the full list here at Steem Proposals
Relatively few SP and even fewer people have voted.
As far as I can see, all of five presently funded proposals are 'no-brainer' proposals for the benefit of the Steem blockchain – they also seem to fit 'nicely' with how Steem works – back end hosting, code-testing, wallet development, accessing the chain smoothly and onboarding and keeping users, quite a nice mix.
What strikes me as odd is how few people have voted for these……
Taking SPS votes for @yabapamatt as an example, he has around 91MVESTs worth of support as the number one witness, but only 25M SP, or around 50 MVESTS worth of support for his Key Chain development work.
I guess it's possible that people might support him as a witness, yet also think that Key Chain is guff, or that he doesn't deserve to be paid anymore, but there's also the possibility that people just haven't bothered to check in with the SPS and vote! I imagine the later is more likely.
Further evidence for the 'lazy SPS voter thesis' lies in the lack of votes either for or against the 4 Week Power Down Proposal – both of these combined have around 35 million SP of support, which is very roughly around 15% of available SP accounted for.
We'd have to take of the massive SP owned by Steemit, which is worth roughly the same again, but this still leaves around two thirds of SP unused in relation to what seems to be a pretty big issue. Then again maybe the non voters don't care either way, or think their votes are ineffective.
There's also the fact that I don't have to scroll down that far on the proposals to find my own name there with my derisory 27K SP!
Final thoughts
I wish people would engage more with the SPS… especially when there are so many proposals worthy of funding, and when it's so easy to vote – I mean you can even proxy someone else!
Maybe people are waiting for 'killer proposals' or for the overall pool to build up, thinking it will be more attractive, I could see the advantage of that…. Once there's a million SBD available for funding projects, THAT might really start to be attractive, $250K sounds like a lot, but in developers terms, maybe not!
Apologies for the very rough maths!