Normie Talk - New Steemit Wallet Change | How Does It Work Now?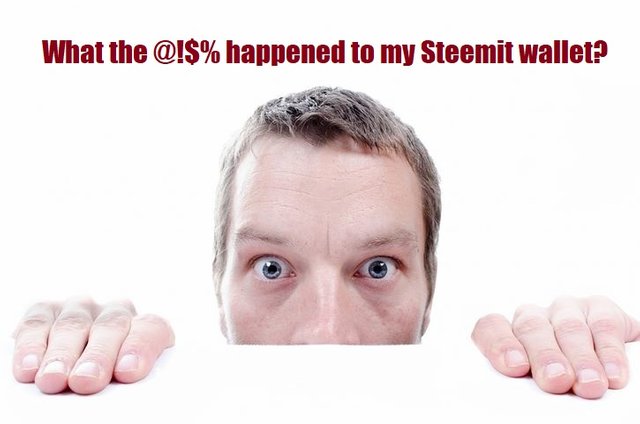 Deep Breaths... Deep Breaths... Deep Breaths
Hey Guys! The @steemitblog announced that the planned change to Condenser went live today ... and normal users all over Steem went, "What the hell is a condenser?" and continued to scroll...



Until of course they clicked on their wallets and panic ensued.
The response is understandable. We are all very used to how the steemit.com site is set up and how it works, so even small changes don't go unnoticed. A big change like this, with our wallets, is bound to get some attention.
I believe the most confusing thing here to the normal user is that now we are directed to a whole new site.. one that looks like steemit.com, but isn't. We have all be trained to be very careful with our keys, so it's not surprising that there were some that were immediately concerned that this was some sort of phishing site.
In Steemit Inc's defense, they did announce that this change was coming way over two months ago and have updated on the "condenser split" multiple times since then.



But what average user knows what a condenser is and why would they care?
To me this is a common case of miscommunication due to the different types of users here, all with different ways they use the Steem Blockchain as well as different levels of understanding of the chain itself.
Which let's be honest, this is exactly what we want- A diverse ecosystem of users from all different backgrounds. We just have to work on bridging the gap of communication between the more tech savvy users, and then us "Normies" ;)
And that is my goal for this post.
---
Why The Change?
Have no interest in the "why" and just want to know how to use your wallet? Just scroll, scroll, scroll...
The whole goal here is to split the SOCIAL aspects of Steemit.com (blogging/commenting/upvoting etc) from the MARKET aspects (market/wallet/transfers etc).
Now we have two domains to interact with the Steemit Interface;


1.) Steemit.com (SOCIAL)
2.) Steemitwallet.com (MARKET)


I feel Steemit Inc actually explained the reasoning for the condenser split, and the goals they hoped to achieve by doing so quite well. Therefore I will just quote them from their initial announcement post, and then I will walk you through the process of what your wallet will look like now.
Condenser is the open source software that powers steemit.com and features 5 major functionalities: blogging, social, market, wallet, and sign-up. Initially, having all of these features in one codebase made everything easier to manage and scale. At this point in our growth, however, there are some important advantages that we can unlock by separating out the wallet functionality from the social functionality as it requires the highest level of security. This change would have little to no impact on user experience.
Ad space provides hackers with another avenue through which they can launch an attack. Separating out the wallet functionality and hosting it on an entirely different domain is the best way to protect users because it guarantees that even if a hacker manages to find a way around our strong security measures, they will still not be able to gain access to any financial information.
Additional Benefits

1.) Because the Condenser-Social and Condenser-Financial (these are placeholder names, not official) applications will be smaller than the existing Condenser, they will consume less memory on the server-side and the client-side, reducing both our costs and the costs to the end user (CPU/RAM usage on their machine)
2.) By making the surface area of Condenser-Social (the social functionalities in Condenser) smaller, we will be able to develop new social functionalities with greater ease
3.) Developers who want to create Steem-powered front ends will have the ability to choose between supporting one or both of the applications. Financial applications could choose to only support Condenser-Wallet, while social applications could choose to only support Condenser-Social. This should enable more rapid and diverse innovation for Steem applications.


This project is in-line with our main priorities at the moment of lowering costs and increasing revenue so that we can improve the economic sustainability of the Steem ecosystem.
Safety
Scale-ability
Ease of implementation of social functionalities
Sustainability (cost savings)




Alright, now that we know the "why" let's see what this will look like for us...


What will it look like now?
The actual interface of the Steemit.com website looks pretty much the same;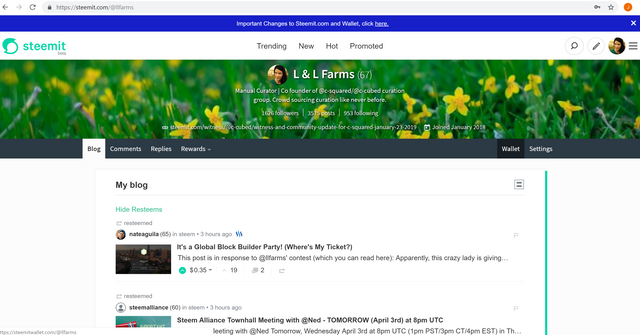 (Remember this update is only on the Steemit.com interface and not the Steem blockchain itself. Other user interfaces will not be effected by this at all).
When you are on your profile, scrolling in your feed, commenting etc. everything is the same as before. You are using steemit.com, the SOCIAL domain of Steemit.
The change comes when you click on the "wallet" tab specifically;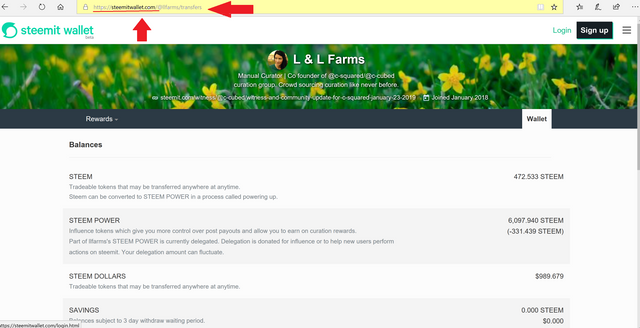 Which now redirects you to - Steemitwallet.com/@yourusername/transfers
The site looks the same as your old wallet, but now you are on the separate steemitwallet.com domain.
Always Be Aware of domains:
To be safe anytime you go to enter your keys, always double check the domain name (highlighted in yellow above).
This is a safe practice I do personally and normally will catch any sort of "phishing attempts". Which means when hackers will copy the look of a site to try to trick you enter your keys/passcode and then they collect it.
The wallet domain will always be - steemitwallet.com/@yourusername. If it is steemetwallet.com or any other variety, IT'S NOT THE RIGHT PLACE AND DO NOT ENTER YOUR KEYS.
I know, it sounds dramatic, but it's a very easy way to protect yourself and your Steem investment. Just take the extra moment to check ;)


What's Next?
Ok, as you can see in the screenshot above, I have been transferred to my steemitwallet.com domain but I am not logged in. Just like on the steemit.com website, click that login button;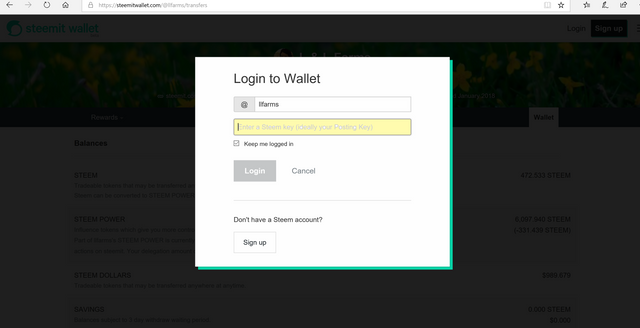 Now here is where the confusion came in...
1.) Why is the wallet asking for my posting key??
Well, it's actually only recommending the posting key... why?
Because you do not need anything above your Posting Key to look at your wallet.

You only need a higher authority key (i.e. Active) to make transactions within your wallet.
This is just an additional attempt at educating users to always use the lowest authority key needed for each action, and only enter a higher level key when prompted to do so.
You can log into the wallet with any of your keys, but posting is the lowest authority needed to log in to your wallet.. so that is what is recommended.
2.) Why doesn't the steemitwallet.com have my password saved in browser like steemit.com?
Because this is a different domain, that you have never visited before.
Just like when you first went to steemit.com, you will need to manually enter (or copy/paste from a file) your key.
Once you have entered your key and selected login, your browser will then ask you if you want to save the password for the domain, which you can then choose to do.
I don't actually do this, for the record... I manually enter mine from a file each time. But this seemed to be an issue for many.
Steemit Inc. recommends using a password manager like LastPass or 1password.


3.) What if I don't have my posting key saved and was relying on the browser saving it all this time?
Well, first things first - PLEASE SAVE YOUR KEYS IN MULTIPLE PLACES. Seriously, this is a must do. Copy them to a file, save in a thumb drive, as well as print multiple hard copies and keep them safe. This is your Steem investment here, you need to protect it.
You can log into wallet with any key.

If you have been relying on your browser to save your posting key for you and don't have it saved elsewhere (please read the all caps above again), then you will need to log in with your Master Password to then reveal all of your private keys, and then you need to save them all much better than you did before.

If you have your keys absolutely nowhere and were relying on the browser saving it. First, please stop doing that. Second you will need to find your key that was saved in your browser. To do so you will need to search your computers password manager. This process is different depending on the browser used, so I would recommend doing a google search for how to recover passwords from the password manager for your specific browser and follow those directions. Then please follow the safe key keeping suggested above.
Now that we are logged in...
Once you have logged in you will see the normal wallet options we are used to seeing, with a few updates.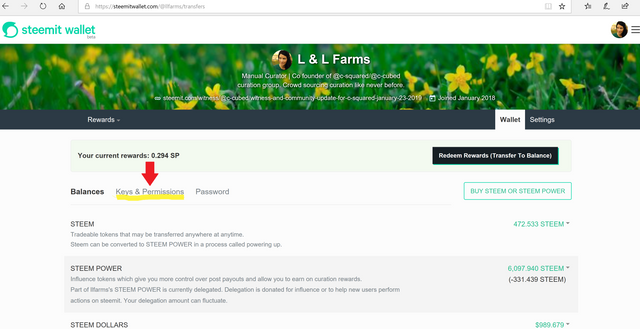 When you click on the "Keys And Permissions" there in the center tab (highlighted with arrows), you will see some great additional information that we haven't had before.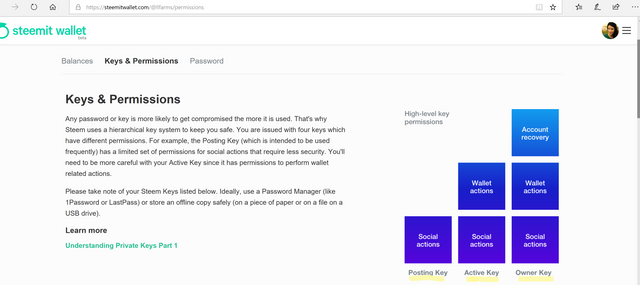 Look at that lovely graph!!!
Yes, a beautifully blue info graph to tell us all what keys we need for what actions! Let's get a closer look...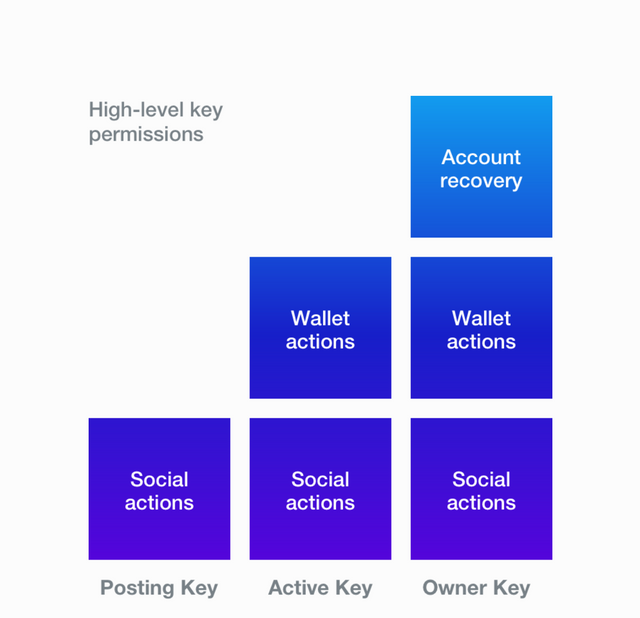 As you can see, you only need your posting key to interact in the social side of Steem and that is why the Steemit.com website will now only accept the posting key.
On the same page you will find a link to learn more about keys and the uses behind them as well as to safely manage them. I suggest everyone go and read this post, bookmark it, and refer to it often;
What if I want to make an actual transaction?
You only need your Posting Key to view your wallet. Once you are logged in, if you attempt to do any action that requires a higher authority key, i.e. Transfers, Powerups, Buy/Sell Etc


You will be prompted to use a higher authority key.


A window will pop up (like below) and instruct you that an active, master, or owner key is needed for this action. Always use the lowest level key possible, in this case - Your ACTIVE key.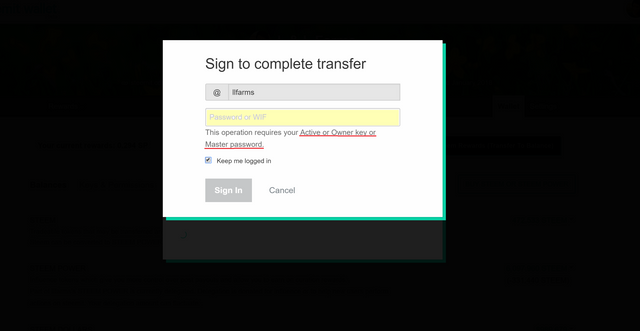 Once you enter your key, the transaction will go through.. just like on the old wallet.
What happens when I am done in my wallet?
Ah, here is the part that I believe needs a bit of change (many seemed to voice the same concern).
Currently when you are done with your transactions there is no way to just "go back" to your Steemit.com profile.

You will need to simply enter the domain name in the address field and go back that way.
I am sure there is a safety reason for this, but it is extremely inconvenient and I hope that there will be improvements to that soon.
So, enter the steemit.com domain back into the field and go back to the SOCIAL side of Steemit and tell everyone you just survived your first steemitwallet experience!


---
Final Thoughts
The world is not burning, but we do now have two domains to experience- Steemit.com for SOCIAL and Steemitwallet.com for MARKET.

We have to get used to something new, and I am sure we will have some learning bumps along the way.

Save your damn keys - This will hopefully be an opportunity for us all (new and old users) to revisit key safety as well as incorporating the practice of always using the lowest needed authority key for each action. (Don't forget to read the POST on that!)
I hope this will help ease some minds, give a bit of understanding or at least make you giggle. If you need any specific help, let me know and I will do my best to answer... or find someone much more intelligent than me to do so.


Much Love and Steem On,
Justine