Are you mainly voting your early friends and/or do you still look out for newer accounts?
I'm up to date with replies on yesterdays pie requests and hopefully, after a sleep, I'll be ready to produce some charts for whoever would like them.
Today's data-pull is based on a comment I read on @acidyo's post in which he presented his pies (with a few bonus 2017 pies) on votes issued to higher/lower SP accounts, and to which 'class' of account:
...It is natural to vote for friends, the same would happen in the real world. Often those friends have the same account age... @fullcoverbetting on acids post here.
Yep, could be something interesting here, time to get to work...
---
So, what to expect?
Based on the above comment, I do agree that their are likely to be 'pockets' of accounts that joined around the same time, made friends, and have continued to support each other. This may be more prominent for older accounts, but I think is still the case for newer accounts also (We'll perhaps know a bit more later today when I've done 30/40 of the charts below).
I would also expect more votes to head towards the months where the most new accounts were created. (Not all the accounts that joined in January 2018 were spammers :P )
For reference, the below is the complete history of account creations by month.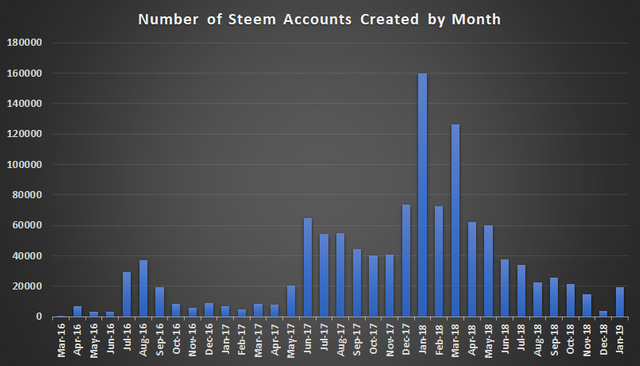 ---
I couldn't decide if it would be more informative to look at unique accounts voted on at least once, or to tally up all the votes cast to these accounts. And so I have two charts again today, and they are both grouped by the month of account creation.
Only up-votes are considered.

Excluded on both charts are votes cast to the same author, commonly known as selfies.
If you have other accounts and suffered from the haejin effect in early 2018, those votes will still be present.
My charts
The first chart looks only for at least one vote to an account created within any given month. E.g. I have voted for 226 accounts that were created in July 2016.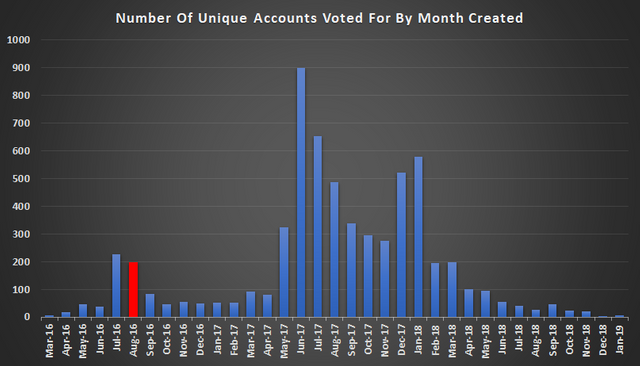 This second chart takes all votes into consideration. E.g. I voted for 226 accounts created in July 2016 (above), and have cast a total of 4819 votes on these 226 accounts.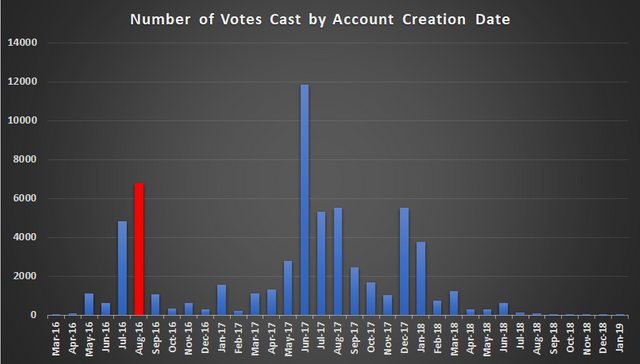 The red bar is the month in which my account was created. If you want your 'creation month' highlighting then you will need to tell me what it is in the comments - thanks! (This could serve as a good metric to see who is actually reading at this point, yep, I'm gathering data on you :P )
What do they tell me?
Well it looks like I am supporting a pocket of accounts that were created around the same time as mine in August 2016. However, I only wrote one post back then and didn't become active again until May 2017. The charts seem to show that I have another pocket from the summer of 2017, but this was also when there was a decent relative increase in the number of accounts in general.
December 2017 looks like a good month to join for up-votes from my account. I have cast almost 2000 more votes to Dec 2017 accounts than Jan 2018 accounts, even though the new account registrations are more than double in Jan 2018 than December 2017.
In January this year, we have had almost 20000 new accounts created. And I've only voted for 5 of them! This sounds pretty poor, but maybe it's not only me?
Someone else's charts
It's tricky when you only have one set of data and so I have stolen someone else's, who will remain anonymous of course.
Chart 1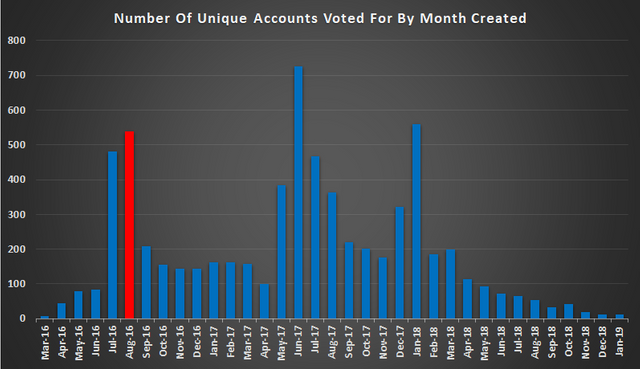 Chart 2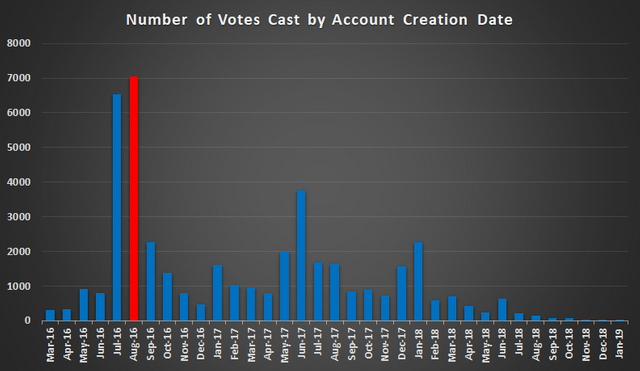 They joined in August 2016 like me and have a similar pattern in chart 1 which tends also to follow the overall account creation pattern.
I see a difference in chart 2 though. Clearly the best months to have joined Steem for a vote from this account is the same month, or the one prior. There are other peaks that are in line with the overall account creation numbers also.
My charts are a little skewed because of the gap in activity, and i suspect this chart above represents a more common result, and ties in more closely what @fullcoverbetting stated in his comment.
I'm wondering what a curation outfits charts would look like - a bit flatter across the months? Perhaps I'll add those in tomorrow for @curie and/or @c-squared.
---
Right, it's 2 am and so it's unlikely you'll get a chart tonight but I promise to get to work, following a coffee when I wake up.
Who wants some charts?
Don't forget to give me the information I have asked for somewhere in the text above :P
Buenas Noches!
Asher