Manual Curation History
As many of you know I am a big proponent for manual curation. Although I have to admit I haven't read everything I vote on, considering the curators of @ocd have helped me with that in the past and will do so again as soon as we get started. It is fun to look back at some stats of past curations. This post was inspired after @tarazkp posted about his curation stats in a recent post so I bugged @abh12345 as well to check for my stats, here they are!
This is one I think is quite important considering how many curators have completely given up on curating new users and others just for the sake of content and effort. Unfortunately many started either selling their votes early or votetrading to make up for the ROI they were losing out by not selling. I'm not saying I'm a complete angel and there may have been times I have voted on some bigger users hoping they would send me a vote back, but I have tried to not do that too often. Usually if it's an important post I kinda wanted to get more trending time back when I was very against buying bid bot votes. :)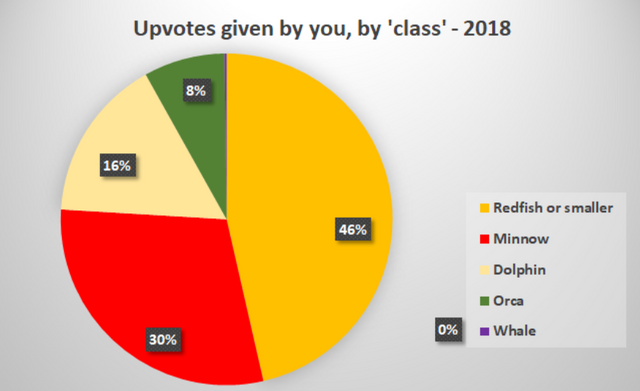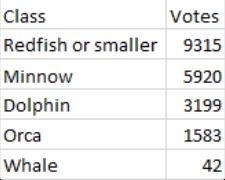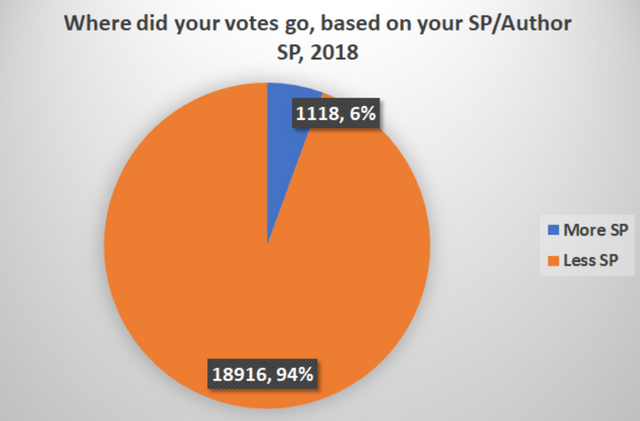 An interesting comparison between these stats from 2018 and the next ones from 2017.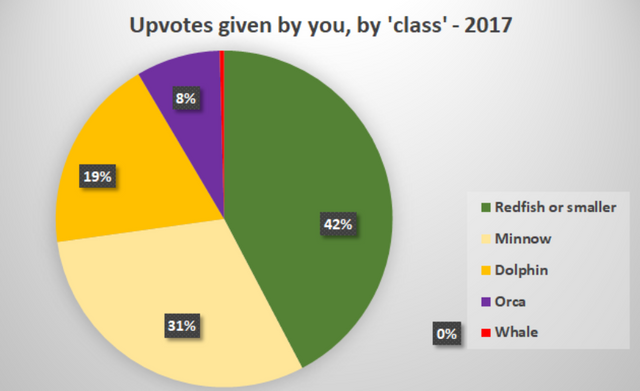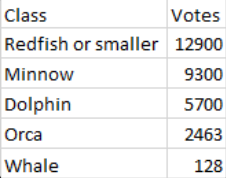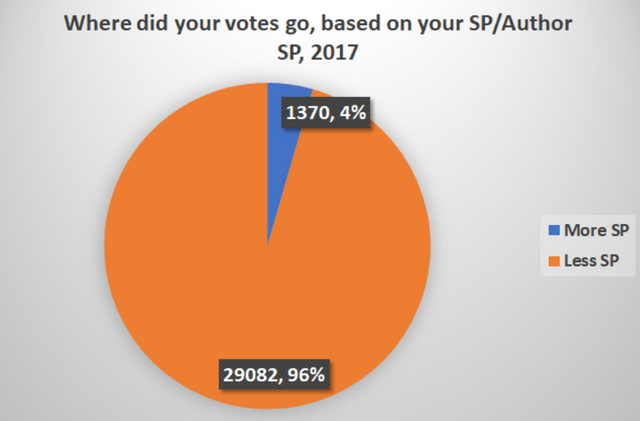 Some interesting differences are a bigger % of votes on Redfish or smaller in 2018 but less vote amount than in 2017, this could probably be due to the longer breaks @ocd has had in 2018 so I am hoping that will change back this year. I am happy about a bigger percentage last year for Redfish or smaller at 46% compared to 2017's 42%
Minnow's are around the same percentage but a much smaller amount in 2017, maybe I was networking more in 2017 or more dolphins and up were active that deserved the votes. :)
3% less Dolphins in 2018 which is weird considering there are a lot more dolphins in existence than the previous year.
The whale % has remained the same but 3x less of the amount of votes in 2017, this was probably due to more whales in general being active in 2018, maybe many didn't feel the need to anymore when bid bots and similar started existing in early 2018.
I'd say in general my activity on the blockchain in 2017 was a lot bigger considering the amount of votes but if I remember correctly we had 4x more votes to give out for a while in 2017 so that could be a reason too. You easily give bigger vote percentages nowadays especially with prices being what they have been lately. Hopefully I will find more time to curate wider soon again to help the distribution of stake on this platform. :)
Thanks for reading!
In case you are interested in similar stats of your accounts, you can maybe ask @abh12345 nicely and give him an incentive to manually check yours. ;) Thanks for the stats!