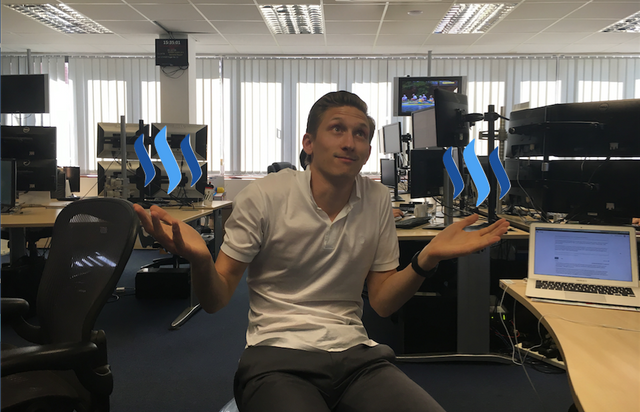 Past Editions Here: Week 5 / Week 4 / Week 3 / Week 2 / Week 1
This post is a weekly, evolving post, analysing Steem(it) by numbers and deducing trends of interest for this project moving forward. There has been some interesting posts this week which will directly affect the findings in my Weekly Statistics Posts moving forward. Here are the key points of interest affecting my results moving forward;
Steemit Savings Account: This could have an impact on long term Steem investments. I know a number of users who will be far more comfortable holding Steem for the long haul under the new conditions. These same users were concerned with security until now..
Escrow Transfers: This, overtime is going to change the nature of Steem/Steem Dollars/Steem Power and how users on the platform view them. This in turn will affect/increase the circulation of cryptocurrency on the Steemit Platform. This will affect everything from Steem Price Stability to users Powering Up/Down...
Steem Dollar Stability: When Steem Dollars hit's 2% of Market Cap (we are currently at 1.92%), Author Rewards will be paid as Steem instead of Steem Dollars. This will reduce/limit the debt burden on the Steemit system which a number of users have been concerned about.
Cleaning up the Null Account: Users who pay for post promotion will be contributing to reducing Steem Dollar circulation. Steem Dollars used in this manner are destroyed after each block.
Target Votes per day Reduced from 40 to 5: This will directly affect the voting power of bots and active curation user. This is something that will benefit normal users, and hurt active users. This is something which will certainly reduce the number of votes, however will create a more engaged audience at the same time.
I am in favour of each and every one of the updates. I think these are all in line with the Steemit project I was sold on signing up. Addressing imbalances is key to creating a true meritocracy. I believe It was worth me summarising these key points, as they all could impact the result in my weekly statistics post moving forward. It could also impact other users numerical perception of Steemit...
Something most users knew, the user numbers are massively inflated by miners, and bots. It's something that I have talked about at length in the past. These numbers were slightly lower than I thought, however @dantheman is best placed to deduce the real number.
Actual Daily Active Users around: 1200
Actual Weekly Active Users around: 8000
As always, I would also invite anyone with special knowledge of Steem(it) to provide analysis (who, what, how, why, witness updates...) of my findings, and I will add this information where relevant to this post. There has been some very valuable contribution to this post in the past few weeks which is much appreciated.
Steemit Statistics Week 6 Highlights:
Liquid Steem Increases +16% Week on Week (WoW):
This number was much lower last week. This signifies the continuation of large accounts powering down. In previous posts I have talked about why I expect this to continue until we hit 90% Steem Power to Steem in Circulation. You read more on my thoughts here
Steem Price Unchanged WoW, Market Cap Up 3.16%:
Steem Power Holders are better off this week. While the price of Steem remained unchanged, the Steem Power incentives have contributed to a wealth increase.
% Steem Dollar to Steem Market Cap - This number stands at 1.92%:
If we hit 2%, under the new update, Author Rewards will be paid in Steem. This is mostly predicated on the Price of Steem falling over the coming weeks. We need a roughly 4% drop in the Price of Steem for this new feature to be triggered.
User number data out of the window:
It's clear that my user number data has been pretty much pointless to date. We have been in a similar situation to one trying to guesstimate the number of people who own Bitcoin. Every update the developer make, the daily and weekly active user numbers get closer to reality, however I think we almost need to start again from this week onwards
Top 100 Accounts Control of Steem Power Continues to Fall;
Whether you include @steemit account in your calculation (-0.26%) or not (-0.37%), the results are the same, another week on week fall in the Top 100 Steem(it) Accounts Control of Steem Power. Steem Distribution is still ongoing, and I expect to this result recreated next week.
The Statistics Table: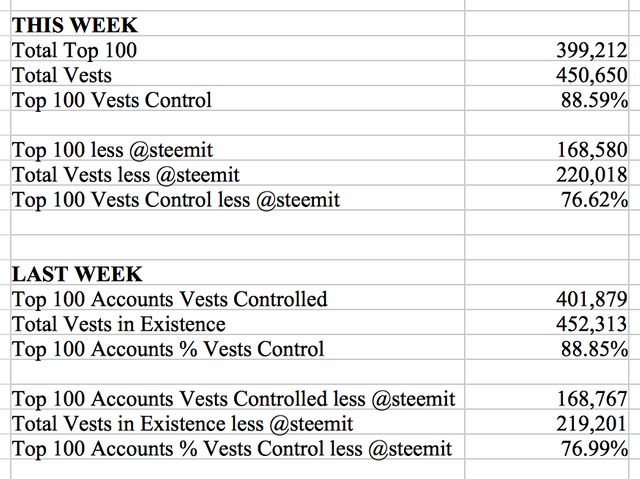 Sources:
https://steemd.com
https://steemd.com/richlist
https://steemle.com/charts.php
https://steemit.com/market
https://poloniex.com/exchange#btc_steem
https://poloniex.com/exchange#usdt_btc
https://coinmarketcap.com/currencies/steem/
https://coinmarketcap.com/currencies/steem-dollars/
Would be interesting to hear your thoughts...