How Spam is killing steemit and what to do about it.
Most of us either in our email or blog posts has seen weird comments (or posts) that do not have anything to do with our mail. This is annoying, especially in an amazing blogging community like steemit. Some even send in links that will compromise your security in order to steal your data's and thus steal your hard earned money. In steemit, however, this issue is prevalent because of the ability to earn money blogging here even by commenting only.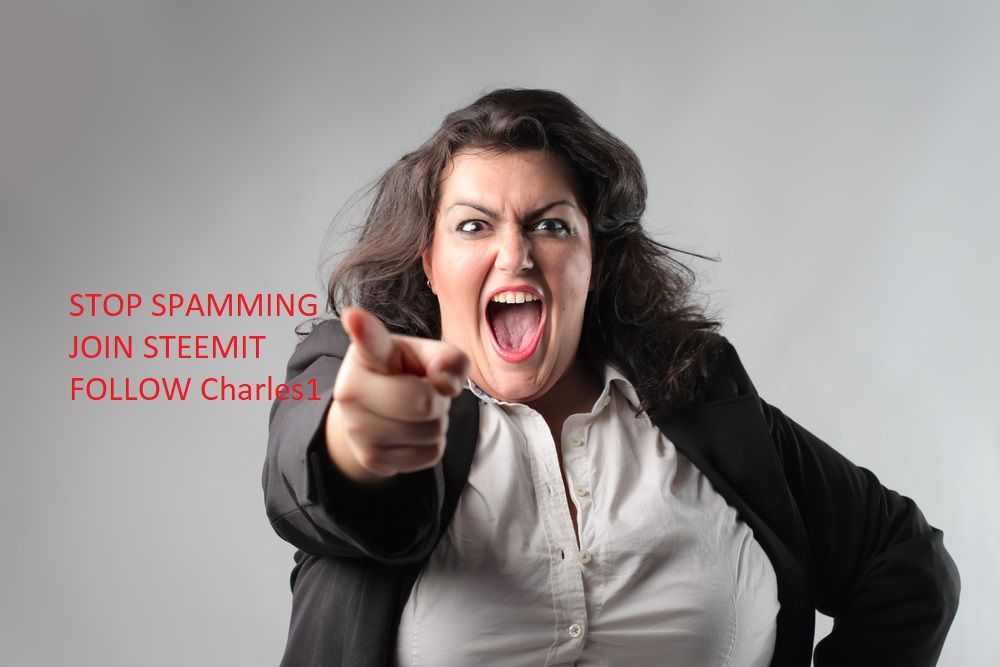 Some of them are :
Wallet spam: I do not have issue when someone sends some steem to my wallet in order to pass a message however when it starts annoying many members of our steemit community then we all should be worried. For example @thecryptofiend who is a nice and peaceful person had to send @joanaltres a message to stop spamming members wallet with a resteem offer that is valueless: ; @joanaltres - STOP SPAMMING everyone's wallet with your pointless fake follower crap. You are killing what little reputation you had; link here .
Post & Comments spams: steemit posts have been fraught with picture spams  : members posting one single pictures (flower, sexy lady, sun, moon, sea,  baby, cat, bee, food, juice , teeth  etc) almost every 30 minutes in order to make constant money-and in response to @thecryptofiend spam warning , @stellabelle started her own amazing campaign against spam posts here : The war on spam  and challenged all of us to join the fight and thus make steemit a better place to blog . My question is, are you ready to join the fight? 
Most worryingly, due to the ability to earn rewards via commenting, many members are no longer reading post rather they copy and throw in phrases like  Follow for follow , up vote for up vote or even good post please up vote my blog post , wow good please up vote my post too (haha without even up voting the original post).
Up voting spam: Up voting spam is the steemit killer because it robs all of us revenue from the reward pool. Moreover, some steemians have thousands of account just for the purpose of up voting their posts and comments. The good news , however, is that some steemians , examples, @stellabelle , @ats-david ,  @transisto , the newborn @sadkitten  ,  @sherlockholmes  , @personz , @papa-pepper ,  @pfunk, @patrice  , @clayboyn , @fyrstikken , @ausbitbank are working hard to stop or at least reduce spams here. One example is @ausbitbank down voting  a spammer  whose thread  had about 60 comments, all with ~3400 votes from the same voting trail that seems to be led by @ecoworld  see link here   (Good job indeed isn't it?). 
                      Why spamming is bad for steemit
Flagging: we all want flagging to stop because it is not good for community spirit. However in order to control spam and scam, flagging is necessary.
Less attractive: if steemit were to be a beautiful lady, spamming certainly will make it ugly and unattractive.  
Cheating: spamming relates to cheating especially those who send in loads of posts, comments and up vote spams
                  Solutions to Spamming on steemit
I do not have the magic stick however, the best thing to do is to be proactive and report  spammers to @stellabelle  , @sadkitten  ,  @cheetah and @steemcleaners  ( please not to @banjo ,  @ionlysaymeep or even @onlymanamana ) . Another good contact is @spaminator  . In fact, on 30th July to 5th August 2017 the account found  10,102 spam comments see link here  . Moreover   if anyone sees anything fishy, please send a message in steemit chat to @sherlockholmes who will look into it  . 
;Out of 21,708 users that commented in the 7 day period more than 10% were comment spamming for profit with their own, rented, or borrowed vote trails. While I haven't checked every account, I'm sure 99% are using delegated SP from @steem; 
Conclusion : in this post, I have outlined the dangers of spamming to steemit , indicated some members doing their best to make steemit a spam free platform and gave a succinct advise on what to do against spam.  Moreover, there is no advantage of spam rather it is fraught with a lot of downsides (especially the bots throwing in spams) and thus needs to be eradicated. 
What do you guys think?
• All spams are bad
• Not all spams are essentially bad, i.e. I do not have a problem with any spams
• Spams are here to stay!!! Indicate why you think so
Send in your comment, Please resteem this for others to join and up vote to send your support.
Is steemit a greaveyard for poor people? Click here and see my former blog post: Steemit: Poor People killer Or A Strategic Solution For All ?