Weekly SPI PAYDAY!! - Get a 10% bonus!! #6
Hello and welcome to this SPinvest post
SPinvest is a tokenized investment fund/club for all users of the STEEM blockchain. Everyone is welcome! The concept of SPinvest is to get rich slowly by using time tested methods of earning, saving and compounding long term. This lets SPinvest offer an ROI of 20% per year on SPI tokens. We encourage long term investing on and off the STEEM blockchain. We hope someday everyone will HODL some SPI tokens that can be bought directly from @spinvest are through the steem-engine are dex.steemleo exchanges. Full details about SPinvest can be found here
.
---
Weekly SPI beneficiary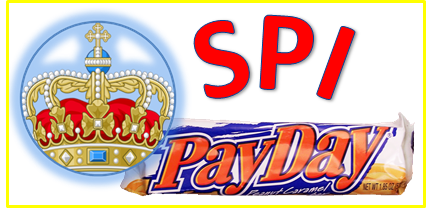 Any user of Steemit use SPI beneficiaries by adding @spi-payments to be a beneficiary for their post payouts in order to receive SPI tokens and start saving on the STEEM blockchain. Right now, for your steemit posts, you have the options to be paid by either 100% SP, 50%/50% SP & STEEM are decline are burn payment. Now you can get a percentage are all of your post payouts in the form of SPI tokens using our new saving service. You select the percentage of the post payout and I'll do the rest. It is a very simple and straight forward for the investor and a great way to build a pile of tokens that only increase in STEEM value over time.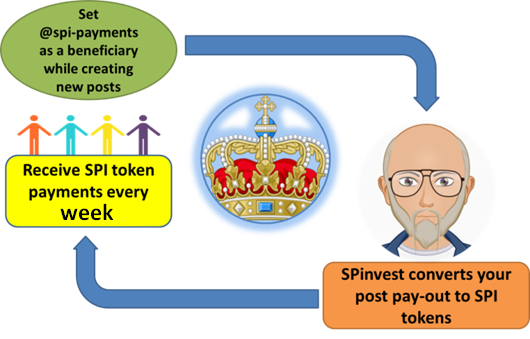 Permanent 10% BONUS
SPinvest will pay beneficiaries a 10% bonus in SPI tokens.
Eg, You set up spi-payments as a beneficiary for 20%. Your post earns you 10 STEEM after curation is paid. Spi-payments will receive 2 STEEM of that and issue you 2.20 SPI tokens worth 2.2 STEEM. Not a bad deal considering that SPI tokens increase by 20% per year.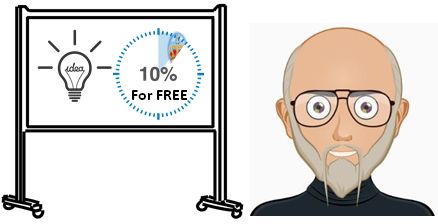 ---
This Weeks Payouts
Below is the past week of SPI Beneficiary collection. You can see in the last column the total SPI to be received after the 10% bonus is applied. All payments will be paid within 12 hours of this post being uploaded.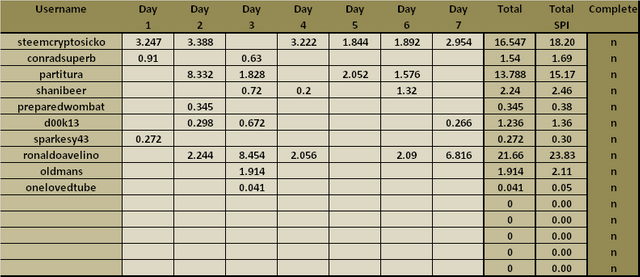 Total collections for this past week has been 59.58 STEEM which converts into 65.54 new SPI tokens.
Full Details about SPI Beneficiaries can found HERE
Step by step set up guides and instructions included.
---
What is SPinvest?
The concept idea of SPinvest is to create a profitable investment portfolio that is self-funded by the club wallets STEEM POWER balance with no risk to investor's capital. I can say that after 8 months, the business model is working and it's time to expand.
Let me break it down for you. @spinvest has been set up to issue 1 million SPI tokens (shares) at the cost of 1 STEEM each. As tokens are sold all STEEM received is POWERED UP. I take all that STEEM POWER and use it to fill lease requests to receive a daily/weekly/monthly payment rate of up to 18% per year. STEEM payments received from leasing STEEM POWER are used to buy crypto's, precious metals and a range of other safer non-blockchain investments. I will never power down the @spinvest wallet ensuring everyone's starting STEEM investment is safe and the actual investment fund is completely risk-free as it is funded with interest payments received from leasing @spinvest 's STEEM POWER.
We are a strong believer in spreading your eggs and having a diversified portfolio of investments. The means the investment fund will include anything ranging from crypto's, precious metals, shares, premium bonds, p2p lending are even shared property buys. We are not here to trade are take risks, so HODL and compounding when possible is the key strategy here. We plan to have a range of investments that are on the safer side of the risk scale ensuring that there is a positive ROI year on year.
When you think about investing in SPinvest, think to invest long term and build a nest of holdings. Think of SPinvest as a saving fund that earns you 20% per year for just holding the SPI token, no staking are effort involved, just buy and HODL.


Questions are welcome :)
.
.
.
---
How to invest into SPinvest

Buy SPI tokens directly from @spinvest. Each token is currently priced at 1.00 STEEM and you can send any amount directly to @spinvest and i will issue you SPI tokens to 2 decimal places for the value of STEEM to send. All tokens bought directly will be sent to investors SE wallets within 24 hours but most likely much sooner.


---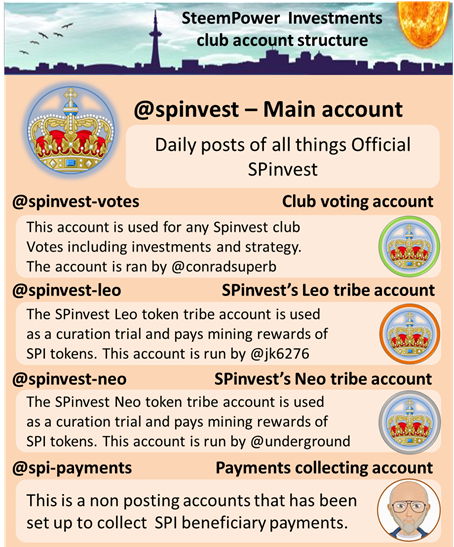 Important Information
| Information | URL Link |
| --- | --- |
| SteemPower Investments Introduction Post | Click HERE |
| SteemPower Investments Club Partnership Agreement | Click HERE |
| How to become a club member | Click HERE |
| How to convert SE tokens into SPI tokens | Click HERE |
| Join the SPI club Discord server | Click HERE |
| Join the SPI curation trail | Click HERE |
| What's best for the SPI Club? Centralized vs Decentralized | Click HERE |
| SPI tokens 95% buyback guarantee | Click HERE |
| SPI Club monthly Fiat to SPI token group buy | Click HERE |
| | |
| | |
All questions are welcome, please ask in the comments below


CLICK here for full details about SPI beneficiaries
Show support to SteemPower Investments through it's Patreon Page
Click here to join the SPinvest community over at beta.steemit.com (Steemit Communities)
.