Hace unos días salí a dar un paseo y comencé la lectura de un libro que hoy, que está lloviendo, he terminado en casa por la mañana. Es un libro que encontré sobre el contenedor de reciclaje de papel de mi barrio. Una novela juvenil de intriga que cuenta la historia de un asesinato presenciado por un joven adolescente de apenas trece años... Pero ya vendré más adelante con una publicación reseñando la historia. El caso es que alguien (su anterior dueño) había decido desechar este libro, jubilarlo. Y, cosas de la vida, finalmente la historia no fue a la basura. El libro ha sido reciclado, sí; pero no ha muerto. Todo libro tiene una historia que contar y éste encontró un nuevo lector.
***************
A few days ago I went for a walk and began reading a book that today, which is raining, I finished at home in the morning. It's a book I found about the paper recycling bin in my neighborhood. An intriguing juvenile novel that tells the story of a murder witnessed by a young teenager of barely thirteen... But I will come later with a publication reviewing the story. The fact is that someone (its previous owner) had decided to discard this book, to retire it. And, things in life, finally the story didn't go to the garbage. The book has been recycled, yes; but it hasn't died. Every book has a story to tell and it found a new reader.
---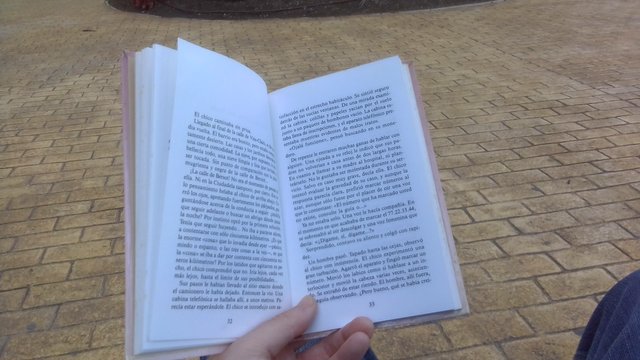 Captada con // Captured with ZTE Blade L7
---
Palabras gastadas.
Las páginas, inquietas,
narran de nuevo.
*********
Worn words.
The restless pages
narrate again.

Palabras impresas que perduran en el tiempo...
******
Printed words that last in time...
---
Más Photo&Haiku // More Photo&Haiku
#1  #2  #3  #4  #5  #6  #7  #8  #9  #10  #11  #12  #13  #14  #15  #16  #17  #18  #19  #20  #21  #22
---


---
Posted on WordPress with SteemPress : https://Autovoters.000webhostapp.com/photohaiku-23-esp-eng/
---