As expected, less than 1 day in I've already had tons of new insights and learned so much I am already evolving.
If you've seen any of my posts thus far, you know that...
THEY ARE HUGE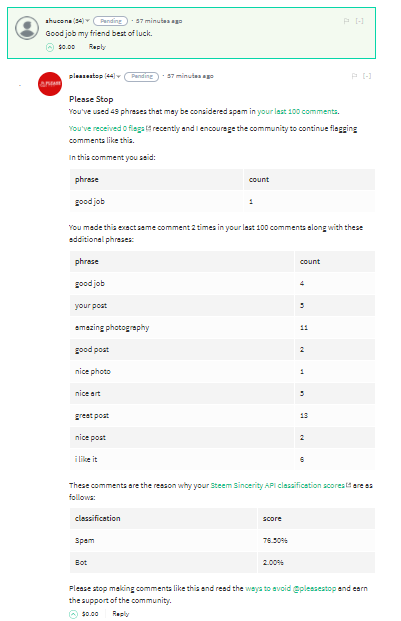 And this is cropped and resized so here's that comment in case you wanna see me blow up your browser first hand.
As you might have guessed, some of the original posters replied, and I'm paraphrasing here:
OMFG, I'm here blogging about things important to me and you come by and throw a billboard the size of the entire Eurasian continent on my post! WTF man, seriously...
Seriously though, things like this should be obvious before I start, but this is the real world and sometimes you gotta learn as you go. And I did learn and I humbly changed my approach.


This is much more compact and blends in like normal comments without literally taking over the entire page!
I've removed the exact comments I've identified, mostly because it was becoming a huge comment again, but I think I'm going to find a way to fit those in to better inform the community and the account I'm replying to.
I'll file this away as another example of @pleasestop welcoming community feedback, warmly receiving it, and changing into something that makes more sense and fits the community far better.
I already have other insights I'm working on that require a little more work so stayed tuned to learn even more about my future evolution!