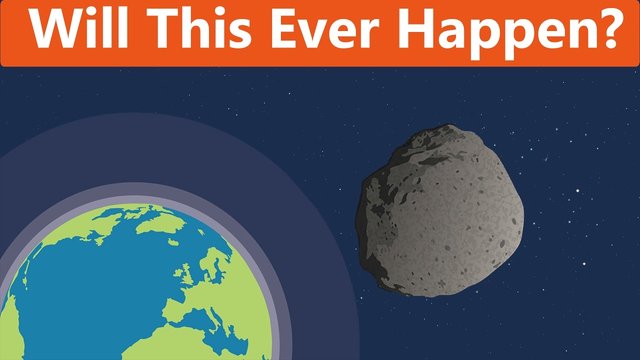 hello! and welcome my friends to a new episode of Curiosity! A series in which we will answer some of the questions that makes us all curious.   
There are almost billions of objects in our solar system alone capable of reaching or passing nearby earth. More then 300,000 are already present in our neighborhood. But still the closest asteroid that hits earth are very small , mostly less than 10 meters. The danger starts if the asteroid bigger than 100m is about to hit Earth. So what is the possibility of being hit by an asteroid. Lets find out.
How many times the Earth is struck by an Asteroid before?
Well, the answer might surprise you. Earth has been struck by asteroids same as moon in the past and still is being hit by an asteroid every single day. We can find perfectly preserved craters that are too old and completely blended with its surrounding. Its hard to tell whether earth is struck by asteroids because the craters are covered by tectonic activities which we can't see on moon.
We don't always see, burning object in the sky, but the reality is earth is being struck every single day, even now while you are reading my post by extremely small rocks. They are called meteoroids. They usually have size ranging from a grain of sand to 1 meter. Tons of meteoroids hits earth every year. Most of them burn out in the atmosphere but some of them reach earth , they are known as meteorites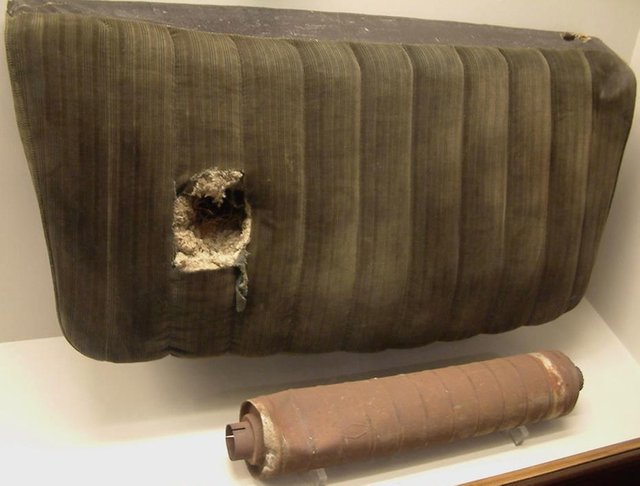 Fig: Meteoroid hitting a Car seat in Illinois Case (Credit).
This picture was taken in Illinois , when a 4 pound meteoroid smashed through the car and hit the seat. No damage was done though. But These are very small object hitting Earth and happens frequently.
What about even bigger Asteroids?
Bigger the asteroid , bigger the damage. Although objects ranging less than 1 m hits earth very frequently, asteroids more than 4 meters wide hits earth only once a year. Even bigger asteroid greater than 10 meters hits Earth only 5 years in average. These asteroids can cause the explosion similar to a nuclear bomb.  They are usually unnoticed because, they mostly hit water on Earth or they simply explode in the upper atmosphere before hitting the ground. They are very rarely witnessed by us.
Let's get bigger, The asteroid more than 20 meters or the size of a small house, hits earth every 100 years. This might cause an explosion of 500 kilotons. This recently happened in Chernobyl , Russia. This size of the asteroid as 20 meters with the mass of Effile tower. It exploded 30 km above the ground and still caused massive damage.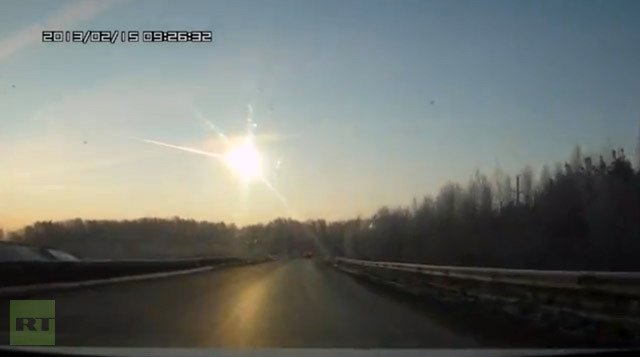 Fig: 2013 meteor (more than 20 m wide) Credits
In 1989, a asteroid about the size of skyscraper, just missed the Earth from about 700,000 km, exactly where Earth was 6 hour before. If the Asteroid has been 6 hours earlier it would have made an explosion of about 600 megatons, in other words 10 times more powerful than Tsar Bomba. Which is the largest nuclear weapon on Earth.
But wait, Even bigger asteroid have hit Earth. The most recent was in 1908. The  size of the asteroid was estimated between 90-160 meters. It exploded just few km above the earth's surface. This created an massive explosion of about 35 megatons, which destroyed about 80 million trees. This event is known as "Tunguska event". Events like this are very rare.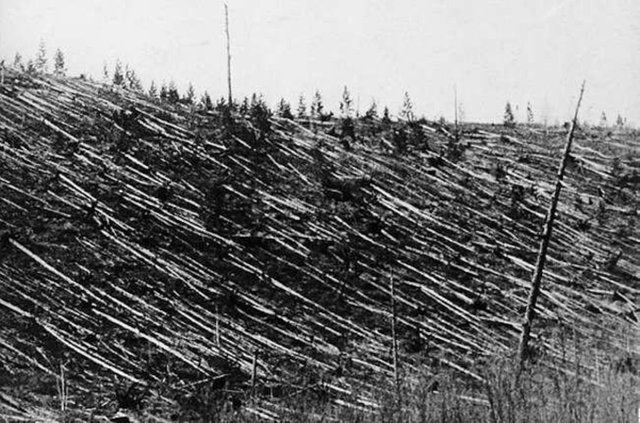 Fig: Tunguska Event (Credits)
But In prehistoric time, even larger asteroids have hit Earth. Asteroid the size of 1 km only hits Earth every 444,000 years in average and they release about 460 times more explosion than Tsar bomba.
Asteroid with size of 5 km hits Earth every 20 million year, and create a very massive explosion. the explosive is estimated to be 56000 times more power full than Tsar Bomba.
Finally, the asteroids greater than 10 km or as the size of Mount Everest, his Earth every, 66 million Years. They have the capability of wiping out humanity completely. The last know impact was 66 million years ago, which wiped 90% of the life on Earth including dinosaurs.
Conclusion
The odds of asteroids more the 10 m striking Earth is very less. There are about 14000 near earth objects thats because their orbits are very close to earth. Very less of them are 1 Km wide. According to Nasa , only 157 asteroids near Earth are more than 1 Km. So, the odds of being struck by these asteroid are almost negligible but that doesn't mean they will never hit Earth. We have still millions of years left before any of those massive asteroid enter Earth's atmosphere.
That's it for this Episode guys, hope you all enjoyed it, if you did, upvote and share your thoughts in the comment below. Thank you
Stay Curious.
---
Last five episodes
 Curiosity #36 | Can Freezing our body make us Immortal?
 Curiosity #35 | What Would happen If all the humans suddenly disappeared overnight?
 Curiosity #34 How Can We Survive on Mars? 
Curiosity #33 What makes Ebola so dangerous? 
Curiosity #32 What Happens during a Heart attack?