:: RipaEx :: Join the Exchange Revolution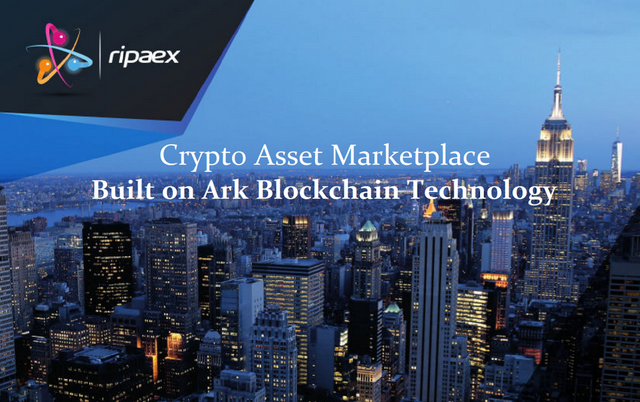 ---
Ripaex is a decentralized platform that creates an avenue through which entities wishing to own cryptocurrency exchanges can realize such dreams through a cost effective means. The company takes cognizance of the high cost of setting up an exchange and came up with the concept to bootstrap startups hoping to build exchanges in order to give them an easier seamless path to realizing such dreams.
Ripaex ensures that the prospective exchange owner focuses on the more important aspects that make exchanges worthwhile while the basic setup activities are taken care of through the services rendered by Ripaex.
A statement by the founder aptly captures the mission of the company when he said,
"Starting an exchange shouldn't be hard, what is hard is to give platinum support to your clients, comply with international regulations and have reliable banking partners to operate with: you should focus on that while the code and liquidity to start your exchanges operations is given to you free of charge."
RipaEx wants the upcoming exchanges to solve the problem of liquidity and over dependence on the third parties that don't support open source software.
Problems with the Current Exchanges and Systems
Setting up an exchange is an expensive process, with the average low end costs ranging from $150,000 to a higher end requiring funds well into the millions. This implies that there are many entities that would want to own exchanges but are unable to due to the high capital needed to do so.
Aside from the start up costs, there also is the cost of customization and marketing, other costs are servers, support staff and compliance issues that must be settled with regulatory agencies. All these requirements and costs will make setting up exchanges a very challenging and time consuming process.
But ultimately, the largest concerns with cryptocurrency exchanges are with liquidity. Most new and upcoming exchanges struggle to provide the tokens necessary to run an attractive exchange. Without liquidity, traders don't trade and an exchange will not profit from the fees generated. Not helping the issue is the fact that most financial institutions do not wish to collaborate with crypto based exchanges.
---

---
RipaEx is Providing the Solution
The project will use the concept of shared wallets and code among a network of exchanges to enhance the liquidity of all the exchanges through the creation of a common order book among them. It effectively lays the groundwork for new exchanges to make the correct decisions regarding operations and marketing as well as help in the creating a transparent system that users can trust.
Ripaex believes that the high cost of starting a cryptocurrency exchange can be mitigated through a process by which the exchanges are empowered to own the source codes of the project instead of depending on third party programmers and developers for deployment, customization and update.
The model of business conceptualized by Ripaex is comprised of small to medium sized exchanges that would be part of the network in a collaborative fashion. The synergy created by this ensures liquidity while the blueprint and support they garner from Ripaex strengthens their management and possibility of early profit since ordinarily it takes most exchanges five years to turn profitable.
RipaEx Key Features
Open Source - Based upon the Peatio code, the RIPA network will provide a customizable exchange architecture that is secure, transparent, and flexible to configuration.
RLSP (Ripa Liquidity Service Provider) - Each exchange in the RIPA network will share the same orderbook allowing instant access for exchange owners to provide liquidity from the start.
Security - Banking grade digital technologies are constantly being tested and implemented to insure the best processes are used to secure all levels of the RIPA network. Separation of wallets, client registries, and trading engines ensure that if an exchange is compromised the entire network along with users data will remain secure.
Full Cabinet of Exchange Services - Peatio supports a wide range of services and products including multi-language support, KYC verification and 2-factor authentication, along with a "Proof of Solvency" and easy creation of exchange pairs utilizing multiple cryptocurrency chains.
Ripa Trading Console
The RIPA Exchange console will provide a clean and friendly personalized user interface with fully responsive trading accessible across any device. The console also has a built-in "Proof of Solvency" for a clear and transparent audit of exchange holdings.
---
RipaEx [XPX] Token Sale Live!
Bonus Schedule and Distribution


Additional Investor Information
Website: https://ripaex.io/
ICO Portal: https://tec.ripaex.io/dashboard
Wallet: https://wallet.ripaex.io/
Android wallet: https://play.google.com/store/apps/details?id=io.ripa.wallet.mobile
White Paper: https://ripaex.io/assets/RipaEx_WP_EN.pdf
Executive Summary: https://ripaex.io/assets/RipaEx_ES_EN.pdf
Social Media Links
BitcoinTalk [ann]: https://bitcointalk.org/index.php?topic=3759172
Telegram: https://t.me/ripaex
Steemit: https://steemit.com/@ripaex
Facebook: https://www.facebook.com/ripaex
Twitter: https://twitter.com/ripaex
Reddit: https://www.reddit.com/r/RipaEx/
---

---
---
---
BitcoinTalk user: Mr.Ease
User link: https://bitcointalk.org/index.php?action=profile;u=803528
Ripa Address: PMtuQtm1vw8gpPP7Ktx1A6tJggHekyyWxw
Follow Me for Upcoming Token Sale Information