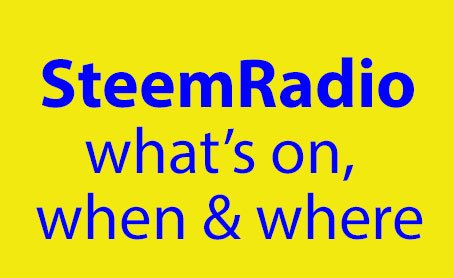 And it's back...

Inspired by my radio show on Thursday - The What Makes A Good Radio Show Radio Show - where 15 hosts came together to talk about how to push forward the world of radio shows, podcasts and open space broadcasts in the steem ecosystem, I thought it would be good to revive my weekly show listings.

So here it is again. This first post is rather a throwing my hat back in the ring posting as I know a whole bunch of new stations and shows have come online since I parked these listings at the end of July.

If you know of any new or changed shows that aren't listed here please do contact me in the comments or better still via Discord (Pennsif#9921) and they will be added.

---
---
Pennsif On The Radio


Since I last did the listings I have dropped down to one radio show a week. That is on Thursdays 8pm - 11pm UTC on MSP Waves.
The show has gone through a couple of iterations and variations so for now I am just going to call it 'Pennsif's Random Radio'.
This week it is changing again with a one-off show with @surfermarly interviewing @creatr, @cryptocurator and myself as part of @anomadsoul's #gettoknowme contest.
Over the coming weeks I have a number of new content shows coming up covering gaming, employment, funding, films, music, news and festivals. If you would like to be involved in any of the shows contact me on Discord (Pennsif#9921) - there is bound to be one that fits!
---
---
In the coming days I will be catching up with the new stations and new shows that have gone on air over the last few months - like @johnspalding's Steeming Pile and Canna-Curate and GreenHouseRadioOnline.
Bare with me while I get these all plugged into the listings.
In the meantime I will be building up from the old listings skeleton.
---
---
If you know of any other relevant shows that I haven't included please do put the details in a comment below or DM me on Discord @pennsif#9921 . Also please let me know of any changes to the shows already listed

---
The times for the shows are all shown in Coordinated Universal Time UTC/GMT - which is currently UK time. There are numerous sites on the web for converting UTC to your local time. This one looks particularly useful worldtimebuddy.com
---
SteemRadio : schedule of shows for week beginning 8 October 2018


---
---
MORE OF MY POSTS...
---
---
[ header graphic by @pennsif ]