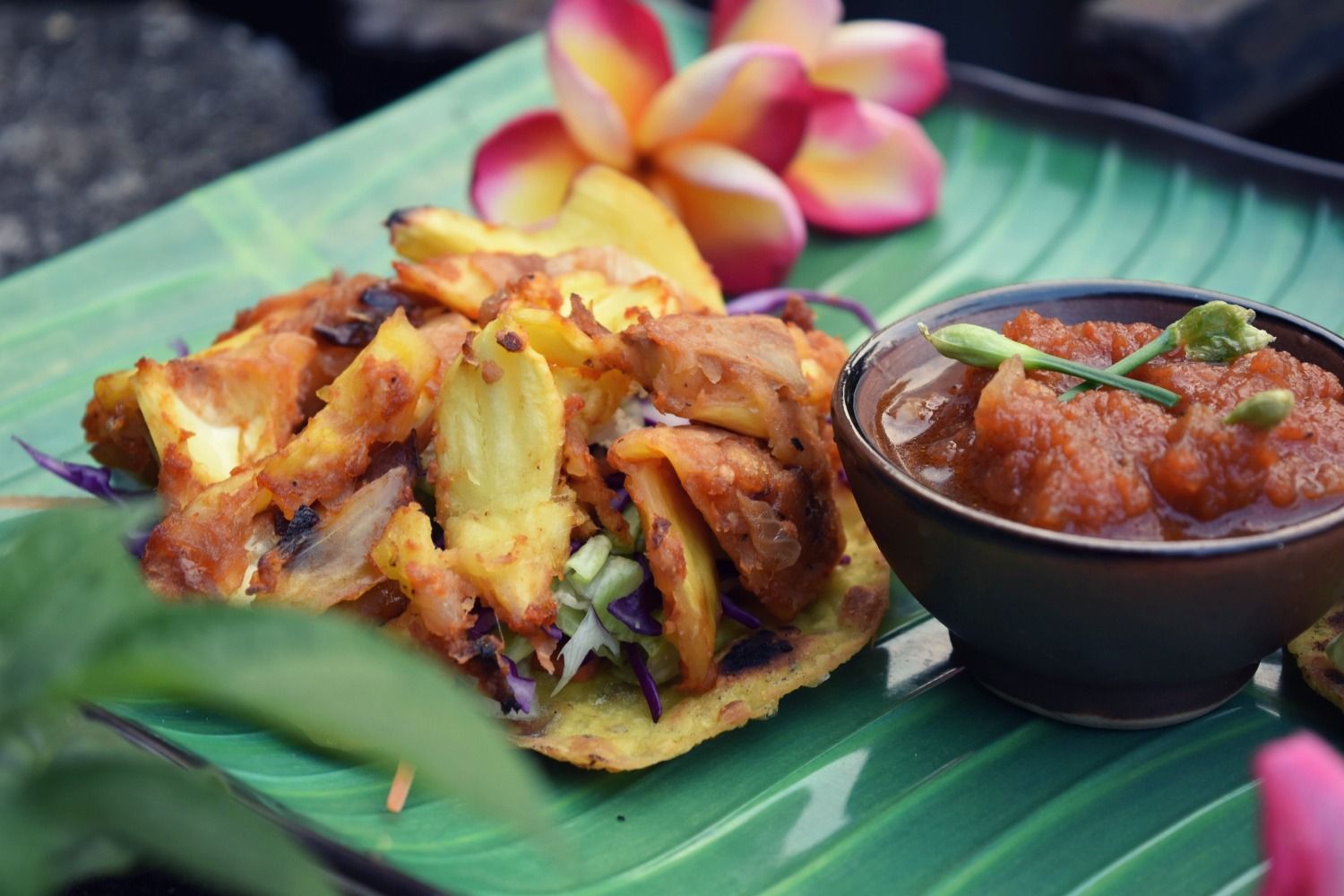 While I am not a big fan of jackfruit, I totally love it in savory dishes like this. When somebody told me that jackfruit is one of the perfect vegan meat replacements I laughed. But as with anything that is food, I got curious.
For so long I have ignored the jackfruit trees in the garden, giving the fruits away to my neighbors. But these days are over lol. Though I will still have plenty of them to spread around, now and then one will disappear in my kitchen too. Luckily for them, jackfruit trees have many fruits and they are big. So I am sure my neighbors will not hate me by starting to love and use this tropical fruit more often.
The only thing.... they are a pain in the ass to peel.... sticky, sticky mess. Once you open up the fruit the sticky, gooey white liquid starts messing everything up.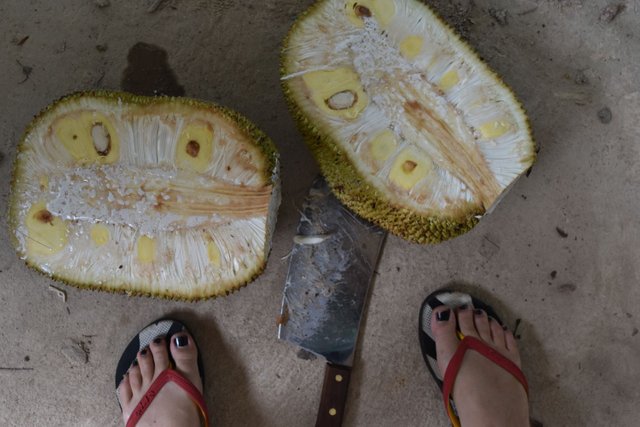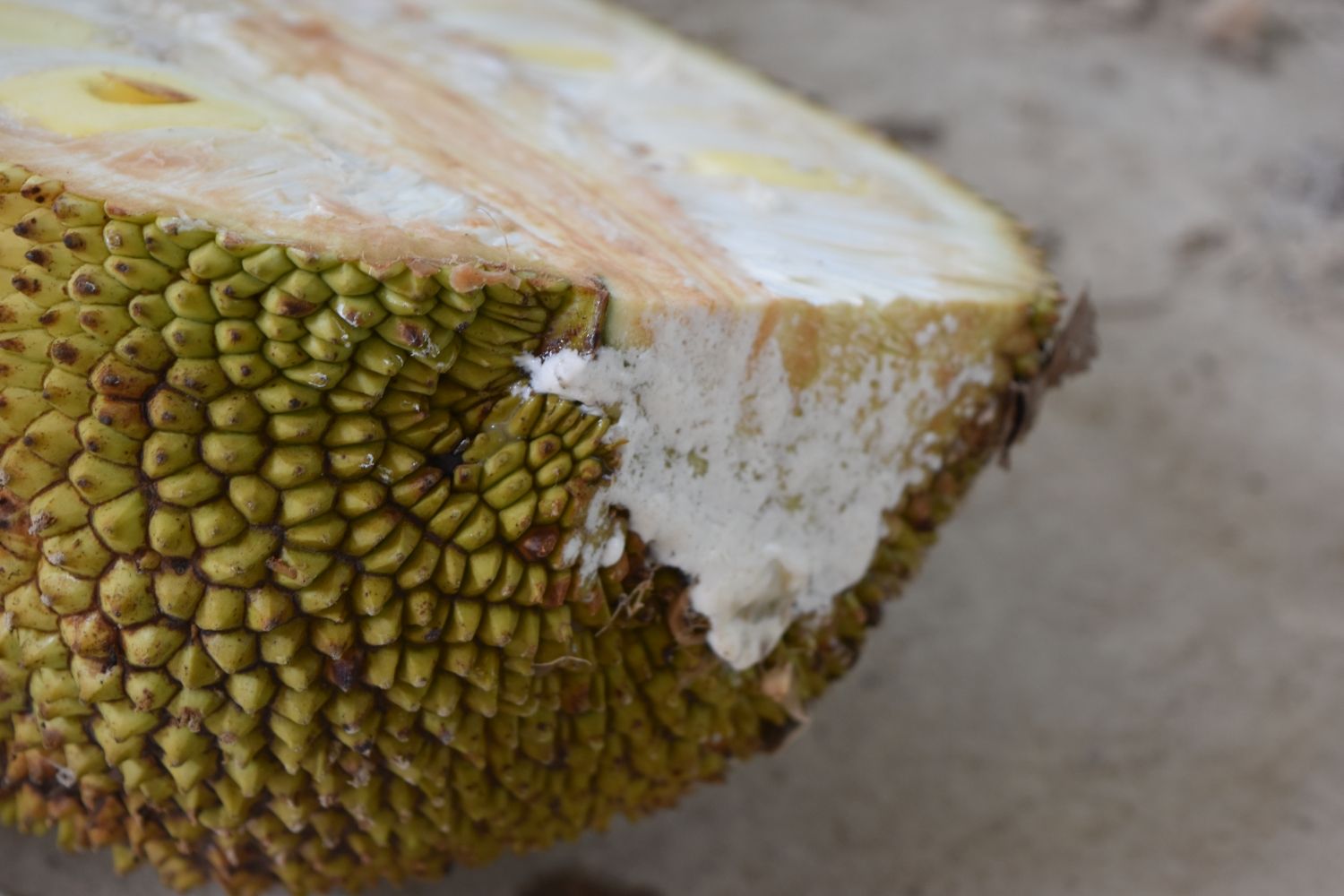 Vegan Jackfruit "Carnitas" Tostadas with Homemade BBQ Tomato Sauce
---
This is my entry to the Qurator's Tasty Tuesday #111. Are you a foodie too? Check out this lovely weekly steemit contest.
---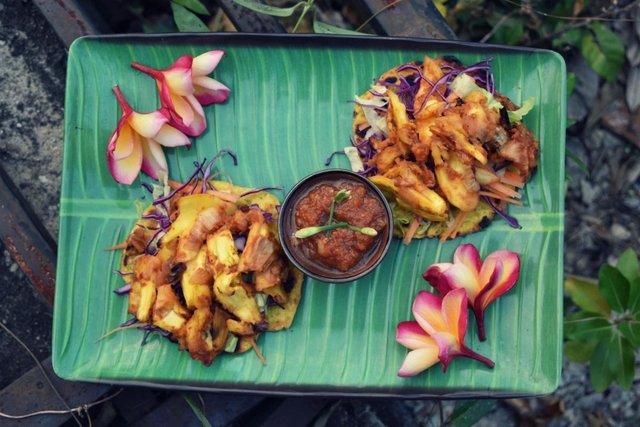 Homemade tomato sauce
---
Ingredients
---
1-1.5 kg (2-3 pounds) tomatoes, roughly chopped
1 cup onion, chopped
3 cloves of garlic, minced
¼ cup maple syrup (or honey for non-vegans works too)
Splash of vegan Worcestershire sauce
¼ cup apple cider vinegar
Sea salt and black pepper to taste
FYI: this recipe makes too much, but it can be kept in the fridge in a glass airtight container or jar for a while. Or freeze if you are not sure when to use it again.
---
Instructions
---
Add all tomatoes to a blender and blend on high speed.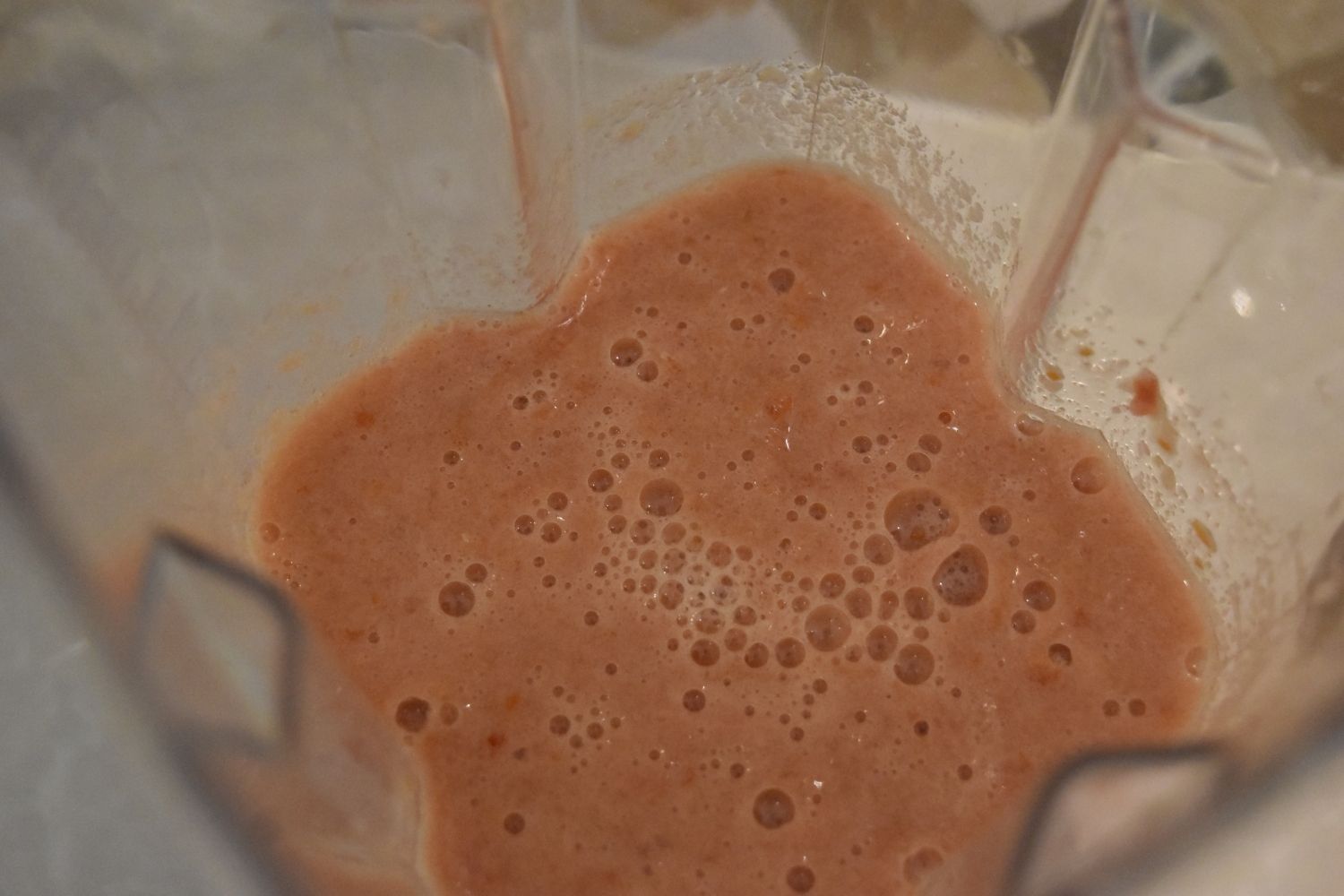 Heat cooking over medium heat and sauté the onions until they are tender and beginning to brown. This will take about 5 minutes. Last 2 minutes add the garlic. Stir regularly. Add blended tomatoes, apple cider vinegar, maple syrup, and Worcestershire sauce. Cook, stirring occasionally until nicely thickened.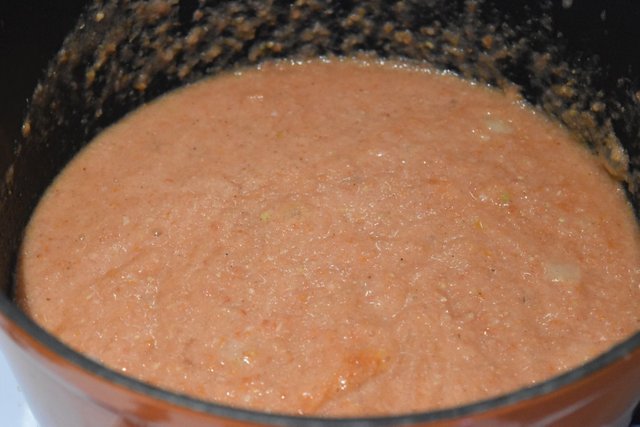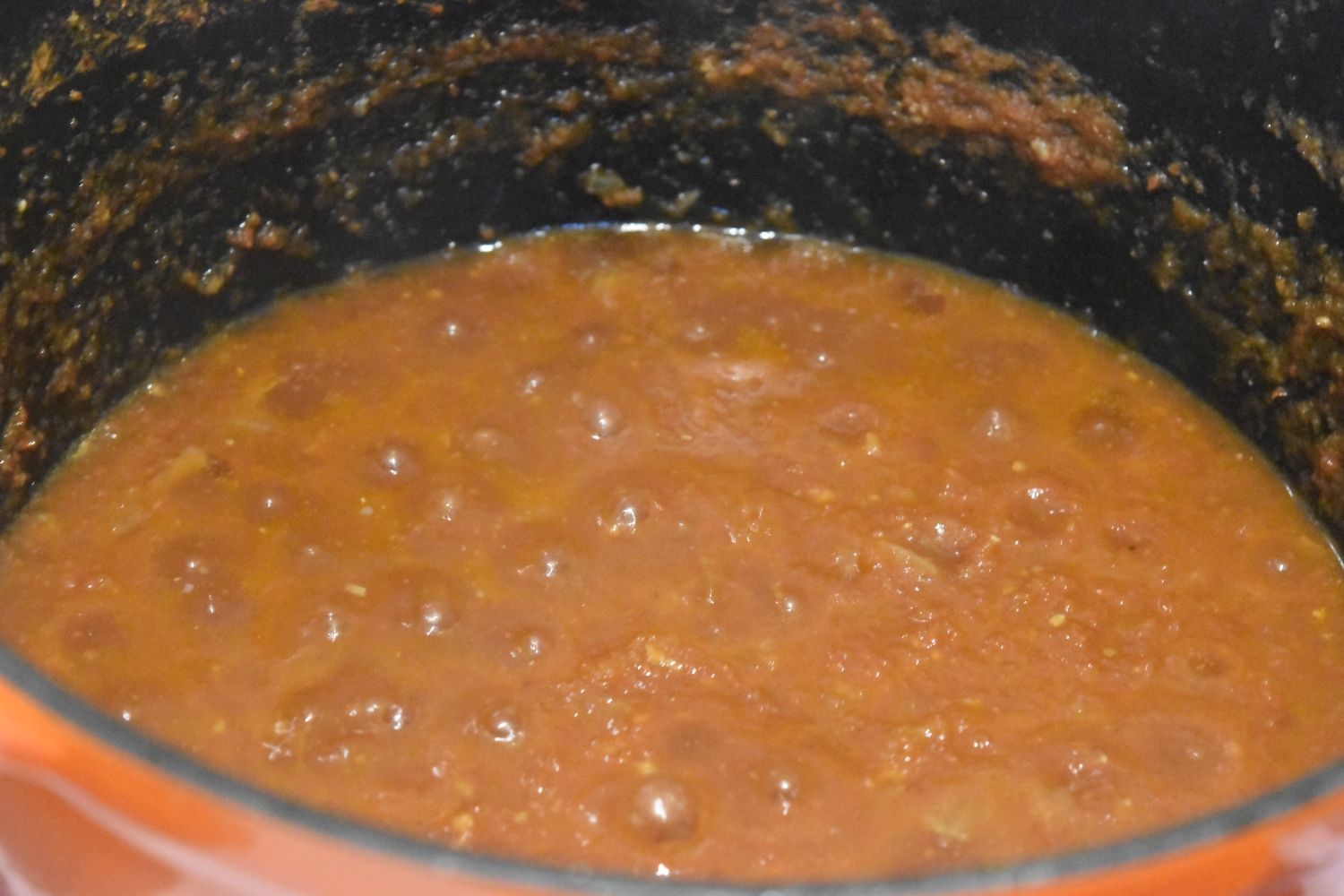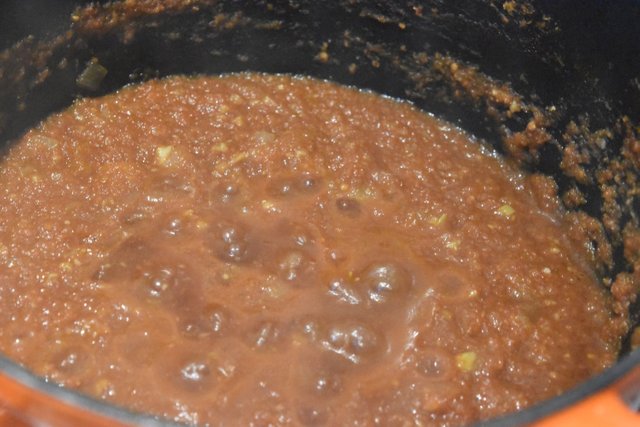 When completely cooled, add leftover to a glass jar and store in the fridge for later.
Spiced-infused tostadas
---
Ingredients
---
13.5 oz flour
3/4 tsp salt
3/4 tsp raw palm sugar
3/4 tsp dried yeast
1 1/8 cup lukewarm water (40C or 105F)
1 tsp turmeric powder
1 tbsp dried oregano
1 tsp ground cumin seeds
FYI: again this will make more than you need. Make little dough balls and freeze them for later. I am all up for batch cooking.
---
Instructions
---
Combine flour, yeast, sugar, herbs, and salt. Add a little lukewarm water and start kneading (or use mixer with dough hook). Keep pouring the water, a little at a time. After mixing/kneading for a while, the dough should become an elastic ball. If it is too crumbly, add more water. When too moist or sticky add a little bit more flour. Divide into smaller balls.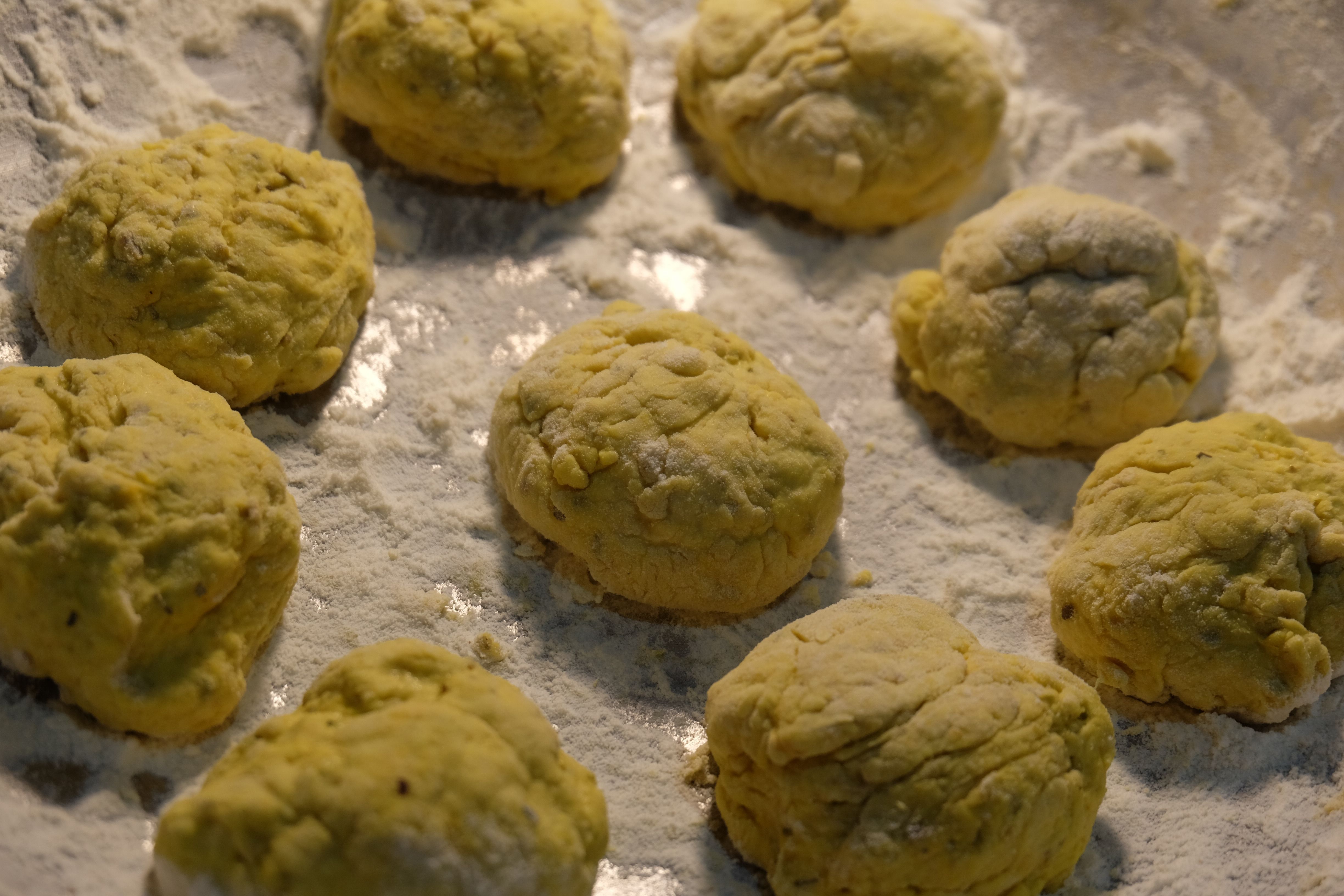 Cover in an oiled or floured bowl with a clean kitchen towel. Let sit in a warm place for at least 20 minutes or until they doubles in size. FYI: If it is winter, turn the oven on for just a few minutes. Turn it off and let it rise there for a while.
Dust a flat surface with flour and use a rolling pin or your hands to make small circles. Add a little flour to the rolling pin too.
Heat coconut oil in a pan and fry the tostada on both sides until crisp and browned.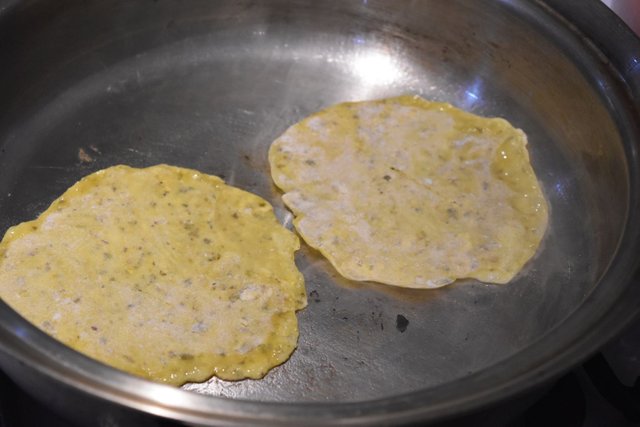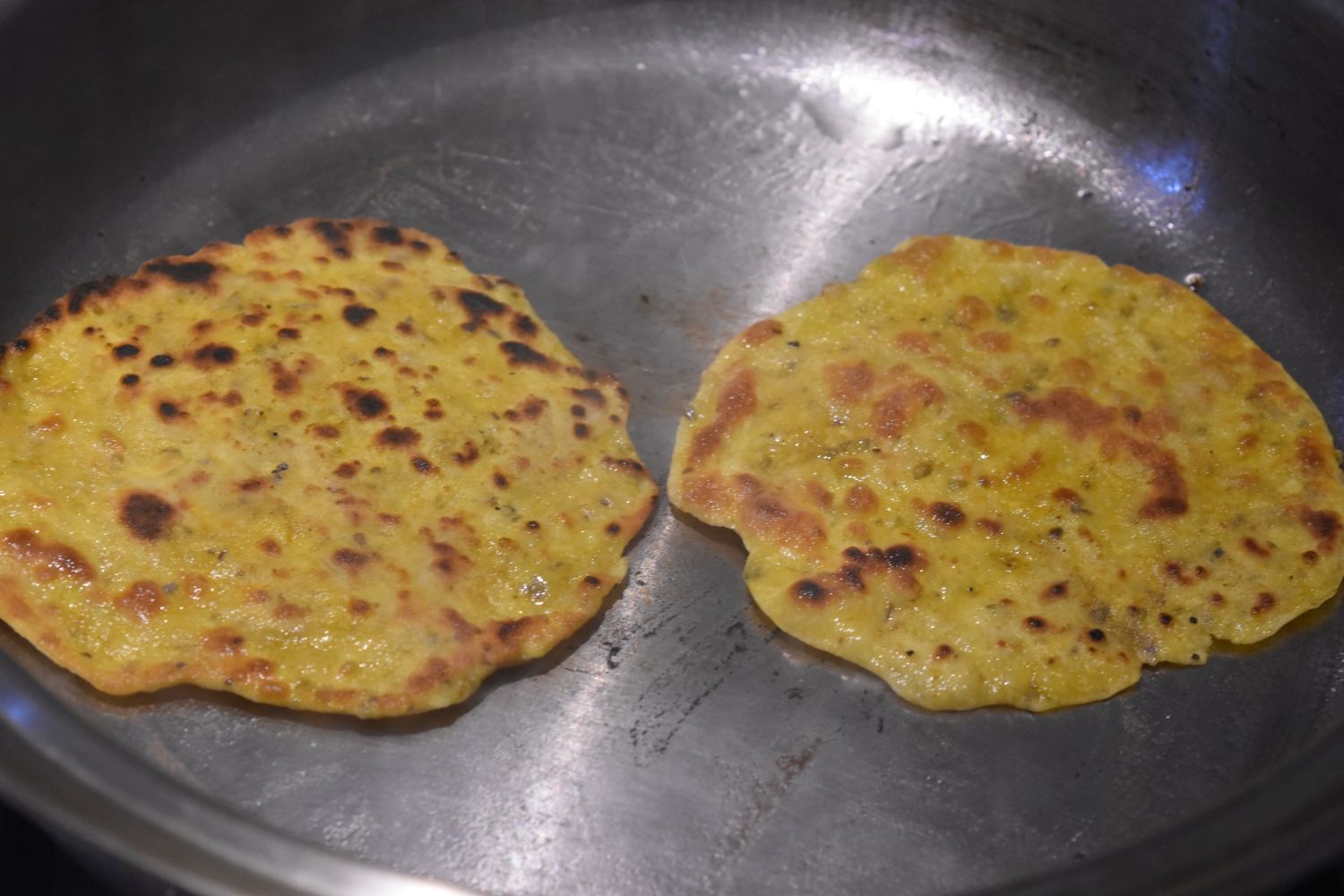 Pulled jackfruit
---
FYI: Use not fully ripened jackfruit (ripe jackfruit would be too sweet for this), cut into smaller pieces from the core to the edge to create the pulled texture. Also, I used fresh jackfruit out of our garden. If you are using canned jackfruit things might look a bit different and it might be easier to make the texture of pulled pork.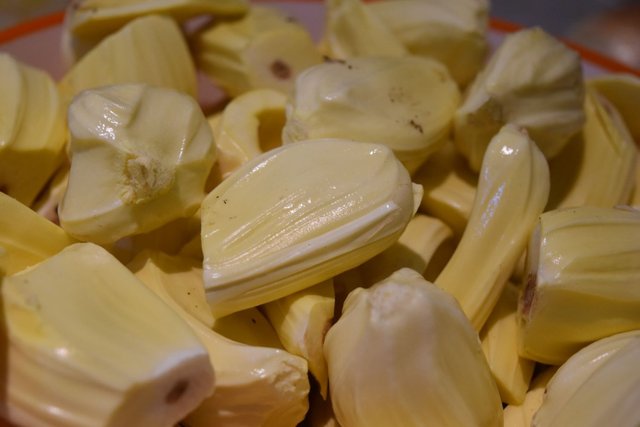 Ingredients-
---
Jackfruit, chopped into smaller parts
1 onion, chopped
2-3 cloves of garlic
Instructions
---
Preheat the oven to 400F or 200C.
Heat cooking oil over medium heat and sauté the onions until they are tender and beginning to brown. This will take about 5 minutes. Last 2 minutes add the garlic. Stir regularly. Then add the chopped jackfruit and cook until the jackfruit is soft enough that it can be mashed.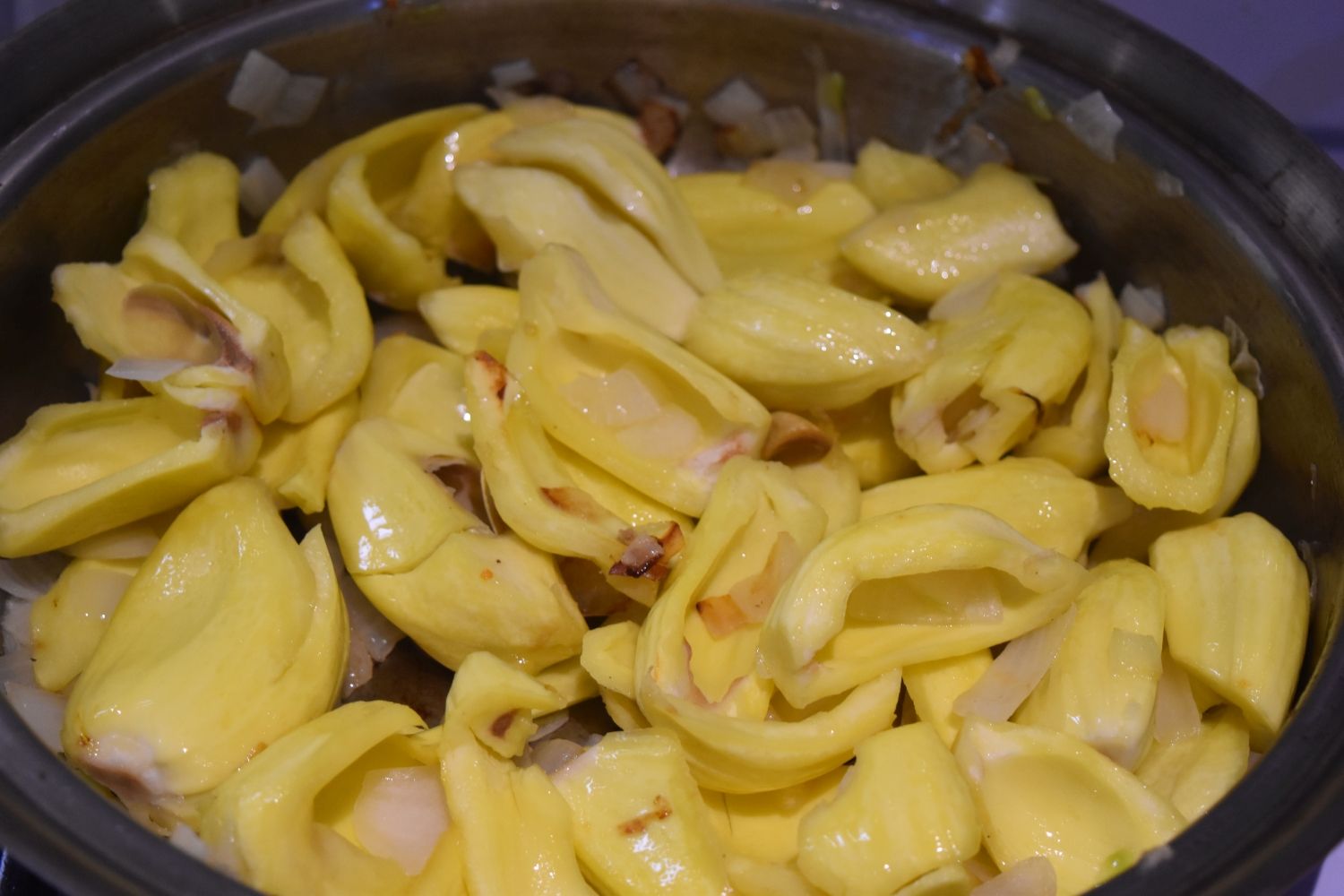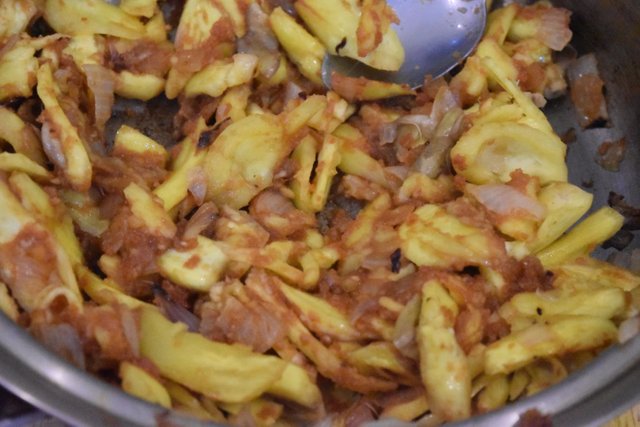 Mash the cooked jackfruit with a potato masher until it falls apart. Add enough of the tomato BBQ to coat the pulled jackfruit and spread in an even layer on a baking sheet. Cook in the oven for 20-25 minutes.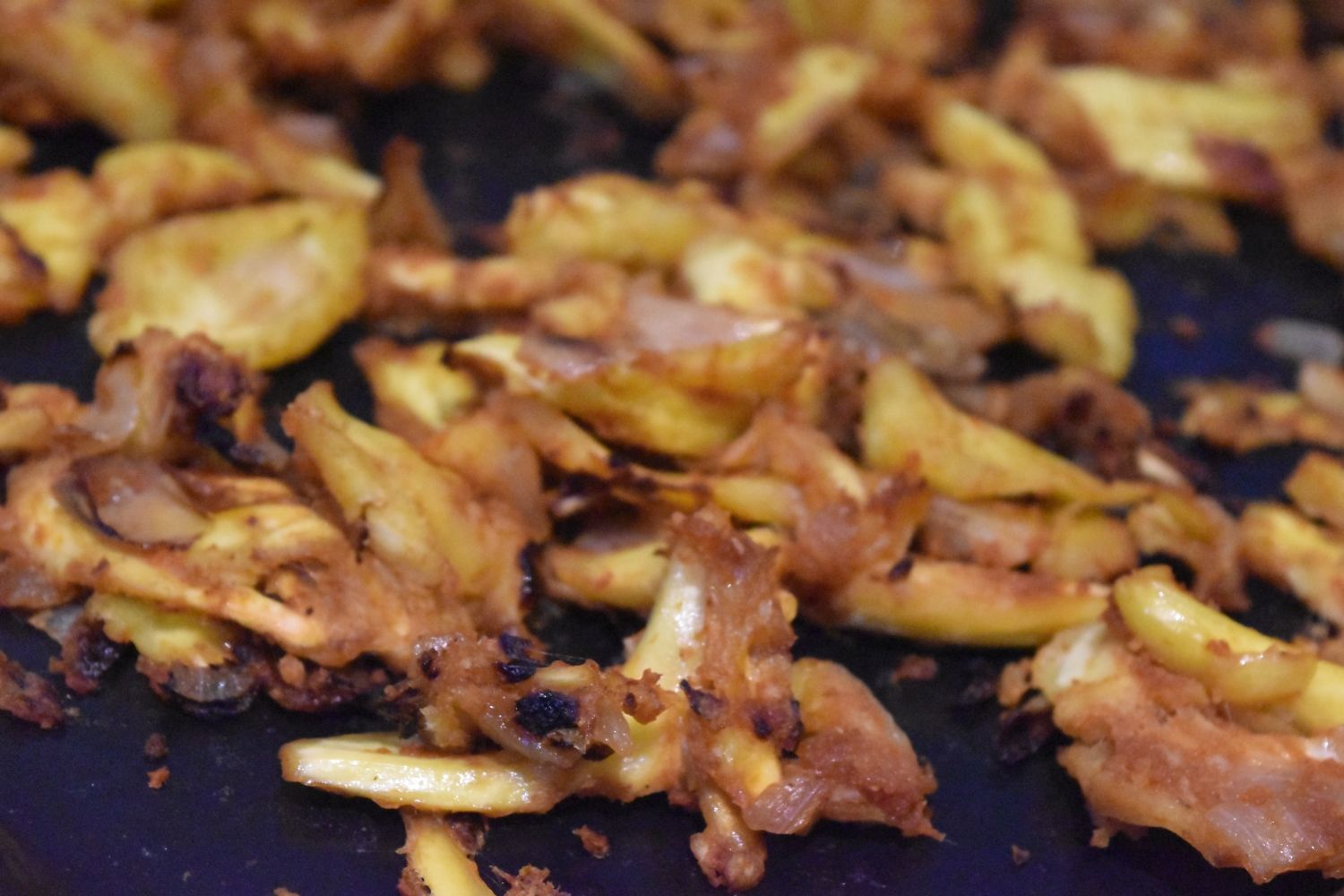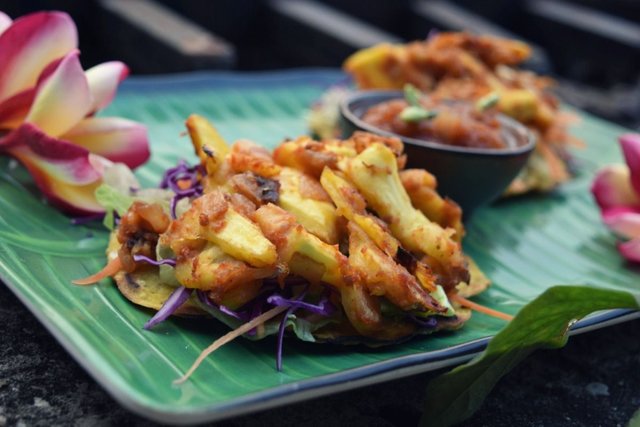 Salad mix
---
Red cabbage, shredded
Iceberg lettuce, shredded
Carrot, julienned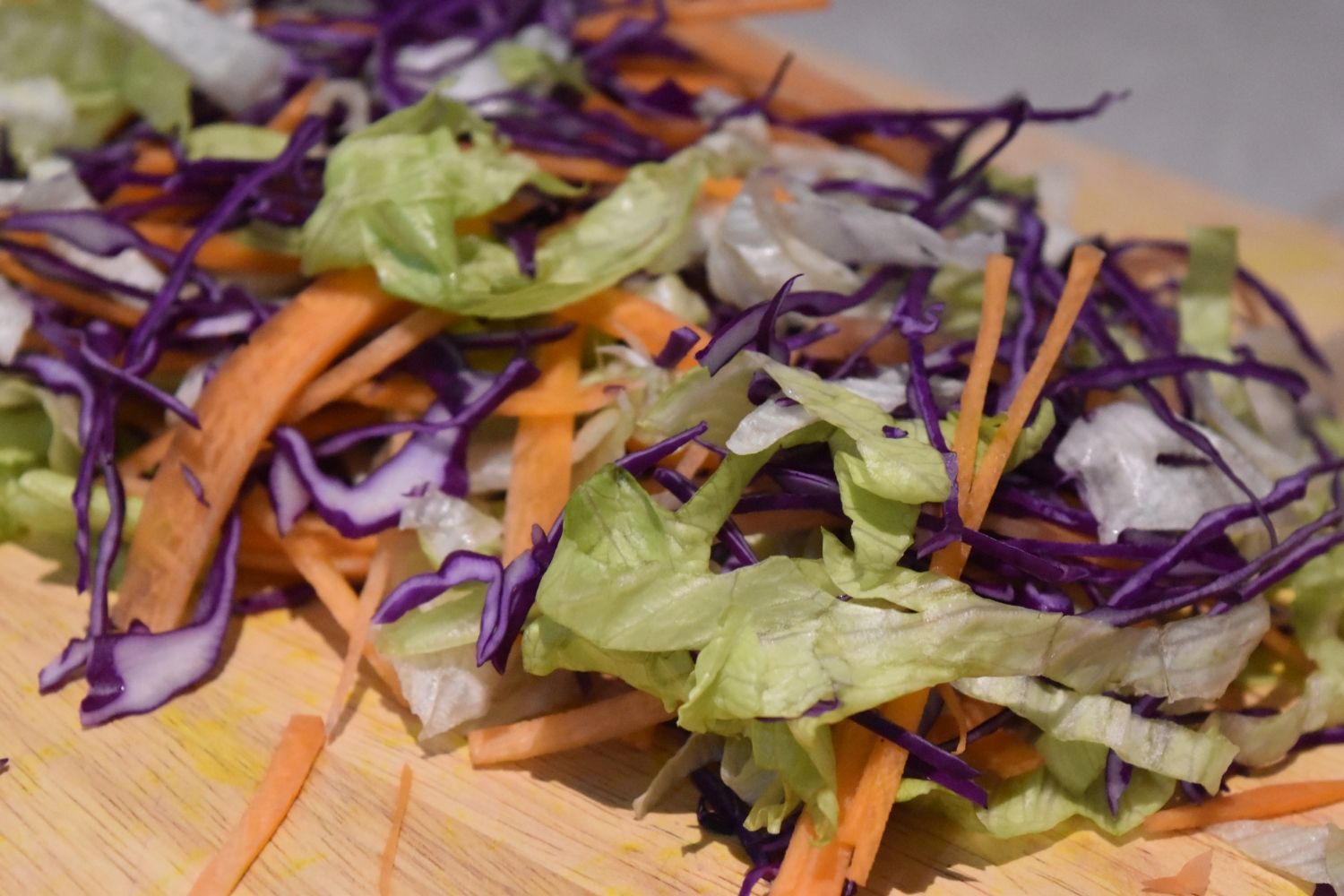 Assemble the tostadas
---
Mix all salad ingredients.
Top tostada with salad and pulled jackfruit. Drizzle with BBQ sauce to taste.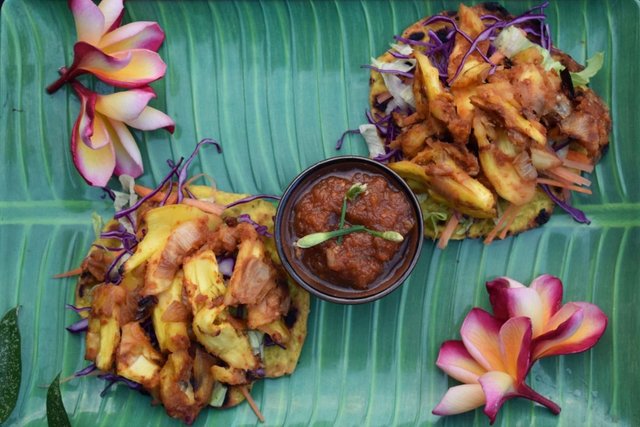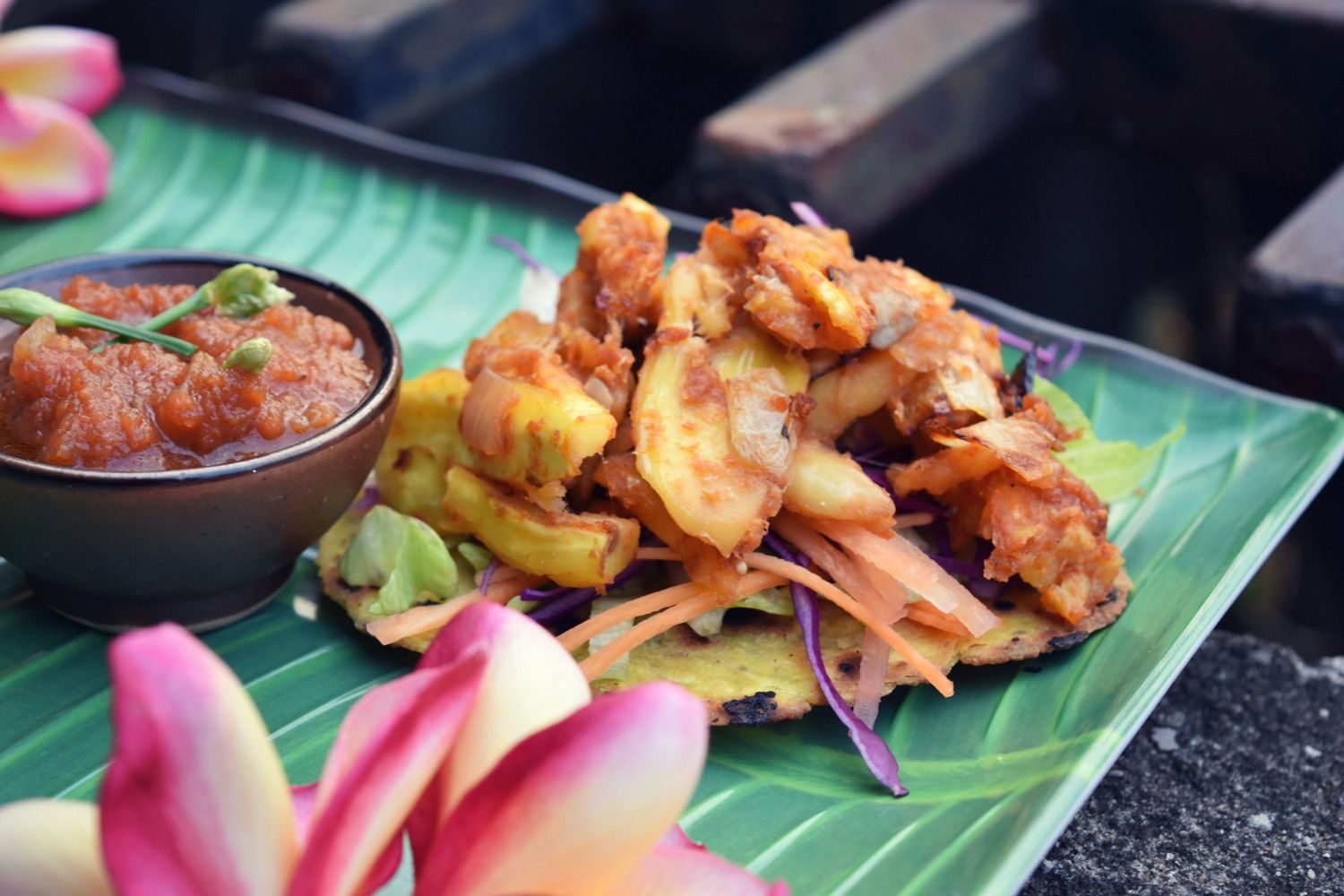 As you can see below many more jackfruits are growing. All tips/recipes on how to use this fruit in savory dishes are welcome in the comment box below.
---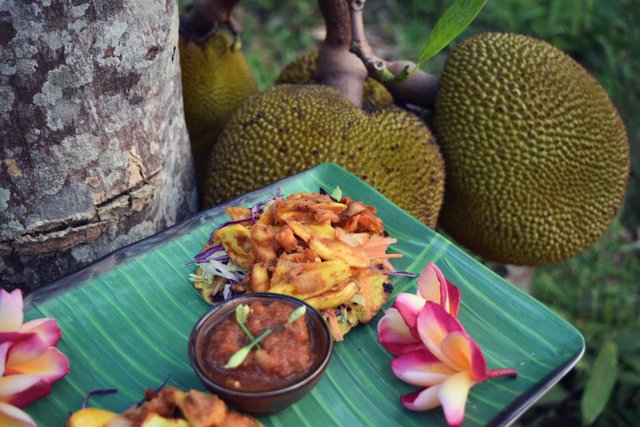 '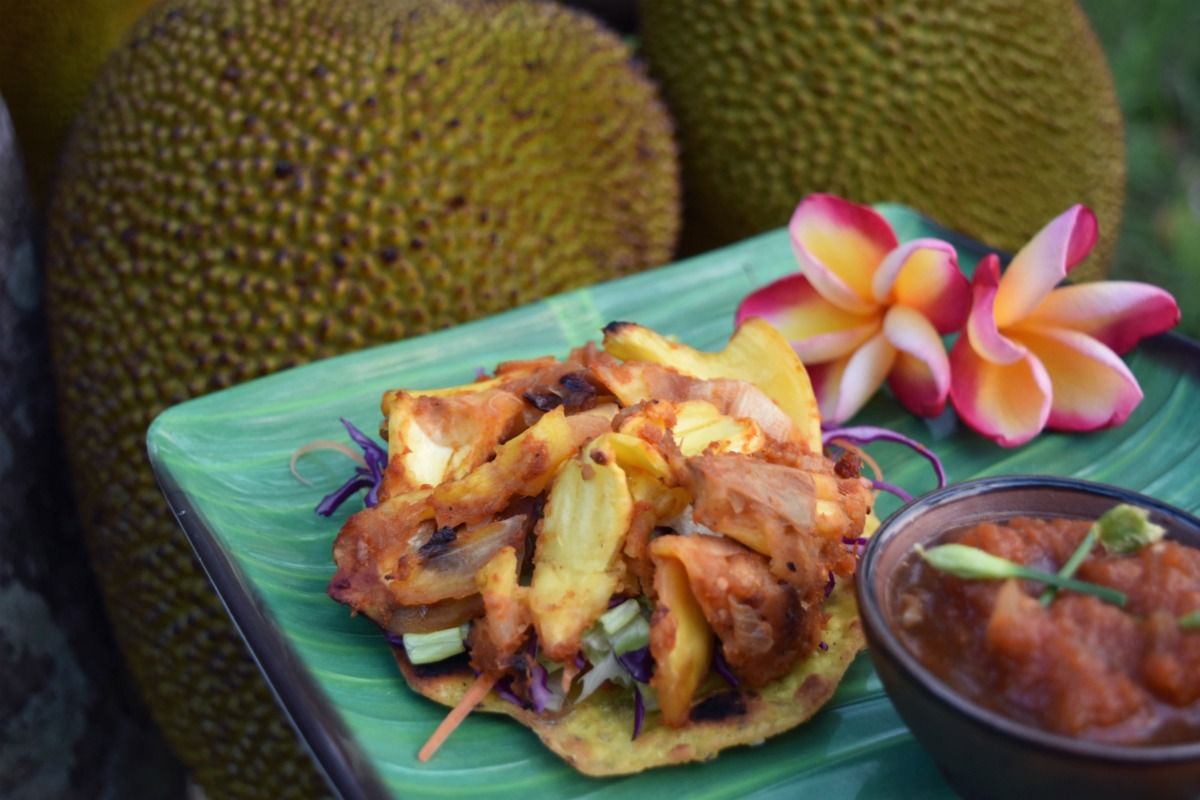 WISHING YOU ALL A WONDERFUL DAY ღ ღ ღ
---

FYI: For green smoothie tips, tricks, and recipes, download my FREE GREEN SMOOTHIE EBOOK HERE!
---
ALL CONTENT IS MINE AND ORIGINAL!
PICTURE(s) TAKEN WITH NIKON D5600
---
LET'S CONNECT!
---
Website - Facebook - Google+ - Twitter - Pinterest - YouTube
---
🥑🍓🍆 FIND MORE YUMMY PLANT-BASED CREATIONS BELOW 🥑🍓🍆
---