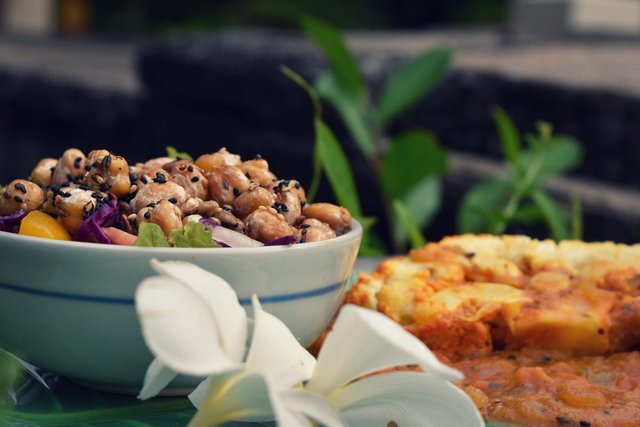 Who said vegan-friendly Sunday roasts cannot be tasty.... let's prove them wrong with this super yummy Sunday roast worthy dinner. Even non-vegans will love this healthy version of the popular Sunday comfort food.
I am not the kind of plant-based muncher to try to convince every single person on this planet to give up animal products. My secret is to cook for as many friends and family members as possible and make them at least vegan-curious.
Most of my friends and family are still omnivores, but in the past, they have asked me some of my recipes and are eating at least once a week a vegan dinner. It is a start, right!
VEGAN SPICY MARINATED CAULIFLOWER SUNDAY ROAST WITH RAINBOW CHICKPEA SALAD
---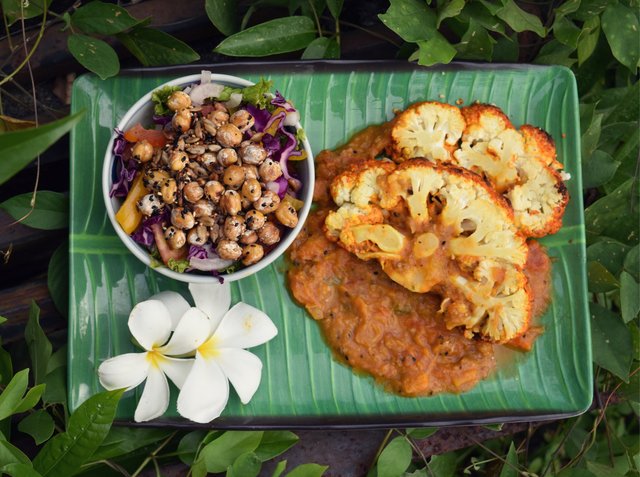 INGREDIENTS (SERVES 3)
---
For the marinated cauliflower
---
1 head of a cauliflower
½ tbsp cumin powder
½ tbsp coriander powder
¾ cup vegan unsweetened yogurt
1 tbsp Korean chili powder
2 tsp turmeric powder
Fresh ginger and garlic, peeled
1 tbsp extra virgin coconut oil
Sea salt to taste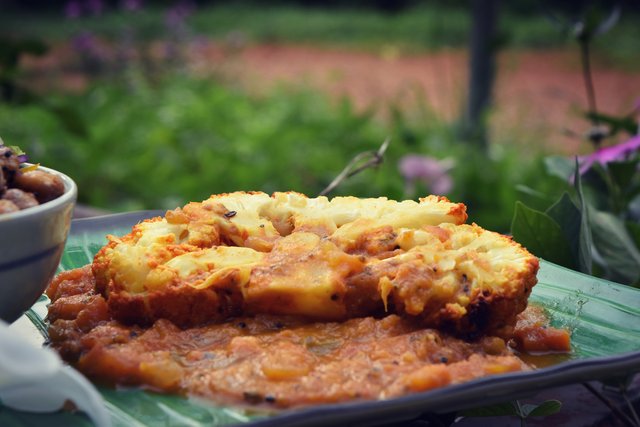 For roasted chickpea salad
---
1.5 cup cooked chickpeas
½ cup onions, chopped
2 cups salad greens of your choice
¾ cup bell pepper, chopped
¾ cup red cabbage, shredded
¾ cup tomatoes, chopped
2-3 tbsp toasted sunflower seeds
1-2 tbsp toasted sesame seeds. I used a mix of black and white
Herb mix roasted chickpeas
---
½ tsp cumin seeds
½ tsp mustard seeds
½ tsp coriander seeds
Sea salt and black pepper to taste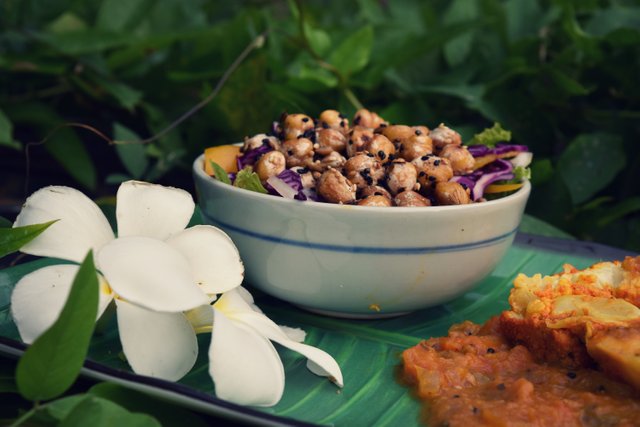 for the tomato veggies sauce
---
2 cups of my homemade veggie marinara sauce
FYI: FIND THE RECIPE FOR MY ONE VERSION OF MY HOMEMADE MARINARA SAUCE HERE
---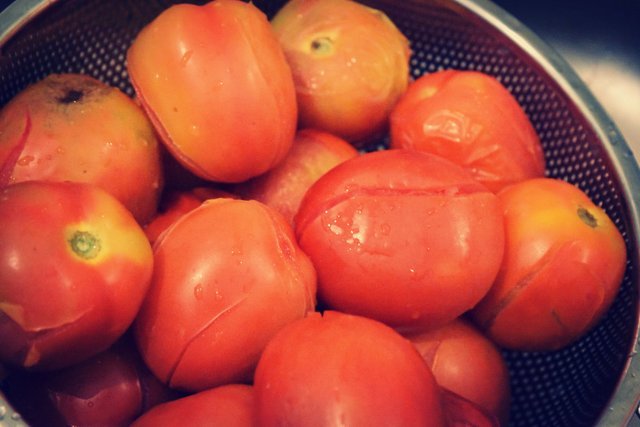 DIRECTIONS
---
For this recipe, I had some of my pre-prepped marinara veggie sauce left in the freezer. If, however, you are starting this recipe from scratch, make the tomato veggie sauce first. Make sure to make enough and freeze for later. It always comes in handy.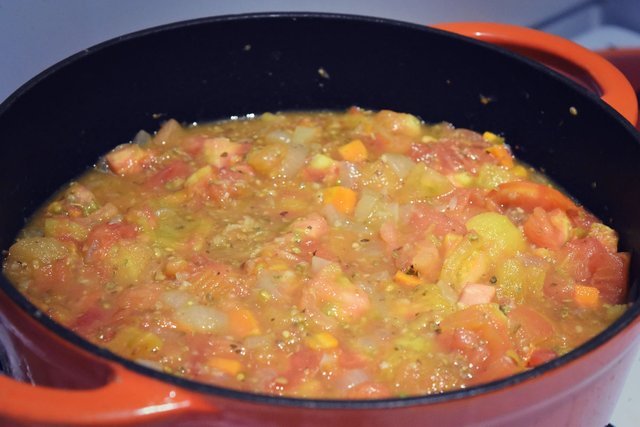 Puree ginger and garlic in equal quantities until a smooth paste. Feel free to make a lot of it if you use these flavors often. This will save you some time in the kitchen. The paste can be kept in the fridge for ages.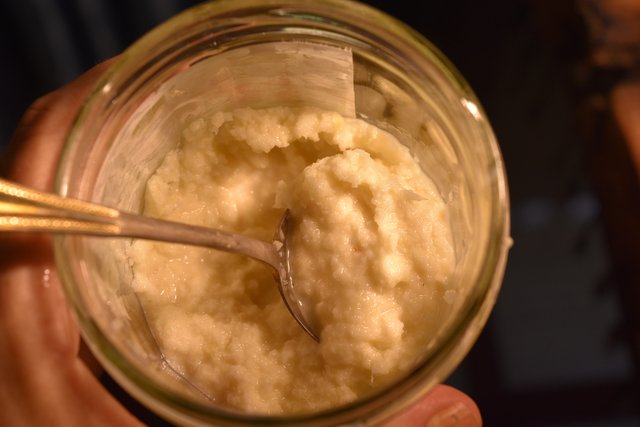 To marinade the head od the cauliflower, add the ginger-garlic puree and all other marinade ingredients to a bowl. Whisk well to combine.
Make sure to keep the head of the cauliflower intact when you trim the outer leaves. Pour the marinade over the cauliflower head. Rub well to coat the entire cauliflower. Cover and refrigerate for a minimum of 1 hour. If you have time, marinate for 4-6 hours or even overnight.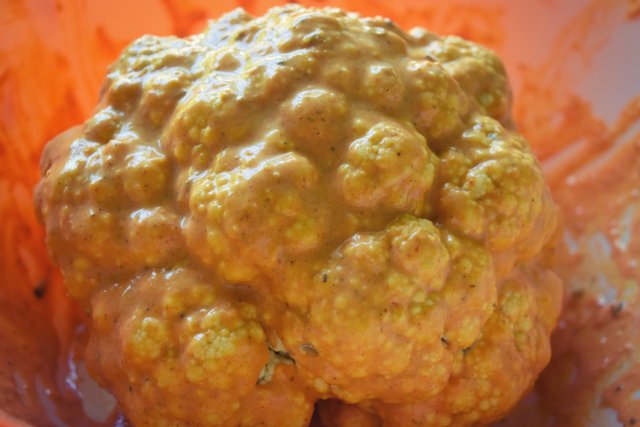 Preheat oven to 400F or 200C. Roast cauliflower with the marinade for 40 to 45 minutes or until tender. The marinade around the cauliflower might burn but that's just fine you don't need it anymore.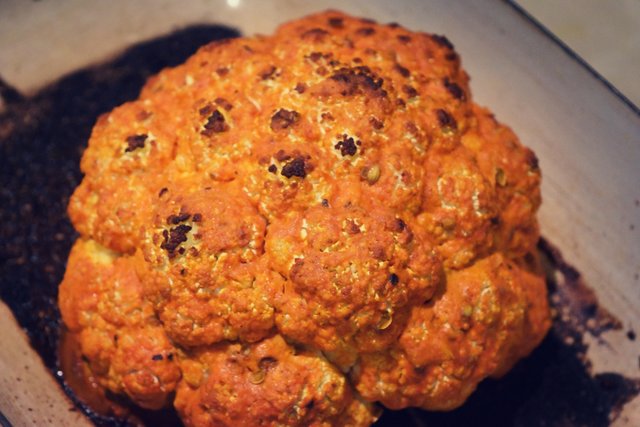 Meanwhile, heat cooking oil in a skillet to pan-roast the chickpeas. Add chickpeas and herb mix and cook until lightly browned. I always toast a big batch of sesame seeds and sunflower seeds so I added them last. If you have raw sesame seeds or sunflower seeds, add them while pan-roasted the chickpeas for an extra toasted flavor.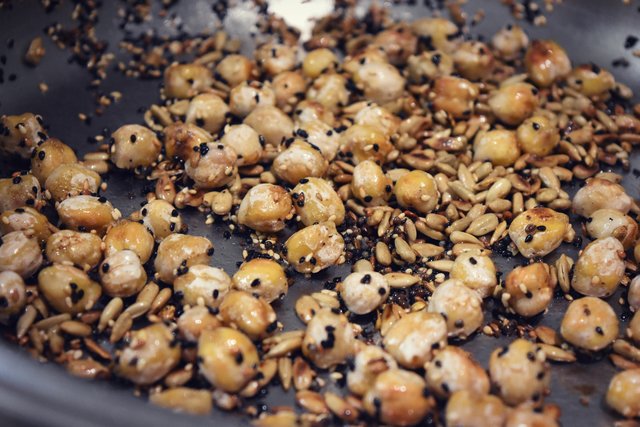 Combine all other salad ingredients. Toss to combine. When chickpeas are ready, add them to your salad.
Slice cauliflower in "steaks" and serves with warm tomato sauce and rainbow chickpea salad.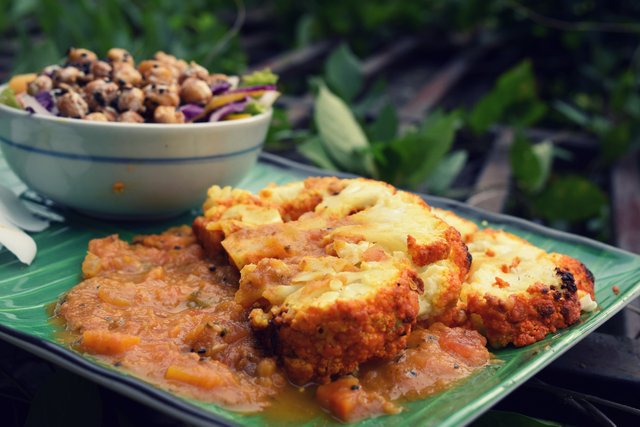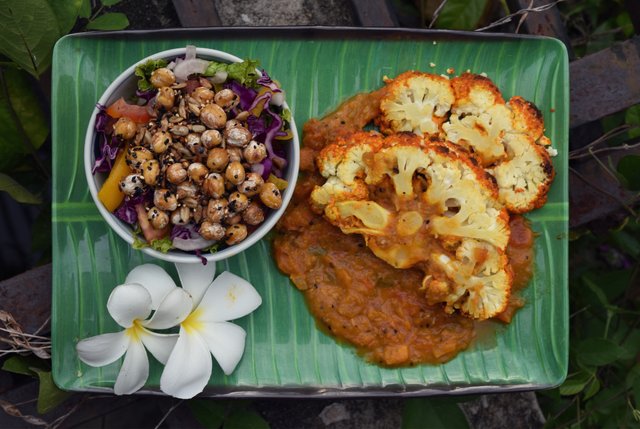 Bon Appétit ღ ღ ღ
---

FYI: For green smoothie tips, tricks, and recipes, download my FREE GREEN SMOOTHIE EBOOK HERE!
---
ALL CONTENT IS MINE AND ORIGINAL!
PICTURE(s) TAKEN WITH NIKON D5600
---
LET'S CONNECT!
---
Website - Facebook - Google+ - Twitter - Pinterest - YouTube
---
🥑🍓🍆 FIND MORE YUMMY PLANT-BASED CREATIONS BELOW 🥑🍓🍆
---