Como o uso dos dispositivos eletrônicos impacta na sua produtividade / How eletronic device usage impacts your productivity
English version below
PT
Hoje vou falar de uma coisa que poucas pessoas sabem, e mesmo que sabem não se preocupam, mas que faz toda diferença em nossa produtividade.
Você sabia que a luz azul esbranquiçada que os monitores emitem pode impactar na sua vida e produtividade? Sim tem um motivo para as telas serem assim, vou explicar tudo isso aqui.
Emissão de luz azul
Diversos pesquisadores vem publicando artigos que de alguma forma se relacionam com a luz azul. Estas publicações vão desde leves variações de produtividade até graves disturbios psicológicos, passando por problemas com sono. Os seres humanos funcionam com ciclos, dia e noite. Fomos "programados" para sentir sono e ir dormir quando o sol se põe e acordar quando o sol nasce (em sua maioria). De uma forma simples o brilho azul da tela engana o cérebro para pensar que ainda é dia. Perceba que ao desligar seus dispositivos eletrônicos e ir dormir você não vai ter uma noite de sono tranquila e pode levar vários minutos se sebatendo até pegar no sono. O ideal seria desligar todos os dispositivos eletrônicos pelo menos 45 minutos antes de ir dormir, o mesmo serve para quando acordar.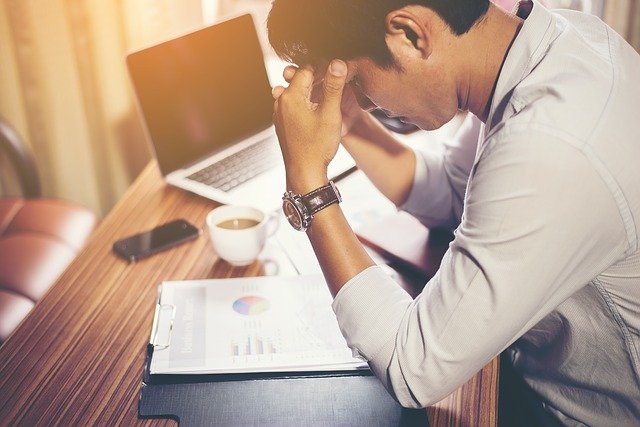 Source
Problemas da emissão
Essa luz azul em boa parte do dia não causa muitos problemas ou distúrbios no seu corpo, o problema está nas primeiras horas do dia e nas últimas. Como estamos sempre conectados, usando dispositivos eletrônicos até logo antes de dormir e sendo a primeira coisa que olhamos quando acordamos, precisamos ficar ligados nessas emissões. A exposição prolongada ou nos horários já citados pode causar diversos problemas de saúde, pesquisadores comprovaram que a emissão de luz azul causam uma ativação no sistema nervoso muito maior do que o necessário, podendo causar dor de cabeça e tontura, até mesmo distúrbios de sono e insônia.
Todos esses efeitos são mais graves em crianças e adolescentes, principalmente impactos psicológicos já que por estarem em desenvolvimento os jovens precisam mais dos hormônios liberados no sono.
Solução: F.lux
A ferramenta F.lux foi desenvolvida para ajudar neste problema. É um pequeno detalhe mas faz uma grande diferença na sua produtividade. Se você está com sono, triste, de mau humor, ou coisa parecida, sua produtividade vai cair. Muitos navegadores e sistemas operacionais tem aplicado funcionalidades para diminuir tais emissões, seja diminuindo o brilho com o tempo, amarelando a tela ou invertendo as cores, também conhecido como modo noturno.
O F.lux faz exatamente isso. Ele tira o azul da tela, deixando tudo amarelado, automaticamente, identificando pela sua localização, sabendo a hora certa de mudar. Não é uma mudança instantânea, a cada hora o software diminui um pouco a tonalidade, para tornar mais agradável a mudança.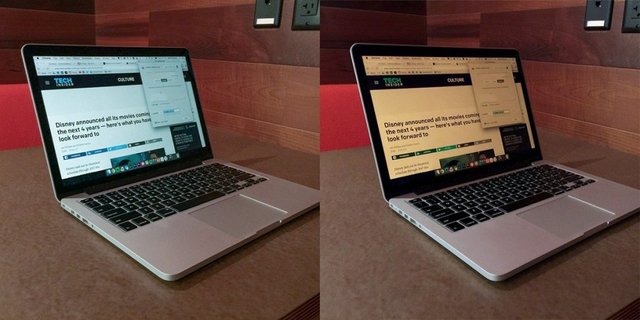 Source
No início é de fato um pouco desconfortável de usar, a tela amarelada causa uma certa estranheza, mas com o tempo acaba acostumando, e os resultados são vistos em poucos dias de uso.
Se você tem interesse de instalar esta ferramenta em seu computador ou smartphone ou apenas checar os dados das pesquisas aqui citadas, acesse o site do f.lux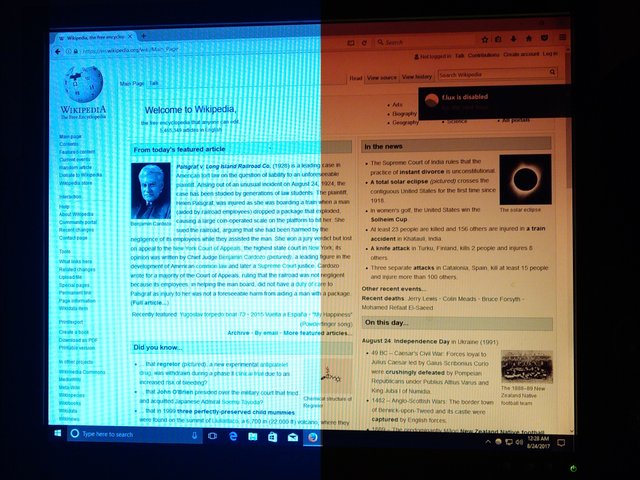 Source
---
ENG
Today I will talk about something that few people know, and even they know they do not care, but that makes all the difference in our productivity.
Did you know that the whitish blue light that monitors emit can impact your life and productivity? Yes, there's a reason for the screens be like this, I'm going to explain all this here.
Blue light emission
Several researchers have been publishing articles that somehow relate to the blue light. These publications range from slight variations in productivity to severe psychological disturbances, to sleep problems. Humans work with cycles, day and night. We were "programmed" to feel sleepy and go to sleep when the sun goes down and wake up when the sun rises (for the most of us). In a simple way the blue glow of the screen deceives the brain to think that it is still day. Realize that when you turn off your electronic devices and go to sleep you will not have a quiet night of sleep and it may take several minutes until you fall asleep. The ideal would be to turn off all electronic devices at least 45 minutes before going to sleep, the same is for when you wake up.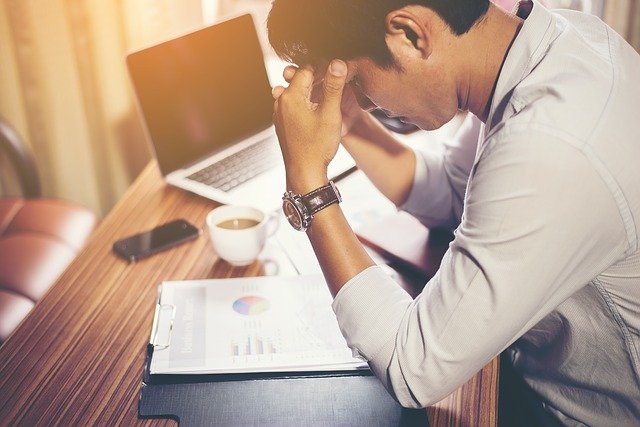 Source
Problems with the emission
This blue light for most of the day does not cause many problems or disturbances in your body, the problem is in the early hours of the day and in the latter. Since we're always connected, using electronic devices right before bed and being the first thing we look at when we wake up, we need to stay tuned in to these emissions. Prolonged or late exposure can cause a variety of health problems, researchers have found that blue light emission causes a much greater activation of the nervous system than is necessary, which can cause headache and dizziness, even sleep disturbances, and insomnia.
All these effects are more serious in children and adolescents, mainly psychological impacts since they are developing because young people need more of the hormones released during sleep.
Solution: F.lux
The F.lux tool was developed to help with this problem. It's a small detail but it makes a big difference in your productivity. If you are sleepy, sad, in a bad mood, or something, your productivity will drop. Many browsers and operating systems have implemented features to reduce such emissions, either by decreasing brightness over time, yellowing the screen or by reversing colors, also known as night mode.
F.lux does just that. He takes the blue from the screen, leaving everything yellow, automatically, identifying by your location, knowing the right time to change. It is not an instantaneous change, every hour the software decreases the tone a bit, to make the change more pleasant.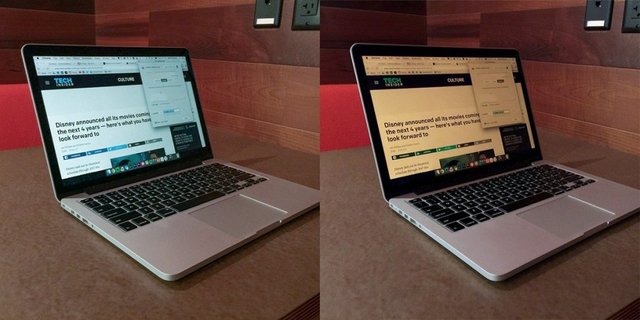 Source
At first it is actually a bit uncomfortable to use, the yellowish screen causes a certain strangeness, but over time it gets better, and the results are seen in a few days of use.
If you are interested in installing this tool on your computer or smartphone or just checking the survey data quoted here, go to f.lux's website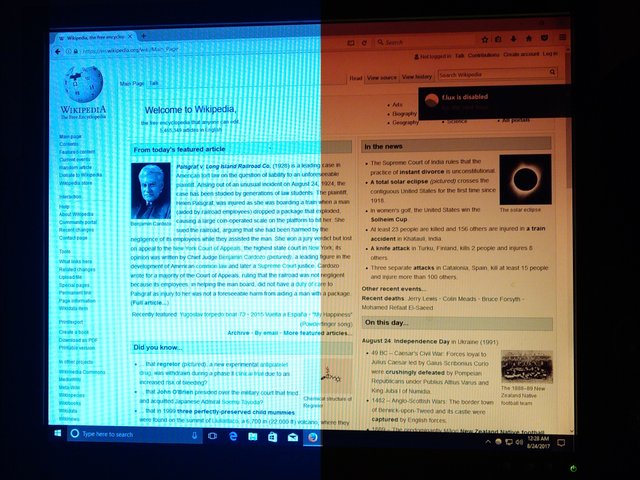 Source
---











Gosta dos meus posts? Quer apoiar? Upvote e siga!
@deividluchi
Like my posts? Want to support? Upvote and follow!
@deividluchi