Venezuelan Presidential Address: "Grass Is Good"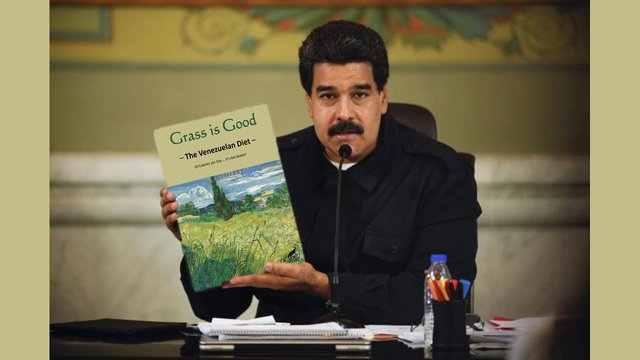 Presidential Address
"Good evening my fellow comrades. Tonight, I wish to share with you some excellent news. The food shortages that our great nation has been experiencing ... which have been caused by the Imperial Yankee Devils … is about to come to an end.
That's right. As you have heard myself, and Comrade Chavez before me, repeatedly say … La Revolución Bolivariana could, and would, provide for all Venezuelans. And that promise, comrades, is about to come true. 
Recently, I received a letter from a comrade in the United States. His name is Comrade QuillFire. Comrade QuillFire was once a filthy capitalist dog, a degenerate mongrel blinded by lust and greed. But, he has seen the light. His epiphany came from watching YouTube speeches of our beloved Comrade Ocasio-Cortez. 
Her ability to break the chains of reason, apply the innovations of Progressive metaphysical mathematics and her die-hard support for her Socialist brethren around the world – so inspired Comrade QuillFire that he was moved to write what can only be described as a literary masterpiece: 'Grass Is Good.'
In Comrade QuillFire's epic work, he begins by uncovering a plot – called Operation Barnyard – contrived by the Yankee imperialist CIA and designed to enslave all the freedom-loving peoples of the world. And comrades … it is a plot so devious and dastardly that even El Diablo would be aghast.  
And what is this Operation Barnyard, you ask?  
In a word … cows. 
Yes, comrades, cows.  
As many of you may know, modern cows eat grass and emit tremendous amounts of … gas. Specifically, methane, a global-warming gas. Indeed, as a greenhouse gas, methane is 22 times more powerful than is carbon dioxide. And so, these modern cows massively contribute to Global Warming … while at the same time eating up one of the few things that could reduce the level of CO2 in the atmosphere … grass. 
Grass 'n gas.  
Now understand, cows were not always this way. In the olden days, they could eat grass all day long and barely let out a toot. But that's were Operation Barnyard came in. Decades ago, the Americanos began genetically engineering cows such that they would produce MASSIVE amounts of flatulence. And, of course, they began selling these cows around the world. 
But why, you ask, would the Yankees want to fill the atmosphere with methane, thereby dramatically increasing Global Warming?  
Ice. 
All those nuclear-powered aircraft carriers … why do you think the Americanos have so many of them? To understand why, you must first understand that they were actually designed to have a dual purpose: A means of invading poor and peace-loving countries, but also … as giant ice-cube making machines! 
And so, when the Earth becomes an oven in 12 years, as Comrade Ocasio-Cortez has so often explained that it will, the Americanos will possess a near-monopoly on industrial scale ice-production. It will be, "Buy our ice-cubes … or we'll invade your sweaty-assed Banana Republic."  Plata o plomo. The pamphlets have already been printed.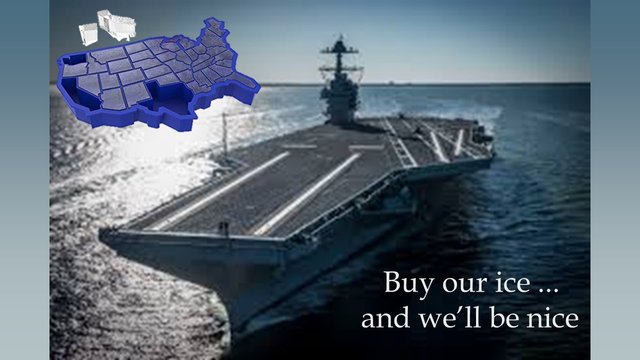 But here's where Comrade QuillFire uses magic to create miracles.
You see, 'Grass Is Good' is not merely an exposé about Yankee deceit and deception, it is also … a cookbook! A cookbook that will allow Venezuelans to free themselves from the shackles of consuming American genetically engineered, and methane metabolizing, cows. A cookbook that will permit Venezuela to cut out the middleman and the methane – instead of the cows eating grass and us eating them … we'll eat the grass directly!  
And make no mistake, as Comrade QuillFire has demonstrated, grass prepared correctly is a culinary delight. Look here on page sixty-three: "Alfalfa au Sauce d'Eau." It makes my mouth water just thinking about it. And how about this delectable sounding treat, "Chopped Clover in Mango Marinade." And this: "Fescue au Sauce Bourguignonne?" I could go on and on for hours.  
Despite this exciting news, some of you may be wondering what we're going to do with all the cows in Venezuela. This is a grave concern, one that I and the Generals have carefully considered. Genetically engineered monstrosities or not, they are still God's creatures and we cannot simply slaughter them and let their bodies rot.
Someone … will have to eat them. 
It is at times like this when the burden of leadership weighs most heavily. But no thing is free and someone must pay the price. And so, with heavy heart, I asked my Generals to accept the burden of their command and to do their duty. And it is with great pride that I can report that not a single one even hesitated. 
We … will eat the cows. 
We will eat and eat and eat until there are no more. We will eat until this curse has been removed from the land. It may take years, perhaps even decades, but we will not relent.  
Our good comrade, Comrade QuillFire, is not only a deep thinker and an inspirational chef, he is also an incredibly gifted poet. Indeed, he was once nominated for the Nobel Prize for Literature. With a generosity of spirit that I am hard-pressed to articulate, he ended 'Grass Is Good' with a poem that I would like to share with you. It is entitled, 'Maduro The Great.'
Maduro The Great
Imperialist dogs, those damned demagogues,
Whiners, there's always a few,
Moaning and groaning for tyrant-dethroning,
And trying to launch it a coup.
They've no gratitude, do naught but collude,
Scheming like thieves in the night,
Always protesting, in need of arresting,
For riots the bastards incite.
Thank goodness for you and all that you do,
Nation in need of a hero,
Socialist dream of Utopian theme,
Thank God, we've got him Maduro.
Defies it belief that one would eat beef,
Who else would pay such a price?
All who are woke will sense it your yoke,
Yet silent … your self-sacrifice.
***
Don't cry for me … Venezuela,
All men must face it their fate,
For it atmosphere, I will persevere,
For I, Maduro The Great.
Was that not beautiful?
So excited was I about this development that I ordered the creation of two new currency bills to commemorate this culinary coup de grace. As you can see, one is dedicated to our fallen comrade, Comrade Chavez. I cannot help but feel deep pangs of sorrow … if only he'd lived to see this day: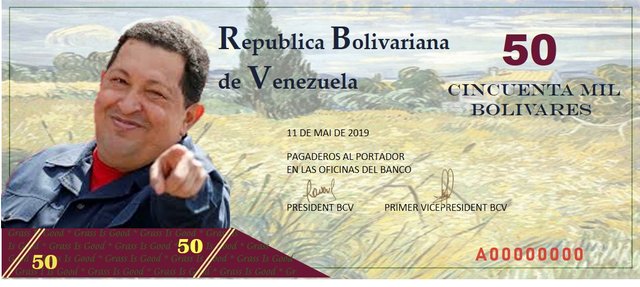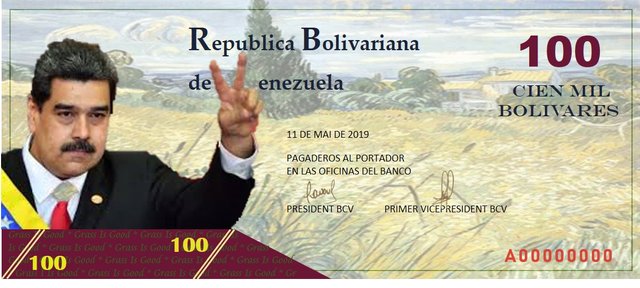 And with that, comrades, I will let you get back to your daily routines. But as you do, I want you to remember:
'V' is for Victory!
'V' is for Venezuela!
&
'V' ... is for Vegan!
Viva La Revolución!!!"
*****
Quill
All images are linked to source, are QuillFire originals or are modifications of images in the public domain. Videos and images may also be parodies of original works, therefore relying upon applicable exemptions from copyright. 

You guys know the QuillDrill. Be verbose ... but articulate.
And remember ...
Go Love a Starving Poet
For God's sake ... they're starving!