Discurso Presidencial: "La Paja es Buena"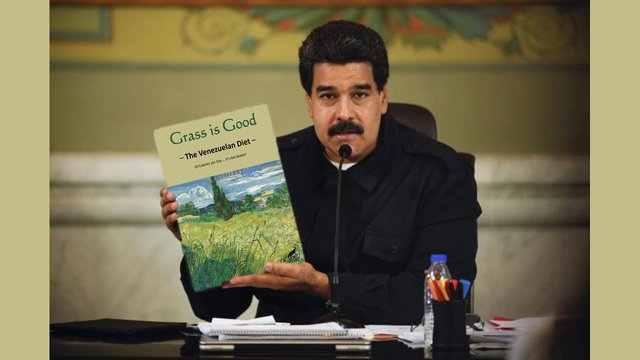 Original English post by @quillfire. Translated into Spanish (including a verse-to-verse poem) by @hlezama. Henrry is Venezuelan (and luckily for me, a Professor of Literature) and his electrical/Internet connection is not presently functioning. Hence, his translation is being posted on my blog instead. He will receive 100% of this post's payout).

Discurso Presidencial  
"Buenas noches compatriotas camaradas. Hoy quiero compartir con ustedes una noticia excelente. La escasez de comida que nuestra gran nación ha estado sufriendo ... causada por los diablos Imperiales Yankis … está a punto de terminar.
Así es. Como me han escuchado decirlo, y al Comandante Chávez antes de mi, repetidas veces … La Revolución Bolivariana puede y va a mantener a todos los Venezolanos. Esa promesa, camaradas, está a punto de hacerse realidad.
Recientemente, recibí una carta de un camarada en los Estados Unidos. Su nombre es Camarada QuillFire. El Camarada QuillFire fue alguna vez un asqueroso perro capitalista, un degenerado sarnoso cegado por la lujuria y la codicia. Pero él ha visto la luz. Su epifanía llegó al ver los discursos en YouTube de nuestra querida Camarada Ocasio-Cortez.
Su habilidad para romper las cadenas de la razón, aplicar las innovaciones de la matemática metafísica Progresista y su inquebrantable apoyo a sus hermanos socialistas alrededor del mundo – inspiró tanto al Camarada QuillFire que se vio movido a escribir lo que solo puede describirse como una obra maestra literaria: 'La Paja es Buena.'
La obra épica del Camarada QuillFire comienza por revelar un plan – llamado Operación Granero – montado por CIA imperialista Yanki y diseñado para esclavizar a todos los pueblos amantes de la libertad del mundo. Y camaradas … es un plan tan engañoso y vil que hasta El Diablo estaría horrorizado.
Y ustedes se preguntarán en qué consiste esta Operación Granero.
En una palabra … vacas.
Sí, camaradas, vacas.
Como muchos de ustedes deben saber, las vacas modernas comen pasto y emiten tremendas cantidades de … gas. Específicamente, metano, un gas de calentamiento global. De hecho, como gas de invernadero, el metano es 22 veces más poderoso que el dióxido de carbono. Y así, estas vacas modernas masivamente contribuyen al Calentamiento Global … mientras que al mismo tiempo consumen una de las pocas cosas que podría reducir los niveles de CO2 en la atmósfera … el pasto, la paja.
Pasto y gas.
Ahora, entiendan una cosa, las vacas no siempre fueron así. Hace años, podían comer pasto todo el día y apenas  tirarse un peíto. Pero ahí es donde entra la Operación Granero. Hace décadas, los americanos empezaron a desarrollar vacas genéticamente modificadas de modo que pudieran producir cantidades MASIVAS de flatulencia. Y, por supuesto, empezaron a vender estas vacas alrededor del mundo.
Pero, ustedes se preguntarán, por qué querrían los gringos llenar la atmósfera de metano, aumentando así dramáticamente el Calentamiento Global?
Hielo.
Todos esos porta aviones nucleares … por qué creen que los gringos tienen tantos? Para entender por qué, primero deben entender que ellos fueron diseñados para un propósito doble: Un medio para invadir países pobres y amantes de la paz, pero también … como gigantescas máquinas de hacer hielo!
De esta forma, cuando la Tierra se convierta en un horno en 12 años, como lo ha explicado la Camarada Ocasio-Cortez, los Americanos poseerán casi en su totalidad el monopolio de la producción industrial de hielo. Va a ser algo como, "Compren nuestros cubos de hielo … o invadiremos su apestosa República Bananera." Plata o plomo. Ya se imprimieron los panfletos.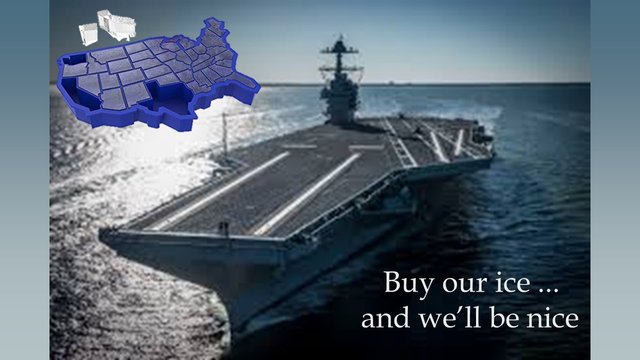 Compre nuestro hielo ... y seremos agradables.
Pero aquí es donde el Camarada QuillFire usa la magia para crear milagros.
Verán, 'La Paja es Buena' no es meramente un exposé sobre los chanchullos y engaños gringos, también es … un libro de cocina! Un libro de cocina que le permitirá a los venezolanos liberarse de los grilletes de consumir las vacas  americanas genéticamente alteradas, y metabolizadoras de metano. Un libro de cocina que le permitirá a Venezuela acabar con los intermediarios y el metano – en vez de las vacas comer paja y nosotros a ellas … nosotros comeremos paja directamente!
Y no se equivoquen, como lo ha demostrado el Camarada QuillFire, la paja preparada correctamente es una delicia culinaria. Miren aquí en la pagina sesenta y tres: "Alfalfa au Sauce d'Eau." Se me agua la boca solo de pensar. Y que tal el sonido de este platillo, "Chopped Clover in Mango Marinade." Y este: "Fescue au Sauce Bourguignonne?" podría seguir por horas.
A pesar de esta noticia maravillosa, algunos de ustedes deben estar preguntándose que vamos a hacer con todas las vacas en Venezuela. Esta es una preocupación muy grande, una que yo y los generales hemos considerado cuidadosamente. Aunque sean unas monstruosidades genéticamente modificadas, siguen siendo criaturas de dios y nosotros no podemos simplemente matarlas y dejar que se pudran.
Alguien … tendrá que comérselas.
Es en tiempos como estos cuando la carga del liderazgo pesa más. Pero nada es gratis y alguien debe pagar el precio. Así que es con el corazón compungido, le pedí a mis generales que aceptaran la carga de su comando y cumplan su deber. Y es con gran orgullo que puedo reportar que ni uno solo dudó.
Nosotros … nos comeremos las vacas.
Comeremos y comeremos hasta que no quede una más. Comeremos hasta que lamaldicion sea levantada de nuestra patria. Puede que tome años, quizás décadas, pero no descansaremos.
Nuestro buen camarada, el Camarada QuillFire, no solo es un pensador agudo y un chef inspirador, también es un poeta increíblemente dotado. De hecho, una vez fue nominado al Premio Nobel  de Literatura. Con una generosidad de espíritu que estoy obligado a articular, terminó 'La Paja es Buena' con un poema que me gustaría compartir con ustedes. Se titula, 'Maduro El Grande.'

Maduro El Grande
Malditos demagogos, perros imperialistas 
Llorones, siempre hay unos cuantos en la lista, 
lamentando y quejándose por derrocar tiranos,  
ensayando golpes de estado en pueblos hermanos.   
Mal agradecidos, no hacen más que conspirar,   
ladrones tramando en la noche que robar, 
siempre protestando, les sale arresto, 
disturbios los bastardos incitan, por supuesto.  
Gracias a dios por ti y todo lo que haces, 
De la patria eres héroe, pase lo que pase 
Utopía Socialista, un sueño puro, 
gracias a dios, lo tenemos en Maduro.  
Para comer carne hay que ser necio, 
¿Quién más pagaría semejante precio? 
El que tenga ojos que vea tu yugo, 
en silencio … te sacrificas como Hugo.  
***
No llores por mí … Venezuela, 
Se enfrenta el destino, aunque duela, 
por la patria la atmosfera, perseveraré, 
Nicolás Maduro el Grande seré.
¿No fue hermoso?
Tan emocionado estaba sobre este desarrollo que ordené la creación de dos nuevos billetes para conmemorar este coup de grace culinario. Como pueden ver, uno está dedicado a nuestro padre sembrado, el Comandante Eterno Hugo Chávez. Yo puedo menos que sentir un profundo dolor … si tan solo estuviera vivo para ver este día: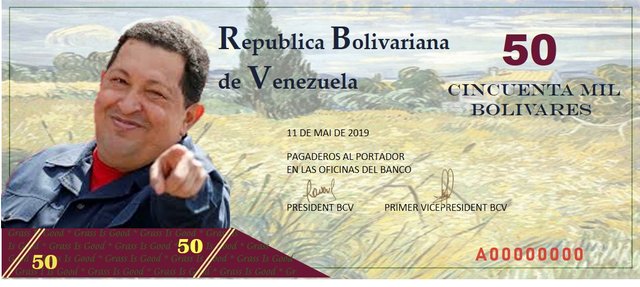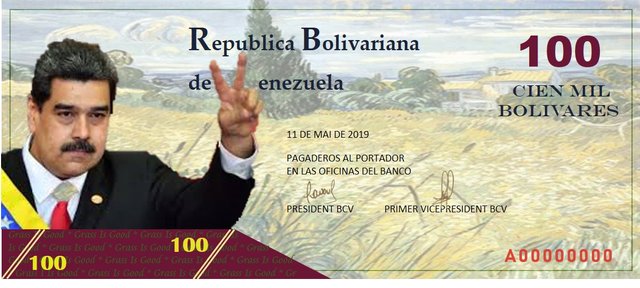 Y con eso, camaradas, los dejo que vuelvan a sus rutinas. Pero mientras lo hacen, quiero que recuerden:  
'V' es por Victoria! 
'V' es por Venezuela! 
& 
'V' ... es por Vegano!  
(parece una grosería, pero no es)  
Viva La Revolución!!!" 
*****
Quill
All images are linked to source, are QuillFire originals or are modifications of images in the public domain. Videos and images may also be parodies of original works, therefore relying upon applicable exemptions from copyright. 
@jaynie, @zord189, @steemitbloggers, @bluemist, @theycallmedan, @mariusfebruary, @nathanmars, @curie, @c-squared

You guys know the QuillDrill. Be verbose ... but articulate.
And remember ...
Go Love a Starving Poet
For God's sake ... they're starving!