Populous – We Are Populous!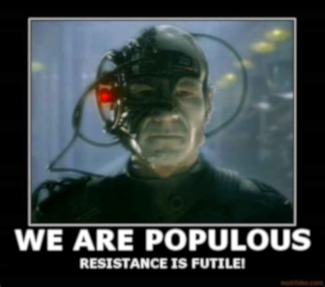 The untapped market for SME financing is huge and this is where Populous will have advantage over existing players. The unique way Populous is structured is well suited to tackle this market.
Populous is not doing things the conventional way but by thinking outside the box to resolve the pressing issue of access to short term finance by SMEs.
Discounting v Factoring
Invoice Discounting NOT Invoice Factoring and there is a difference between the two.
The two method of invoice financing is distinguished by how the sales ledger is managed. In factoring, the upkeep of the sales ledger is transferred to the invoice buyer, whereas in invoice discounting, the sales ledger is maintained by the invoice seller company.
This simply means that in factoring the factoring company is responsible for collection of the debt from the debtor company. In this case, the invoice sellers who have sold his invoice simply walks away free from all responsibilities for collection of the debt.
However, in discounting, the invoice seller maintains full responsibility for collection of the debt. Collection of the debt will be recorded in the invoice seller's company's book as income and then recorded as outgoing expense when the debt is paid back to Populous to balance the books.
Penny Pinching!
In a market considered as risky, not cost effective and unprofitable keeping cost low is key. It is quite understandable the perception this segment of the market has considering invoice values from SMEs are likely to be on the smaller side.
Here are some ways Populous will keep cost low.
Targeted Marketing
Targeted market can be carried out by anyone but the issue is that you need to identify the target company of your marketing campaign first to be effective.
Existing invoice financing companies need to hire a large of number of staff with specialist financial skills to scour the financial records of many companies before identifying a particular company to target. A huge cost will be involved!
Not so for Populous! The XBRL engine which can search for the records on its database will be able to identify those needing short term financing. What's more, the XBRL engine will also be able to identify those companies that will have liquidity needs in the future even before they know it themselves.
As a result, Populous can target their marketing campaign to companies identified through the XBRL engine and follow up with its team of sale staff.
Credit Reports
When a company requests finance of any type, a background check on the credit-worthiness of the company will be carried out each and every time. Background checks include the financial health of a company and these are provided in credit reports.
Existing invoice financing companies will need to buy credit reports from external third party companies like Dun & Bradstreet. When you request a report each and every time costs can add up. You will need to request credit reports when you search for companies to target your marketing campaign, you will possible need to request credit reports when it is time for policy renewal etc…
A credit report will only give you a snap shot of the company's financial status up to present date in time. The financial health status of a company this month will not be the same next month.
With the PXP, Populous will be able to produce its own credit report making the need to obtain these report from external third parties unnecessary thus resulting in cost savings.
Debt Collection
When you need to collect your debts you will need to send in the heavies. Debt collection is not free, just the ask the Gambinos, Gottis or the Sopranos. Even more legit debt collectors cost money! Existing invoice financing companies will need to maintain staff on the books to follow-up, chase after and collect debts.
If you do things the Populous Way, employing a team of debt collectors will be a thing of the past. Intrigued? This is where discounting shines compares to factoring. Since the Invoice Seller is still responsible for the sales ledger, the Invoice Seller is appointed the agent for collection of the debt on behalf of Populous. In other words, the Invoice Seller is responsible for debt collection.
There you have it. No cost to Populous and no additional cost to the Invoice Seller. The Invoice Seller will perform debt collection duties irrespective of whether the invoice is sold to Populous or not.
Passing-the-buck?
There is one other possible mean of cost saving and passing the savings on to invoice sellers. Not only is it a possible cost saving but also affords protection to Populous against ultimate defaults.
Premium
A notable mean of cost saving is the requirement to purchase trade insurance with Populous named as the beneficiary. But wait, this is not a cost saving as such because the invoice seller still have to bear the cost of buying insurance!
In a way it is a cost saving since it protects Populous against defaults and therefore Populous can offer a more competitive rate. But trade insurance for SMEs cost a small fortune considering they do not even have access to short term financing in the first place!
It would be non-sensical for SMEs to buy trade insurance where the little profit they make would like go toward buying trade insurance. You think that asking the Invoice Seller to purchase trade insurance is just passing-the-buck on cost?
Low Premium
Let's explore further this scenario!
We all know how insurance work. When an insurance claim is made your premium will go up the next time you come to renew the policy because the insurance company deem their exposure to risks have gone up. With this assumption in mind the following will be easier to understand.
There are multiple avenues for Populous to collect as follows:
(1) Collect from the invoice selling company.
(2) Collect from the debtor company.
(3) Collect from the seller company's director through Director's Guarantee.
(4) Collect on liens (claims on physical assets of the seller company).
(5) Collect on the trade insurance with Populous as the beneficiary.
Basically, it goes something like this. If you fail to collect on (1) then collect on (2). If (2) defaults then collect at point (3) and so on. You noticed that trade insurance is the last point of collection in case there is a failure to collect at points (1) to (4).
The question for the insurance company then becomes "What is my exposure?" I would expect with all the measures put in place, exposure or risks will be very low.
Lower Premium
Trade insurance can be purchase from any insurance company but cost may not be within reach of SME's budget. What if the insurance company was affiliated to Populous. Could the cost of insurance as a result be reduced?
Have to read the post "Populous – Business Synergy in Action?" and "Populous – Here We Come!" If you have then you will know that Populous have possibly already partnered with an insurance firm.
There may be other partnerships in place but information is still sketchy.
Lowest Premium?
Just when you think premiums cannot go lower. Where do you think the cost of insurance will head with the FidentiaX partnership.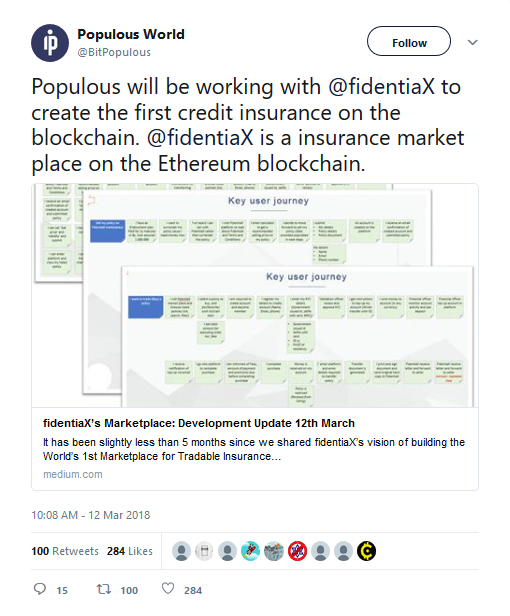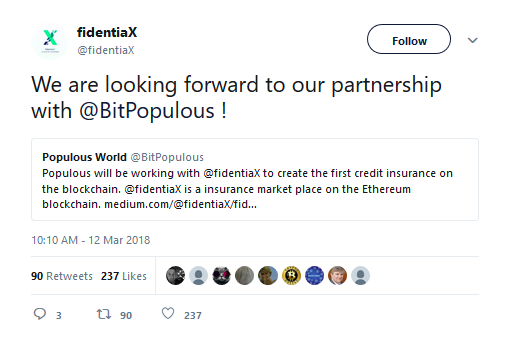 The possibilities!
In Conclusion
Populous is going after an untapped market not served due to the risks involved and by thinking outside the box, Populous have come up with a way to tap this untapped market.
Even though Populous targets those who do not have access to invoice financing, it does not mean that companies with access to invoice finance will not be targeted. Once Populous is proven, these companies will either demand more from their existing providers or move their accounts to Populous.
By invoice discounting and not factoring, Populous also have the option to go collect from the debtor company as well as from the seller company if required. As a result Populous have two point of collection compared to factoring which have only one, the debtor company.
The procedures put in place places the onus on the seller company to meet his obligations. Failing which Populous can make a claim on the seller company, the seller company's director or seller company's properties secured as pledges in cases of defaults. In factoring, you can only go after the debt from the debtor company without "guarantees" that funds can be recovered.
It is highly probable that Populous will never ever need to make a claim on the trade insurance policy because of all the other measures put in place. This will keep trade insurance premium low making insurance more affordable for SMEs.
Funds will be recovered. It is just a matter of time and all the while penalty fees will be incurred. Claim on the trade insurance policy is a last resort measure and ultimately protects the LP.
Partnering with an insurance company makes perfect sense since it make Populous the "one-stop-shop". The insurance company will be happy because he will have the opportunity to also enter an untapped market to grow his client base.
It is no doubt that Populous will be emulated once the cost effectiveness and market penetration is demonstrated. It does not mean Populous will be overtaken in the future because success does not only depend on just emulating the procedures in place but also the need to develop a similar XBRL engine.
Do not forget that Populous also aim to be involved in the day to day business accounting of businesses when they start to integrate with the businesses' accounting solution.
Furthermore, the FidentiaX partnership presents exciting possibilities.
Other Populous Posts
Recent Populous posts can be read by clicking on the links below.
Populous – Moving with the Times!
https://steemit.com/populous/@marcusxman/populous-moving-with-the-times
Populous – You Say! I Say!
https://steemit.com/populous/@marcusxman/populous-you-say-i-say
Populous – Here We Come!
https://steemit.com/populous/@marcusxman/populous-here-we-come
Populous – PXP, The Best Intel on the Market?
https://steemit.com/populous/@marcusxman/populous-pxp-the-best-intel-on-the-market
Populous – History Made!
https://steemit.com/populous/@marcusxman/populous-history-made
A number of issues raised in the article was covered in preceding Populous articles which you can find [here[(https://steemit.com/@marcusxman). Many of these articles were written a long time ago and Populous being a start-up and an industry trailblazer pioneering a new way of doing things will mean that some of the assumptions made have changed.
Nevertheless, the principles outlined in these articles still apply so read them to help you formulate questions you can ask to help you understand.
Should you have any questions concerning Populous you can ask Populous through Slack, the Official Populous Telegram or their Twitter Account for answers and clarifications.
However, do bear in mind that Populous are not financial advisers and cannot respond to questions that are of a financial nature. The onus is on you to make that determination and what it means for you as a PPT holder.
This is NOT Financial Advice
The contents in this article are for educational purpose only and should not be construed as financial advice. As usual do not invest more than you can afford to lose as these investments can go to zero and always do your own due diligence. If you need financial advice then speak to a licensed financial advisor.
Feel free to comment as you see fit below.
---
I'm just letting off Steem, if you found this post informative then UPVOTE (with FULL POWER), COMMENT, FOLLOW and especially RESTEEM.
Live Long and Prosper
---
I wrote this article myself and it expresses my own opinions. Computer literacy is crucial in this day and age, and just because someone tells you it is good, it does not mean that it is good for you.