Being a pioneer is no easy task. Every step have be carried out meticulously and with precision. You will be the first one to meet obstacles and the first to overcome them. You will in the end reap the rewards.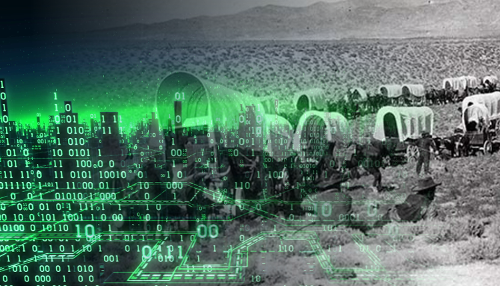 Instead of staking claim to rolling plains, Populous will stake their claim to a vast digital landscape. What bigger than in the financial space!
Agent of Change
Nothing stays the same and crypto-verse is no different. Together with the new will come the old even if dragged kicking and screaming into the blockchain era. The old guards have fallen behind and now trying to stymie progress with threats of regulation to catch up.
Unfortunately they still make the rules in this ever changing, but slowly evolving regulatory landscape. A decision made by the regulators one day can change the digital space immensely. They are still making up their minds on how to move forward and at the same time creating havoc without a care for those in the crypto space.
Know how the regulating authorities will behave why try change the regulatory environment when they are like slow lumbering dinosaurs. Instead play by their rules which they are familiar and where necessary adapt to ensure compliance. This is exactly what Populous have done and are doing.
Everything PPT was compliant until one day the regulators decided or may decide that any token with buy-back and burn be considered a security. Horrors!!!!! Just an inkling of this possibility was enough for Populous to drop the idea like a hot potato.
Will this affect the way PPT will function? Will this result in less value to PPT holders?
Not likely!
Legal Opinion
You can be sure that the Populous team have done their homework when it comes to legal and operational risks. See Steve's tweet on what had been accomplished by 18 Feb 2018.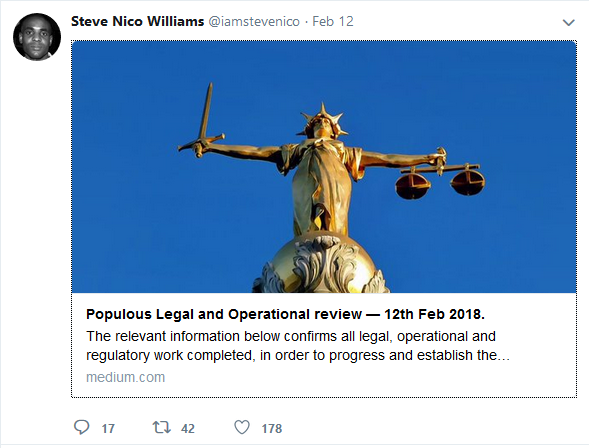 The process did not just happen overnight. There would have been time, effort and resources expended to ensure that all was in order. The process started in May 2017, but you can bet that it probably informally started much sooner than that.
Subsequent to the release of the reviews, legal opinion to operate in United Kingdom and the Hong Kong invoice financing market was also released.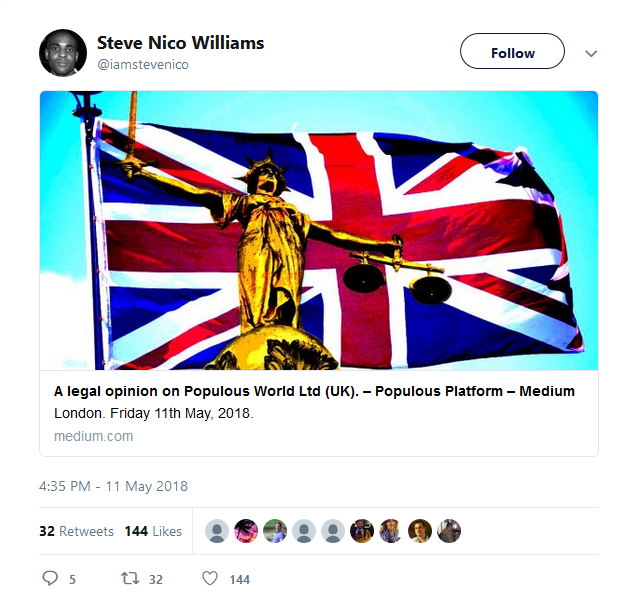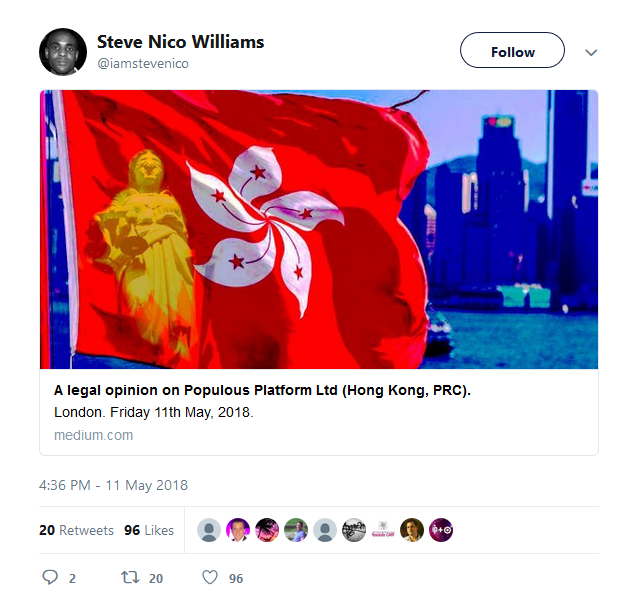 It makes perfect sense that Populous should start in the UK and the HK market. Hong Kong used to be a colony of the UK and as such shares a majority of the laws and regulations. If you are compliant in one market then you are more likely to be compliant in the other!
The opinions given are technical and quite extensive so get your cup of coffee for a good long read.
Patents Pending!
Patents have also been filed for the Invoice Finance (IF) platform and the Populous XBRL Platform (PXP).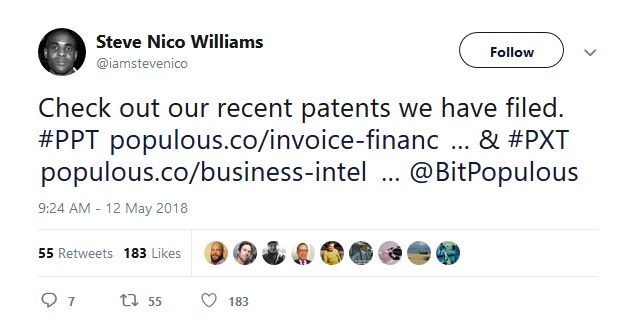 The patents basically covers the "novel" processes which Steve have come up for the operations of the IF Platform and PXP. The two platforms are unique because you only have to look around the crypto-verse that Populous is the first to incorporate these ideas to real world use.
There is no point in submitting a patent for something that already exists. It will just be a waste of time, effort and resource. For Populous to be able to submit a patent application is a sign that the process employed is unique and deserving copyright protection.
Goldmember, anyone!
Steve have also been tweeting about the Gold LP for a long time. The first teaser about the Gold LP was made on 10 Feb 2018 with several follow up tweets.

Then about three months later, KaBoom!

The all clear for the Gold LP was given.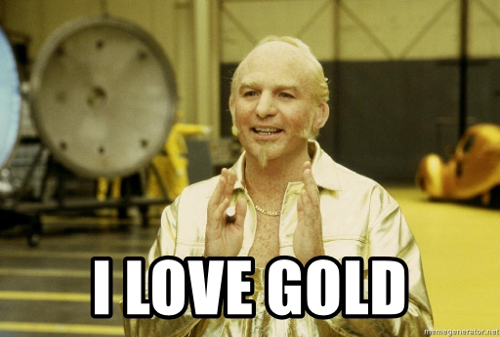 In Conclusion
Working within the existing regulatory framework is a must and only in doing so will you be considered compliant for today's market. To get this far, Populous have done and are doing everything by the books. Read the Business Plan, Team Populous knows the regulations they need to comply with!
The elimination of the buy-back and burn scheme does not affect how Populous operates but demonstrates just how flexible Populous can be when required to work within the existing system. Trying to buck the trend can mean approval and regulatory purgatory!
Obtaining patent protection does not mean that Populous intends to corner the market. On the contrary, anyone can use the ideas but obviously at a cost. This will opens up a whole new revenue stream for Populous and this will only add value to PPT holders. Additional money from licensing agreement will only increase the size of Populous Liquidity Pool.
Once the patents are approved, it will be another Populous first! The ball is now in the court of the Patent Office to come to that same conclusion.
There are many things going on at the same time and Steve is not the only person working! He is supported by the finance team, technical team, marketing team, legal team, copyright lawyers, UK IF team, HK IF team and whatever teams needed to get the impending avalanche started.
The whole PPT community is behind the Populous team all the way which can be easily demonstrated by just looking on Etherscan at all the strong hands hodling PPT.
PS Wise Words
The platform is in beta and processes are being tested and tightened. Expect more changes to come as things are fluid and ever changing for the better.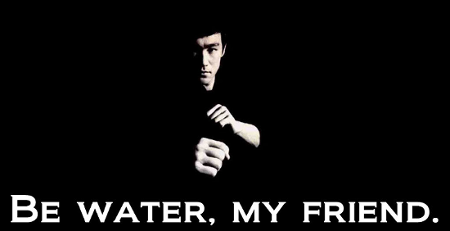 Pretty good advice, don't ya think!
Other Populous Posts
My most recent Populous posts can be read by clicking the links below.
Populous – You Say! I Say!
https://steemit.com/populous/@marcusxman/populous-you-say-i-say
Populous – Here We Come!
https://steemit.com/populous/@marcusxman/populous-here-we-come
Populous – PXP, The Best Intel on the Market?
https://steemit.com/populous/@marcusxman/populous-pxp-the-best-intel-on-the-market
Populous – History Made!
https://steemit.com/populous/@marcusxman/populous-history-made
Populous – Now is the Time to Plan!
https://steemit.com/populous/@marcusxman/populous-now-is-the-time-to-plan
A number of issues raised in the article was covered in preceding Populous articles which you can find [here[(https://steemit.com/@marcusxman). Many of these articles were written a long time ago and Populous being a start-up and an industry trailblazer pioneering a new way of doing things will mean that some of the assumptions made have changed. Nevertheless, the principle outlined in the articles still applies. So read those articles to help you formulate questions that you can ask to help you understand
Should you have any questions concerning Populous you can ask Populous through Slack, Bitcointalk forum, Populous Official Telegram or Twitter Account for answers and clarifications.
However, do bear in mind that Populous are not financial advisers and cannot respond to questions that are of a financial nature. The onus is on you to make that determination and what it means for you as a PPT holder.
This is NOT Financial Advice
The contents in this article are for educational purpose only and should not be construed as financial advice. As usual do not invest more than you can afford to lose as these investments can go to zero and always do your own due diligence. If you need financial advice then speak to a licensed financial advisor.
Feel free to comment as you see fit below.
---
I'm just letting off Steem, if you found this post informative then UPVOTE (with FULL POWER), COMMENT, FOLLOW and especially RESTEEM.
Live Long and Prosper
---
I wrote this article myself and it expresses my own opinions. Computer literacy is crucial in this day and age, and just because someone tells you it is good, it does not mean that it is good for you.