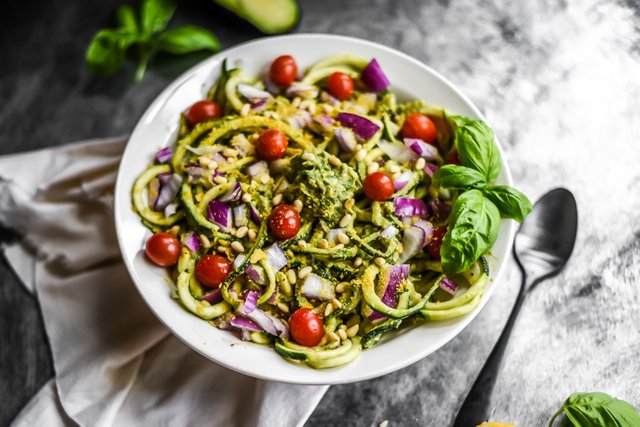 I think I've discovered my favorite new Summer side salad!
So I know I totally dropped the ball on getting a red, white, and blue themed recipe up for all my friends here in the States. I don't know, I just had so many recipes lined up before the 4th that I had to share. The good news is that this salad is perfect for a picnic on a hot Summer day. In fact, all the bursting colors sort of remind you of fireworks, no?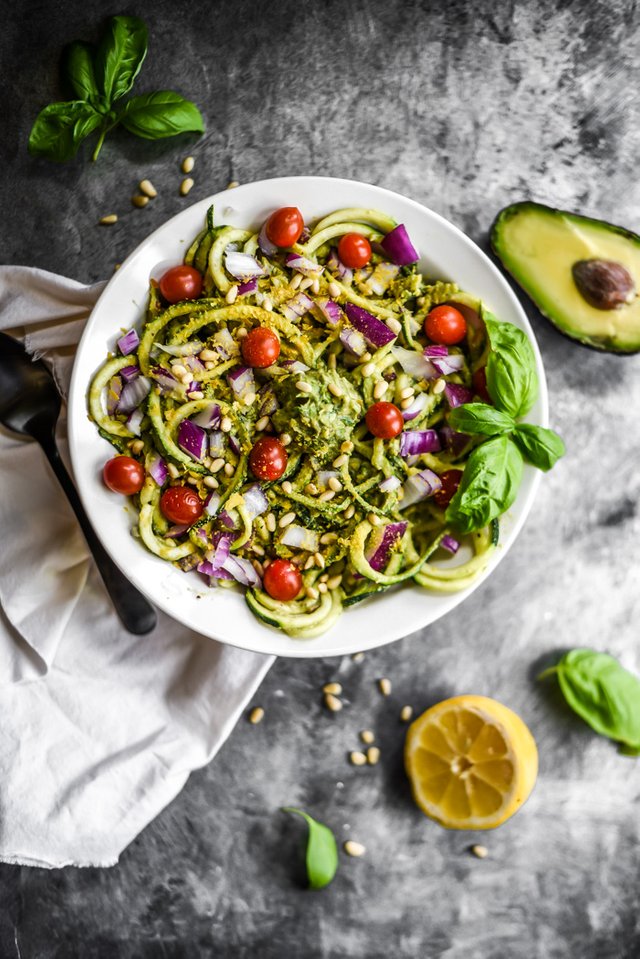 I've had a spiralizer for a while but because it's not a tool I keep in plain sight I tend not to use it as much as I'd like to. This salad though, it may have changed that and the key component is the pesto. It's made with just a few simple ingredients and they're all just thrown into the blender. Done.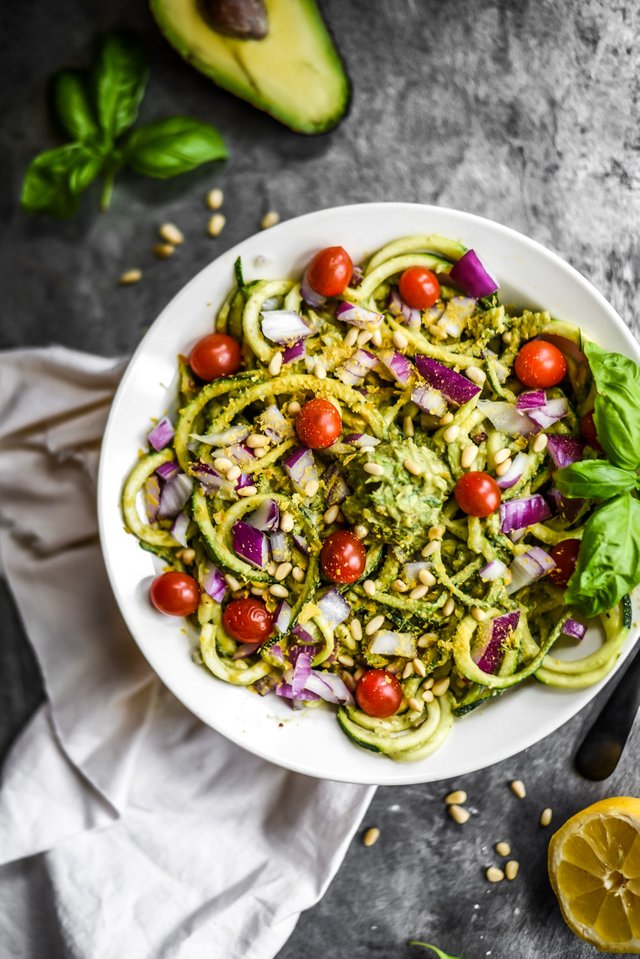 Now I know there are some that would argue zucchini noodles are nothing compared to regular pasta and you know what, I couldn't agree more. The point of the zoodle is that it's just the most fun, and for me enjoyable, way of eating zucchini (or possibly tied with zucchini bread 😉 ).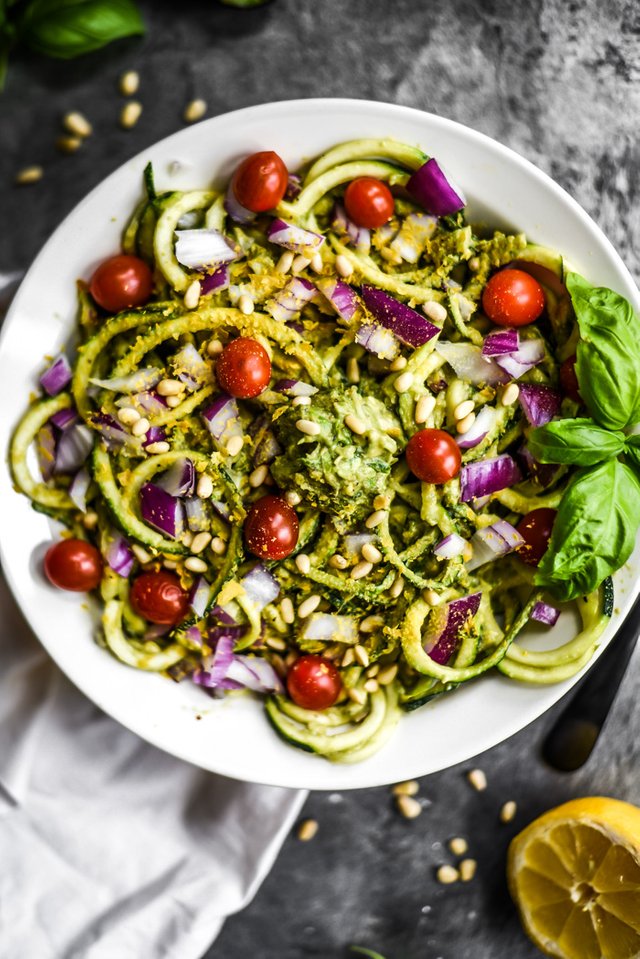 Like I said, the pesto is simple. Just a handful of ingredients pulsed together and tossed with zoodles, red onions, pine nuts, and cherry tomatoes. If you would rather use a nut instead of pine nuts, go for it. Also, to be completely honest, cherry tomatoes aren't one of my favorites so if I made this just for me I'd use some red bell peppers in their place.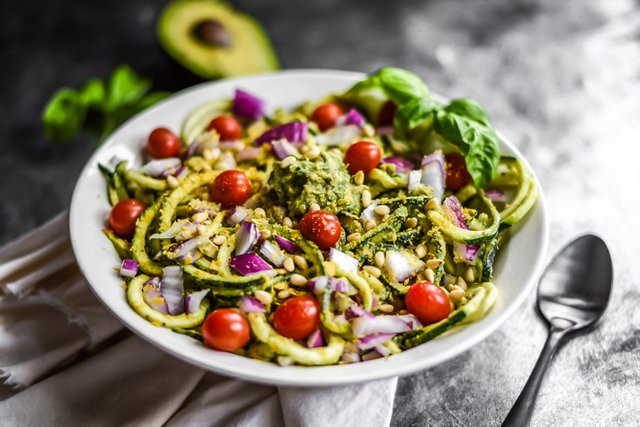 Guys, guys, this salad is way better than it even looks. I know the sight of so much green might be off-putting to anyone who doesn't eat a lot of veg, but if you have any curiosity about this one, try it. And by the way, it's also gluten free, dairy free, vegan, and requires no cooking at all!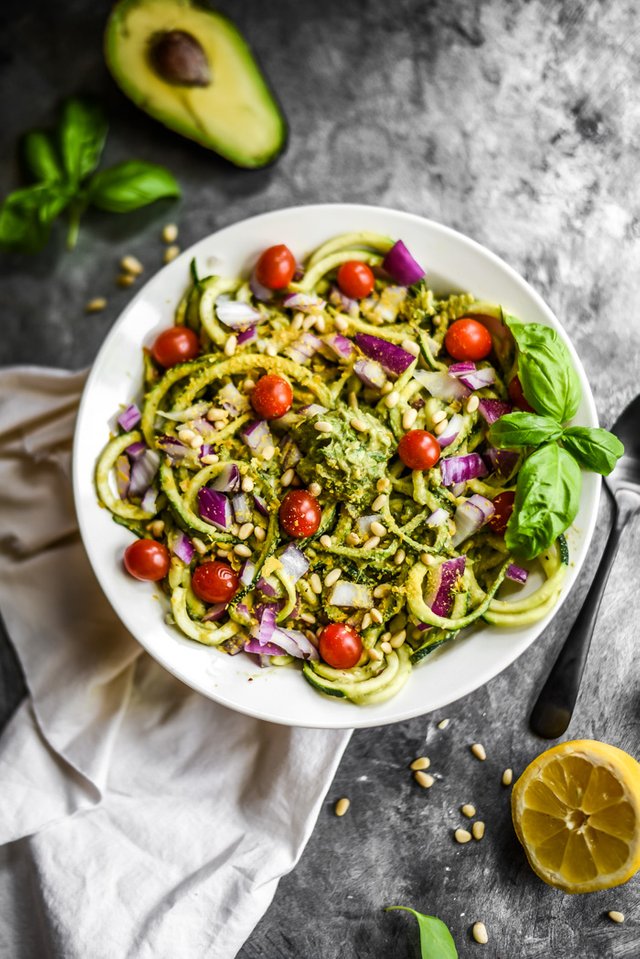 One last tid bit I should add is that this salad's only weakness is that it doesn't save well. No worries though, you can still make it ahead and just keep the pesto separate from the veggies. When you're ready to serve, just toss it all together and you're all set.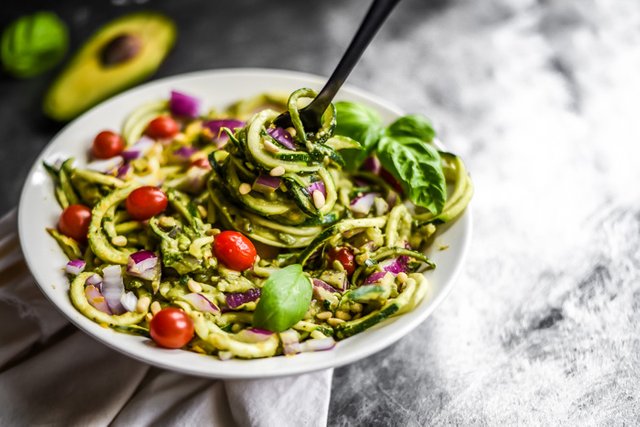 Creamy Avocado Pesto Zoodle Salad
Prep Time: 20 minutes
Total Time: 20 minutes
Yield: 3-4 servings
Show the word that "salad" doesn't have to be a boring pile of lettuce with these epic avocado pesto zoodles!
Ingredients
2 medium zucchini, spiralized
1/2 medium red onion, diced
1/2 cup cherry tomatoes

Pesto:
2 tablespoons walnuts
1/2 cup fresh basil leaves, washed
2 tablespoons nutritional yeast, plus more for topping
1 ripe avocado, pitted
2 teaspoons, fresh garlic
2 teaspoons freshly squeezed lemon juice
1/2 teaspoon pepper
1/2 teaspoon sea salt
Instructions
Combine the ingredients for the pesto in a blender or food processor and blend until nearly smooth, but still slightly textured.
Toss the pesto with the zoodles, onion, and cherry tomatoes in a large salad bowl. Top with the pine nuts and some more nutritional yeast and serve immediately.
Notes
This salad is best served fresh. If you need to prepare it ahead, simply store the pesto in an air-tight container separate from the veggies and toss together just before serving.

ALL CONTENT IS MINE AND ORIGINAL! All of these food photos were taken with my Nikon D750 and my favorite Lens, the Nikon AF-S FX NIKKOR 50mm f/1.8G. You can find out more in my INTRO POST.
And, by the way, to all the minnows out there, my intro post did a huge $0.21. The key to success on Steemit is to be consistent and persistent. Click on the link below for some great tutorials on how you can also succeed on the steem blockchain: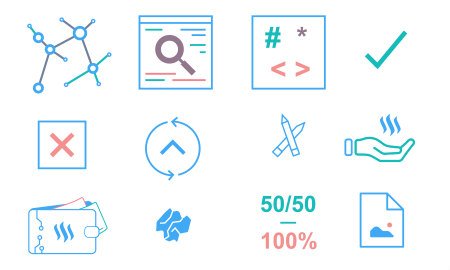 Also, a huge shoutout to @rigaronib for designing my logo!
If you're looking for more recipes check out some of my other recent posts!
Also, I've been starting to vlog in case you missed it.
Do you want to learn more about me? Click here to see a recent @wadepaterson interview with me - 20 questions with @gringalicious