A miko collecting the shrine's morning donations.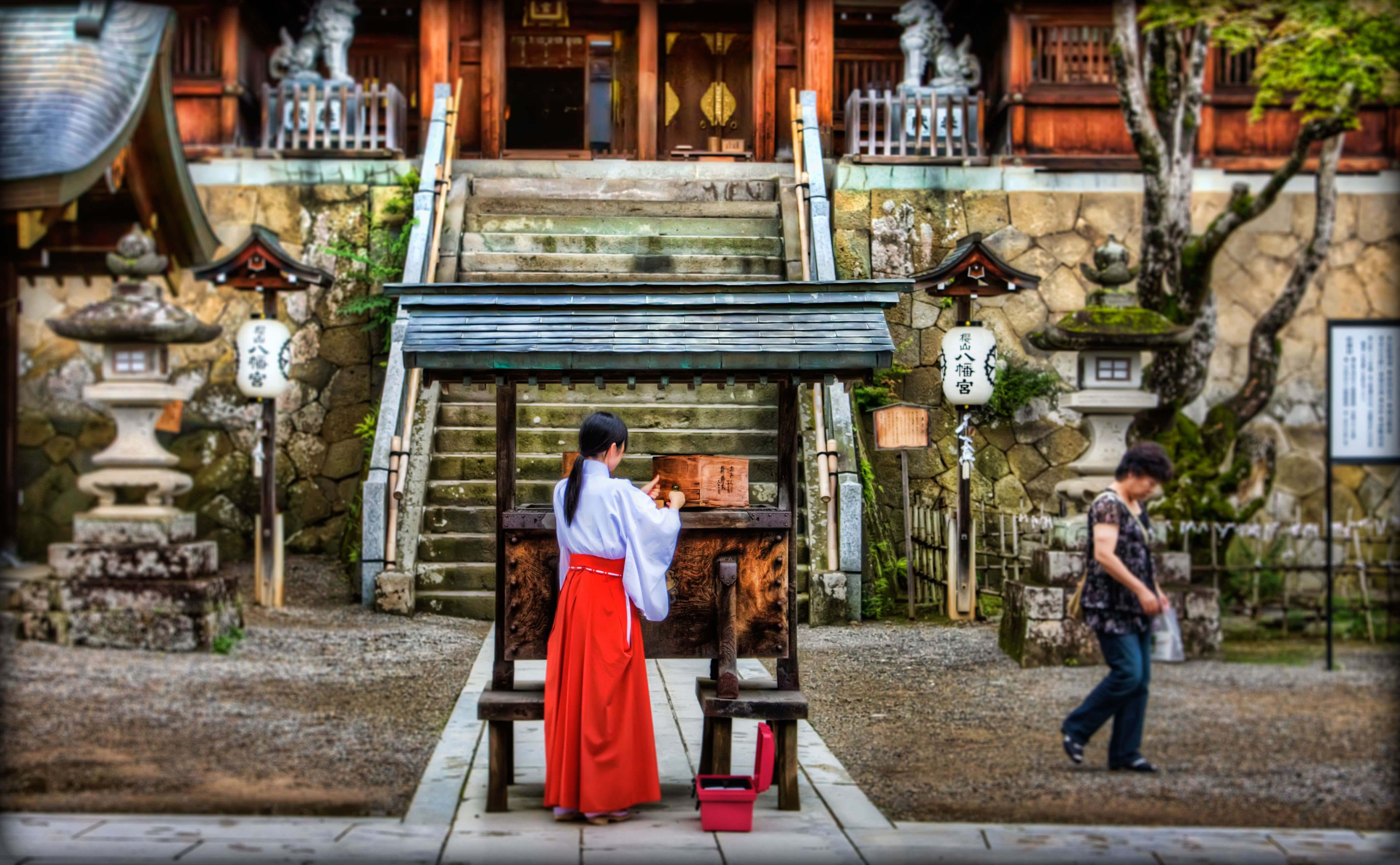 (click for a larger view)
In Shinto, traditionally miko (me-koh) were the daughters of the Shrine's priest and held an important place in running the shrine. These days, however, a miko is simply a shrine assistant, likely only holding the position as a part-time job during college. They do odd jobs, sell souvenirs and fortunes, and maybe do some dances in traditional events.
I love the outfit. Nice and simple.
Most people donate a little when they visit shrines. The most popular amount to give is 5 yen or 50 yen. Both of those coins are considered lucky due to the hole in the middle.
---
Do you want to use this photo in one of your projects? You can! See here for details.
---
Don't miss the other great photos in the Beautiful Japan photo series!
#1–10 — Beautiful Japan, Collection #1
#11–20 — Beautiful Japan, Collection #2
#21–30 — Beautiful Japan, Collection #3
#31–40 — Beautiful Japan, Collection #4
#41 — Cherry Blizzard
#42 — House in the Sky
#43 — Explosive Clouds
#44 — Angry Sky
#45 — Autumn Reflections
#46 — Bliss of the Blossoms
#47 — Flight of the Birds
#48 — Hiding in the Crowd
#49 — The Laughing Buddha
#50 — This Old House
#51 — Remember the Rice Fields Where We Once Played
---
If you enjoyed this post, please like and resteem. Also be sure to follow me to see more from Japan everyday.
I post one photo everyday, as well as a haiku and as time allows, videos, more Japanese history, and so on. Let me know if there is anything about Japan you would like to know more about or would like to see.
---
| | |
| --- | --- |
| | David LaSpina is an American photographer lost in Japan, trying to capture the beauty of this country one photo at a time. |