I was at the recent prize award ceremony for the DBS - NUS Social Venture Challenge Asia. It was held at the University Cultural Centre in the National University of Singapore.
This was the post about the social enterprise which I introduced before after the ceremony:
On my birthday, introducing a Social Enterprise

After the award ceremony ended, I left and saw this piece of art outside.
Unmistakably, it says "I Was Here". Yes, that will be the thoughts of many people.
Graduates of the university. Yes, "I Was Here".
Attending a show or event or graduation at the culturual center. Yes. "I Was Here".
Just passing by to the neighbouring musuem. Well, not quite for me but I am sure someone was here. 
Somehow, it reminded me of naughty graffitti that also goes by "I was here". :-)

最近到过新加坡国立大学的国大文化中心参观了一个社会企业比赛的奖颁奖典礼。
之前,写了一帖介绍过个爱心企业:
今 天生日给你介绍一个爱心企业
当天典礼完毕后,走出门外看见这艺术品。清楚的用英文表明 I WAS HERE。意识是"我来过这里"。这可真的是很多人的思想。


毕业生。 是,"我来过这里"。
观看节目或参与毕业典礼和其他活动。是,"我来过这里"。
人甲经过到隔壁的博物馆。不是我但肯定有过不少路人甲乙丙丁来过这里吧。

看了免不了想起有些人到某某地方喜欢涂鸦一番"我来过这里"。:-)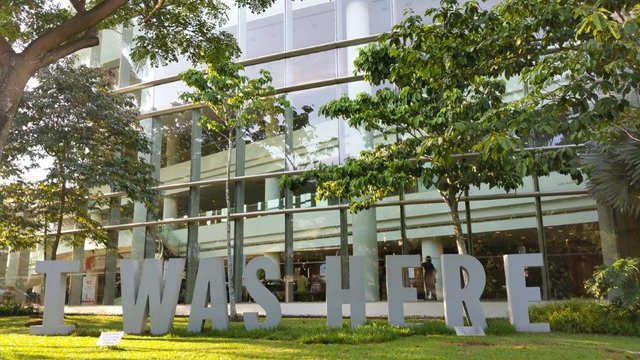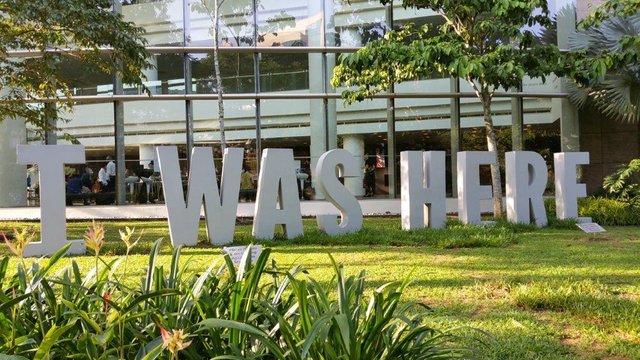 There's a description of this work there.
那里有一则介绍。只有英文版。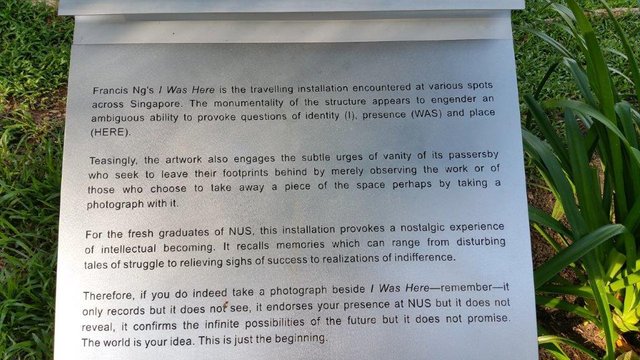 ---
Note: All photos were taken by me using a mobile phone. Minor post processing  to resize images to smaller size.
注:所有照片都是小弟我用手机拍的。照片有用软件处理过-为了缩小图片的档。
---
Here are my recent post:
这是我最近的帖:
Please see my other posts: ace108
请看我其他帖:
@ace108
#photography
#art
#singapore
#cn
#steemsquad
---
If you enjoy this post, please vote and share any feedback you may have.
Thank you for reading.
Have a nice day.
如果你喜欢这帖,请送个"赞"。请分享任何意见。
谢谢观看。
祝你今天愉快。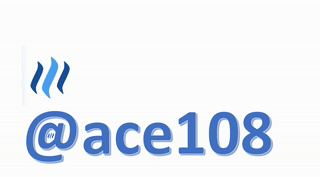 ---