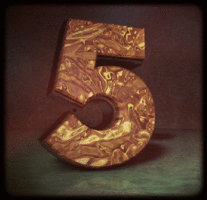 ---
---
THIS WEEK HAD 280 VALID ENTRIES!
---
My Top 5 In Order
---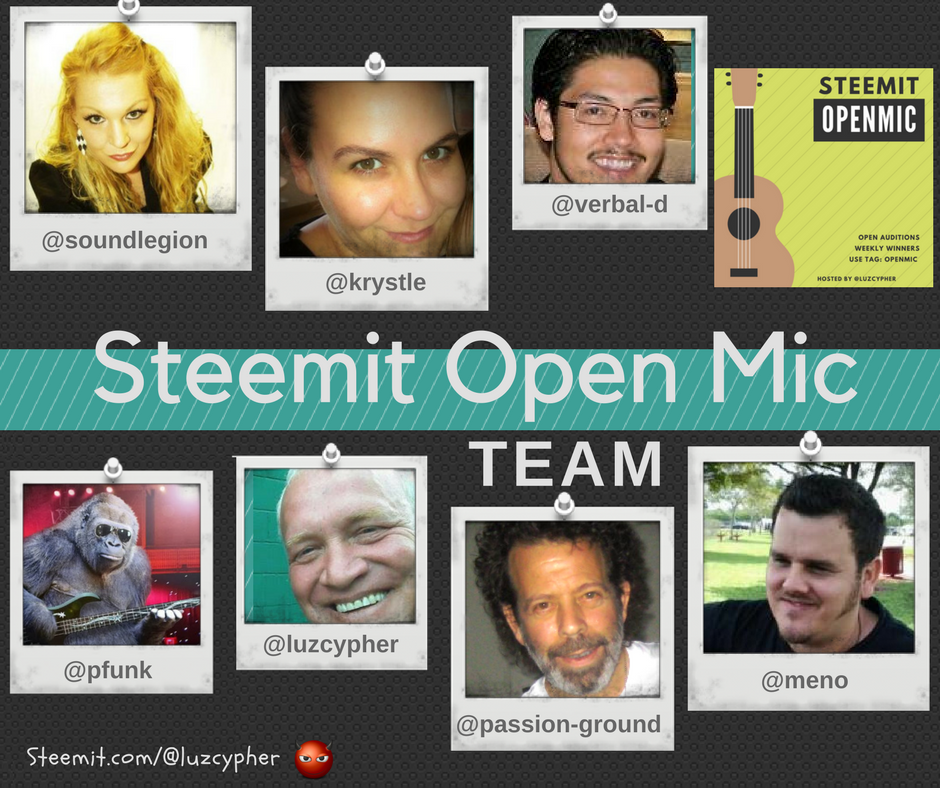 ---
As one of the 6 judges, and as an original artist also, I aim to represent the best original artists in this contest from our wonderful Steemit community. I am keeping my ears open for cover artists as well, don't worry but creating an original song is indeed impressive, especially if executed and performed well. Best of skill and performance to you all next week. This week was filled with so many wonderful artists, even amongst the high amount of entries, and there were still many talented performers who entered, so forgive me if I didn't list you, I definitely heard everyone's entries. Also, be sure to check out the other judges' top picks for the week, @krystle, @soundlegion, @passion-ground, @meno, and @luzcypher, who hosts the Open Mic Contest. See you next week! And don't forget to please vote for @Pfunk, @Ausbitbank, & @Teamsteem as witnesses here https://steemit.com/~witnesses, all three of whom are our biggest supporters equally who help to run, fund, curate, build and expand the Open Mic Contest.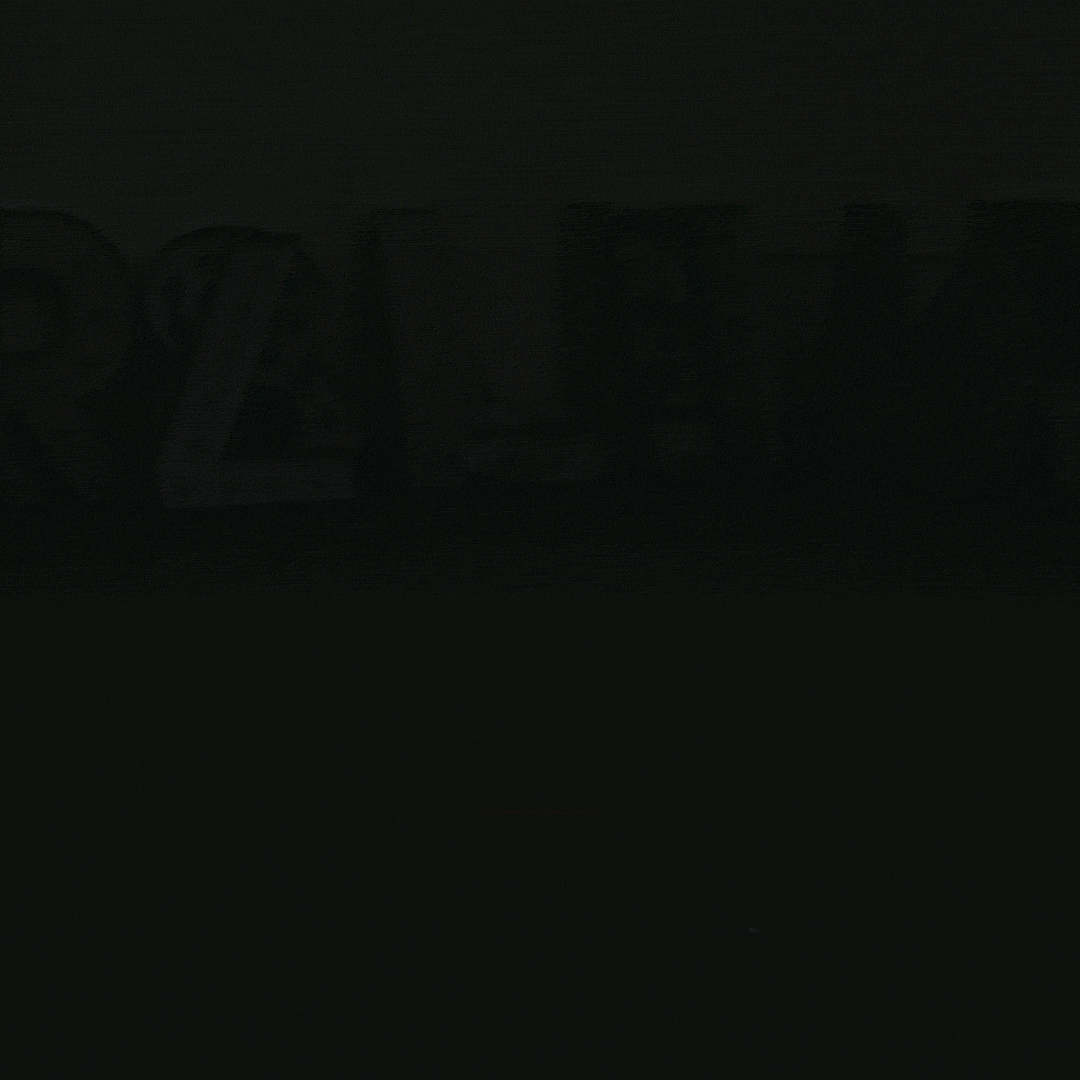 ---
---
I've fallen so far behind on comments and replying to them it isn't even funny. But I appreciate all the love, positive thoughts and support I have received from you all during this tough time. I am at 85% health, feeling better than ever besides some episodes of heavy allergy attacks aka Hay Fever, and the family emergency has been attended to and handled well. I look forward to getting back into the groove of things now that I have returned from a crazy flight journey and stay tuned for more reviews and music updates. Stay sharp everyone and best of skill to you, luck has no place in open mic :)
---
---
---
1. @lecocoramos' "Can't See My Love" Original Song
You gave a very heartwarming and profound performance, full of raw emotions and revealing true heart breaking lyrics and a wondrous wailing vocal that is complimented by the soft ebb and flow of your sad and reminiscent piano chords. This was a great original song with high quality production and thank you for sharing this gem with us all. You are definitely deserving of recognition and praise for what you bring to the open mic and music community here on Steemit. Looking forward to your next entry.
https://steemit.com/openmic/@lecocoramos/steemit-open-mic-week-88-coco-ramos-can-t-see-my-love-original-song
---
2. @p4ragon's "Elastic Heart" By Sia Cover Song
You did a really nice job bringing this cover song to life. You performed this with intense passion and a careful tonality that showed your range and singing ability. I have heard many cover versions of this song, but you pronounced and enunciated the words so eloquently and precisely that I understood every word and line. Thanks for sharing this moment with us and making it look easy. Looking forward to what you perform next.
https://steemit.com/openmic/@p4ragon/steemit-open-mic-week-88-cover-elastic-heart-sia
---
3. @moderndayjester's "A Jesters Tale" Original Song
I have always enjoyed your style and approach to bringing epic beatboxing together with a wide range of piano playing styles. The Hip Hop shall continue to resonate in beautiful churches wherever you travel and explore. This was definitely a favourite performance and entry of yours. You were very well poised, focused and creative with the bass lines and transitions. Keep holding down your sector, nobody is doing what you're doing currently in the open mic community and that helps you to stand out from the rest. The entire musicality of this piece is so suspenseful and climactic. Great job and thank you for sharing this gem with us. Looking forward to your next composition.
https://steemit.com/openmic/@moderndayjester/steemit-open-mic-week-88-a-jesters-tale-original-modern-day-jester
---
4. @darrenclaxton's "Breathe" Original Song
The more you play and sing your original music, the more and more your style grows on me. You are quite artistic and simplistically clever at how you craft and present your songs. You give often feel good vibes and a home warming welcoming ambience, especially with this gem you have shared with us this week. This is one of my favourites from you and you are improving every week with cunning flair and displayed skills making it all look effortless. Keep singing true from the heart and soul, and spread that positive love and inspiration to your beautiful children, your loved ones and all those you can affect. Music indeed changes lives and this was a great masterpiece with sentimental and profound linings. Thanks for sharing, looking forward to what you perform next.
https://steemit.com/openmic/@darrenclaxton/steemit-open-mic-week-88-original-song-breathe-by-darren-claxton
---
5. @benlopr's "Hello Ma Baby" By The Chordettes Cover Song
This was a nostalgic and nice surprising entry that shows your classy style, paying homage to the old classic tunes that have a timeless sound. You performed this wonderfully with lovely harmonies, and as many have told you, yes you have a great singing voice that is quite versatile as it is capable of executing various styles of music with varying degrees of difficulty. Keep your vocals sharp and taking creative risks such as this one. It was a top. notch cover choice and you are adding so much value and variety to the open mic community and us judges who listen to everyone's entries. Thank you for sharing your gift of music and your love of it, giving us such a passionate and fun entry. Looking forward to what you pull out for us next.
https://steemit.com/openmic/@belenlopr/steemit-open-mic-week-88-hello-ma-baby-cover-vintage-style
---
---
---
Honourable Mentions
My Top 7 In A Particular Order : )
---
---
---
---
More original music from me coming very soon, stay tuned to my profile these weeks. I'll be releasing more live performances and professionally recorded tracks shortly.
---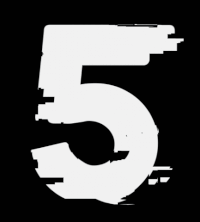 Thank you for viewing and reading this post in its entirety, I hope you enjoyed it for what it's worth.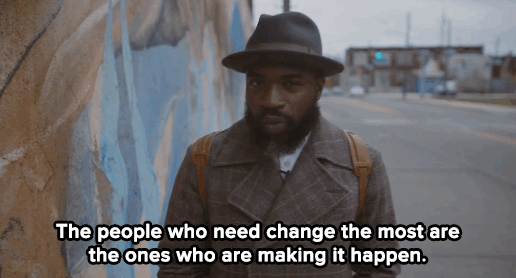 ---
All Gifs used from Giphy.com
Next Post coming tomorrow