OFFICIAL: Open-Mic | @passion-ground's Top-5 Entries for Week 84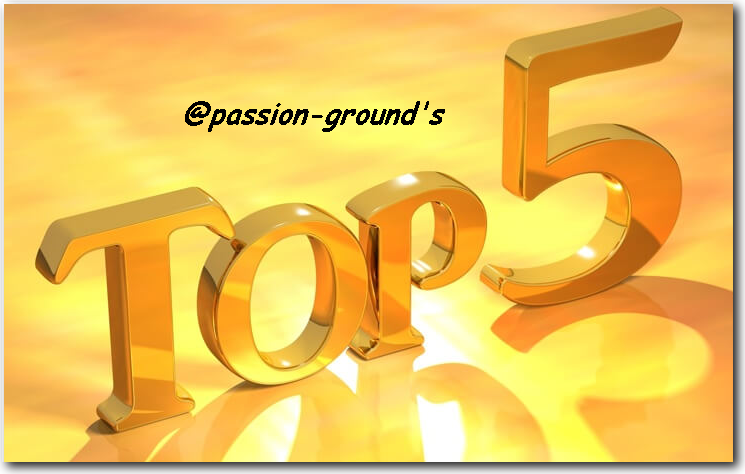 Summary
...Holy Cow! Man, what a week! The combination of trying to figure out how to register my EOS tokens/wallet by June 1st in conjunction with Steemit going off-line for a stretch on Thursday - in concert with trying to temper some valid and not so valid concerns of some entrants who feel somewhat disenfranchised with regard to "voting-trails," "voting-bots," "paid-for-votes," and the numerous imperfections of "Steemit," - we nonetheless made it through another week, for better or worse!

Yes, there are a lot of things wrong with the current manifestation of the Steemit blockchain protocol as it were. Right now, however, it's the best we've got! I myself would be favorable to more of a "structured decentralization" of blockchain participation as it were, but that's a topic for an entirely separate blog post.

For now, everyone needs to know that their musical and artistic contributions extend far beyond that of mere votes, earnings, rewards, and the like. The groundwork that The Open-Mic, a "decentralized-structured-community," is laying down here is one of enduring value and artistic integrity, which should not to be confused with whether or not a given Open-Mic post is "trending," or has been "upvoted" by a whale/witness, or anything of the sort. Quite the contrary…

Your individual worth as an artist is NOT determined by a simple series of impetuous up-votes from " who knows where" nor is it determined by whether or not you "place" in any of the judge's top-5 lists. Your worth, is simply "what it is," and it is "what you believe and will it to be!"

Your due diligence and work efforts relative to your personal artistry and ambitions shall forever remain emblazoned on the blockchain until the end of time. Just think about that for a minute before you fly off the handle with petty grievances or anything of a similar sort. There are more proper times and places to explore, express, and expose all such relevant grievances. To ponder doing so amid the comment threads of another artist's entry is in my opinion, surely not one of them.

Yes, "proof of work" and a "consensus" of sorts is most certainly a "must-attain" prerequisite and gage of one's efforts, however, the entire process of achieving such begins with the most basic and simple belief in oneself. It is nothing more, and nothing less.

Regardless of venue, there isn't one single station in life that is entirely "ALL about "US" as solitary individuals. The Open-Mic is most certainly no exception to this irrefutable universal rule. Unless one is being specifically targeted in a malicious and spiteful manner without justification or sufficient cause, there is simply no grounds to complain and use oneself or one's ego as the center of such grievances or misaligned focus.

With that said, I suppose the takeaway here is to "just keep believing in YOURSELF" – have fun with this otherwise challenging and subjective topic – and continue producing that which you most enjoy producing – and in the process, figure out a way to financially empower yourself to do so endlessly - until such time as you decide to pursue other venues of satiation to suit your particular needs and desires.

In due course, it is my hope that all of the weak links within the various protocols of current engagement relative to "Steemit" will be minimized if not altogether eliminated. What we end up with on the other side will hopefully be something of enduring merit and longevity, which will take each and every last one of us toward the next level of universal enlightenment, productivity, and duly-earned abundance.

Be it on "Steemit" or any other EOS based social platform or anywhere, we must all be ready to meet the challenges that the future most assuredly promises. Be ready, be smart, be patient, be flexible, be adaptive, be prepared, be gentle, be driven, have fun, and if you play all those cards right, you shall rule your world and reality for as long as you wish.

Be honest, be kind, be humble, take "NO SHIT" from anyone, and "Take No Prisoners" along your hard-fought journey. In any case, for what it's worth, this is my unprofessional advice, for the 2-cents or less it may be worth in the open marketplace of general ideas. So, no, you can't take this outlandish advice to the bank, whatever that may imply… Take it to a worthy blockchain instead!

VOTE for These WITNESSES... ... RIGHT NOW!
IMPORTANT: Before we move on, please don't forget to vote for @Pfunk, & @Teamsteem as witnesses! Both of whom are big supporters and play major roles in helping to run, fund, and curate, build and expand the Open Mic contest.
YO, MAN – AS I WRITE, @PFUNK IS SLIPPING BENEATH THE 20 LEVEL PEOPLE… WHAT'S UP WITH THAT, FOLKS? I HAVE JUST ONE QUESTION: HAS EVERY SINGLE INDIVIDUAL LISTED IN THE CURRENT "SEE WHO PLAYED LIST" VOTED FOR @PFUNK AS WITNESS? CHECK YOUR SHIT PEOPLE, AND IF YOU HAVE YET TO DO SO – DO IT NOW!
In addition to the above-mentioned witnesses, I am also adding @curie and @cervantes to my esteemed list of "must-vote-for" witnesses. @curie and @cervantes provide a great deal of support directly to many of our most outstanding musicians, and we should all support them in kind. You can vote for all of them right now by going to this link: https://steemit.com/~witnesses

With all of that said, following some further insights as to how I judge entries, let's get on with it, shall we?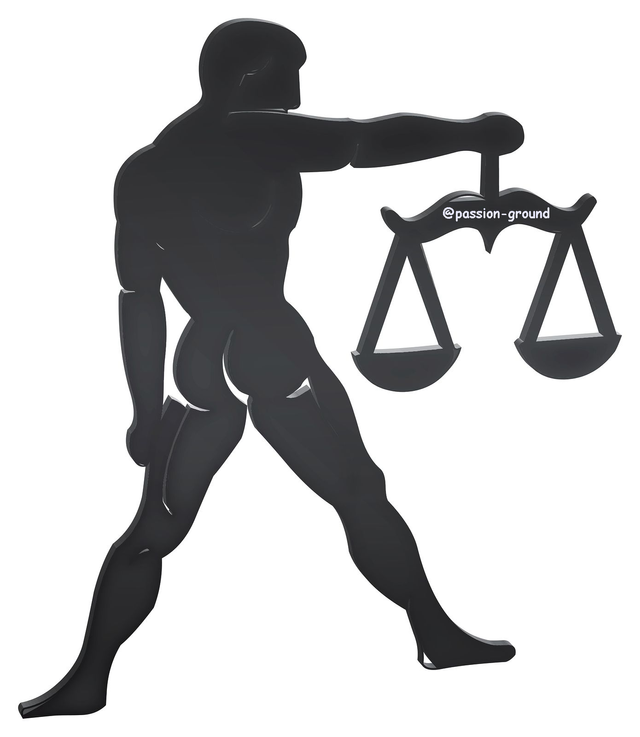 My Process

As one of the esteemed Open Mic judges, it is my job to come up with (or "curate" as it were) a short-list of my top 5 entrants each week. With all of the great talent here, that is by no means an easy task. Sure, tossing in another 5 honorable mentions helps, but not when my weekly list starts out with 100 or more of my favorite entries... You guy's rock - I'm tellin ya!

Yes, I am a Libra – so I have an inherent drive deep within me to be fair and balanced – good qualities for a "judge" if you ask me. That being said, I'm still human – filled with emotion and subjective feelings – just like you. So, in order to mitigate my subjective tendencies to the best extent possible, I've come up with a method by which to narrow down my selections in a more objective vs. arbitrary manner.

Here's how I go about my personal judging process: I first start out with a list of 100 or more of my most favorite entries for the week, and score them (yes, subjectively) in six distinct categories via a spreadsheet. The categories I've selected for scoring are in general harmony with those explained by @luzcypher in his post titled How We Pick The Top 3 Entries, referencing such.

To get a more in-depth perspective as to how I personally go about selecting my artists, please refer to What I go through as an Open-Mic Judge.

Even though it's still a "subjective" process – diligently going through each scoring category to come up with a "total" score for each entrant helps to minimize any overzealous subjectivity that I may harbor with respect to any specific entrants.

Quite often, this exercise doesn't give me the exact results I would personally prefer to see – but that only means that my system of judging is working as intended and designed. With all of that said, here are...
My Top-5 Picks in Order

FIRST PLACE: @lillywilton - The Burn I've Learned to Love - (Original)
It is instantly apparent in listening to and viewing "The Burn I've Learned to Love" that Lilly has got it all going on every which way from Sunday! Not only is she quite charming and rather beautiful, but she is one extremely badass singer-songwriter, performer, poet, and composer! This week I was clearly smitten by her talents and charm. I simply fell head over heels for Lilly, her song, and her performance, and I suspect you will too!
https://steemit.com/openmic/@lillywilton/steemit-openmic-week-84-the-burn-i-ve-learned-to-love-original

SECOND PLACE: @lisamalletart – Enrola Bola - (Original)
Gosh, the girl who Lisa explains inspired this song, must be a super special person because wow, what an extraordinarily beautiful song emerged from their acquaintance with her! Typically full of fun, frolic, and laughter, this performance is somewhat of a slight departure for Lisa and @rhavi in that it's a song of love, internal struggles, sorrow, joy, and pain. Despite the lyrical content, one still can't help but feel happy listening to them both. It's quite beautiful, Rhavi's performance is terrific, and Lisa's voice is simply divine. Their entry rolled me up in a ball of ecstasy from which there is no clear escape!
https://steemit.com/openmic/@lisamalletart/open-mic-week-84-lisa-and-rhavi-or-enrola-bola-original-song

THIRD PLACE: @daily-musings – Expensive Wine - (Original)
Wow! What a maiden Open-Mic entry! All I can say is that I can't wait to see and hear a whole lot more from @daily-musings. Her composition, "Expensive Wine" is most awesome, poetic, beautifully sung, and brilliantly performed. We now have yet another outstanding singer-songwriter poet to welcome to the Open-Mic. This one is a sleeper that went mostly under the radar, check it out, you're gonna love it!
https://steemit.com/openmic/@daily-musings/expensive-wine-or-daily-musings-original-song-or-steemit-open-mic-week-84

FOURTH PLACE: @tomashofficial – Somebody That I Used to Know - (Cover)
My man Tomas is back in my Top-5 once again! He calls this a "cheeky cover" but man; his rendition just blew me away! I've never heard the song before, so I have no reference, however, after hearing Tomas's version, I really don't think I need nor want another reference. His timing and rhythmic abilities are flawless and machine-like, while his vocal tones, cadence, and inflections are equally captivating. Thank you for this rather amazing "cheeky cover" brother, we love you too! This is another sleeper that went under the radar, so open his link and give him some big love, okay!
https://steemit.com/openmic/@tomashofficial/steemit-open-mic-week-84-somebody-that-i-used-to-know-cover-gotye

FIFTH PLACE: @luisferchav – Paper Thin - (Original)
I am so glad that Luis is back! He explains his recent absence was in part due to a bit of a creative dry spell, which he's very much gotten over quite obviously. "Paper Thin" is brilliantly written and performed. Quite talented as a production engineer as well, Luis used looping techniques and the like to fashion his artistry in a most endearing and captivating manner. The story told is very intense, and truly relatable, and his harmonies haunting and pleasing all at the same time. All good things are worth waiting for, and Luis's return with "Paper Thin" is one of them!
https://steemit.com/openmic/@luisferchav/steemit-open-mic-week-84-paper-thin-original-song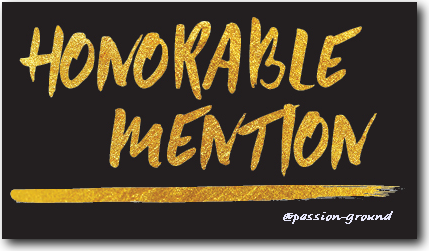 My Top-5 Honorable Mentions in Order:

First: @funkmedia – Special Affair - (Cover)
https://steemit.com/openmic/@funkmedia/steemit-openmic-week-84-funk-media-ft-coco-and-nano-cover-special-affair-the-internet

Second: @vera.carla – Raro - (Original)
https://steemit.com/openmic/@vera.carla/steemit-open-mic-84-raro-weird-original-song

Third: @samidbarid – Fall - (Original)
https://steemit.com/openmic/@samidbarid/steemit-open-mic-week-84-sami-d-barid-fall-original-guitar-song

Fourth: @novumorganon – Another Brick in the Wall - (Cover)
https://steemit.com/openmic/@novumorganon/nzt2zqip

Fifth: @cesaralejandro – Todo Cambia - (Original)
https://steemit.com/openmic/@cesaralejandro/steemit-openmic-week-84-todo-cambia-everything-changes-original

Thank you for reviewing my selections for this week's Open-Mic contest. If you find this content I've curated entertaining and of value to you, then please consider up-voting and/or re-steeming it.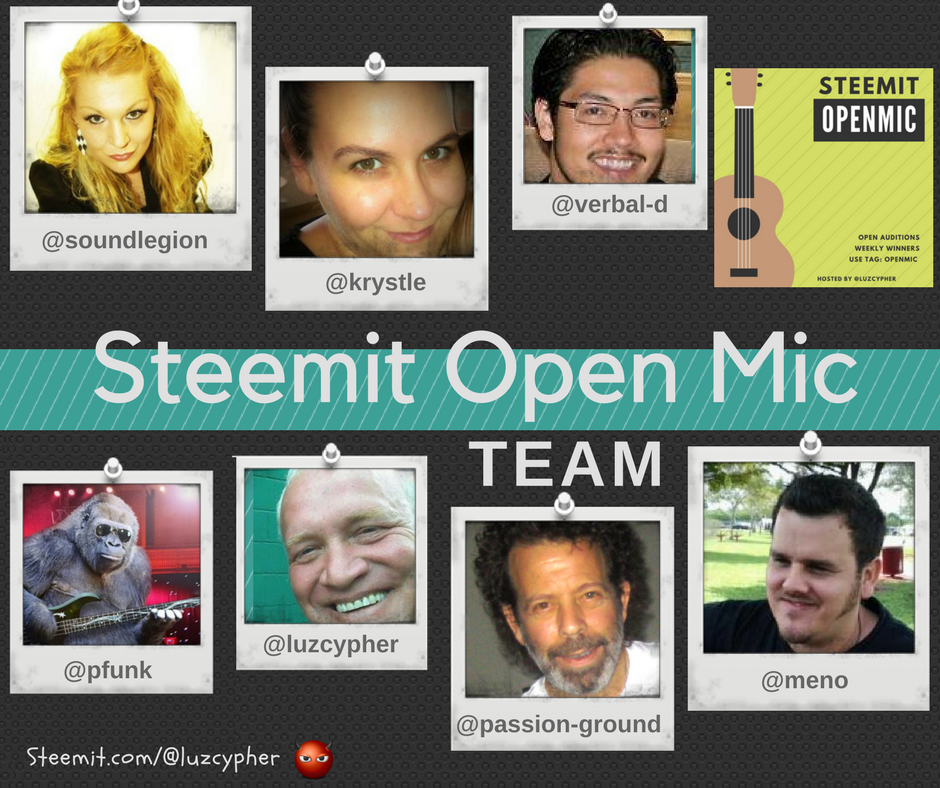 Peace, Love, and Justice for All

A Very Special Shout Out To:
The following 20 artists who were very much on my radar, each within a splitting hair of making it into my overall top-10, and whose performances I loved, cherish, and respect most assuredly. This special list is very much an extension of my most honorable mentions.

They are - in no particular order:

@miguelblanco, @pechichemena, @ilazramusic, @abelfernandez, @melavie, @paintingangels, @vladoramirez, @moccamonica, @kayclarity, @shookriya, @williamsreinoso, @lorenzopistolesi, @juliolunar, @rjcha, @nirtsfaty, @wilins, @k0wsk1, @ingridkornelia, @moderndayjester, and @melodeons!


Another Special Shout Out To:
The following artists whose performances I very much enjoyed this week.

They are - in no particular order:

@maerod, @leomolina, @cesaramos, @klynic, @edwardstobia, @olvidesantelmo, @lifetipsbysn, @senzenfrenz, @acousticsteveo, @mrjl, @yulita, @yrmaleza, @enazirma, @yenibe, @jonsnoww, @guifaquetti, @gibber, @that.bass.guy, @cellomusic91, @ikasumanera, @arrozymangophoto, @jembee, @mcmusic, @musiccircle, @juliopalomo, @prayer11, @ferchemusico, @danieldedosd2, @elmaster, @melbookermusic, @melor9, @grayarty, @calule7, @ceparl, @scottone, @verhp11, @lyndsaybowes, @armoniritmia, @juanhobos, @baiver86, @hienco, @adrianjordaz, @pipomontilla, @andreabortone, @paskha, @itslobianco, @wethepatsies, @cabelindsay, @drewley, @camuel, @miaapado, @alejandra23, @jons0318, @williansjmm, @manurodriguez, @jerrytsuseer, @tarotbyfergus, @robertonavs, @yetxuni, @sanelleadguitar, @etemi, @tcpolymath, @sallyswitchblade, @soykatonline, @fael, @jgvinstl, @mujicamarian, @jesusfernandez, @denis.savisko3, and @lauriane!


Much love and thanks to each and every one of you who have touched a part of my heart and soul - not only this week but forever!