[TRAVELTIPS] Public transportation in Rome
If you plan a vacation in Rome, you should be informed about the public transportation. I will provide some essential information, which will help you getting around in Rome.
Rome has a variety of cheap and user friendly public transportation (I'm not including in this post the taxis, because in my opinion they are not worth the money – beware of overcharging!).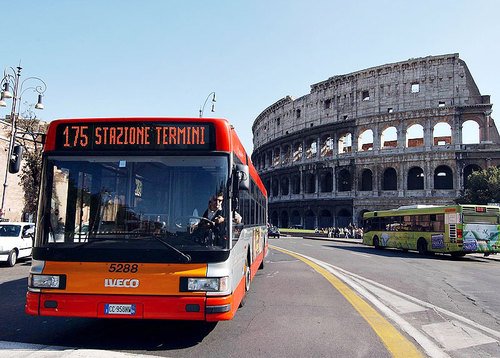 Source
Buying tickets/travel cards and how to validate them

You can buy several types of tickets and travel cards from the vending machines in the metro stations, news stands near bus stations or convenience stores.
!TIP: If you arrive at the Ciampino Airport you'll see in front of the airport a big bus station. Spot the big, brown "ATAC" bus, from where you will buy your tickets.
It looks like this, but it's kinda' browner now and it has the "atac" logo on it.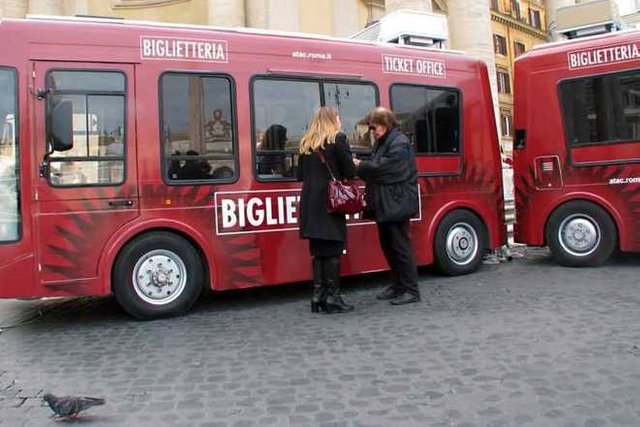 Source
Types of transport tickets

One-way ticket - BIT
This ticket lasts 75 minutes since the first validation. You can use in this timeframe the metro, buses, trams and urban trains. The only thing that isn't allowed is to leave the metro and return by the metro turnstiles, even if it's in the 75-minute timeframe.
Price: 1.50 €
Day pass - BIG
This ticket allows unlimited transportation from the moment of validation until midnight of the same day.
Price: 6 €
3 Day Tourist Pass - BTI
The ticket gives visitors unlimited use of the public transportation from the moment of validating and for the next 2 days.
Price: 16.50 €
Week Pass - CSI
Is valid for seven days, from the moment of validating on the first ride.
Price: 24 €
!Important: Don't forget to validate the ticket on your first ride. You will need to validate it just once, on your first ride and after that you just use it at the metro station to open the turnstiles. And don't lose it!
After purchasing a ticket or travel card, let's see how to validate it:

Validating card at the metro station: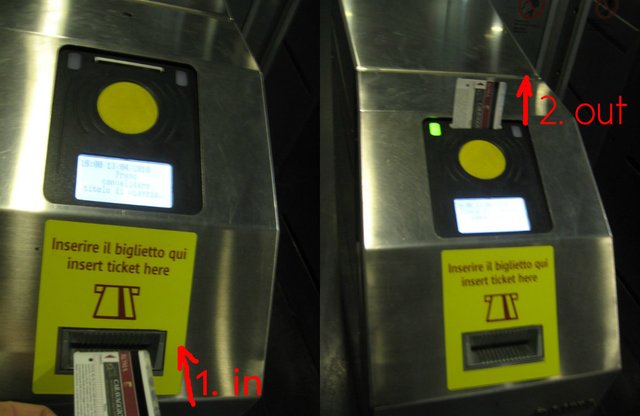 Source
Validating card at the train station: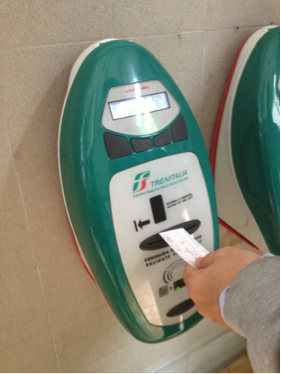 Source
Validating card in bus or tram:
!Important: Don't give up! It's confusing at first. The hole from the card should be on the right like in this image to be able to validate your ride, otherwise it will not validate your ticket/card.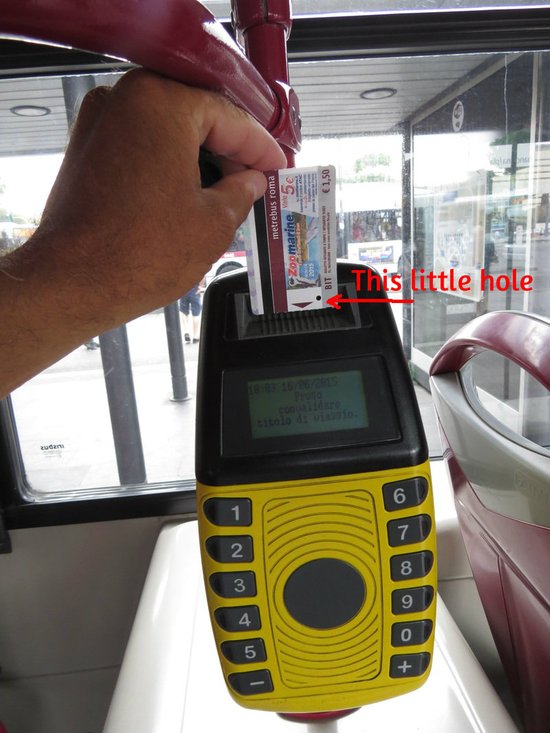 Source
Your ticket/card will look like this after validating it: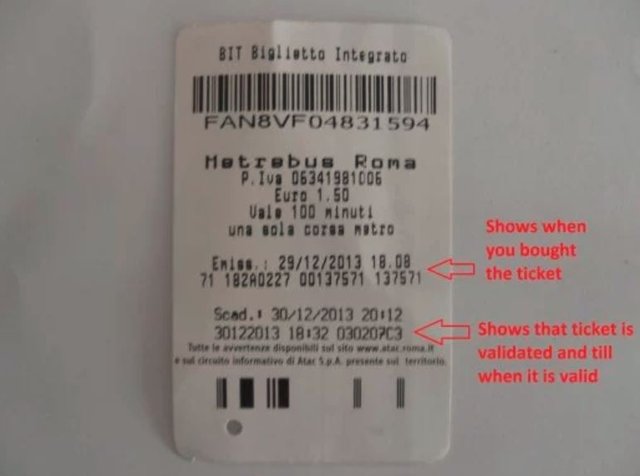 Source
Running times:

Metro: Everyday from 5:30 am to 11:30 pm and on Friday and Saturday it runs until 1:30 am.
Bus: There are different types of lines!
Urban lines (U): Start between 5 am and 6:30 am and finish at midnight.
Night buses (N): These lines operate while the urban lines "rest", that is to say, between midnight and 5:00-6:00 am.
Express (X): For the outskirts of Rome - for longer journeys.
Exact (E): These lines link the center with the surrounding neighborhoods. They run on fixed timetables.
Trams: Everyday from 5:30 am until midnight.
Urban Trains: Approximately from 5:30 am to 10:30 pm. Trains leave every 10 -20 minutes.
!TIP: Make sure you have an internet connection on your phone and use Google Maps to move around Rome. You have the public transportation routes (see image), or if you want to walk, use the walking route. Google maps shows you when the bus/tram/metro/train arrives and also how many stops till your destination. Just use it, it's the best way to get easily around.
Public transportation tab in Google Maps: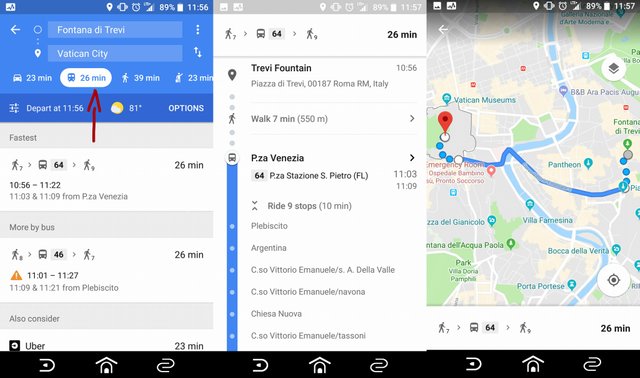 All information in this post is from my personal experience in Rome and from the official atac site.
---
Some other posts that you might like: