I'm in the 40s now and going into this era of if not now then when? And who cares!!
This is the backside of the same shirt I am wearing for my profile picture, it's almost like an apron.
I made it 2 months ago, want to share how I made it.
I like this style, you see. And all tropical weather all year long also encourages me to choose this style, too.
Well, obviously I am no glamorous type, so front side I got nothing to show! :p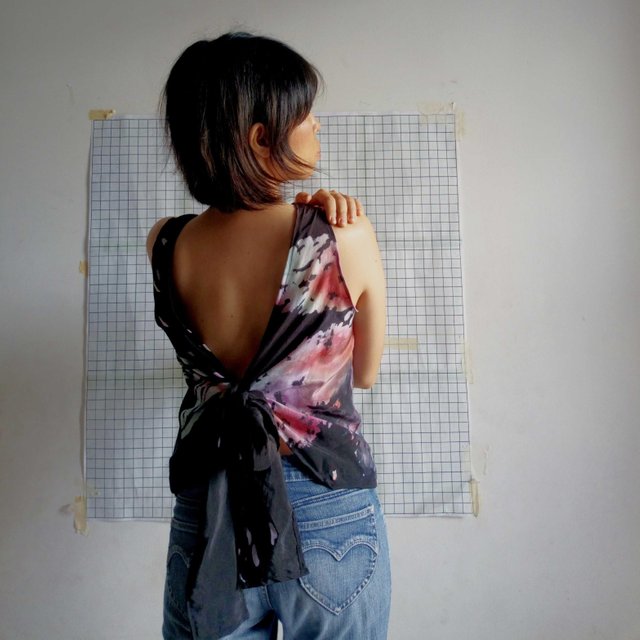 source
[Free sewing pattern online]
Anyway, this is a tie-back top, I didn't even know it is called tie-back, though I liked it when I first found it together with other patterns.


source
The link above goes to people who shared it. The original designer's blog is here.
The one I used is in the very middle. Looking very easy to make and somehow very appealing!!
[Adjusting the measurements]
The pattern obviously looked large for me. My height is 150cm/5foot, I'm from Lilliput, hehehe.
I remember, when I was in the US, I always had hard time looking for petite size.
The size of this pattern is not written, but I had to make a change.
It is very important to know that there is no such thing as "one size fits all". Even I could fit, yah, just so the head could pop out from the collar, but all baggy and no figure.
The power of knowledge, I believe, comes when we could modify things around us to what we want. Things sold at shops are produced based on average datas. And many of us would be out of it's range.
And I am sure the designer knows that too. That's why instead of size or ask to print out its pattern, she provided the measurements.
So I figured out that by putting a small bit of effort to reshape it would make me smile at the end. And it did!
So here is the fact.
I am not a professional seamstress.
I'm self taught and do pretty much what I want to do.
So I cheat! Here we go:
For anyone knows how to take your own measurements, please do so. For anyone doesn't know much or uncertain about it, follow me! First thing I did was to take out my best fitted cotton top. Cotton tank top or shirt would do. Take its bust and hip measurements.

Make a sketch with your measurements.
For this shirt pattern, there's no waist line! Mostly bust and hip measurement should be sufficient because it's like an apron and you could tighten or loosen the shirt unlike other clothing.

Minor change done to the ribbon. I made it longer to 90cm. Long enough I could double(twice) tie ribbon, so it won't come loose easily. No wardrobe malfunction like celebs! Hehehe.
Another reason was to make the ribbon bigger so I could hide the bra straps.

Find a fabric you like. In my case, I made a rayon batik for this.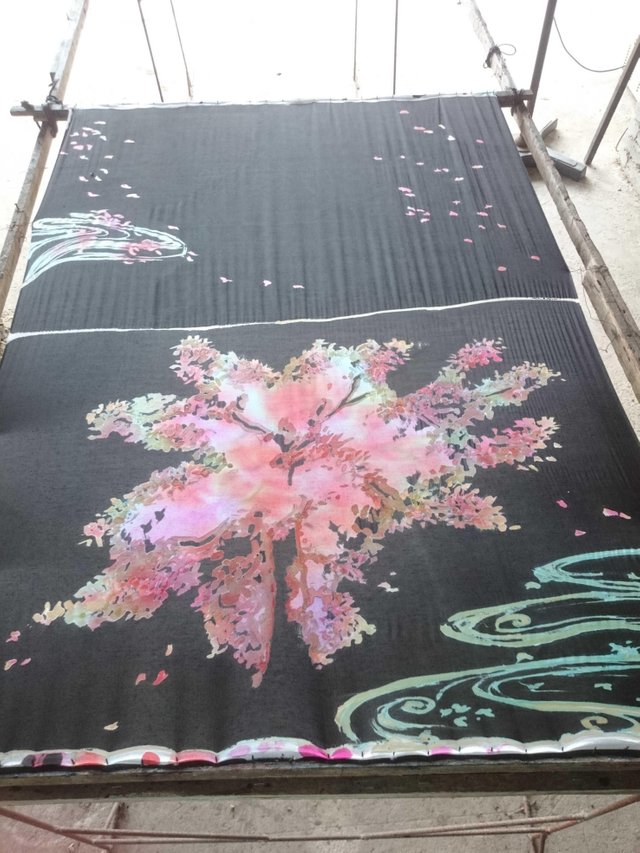 One of my friend gave me a challenge to make it with Japanese tasete.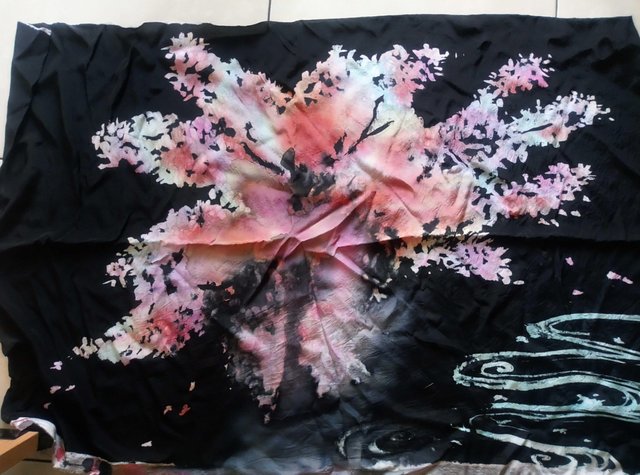 Actually there was an accident..... After I took that above photo, my batik master's workshop, the roof had a leaking and done water damage. Nothing comes easy... But on the bright side, thank god the damage wasn't so obvious and the damaged spot was supposed to be on the side the shirt!!
Draw the pattern directly to the fabric or make a paper pattern and trace. Which ever is comfortable to you. I prefe the latter. It moves a lot while I am tracing it but I could file it in the folder. When I wanted to make it again, I could easily trace it again. Follow as in the free pattern, starts from front side. Bust, up to the neckline, shoulder, armhole, and down to hip. The back side also from bust, but skip to shoulder and armhole, down to hip. Then draw that long opening from neck down to the ribbon.

Cut and sew!

Last but not least, is how to wear bra for this back open shirt.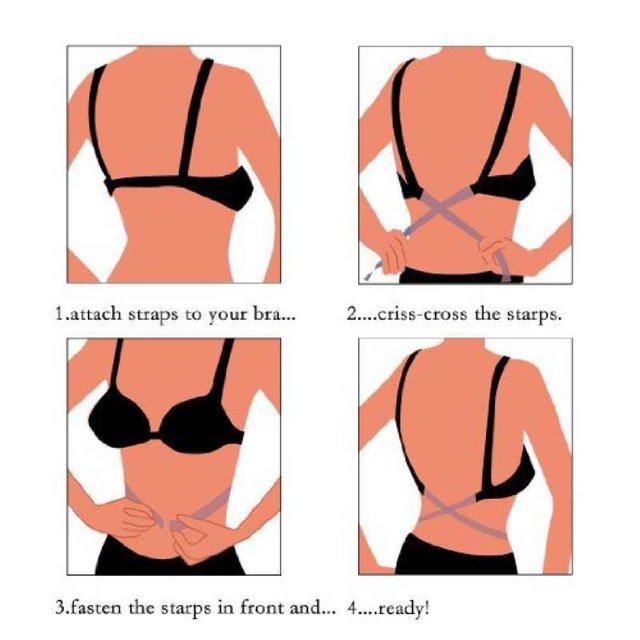 source
This hack uses additional 2 straps. You hook each strap to the hook at the back and crisscross. Hook them in front.
Another alternative and what I prefer to use only original 2 straps. Take off the straps and make it a strapless. Then hook as same as the image, then bring the strap just under the bra to support. The bra hardly get loosen or move around by this!! Don't forget to tighten it too!!
Thank you for reading, all the photos and works are done by me, except for the one has source link.