DIY - crocheted Zero Waste make-up remover pads // gehäkelte Zero Waste Abschminkpads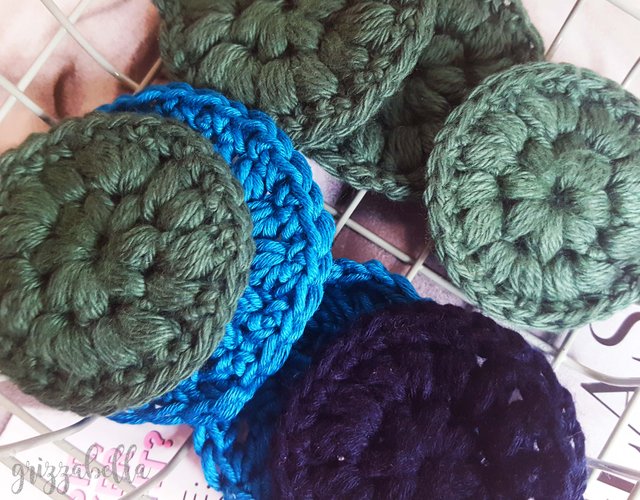 ---
For a few days now I have been reading about the topic "Zero Waste". I was immediately enthusiastic about the idea of crocheting make-up remover pads. I started to do that right away. It's also a great way to use up some wool leftovers (the wool should be washable at 60°C if possible).
Seit einigen Tagen lese ich mich in das Thema "Zero Waste" ein. Gleich begeistert war ich von der Idee, Abschminkpads zu häkeln. Das habe ich auch direkt angefangen, umzusetzen. Das ist außerdem eine tolle Möglichkeit, Wollreste aufzubrauchen (am besten Wolle verwenden, die bei 60°C gewaschen werden kann).
---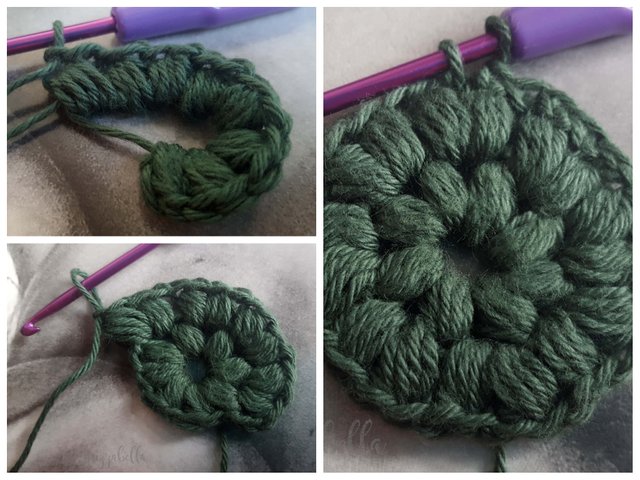 ---
The pads are crocheted super fast.
You start with a magic ring, in which you crochet 8 puff stitches - between each puff stitch you crochet one more chain stitch (so puff stitches and alternating chain stitches).
Now pull the ring together so that the hole in the middle closes and finish the round with a slip stitch in the first puff stitch. I have crocheted each puff stitch with four loops, so the pads are a bit more compact.
You start the second round with 2 chains. Then crochet 2 puff stitches in each of the chain in the front row, again separated by one chain. Close the round again with a slip stitch into the first puff stitch. At the end you crochet all stitches with a round of single crochets.
And now have fun with crocheting! :)
Die Pads sind super schnell gehäkelt.
Du beginnst mit einem magischen Ring, in welchen du 8 Büschelmaschen häkelst - zwischen jede Büschelmasche wird noch eine Luftmasche gehäkelt (also Büschelmaschen und Luftmaschen im Wechsel).
Nun ziehst du den Ring zusammen, so dass sich das Loch in der Mitte schließt und beendest die Runde mit einer Kettmasche in die erste Büschelmasche. Ich habe jede Büschelmasche mit vier Schlaufen gehäkelt, so werden die Pads etwas kompakter.
Die zweite Runde beginnst du mit 2 Luftmaschen. Anschließend werden in jede Luftmasche der Vorderreihe je 2 Büschelmaschen gehäkelt, wieder getrennt durch eine Luftmasche. Die Runde schließt du wieder mit einer Kettmasche in die erste Büschelmasche. Zum Schluss umhäkelst du alle Maschen mit einer Runde festen Maschen.
Und nun viel Spaß beim Nachhäkeln! :)