Vegan Lemon-Berry Raw Cake
Lemon-Berry Raw Cake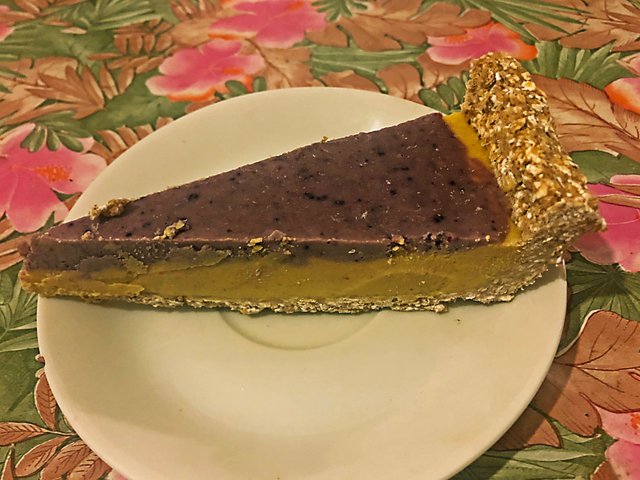 I wanted to share a simple raw cake recipe that one can make in various ways. This is one is made up of lemon. One can also make it with any other flavour. For instance lemon mint or like here with a layer of mixed berries.
Ingredients:
Almonds 80-100g

Oats ca. 150g max

Coconut Fat/oil

Lemons (Juice and Skin of 2 organic Lemons)

Frozen Berries or Fresh Berries

Cashew Nuts 300-350g

Maple Leaf Sirup

Dates (Seedless, 200-350g)

Turmeric Powder
Preparation: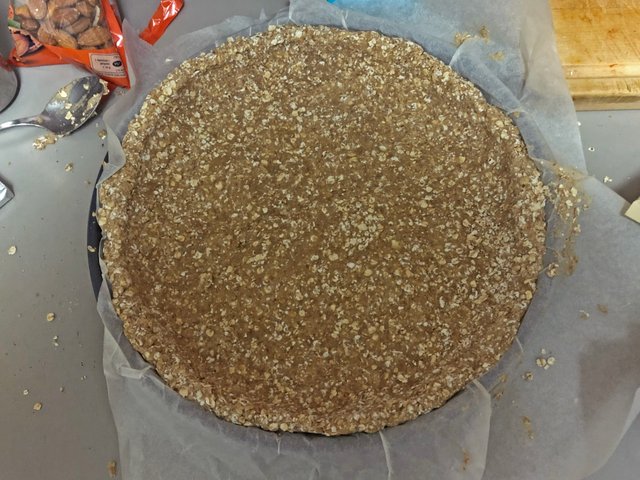 Use a hand blender, food processor and add ca 150g of seedless Dates, Oats, around a 100g of Almonds and 1-2 Teaspoons of coconut fat.
Take this mass and add some water. Then add that mass to a cake or pizza mould and press it into the shape of a floor to fit the cream. Make sure you get the sides to look nice. Mine here looks like I added a little too much of oats.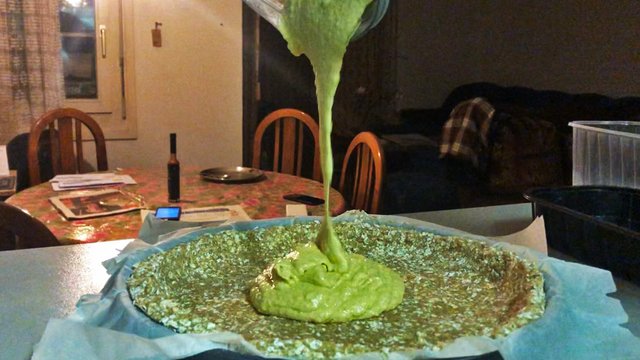 Put the juice of two lemons and the entire skin, pealed nicely without the white part in a mixer along with seedless dates, some maple leaf sirup, Turmeric Powder(for color) and 200g of Cashews. Then Blend it to cream and add it.
Do the same with the Berry and then add that cream on top.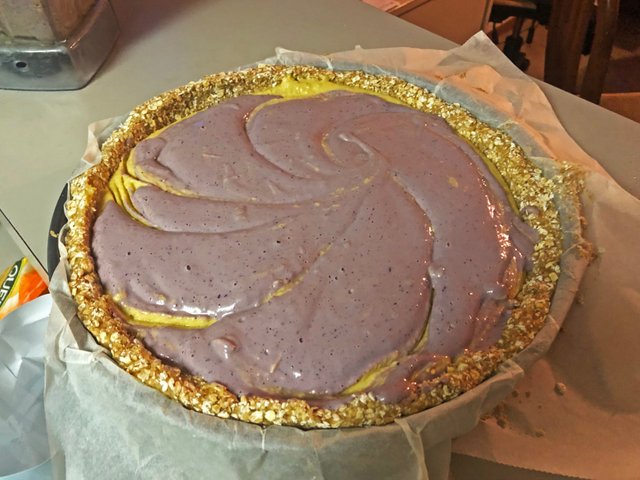 After adding the berry cream on top, take a fork to play with the shape of the two cream layers.
Now freeze it. It's best eaten almost frozen and tastes like ice cream.
This is one of my favourite cakes. Specially with just the the lemon it is. The idea is that one can make this with anything, such as Raspberry, Pine Apple etc. and one can also add mint. One can be much more creative with the base.
I think the principle for Chocolate, Coffee/ Mocca or Tiramisu cakes would then slightly change. I will do various posts on such cakes soon.
Here are all my previous recipes, in case you feel like trying something else:
Thanks a lot for reading and I am looking forward to making more posts with improved picture quality for simple and effective plant based recipes.

Progress is vascular growth into the unknown, breaking into unchartered space... - Soan Shinobi a @yangyanje original
[ NOTE: #vegansofsteemit, #food, #creativecoin, #naturalmedicine, #vegan, #cake.]