Vegan Pragmatism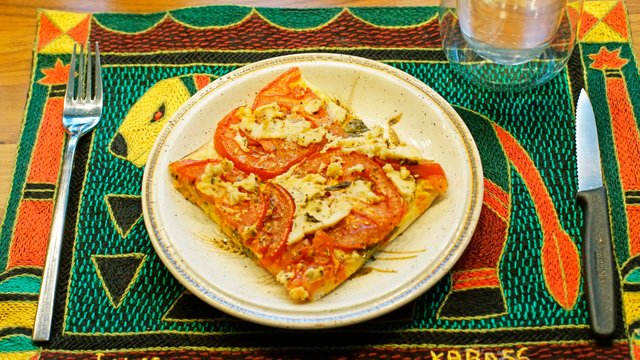 Tarte aux tomates



Also known as Tarte à la tomate et à la moutarde, it really is the French version of pizza to me and tastes delicious. Using fresh thyme and oregano in addition can round up the flavour. Here is an easy recipe that is done in NO-TIME. For those of you who like wine, it really goes well with a white wine. A Gewürztraminer, Pinot Gris/Grigio or Riesling. You can also just settle for a Pinot Blanc if you can't find the mentioned.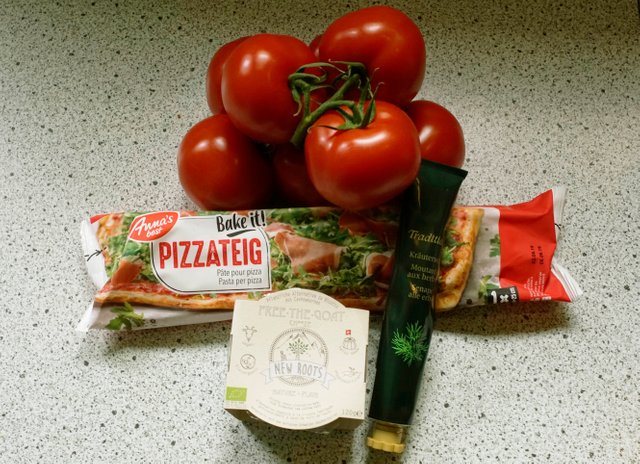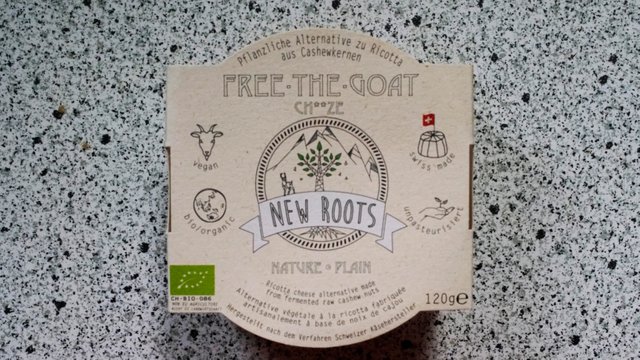 I used the swiss made 'Free the Goat Ch**ze' of
NEW ROOTS
, which tastes amazing and is made from cashew nuts.
Ingredients:
Pizza Dough
(It can be made without yeast, using any oil, flour, salt and sugar)

Tomatoes

Basil

Mustard (i used one with herbs)

Free the Goat Ch**ze
(You can also just mix up some cashews with salt, olive oil, pepper and a bit of lemon juice)/add some garlic if you like

Herbes de Provence (French Herbs Seasoning)

Black Pepper

Salt

Extra Virgin Olive Oil
Preparation:
Preheat Oven at 200 Degrees Celsius.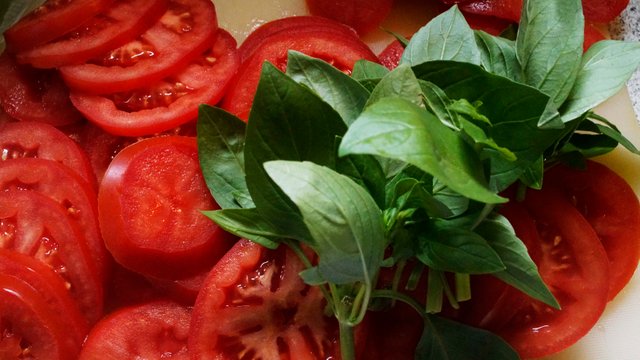 Slice tomatoes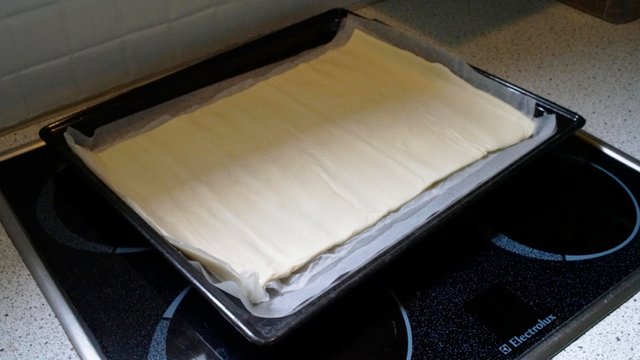 Roll out dough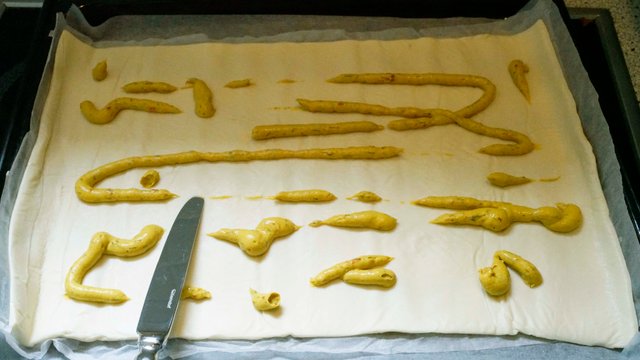 Add mustard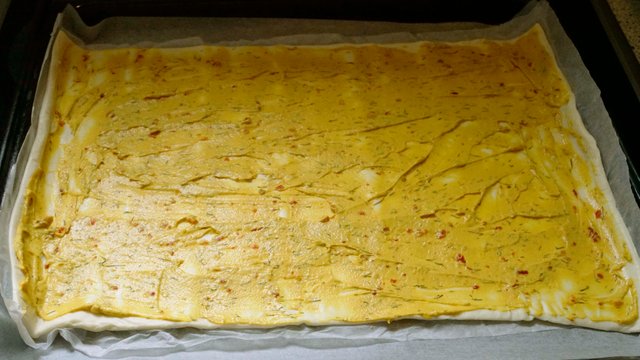 Spread mustard with a bread knife, add herbes de provence and black pepper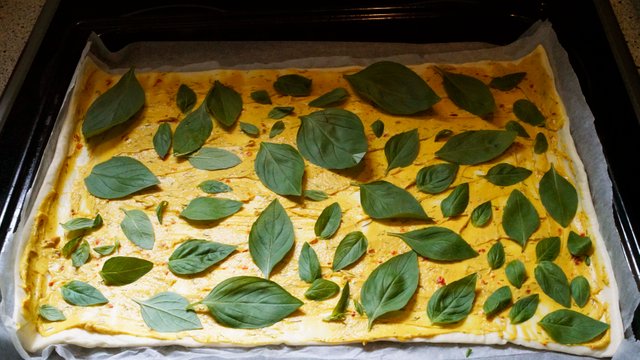 Add basil leafs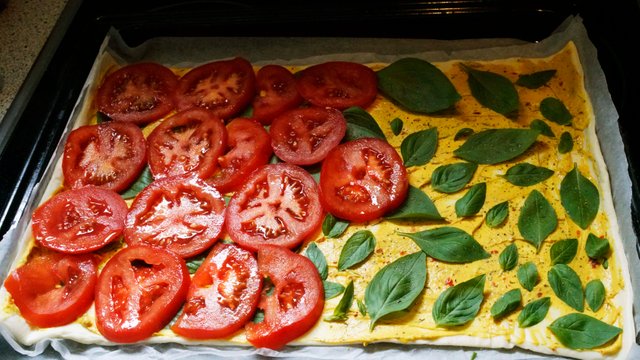 Add tomato slices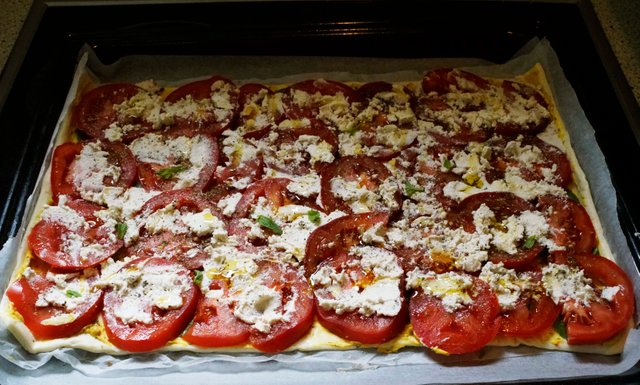 Spread 'free the goat ch**ze' or cashew mass, add more herbes de provence, black pepper, salt and some olive oil. I dropped a few more tiny basil leafs.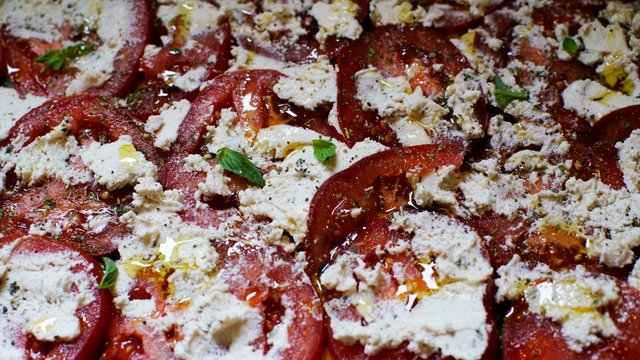 Close up. Put in oven for 22-25 min at 200 degrees celsius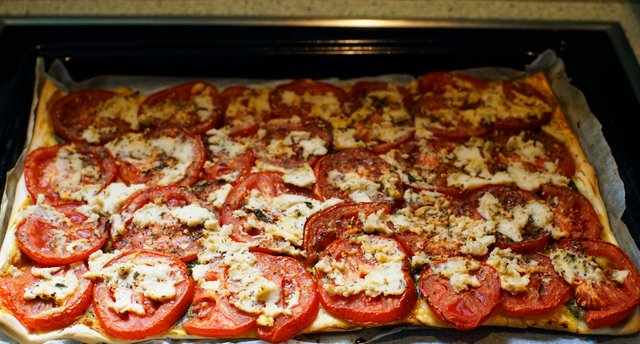 Take out of oven when ready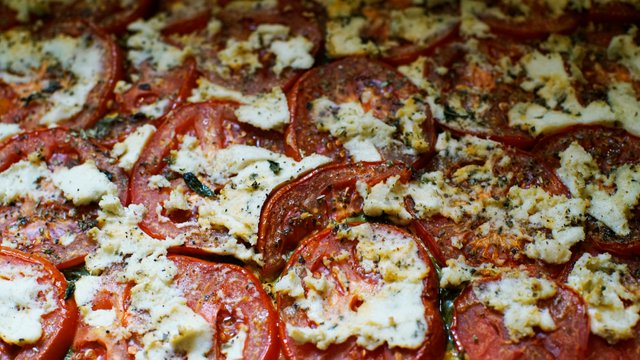 Close up when done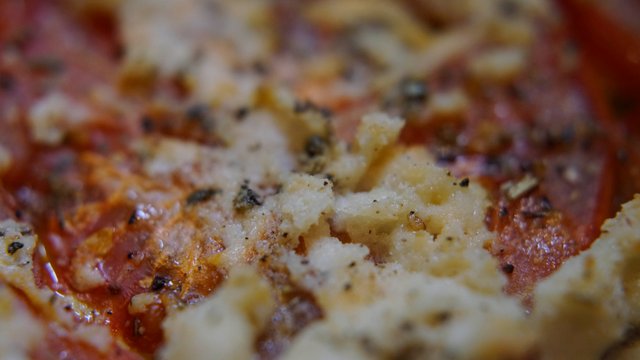 Even closer
Conclusions:
The idea of this post was to showcase a really easy recipe that can be done in 10-15 min excluding oven time. People often ask me what I eat, living plant based. Usually I pay attention and ask them what they like. I go through the process of 2-3 hours to create 1 kg of my own Seitan because the one in the supermarket tastes quite mundane. I know what you're thinking: "Pure Gluten". I usually cook so many different dishes for myself and other vegans. I end up making things for non-vegans which have some familiarity to them. Some of the most ingenuitive cooks I have ever met turned vegan recently. Lets be honest, everyone has their own process and NOT just vegans can be dogmatic at times. According to my experience everything I ever made that's plant based actually ends up tasting very different because animal products can have a very overpowering taste. Normally vegan food can be light for non vegans, but this Tarte can be made quite wholesome. I encourage anyone to try to go vegan or vegetarian for 3 months and I would love to read about their experiences. How they feel and if they noticed any physical and mental changes. I guess one day I just decided to try and cause the least amount of harm. I was always a person that didn't want to hurt anything even when I was little. It can be revealing when you look at an ant or an insect and it looks back at you with it's antennae up. Like a macro zoom with human eyes in which time slows down for a millisecond. I consider the human body and it's gastro intestinal tract better suited for a herbivorous diet. I usually reason with the intestinal length and jaws of omni-, and carnivores. Another is the micro-biome. Moreover, I decided that i'm not a calf and not a baby at some point. My journey is another story...

Special thanks to the couple I shared this meal with.

Join The Steem Group Meditation

I am a part of the Meditator Folk here on Steemit and encourage anyone to join our amazing group. We are a growing community that engages in a regular conference on Discord. Our delightful little group consists of wonderful Steemians coming together to connect, grow and spread mindfulness, meditation and equanimity. As the word 'Community' resonates across the Steem Blockchain, it is so inspiring to experience the camaraderie.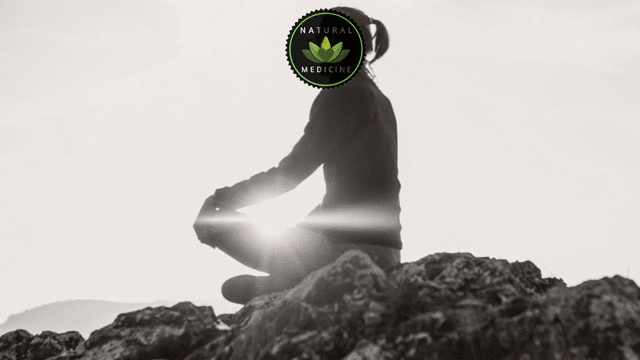 When you close your eyes, can you hear the birds? Can you feel them? What if they could feel you too and you could tune in? Would you trade that sense with oblivion even if experiencing it were possible? - Soan Shinobi a @yangyanje original
[ NOTE: The filming, video editing, voice overs and music for #dtube and #dsound in my posts are content composed in my studio. I post original digital and analog art and illustrations using markers, sketch pens, brushes and acrylic spray paint on walls or canvases. I also use digital and analog cameras as well as my iphone for photography. Here are some Steemians that I highly appreciate. You are amazing and I love your content: @cryptoyzzy, @artzone, @frankcapital, @piotrgrafik, @agnikana @manisha.jain9, @aishwarya, @glenalbrethsen, @in-ujim, @andrianna, @dailysketches, @sultanaceh, @arthurgain, @jenina619, @kurokikuro, @marya77, @roveana, @ferjart, @iansart, @juliocesardraw @alkor, @abrahmatan, @scrawly, @vermillionfox, @nastyakrasotka, @inber, @juliakponsford, @marcocosta, @oscurocactus, @teungkumerdu, @gclipse, @greencross, @homeartpictures, @imealien, @inesafreedom, @larriji, @liart, @marcusmalone, @maxer27, @mrwalt, @nanocheeze, @natha93, @dobartim, @nonstop, @chbartist, @nupulse, @orhansarikaya, @qst, @ran.koree, @raah, @reconnectnature, @rezalhok, @originalworks, @mediaworks, @rushitan, @sagittarius, @scottcbusiness, @scottychams, @sohailahmed, @space-man, @tammyp, @tecca, @tayer, @tonygreene113, @treeky, @webresultat, @wentongsyhhae, @yumm, @nathanmars, @unterwegs, @adrianna, @amygoodrich, @metametheus, @oendertuerk, @daltono, @firepower, @heiditravels, @exyle, @francisftlp, @thepollengardens, @alexaventuria, @elenasteem, @yetaras, @kennyskitchen, @chireerocks, @walkerland, @majes.tytyty, @marcocosta, @pinkspectre, @honeydue, @nmalove, @eco-alex, @tommyrobinson, @thepollengardens, @artemislives, @barbara-orenya, @hatu, @michael.thomale, @amy-goodrich, @riverflows, @streetstyle, @soyrosa, @chireerocks, @misan, @shaka, @obvious, @homeartpictures, @makinstuff, @gtg, @bewithbreath, @daltono, @vincentnijman, @naturalmedicine, @ecotrain, @earthtribe, @riverflows, @locikill, @mariusfebruary, @flamingirl. @kittykate, @tomsmaid, @termitemusic, ]