Well well well, it's been months since I last went to Manila! Actually yesterday I went there but apparently the instructions I got was wrong so I went to PICC instead of Morayta. Awwww. So anyway today I was able to go to the right place!
But of course I had to go to Robinsons Galleria in Ortigas at 10am first to log in at our office. And then off I went to fly off to the Ortigas MRT station to get off the EDSA Taft station. Whew. Then I crossed the long foot bridge going to the LRT 1. Guess what I saw inside the LRT!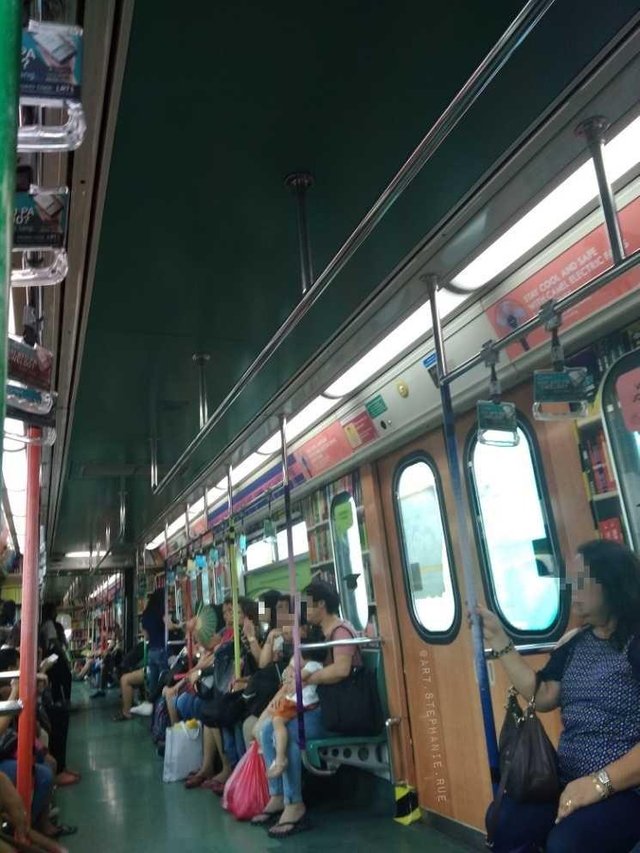 It was decorated to make it look like a library or something! Omg. Pictures of books make me nostalgic. 😅 I just had to take a selfie of course. 😂
It's not the first time the LRT had interior stickers or design. A year or so ago they had Christmas decorations. Oh I just love LRT line 1 for it. Haha.
And then so I got off Central station and rode a jeep to Morayta! Oh la la! It's been years since I went there. Usually I go to Taft because my alma mater is there. But today I had to go to a government office which is in Morayta. Long time no see. Ah nostalgia again.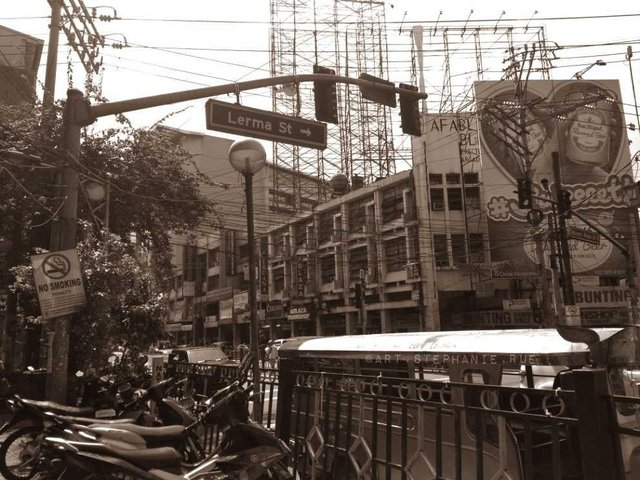 No this is not an old photo. I just put a filter because it's too busy a pic without it. 😂 I don't even know why it is called Morayta when the street sign says Lerma. Uhm perhaps it was called Morayta back then? Whoever knows its history, do share. 😂
So anyway this is where I went. One of the interior streets of Morayta is where this government office is located.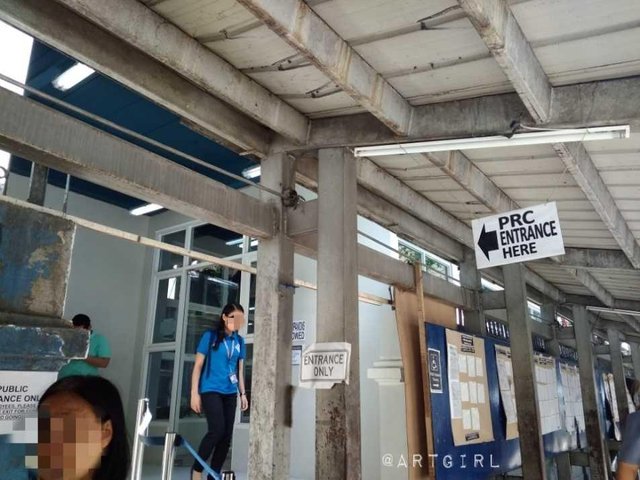 Outside it doesn't look much but when you get inside... Well it's being renovated or
maybe
it just got transferred there but other parts of it are clearly under construction. Anyway this is the main hall or something.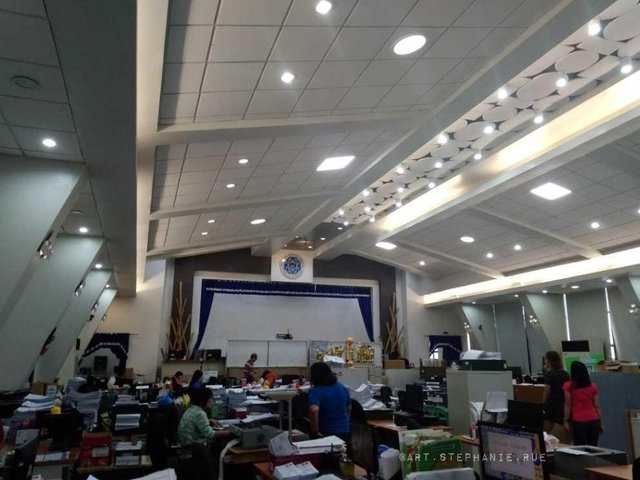 It's where I submitted my documents. And look, there's a stage! I'm guessing that's where oaths are done? 🤔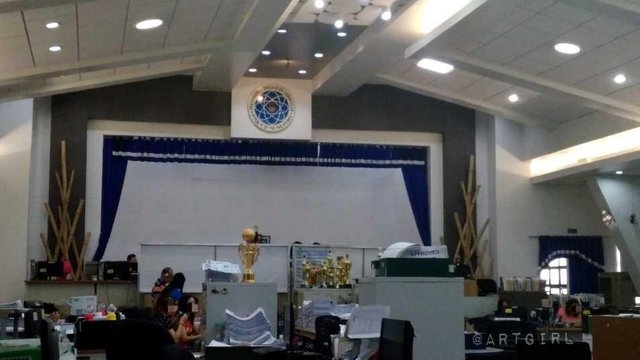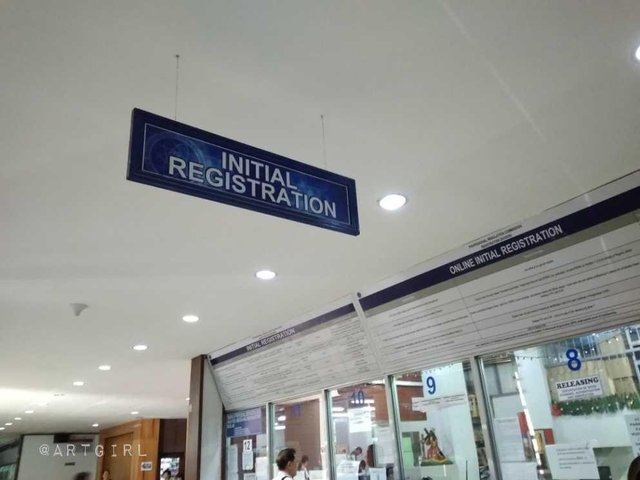 And of course there should be this shot too to make mypictureday official. (Lolwhut)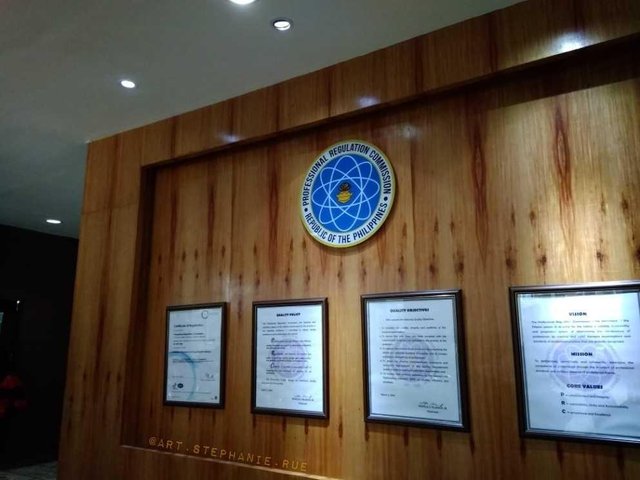 After I showed my papers and had the documents stamped, paid etc., going all over the place finally it was time to go home.
Oh but I did not go home yet. I decided to take some pics and look around. You know, for old times sake. 😂
Morayta is known to be the home of a certain university: FEU. I once considered this as a college to go to but naaah. Didn't feel like I belonged when I stepped inside so I went somewhere else instead. 😁
So this is part of the main FEU campus that looks new to me. It used to not look like this. I'm thinking it's another expansion from several years ago. Good thing it's almost a work holiday (All Souls Day tmro) so traveling or commuting is really easy and fast. Look how almost empty the street is.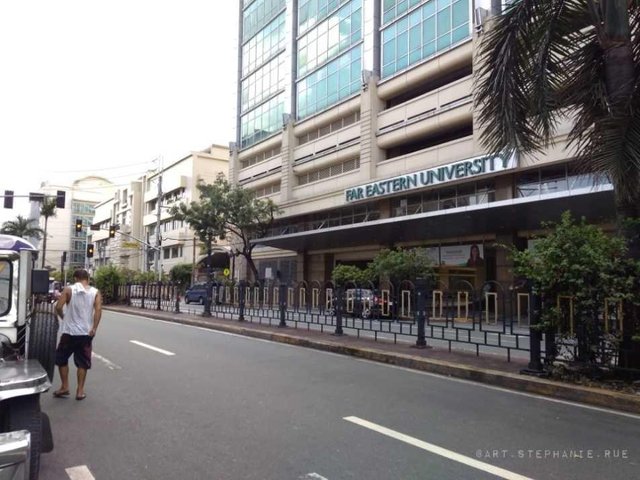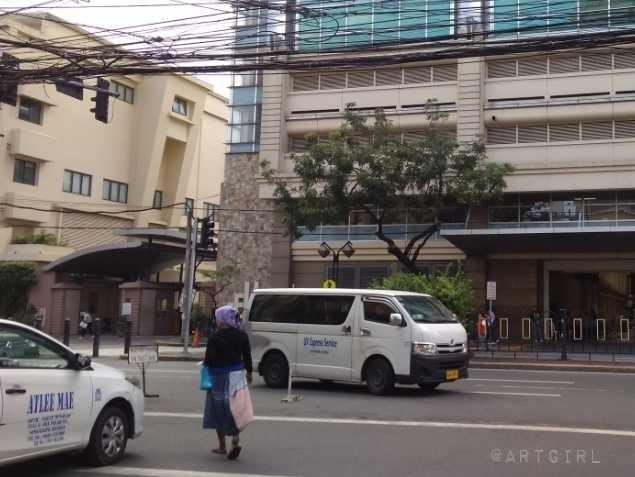 I found out yesterday that it has already gotten bigger because now there's two campuses. There's a tall building with FEU Tech on it beside this gymnasium. Look there's the Tamaraws logo on it too.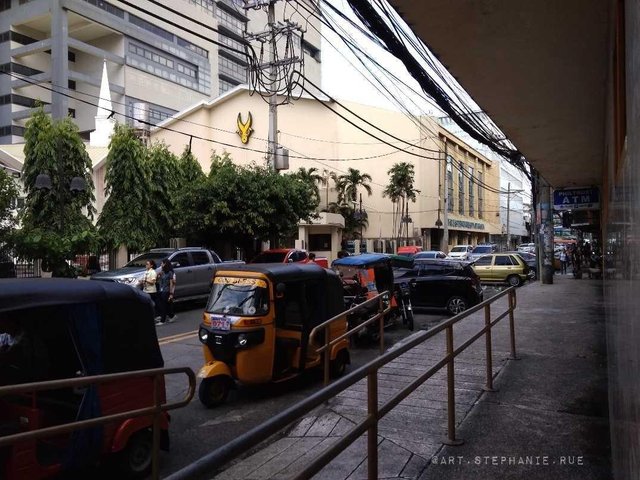 At the other side of the road, across the main FEU campus, is one of the bookstores I used to go to whenever I happened to be there. It has a branch in Taft but I'm not sure if it's still there like this one.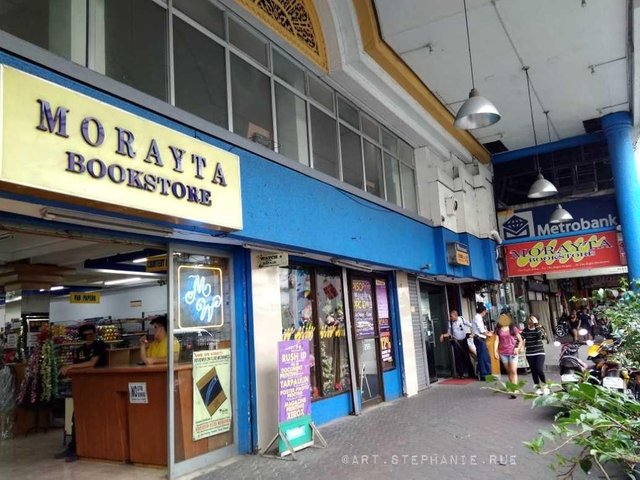 I almost feel bad about Merriam Webster bookstore. It has been reduced to being just a small "brandless" bookstore: Morayta Bookstore. And the books at the second floor are old. I mean most of them are also on sale. Man the owners of this bookstore clearly does not have the same aspiration as that of National Bookstore. So sad.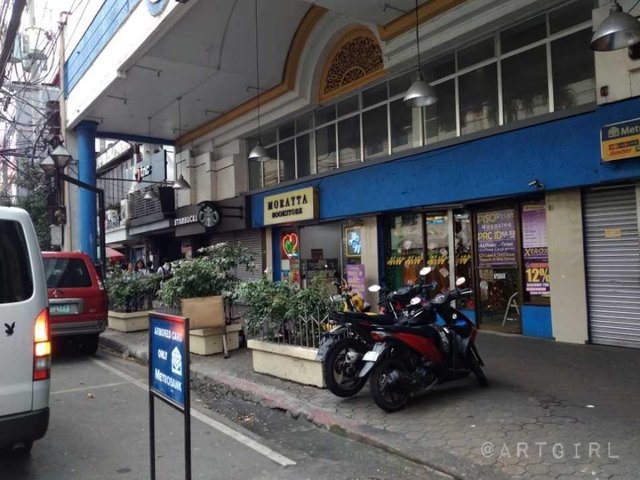 Aside from checking the places I used to know, I also ate some food along this street. There's a pseudo bakery somewhere along the sidewalk where you can buy pastry squares or something. No pictures though. This was around lunch time already so I was just buying and eating whatever I saw. 😂
And I also bought some random stuff. Ah this is why I should not go out with some money on me. 😥 Anyway it's all good. I still have enough and yes I think I might already have a salary. Wasn't able to check because I left my ATM card at home. Doh. Maybe I will check it after All Souls Day. 😂
So as I said earlier, there's not much traffic at all, I decided to ride a jeepney home instead of go the LRT route. Long time no jeepney ride from Manila to Quezon City! 🙌 I used to do it every weekend when I was in college. 😂
There I was lightly sleeping inside the jeepney when at some point I opened my eyes and saw two foreign nuns board. Whoa. Look at the clothes they have on! Look at the two near the jeepney driver in front.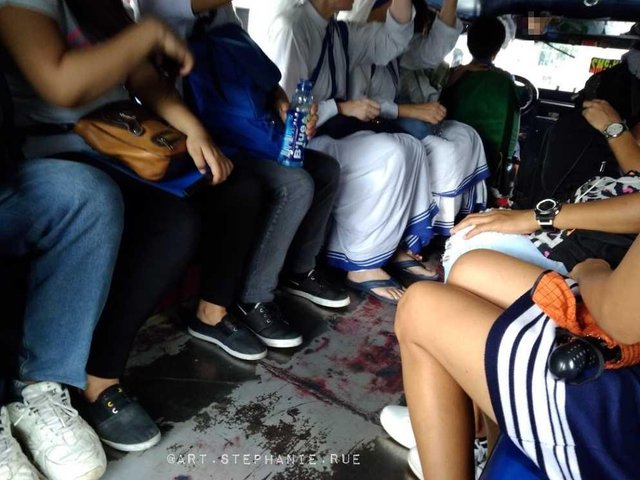 Mother Teresa, are these your sisters? 😅 Both of them were praying and holding the rosary during parts of the trip. I think I slept a bit more when I thought of taking their picture. By then they were chatting away about something.
I felt like a papparazzi taking their picture "secretly". 😂 Well it's not everyday you see foreign nuns wearing Mother Teresa clothes right? I mean, I'm sure people have taken pictures of me and other people "secretly" too.
Anyway past España and Welcome Rotonda, eventually I saw St. Luke's Hospital again and it had a giant pink (cancer) ribbon structure at the entrance. Interesting but I wasn't able to snap it because the jeepney didn't stop long enough for me to take a pic. 😂
And so Kamuning and the rest of the way home is the all too familiar route. Nothing new to see anymore so no more pics. 😛
Oh what a fine sunny day it was earlier today. No sign of the storm from yesterday until late in the afternoon. So upon arriving near our place, I had a massage done too! Long time no massage so I just had to have one while I had the time. Plus since it was still early, the promo price was in effect. Hehe.
While walking to the massage spa I was checking my phone. Somehow I got added to a Messenger group and found out about something. A former colleague suddenly died of cancer. Oh what a shocker. It happened so fast, last week he was in the hospital and then he's suddenly gone. 😱 Just goes to show we really do not know when we will be taken by the Lord. Another one to add to the people to pray for tomorrow and the next day. 🙏
And so this prompted me to think of how life is so short and we should enjoy our life while we can. Who knows when our time will come next, right? Why spend our life being pathetic or angry at the world and fighting other people when we can all just spend our time enjoying our life on Earth and making it better too. 😊
Eherm. After the relaxing one hour massage I finally went home. Ah what a day eh? What a good travel day. 😊 Upon coming home I saw the apartment mommy cat so petted it as I said hello. 😁 Outside the gate is this lovely view too. The tree has pink flowers again. I still haven't checked what tree has long pink petaled flowers. Hmmm. 🤔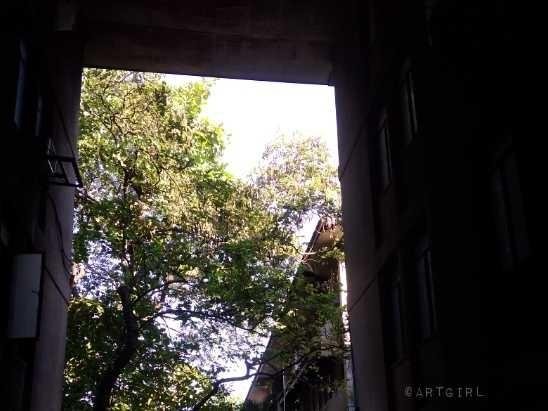 Well anyway, how about you? How did your last October day go?
XOXO,
@artgirl
P. S. Read my other ways to earn online here.
---

WARNING:
Spam comments will be FLAGGED / DOWNVOTED if it is not revised upon warning.


All images are mine.
Written by @artgirl for Steemit.
© Art x Stephanie Rue
@artgirl is a freelance artist, writer and an online seller. For property inquiries, art and writing commissions, feel free to contact me.
For business inquiries, you can chat me up on Steem.chat, Telegram or send me a Facebook message. Link in my bio.

---
Click banners to join




---
Like it?
Upvote, Follow and Resteem for appreciation.
♥ Thanks! ♥