Sometimes you just want to be seen!
It's one of those things that happens all the time. You are browsing through your feed, when suddenly you find a great post about a topic you are passionate about. You need to reply to this post to let them know what a smart, like-minded Steemian you are. You take your time, writing an epic response to the original post, going through all of the great points you have to add to the conversation.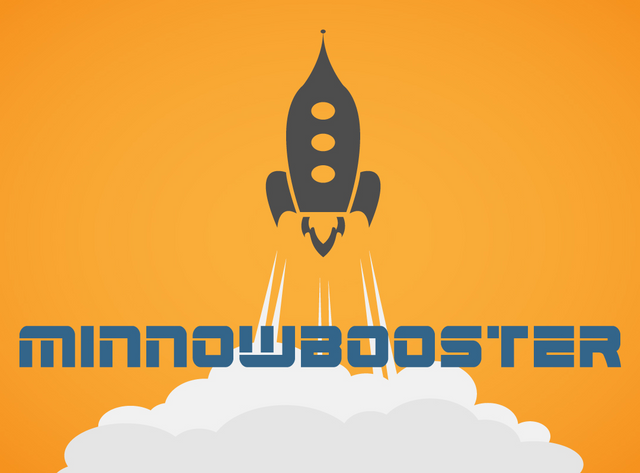 Then you hit Submit, and your beautiful comment is buried in a string of comments. Most of them Looking something like this collection of comments pulled from the recent post by @ned for the closing dinner of Steemfest: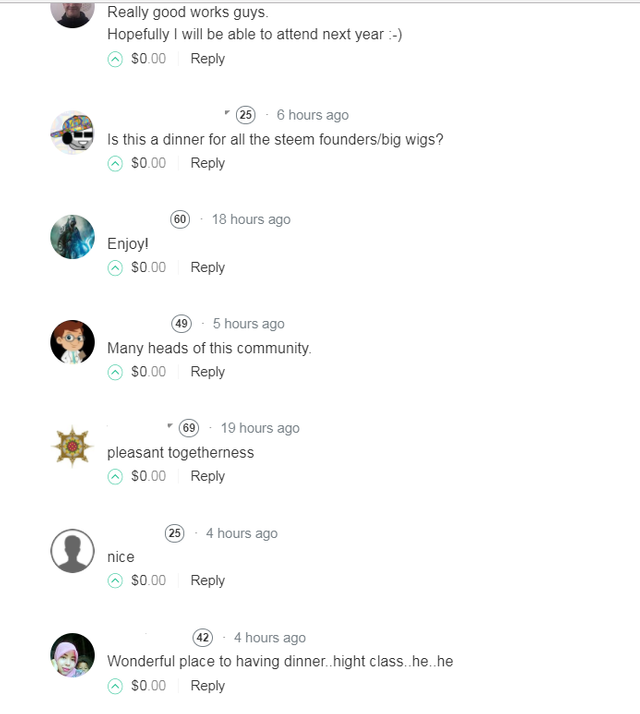 You want to do something to get to the head of the pack, to get up to the top of the comments where your epic response belongs. But self voting in comments is usually frowned on. So how do you get your comment up near the top where it truly belongs?

Minnowbooster is here to Pump You Up!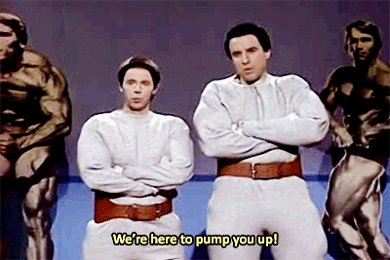 We're introducing a new service which lets you move to the head of all those dead comments. Minnowbooster now offers Auto-Voting on Comments. We'll give every comment you make a small boost, giving it the lift it needs to go above all of the comments that have not been voted on.
Here's how it works:
On your Minnowbooster Account Page go to "Edit Info"
Enable the button on the right of the screen "Enable automatic promotion of your comments"

Click the "update" button otherwise the changes won't save.
Make sure you have a positive balance in your Minnowbooster account. (Note you may want to disable auto-withdrawals until we create a feature to leave a certain minimum balance behind on withdrawal).
Every time you comment, Minnowbooster will deduct a random number of cents from your Minnowbooster Balance to give your comment an upvote(s) based on available vote sellers.
Average value of the boost is a few cents, median around 10 cents, could be more could be less.
Votes come from Minnowbooster "Sell Your Vote" participants, and not the main Minnowbooster Account.
Standard upvote returns apply, see our website for more details, currently 135% will be realised on whatever balance is deducted for comment votes.
Enjoy your bump up the comments list to the place of prominence you deserve!
This is what it looks like when you enable comment voting and get bumped up:

As with all Minnowbooster services, we will be monitoring for abuse of the system. If we note accounts abusing the Auto Comment feature with an unreasonable comment density, we reserve the right to remove the feature from individual users at our discretion.
This feature, along with all Minnowbooster features, is geared toward increasing the exposure of your content. In most cases, a small profit can be realized from the use of this service, but the main goal is to get your comment to a position where it is seen and read by more users.
It's time to take advantage of a great new tool from Minnowbooster. So what are you waiting for? Come on over to your Account and give yourself a Comment Boost!
---
Don't forget @minnowbooster has got your back!
---
What can MINNOWBOOSTER do for you?!
| What? | Currency | Advantages |
| --- | --- | --- |
| Buy upvote | SBD | Earn an instant return |
| Lease SP from market | STEEM | Increase your vote strength and curation rewards |
| Delegate SP to market | STEEM POWER | Earn daily STEEM dividends |
| Invest STEEM in MinnowBooster | STEEM | Earn daily SBD dividends |
| Delegate SP to MinnowBooster | STEEM POWER | Earn daily SBD dividends |
| Sell your vote to MinnowBooster | VOTING POWER | Earn SBD share of sells |
---
CURRENT PARAMETERS:
| Parameter | Value | Remarks |
| --- | --- | --- |
| Minimum Upvote | 0.01 SBD | Minimum SBD you can send |
| Upvote comments? | Can Be Enabled | |
| Profit | 135% Fixed Return | |
| Minimum SP Lease | 1 STEEM | |
| 4-24 week Lease | 1 STEEM/185 SP | Price per week/Lease size |
| 4-24 week Community Lease | 1 STEEM/215 SP | Price per week/Lease size |
---
Provide us with feedback
We are happy to hear your feedback about where we can improve.
---
Join our Discord chat
Get support and connect with us and other Minnowbooster fans!

We are always looking to improve @minnowbooster and try to keep you up-to-date whenever something changes. If you have any suggestions about what we should change or add to @minnowbooster, then please write us a comment :)
---
Please remember, that while we are a business and work for a profit, that we share 90% of our income with the various investors in our services. There is no other booster available which shares it's rewards with such a diverse set of people on the Steem BlockChain.
Thank you for your continued support.
---
Video Tutorials
---

---
And last but not least, here's our cute little footer made by the most epic @ryivhnn! Yes, there are cute little minnows floating around!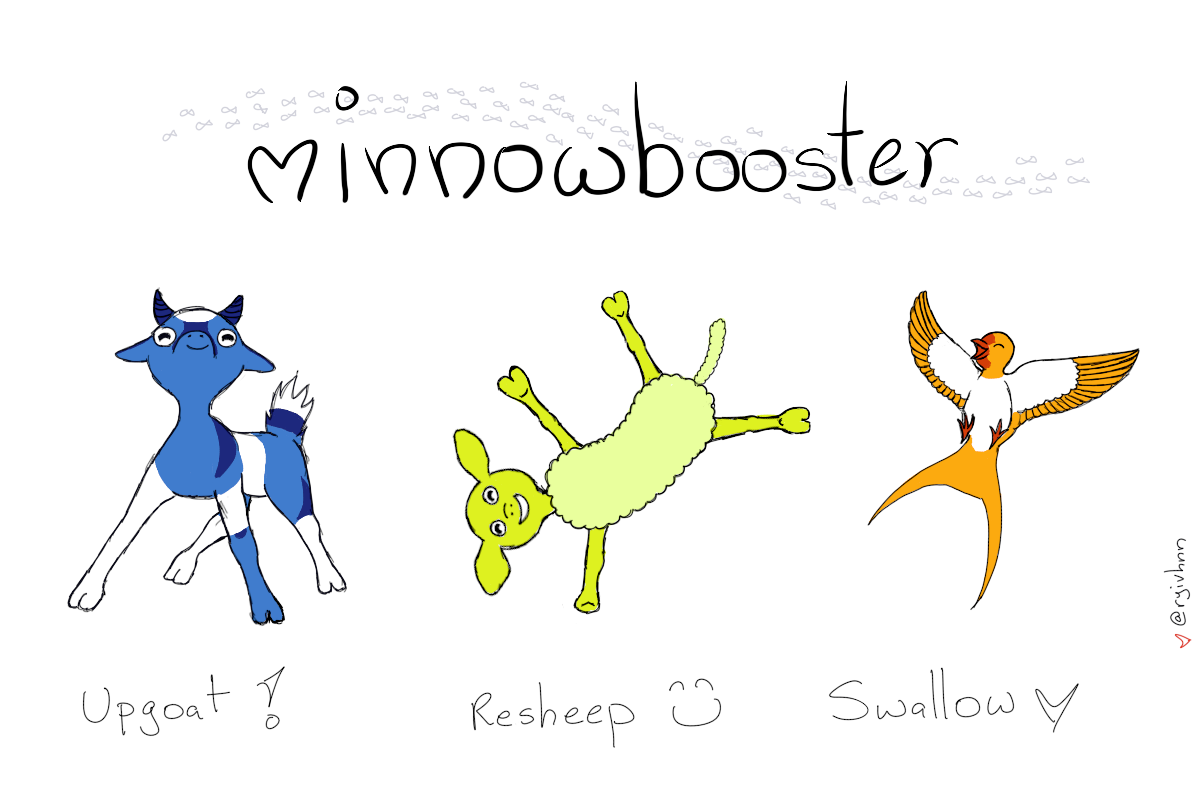 ---
Minnowbooster is a @buildteam project by @thecryptodrive (witness) @cryptomancer and @reggaemuffin (witness)
---
---
This is a @steemvoter subscription payment post. Thank you to Steemvoter customers for allowing us to use your Steem accounts to upvote this post by virtue of your free subscription to the Steemvoter.com bot service. @steemvoter is proudly a @buildteam subsidiary and sister project to @steemsports and @minnowbooster.