I confessed to you some months ago that I was in love with an application. Strange because mostly, games used to awake feelings, business and productivity software, not. (Or only boredom.) But it is useful, handy, can reorganize your life, is very intuitive and, simply, nice.
We are the borg freelancers
But, they changed the rules some months ago. The company limited the number of boards small workgroups, teams can use. It is only 10 now. That is mostly not enough, in my opinion, they practically killed "team mode for free". You can still have unlimited boards, lists, cards for personal, one-person use, that's good for freelancers. Otherwise, you should pay. (10 USD per person and month.)
Independent writers, bloggers, video bloggers, developers, owner of small webshops, eBay-sellers, crypto–traders or other short term investors, etc. – all these people working independently, are freelancers. I think a big part of Steemians, also are. All who are considering this activity serious, more than a simple hobby, entertainment or social media site. All who are planning, organizing for the future.
Every list can improve productivity
Freelancers, like serious bloggers, can use good "productivity software". (You may want to click the post "How Can Trello Help You With Steemit And Blogging?" at the end.) You mustn't think about something very complicated. Simple to-do lists and online notes can be considered as productivity helper applications already.
Many people use Google services, and the web service "Google Keep" can be just enough for them. For others, "Sticky Notes" is the right choice. The latter is now part of Windows 10, but it has various versions and developers – I like the more advanced "Stickies", for example.
What is Kanban?
Trello is for more advanced users, who have more information, ideas, notes to store and want to see them in a clear, ordered, grouped way. The basics of the system of Trello and most other similar applications are called "kanban" – a board with cards, which can be filled with information and moved, like on the picture: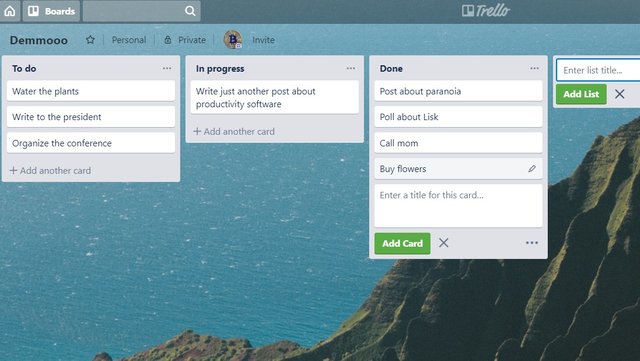 I explained kanban and Trello before, and I think Trello is still perfect for standalone smart freelancers and bloggers. (If they don't change the rules, again.) I'd like to show you now how to find something different. Or, because you want to work in a team and can't pay Trello. Or, because you miss some functionality, or you simply don't like Trello.
Why do you need "project management"?
Advanced productivity software has "project management" abilities, to help you organize complex tasks, projects. "Call mom" or "water the pants" or "write your opinion about something" is a simple task. A complex project has a goal but mostly many steps, many smaller tasks. Like the creation of a new website, the organization of a conference or making a series of blog posts.
These can't be managed with simple notes or lists, so, many software is using "projects", and this "projects" can contain various tasks: to-do-lists, notes, comments, attached files, etc. Also "groups of projects" exist. (Trello has boards, lists, and cards. A project can be a list, a card can have various elements inside. A board can contain a group of projects.)
Some productivity software has chat windows or channels, charts to evaluate the progress and members management for teams. Calendars, file storage area, and many other tools are possible.
Is Asana Nr. 2?
Which software do you need then, if not Trello? How to find it? I was searching a lot in these days to find something for free for a small team. I thought Asana was useful (up to 15 members). It is one of the software with the longest track record, although, it seems to be relatively complicated, not so intuitive like Trello. Unfortunately, they wanted my credit card number right at the beginning. I could avoid this (left in the menu), but then, very soon I figured out important functions are not free. But maybe I need more testing.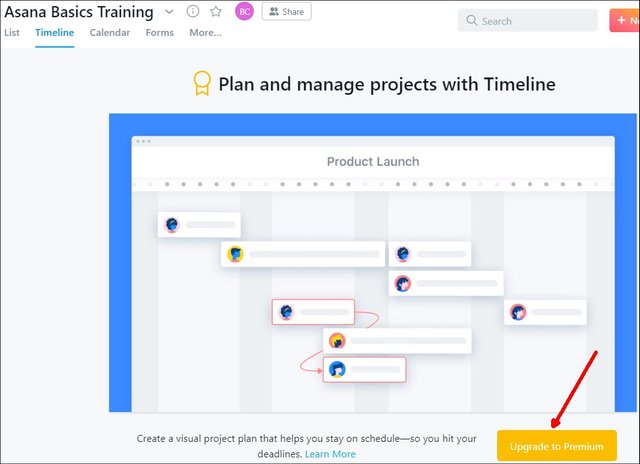 But Google – or DuckDuckGo – is your friend, let's search for more. The problem is, there are no real tests or rankings, only opinions. Every software is different. Searching for "best kanban software 2019" or "best productivity software 2019", you get a lot of articles and lists, but – each of them is different. Trello, for example, is sometimes on the 1st place, on another list, 3rd, on another, number 8. Funny. Who makes the lists?
If you search for "Trello alternatives" you get also very different lists. On the one, Asana is, for example, 1st, the other, 3rd. On another, it doesn't appear at all.
Conclusion: There is always a choice
It seems to be that – perhaps after the success of Trello – dozens of applications are now on the market. It is really difficult to choose from. You should test various before you decide, but this is no reason to use none. You can be much more productive with these applications. Most lists seem to be subjective, but the needs, demands are also different. A good comparison page seems to be this, it has also critics and votes, not only empty sweet talks.
My previous posts you may like about Trello and productivity:
How Can Trello Help You With Steemit And Blogging?
8 Handy Trello Tips For Bloggers
4 Large And Some Small Disadvantages Of Trello
My posts about blogging and writing:
1. Do You Want To Be A Brilliant Blogger or Journalist?
2. The Sexual Life Of The Wandering Ants
3. The Attack Of The Lesbian Nazi Zombie Vampires
4. The Sexual Life Of The Wandering Ants
5. Hack Your Profession With Blogging, Or Hack Your Blog With Your Profession