The Attack Of The Lesbian Nazi Zombie Vampires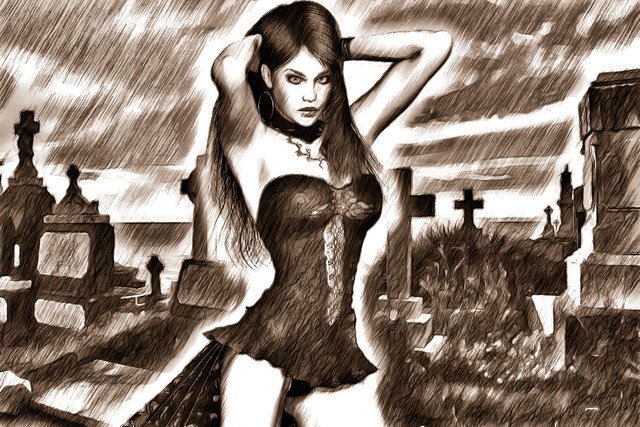 (Journalism, part 2.)
Why are titles, or headings, so important if you want to be a good writer? You see so much stupid, disturbingly striking, uproarious titles everywhere on the internet. Like "The Attack Of The Lesbian Nazi Zombie Vampires", yes, or almost. Do I need to be so exaggerated with this titles like the others? – can you ask. I think, yes, at least at the beginning.
Set the goal
Because, what is our goal? (Farming Steem, I know, but now we talk about the non-Steem world.) Reach the most readers possible, and make them returning readers. How can you lure them to your page? What will readers see first? The heading (title) of your post or article. Many will already decide if they read you or visit your page only seeing the title.
There are so many contents on the Internet, and life is so short. So, most people are learning already to avoid mediocre or bad readings and concentrate on the best, the interesting ones. They simply click away or push page down if the title isn't really fascinating.
So, avoid headlines like:
My dog/cat/kid (Who cares? We all have some.)
MDT post Nr. 356 (My daily whatever. Sounds incredibly boring.)
Other successful trips (We all have tips sometimes, why should this one be special? Don't know, better jump to the next title.)
Recent Developments - Week 22 (Sooo boring, so official.)
Image #3014 (How exciting, right?)
Nice flower. (And green grass, I suppose. Extraordinary. Unique.)
So, if you have survived this boring titles from the feed New Content on Steemit, let's see some good ones.
Interesting blog post titles could be:
How Can You Save 120 Dollars A Week And Enjoy It? (Interested? I am.)
5 Facts You Possibly Didn't Know About Steem (Where can I read this, please?)
6 SteemMonsters Tricks To Advance More Quickly (I know almost nothing about SM, but if I would play I would be interested, I'm sure.)
20 Tricks Which Can Make Everyone An Excel Guru (I read this one somewhere. I need Excel in my work.)
7 Irresistible Cat Photos You Won't Forget Easily (Can be the same photos with the boring title "My Cat", but, this time, with a good headline.)
You, You, and YOU
Why are these titles good, or much better, than the other ones? Because they are all about YOU! The reader! We are all astonishingly selfish and egoistic, and most of us like to deal in the first line with ourselves. We strive for our own advantages and interests, and we like to read about these the most.


All titles are promising you something: Steem is important for all of us here. Who doesn't like to have 120 USD more in the pocket every week? Even the cat photos are promising something, that you will like them exceedingly. Of course, if you want to find long-term readers, you can't do this by deceiving, tricking them. (Or, just a little, cleverly hiding it.)
No fake news
You must write something corresponding to the title, and something really useful. Otherwise, people will be angry or disappointed and will never come back again. Also if they notice you are reporting false news or false information. You can exaggerate a little bit, but don't lie or fool them.
Another method of writing good headlines is using some special words, called power words. There are always some themes people are interested in. On Steemit, people are always interested in their Steem. If something happens, words related to this can be fine. "Cathedral" after the burning of the Notre Dame, for example. "Why Should We Visit More Astonishingly Old Cathedral Ruins?" – I think that sounds interesting.
Surprisingly amazing tricks
But there are also general "power words" you can always use to make a headline more interesting. "Amazing", "awesome", "surprising" or "profitable", "forgotten" or "life-changing" sound good, right? But not standing alone, you must add some more information about your proper theme.
5 Amazing Medieval Cities To Visit This Summer (Sounds good if you are planning a vacation trip.)
Awesome Places You Should Better Avoid If You Are Alone (What the hell is this? I better click it)
3 Surprisingly Cheap File Storage Services For You (Storage can be never enough.)
4 Profitable Methods To Farm More Steem (No, I don't know any, sorry, don't ask me.)
Do you want more "power words"? Just Duck-Duck-It. There are many blog-posts about how to write good blog posts, and how to give them a good title. I don't think titles were protected by copyright law. If your title is similar to other ones, don't worry. And all titles in this post can be used freely, too.
Off topic: Post or Article?
Some readers were mentioning, what was the difference between a blog post, and an article? A blog is a more informal, personal, often diary-style site. Articles, news sites, analysis, are more formal, more professional. But sometimes, it is difficult to recognize the difference. If you are an amateur but getting very good, you convert in a professional in some moment. Probably you won't even notice it.
In another sense, professionals are living from their writings, amateurs, not. For the latter, this is only a hobby or a second income source. If your income doesn't depend on it, make sure you enjoy it. But that doesn't mean you shouldn't get slowly better and better.
(Picture: Pixabay.com)